7 Easy Steps to Set Up An Online Liquor Store Revealed!
Running short of time? Get PDF of the blog in your mail.

Play Now
Online selling is the new normal and the liquor industry lately stepped into it. Even during covid-19, the liquor industry was one of the most profitable ones. In 2020, liquor sale was $1.49 trillion and in 2021, it reached $1.55 trillion. Not just that, by 2025, it is expected to reach $2.27 trillion. The eCommerce stores assist the liquor industry to meet the increasing demand. Online liquor stores make the products accessible to buyers. Hence opening an online liquor store is now one of the most profitable businesses. Planning to start an online liquor store? Check these statistics for more inspiration before setting up your online liquor store!
Online Liquor Sales Forecast
Worldwide Alcoholic Beverage Market Revenue from 2012 to 2025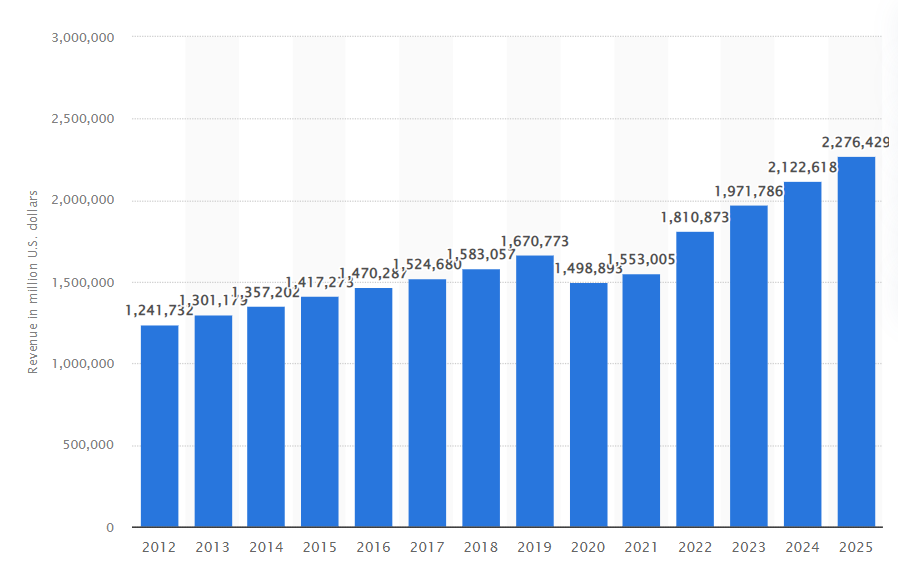 Source: Statista
If you search for how to sell liquor online, most of the results will include can you sell liquor online. Also, you may look for whether online liquor stores are legal or not. Indeed, you can sell liquor online, and selling liquor online is legal.
Another common question is how do online liquor stores work? Well, the simplest answer is just like other online stores. Here, the only difference between other online stores and online liquor stores is the regulations. And, yes, you have to get a license and abide by some rules, but that is quite a simple process.
Online alcohol sales have increased by leaps and bounds over the past years. Moreover, a 6.6% annual growth and 1.5% CAGR in volume sales (from 2021 to 2025) is not a joke. So, without panic, let's dive into the process of starting an online liquor store.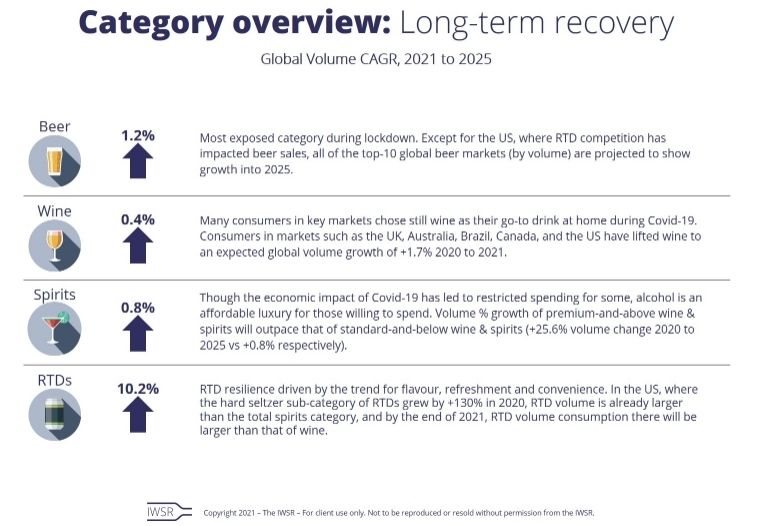 Source: IWSR
Interesting enough? Finding out how to open an online liquor store? Here comes the simplest method.
Special Note: Check the state laws before setting up an online liquor store. Also, understand the tax liabilities and legal conditions beforehand to avoid any obstacles.
1. Conduct A Market Research: Understanding the Online Market for Liquor
Before starting any store, sellers need to make sure that the products are in demand. For this, market research is essential. Market research includes the following points:
SWOT analysis
Knowing competitors and their strategies
Analyzing potential buyers
Understanding the best selling products
Figuring out the resources
The majority of the people across generations X to Z prefer having alcohol. So, identifying potential buyers will not be difficult here. Based on the buyers' demands, the global market of liquor is rapidly growing.
A few years ago, food, beverages, and liquor used to be sold in physical stores only. But now, the situation is totally different. During Covid-19, no contact delivery was the only option available. Now, people can easily order liquor online along with ordering groceries and other products. This is why online liquor selling becomes a profitable business.
Check: How to start an online grocery store?
2. Choose a Product Type
Based on market insights, the next important step to setup an online liquor store is to figure out the product type. In the liquor industry, you get plenty of options. Here, you have to select which type of liquor you are going to sell. For this, you have to keep three factors in mind:
Best selling liquors
Leading brands
Preferred liquor of potential customers
Buyers generally prefer branded liquors in any country and it is the best way to increase sales. However, the best-selling liquor can differ based on area. Therefore, merchants first need to specify the service locations for their online liquor stores. Depending on the findings, specific products can be picked. The following forecast can help you in this regard: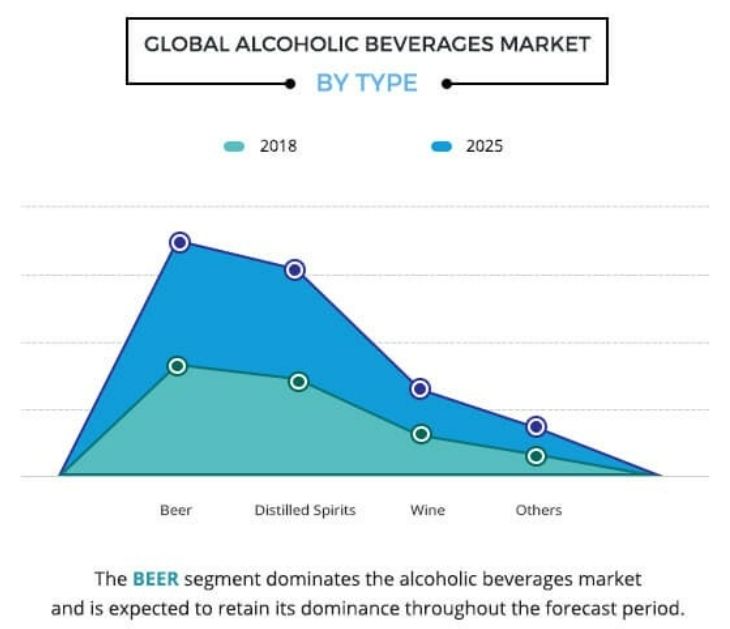 Source: Allied market research
3. Get the Suppliers to Start an Online Liquor Store
Once merchants specify the products to sell, they can work to source the products. To source the stock, merchants can select one of the following:
Either contact a wholesaler
Or go for a drop shipper
Alternatively, merchants can choose multiple suppliers to ensure purchasing products in bulk. As a result, the merchants can continue the business when a supplier suddenly breaks their partnership.
Also, read: Start An Online Food Store: A Great Business Idea
4. Fulfil the License Requirements – What Licence is Required to Sell Alcohol Online?
You might be wondering what are the license requirements for online liquor selling. License for selling liquor online includes
A Personal Licence
A Premises Licence
Learn about the licence details here. License are essensial to setup an online liquor store, so pay attention to it.
Now let's move on to the showstopper of this blog – how to setup an online liquor store?
Check out: E-commerce startup costs for setting an SMB business
5. Build an Online Liquor Store – A Step-by-step Guide
Here, comes the most important step – setting up the online liquor store. The answer to how to open an online liquor store lies in these following steps: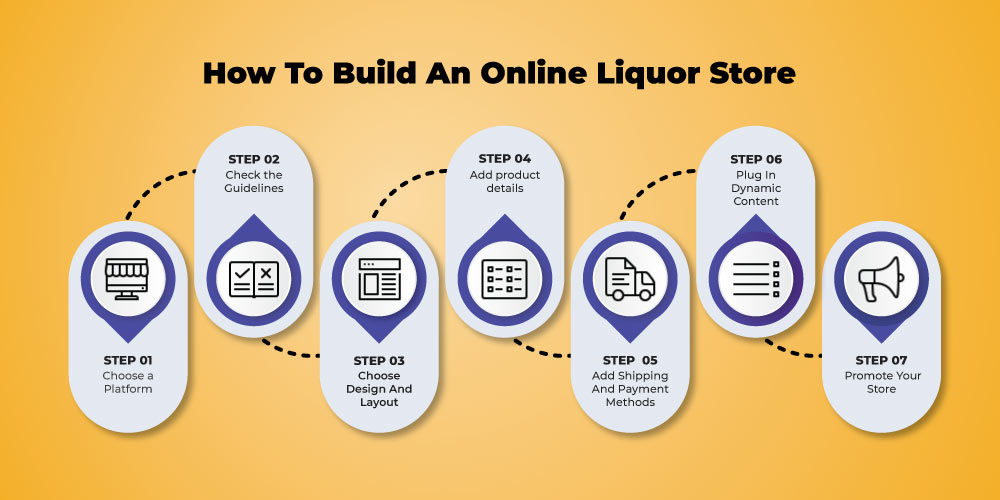 Step 1: Select the Platform
The first and foremost step to start an online liquor store is to select the right platform for it because it ensures proper navigation and ease of access to buyers. It grabs the attention of the buyers and indicates more sales as well.
Confused about which platform to choose to setup your online liquor store? You can consider Magento. Magento allows the merchants to build a mobile-friendly and responsive eCommerce store and a mobile app. Additionally, Magento PWA solutions come with powerful functionalities. Besides these, the prime features of PWA include (but are not limited to):
Cross-browser compatibility
App like appearance
Compact size
Offline usages
Multi-payment method support
Third-party extension support for smoother performance
The use of PWA results in a better conversion rate and low bounce rate too. PWA offers much more, you can explore these.
Note: Whichever platform you pick for your online store, just make sure it is compatible with all the browsers and devices.
Check: PWA for Retail Industry
Step 2: Customize Sign-up Methods
In the beginning, it was mentioned that the only difference between other online stores and liquor stores is in the regulations. So, while opening an online liquor store, a merchant has to be very careful with the verification process.
There is a legal drinking age and it may differ from country to country. Based on the area you want to deliver liquors, add registration methods. Simply, here you will add the conditions on which a buyer can register to buy from your store. As a result, it will prevent underaged buyers from buying alcohol from your store.
You may wonder how online liquor stores verify age? Well, Online liquor stores often come with a conditional login system where buyers below a certain age are not able to log in and place orders.
Although it's difficult to track whether someone has entered the wrong age or not, a cross-check during delivery is really helpful here. This is what most online liquor retailers do. You may add other verification methods as well and ensure all the necessary guidelines are being met.
Read: The Journey: How Zonline started its online marketplace
Step 3: Select the Design and Theme
Next, the merchants need to focus on the design of their online store. For UX and UI, merchants need to be careful about the following factors
A unique logo and tagline
Horizontal and vertical navigation
Responsive menu
Dynamic homepage
Intuitive search
Bright CTAs
Read: How to improve customer experience: The 4-D approach for ecommerce
Step 4: Add Products
Once the store is set, add the available stock. While adding products, make sure you use SEO-friendly product names, descriptions, image tags, and all related details. Plus, grid and custom sorting options on the product page will be very helpful to the buyers.
Along with this, some preferred features of online alcohol shops on the product page are:
Product comparison
Best-selling product recommendations
Related products
You can consider these while setting up your online liquor store. To influence the purchase decision of buyers, do include these features in your online liquor store. On the product page, don't forget to include customer reviews – it will make your customers confident while purchasing. Add sales motivation extensions to increase sales of your liquor store.
Related reading: How to build a Magento website? An end-to-end guide
Step 5: Add Shipping and Payment Methods
Moving on to the most essential parts of online stores: shipping and payment. First of all, merchants need to study the state laws for shipping liquor. You have to fill your taxation forms accordingly. In the next step of online liquor store setup, choose the shipping partner and register. Here, you can add free shipping conditions (if any) in your store. For easy shipment options, have a look at our shipment extensions.
Now, your online liquor shop is 90% ready to launch. Adding the payment methods makes it complete. To make the entire purchasing process easy, accept online payments. Magento provides the flexibility of choosing multiple payment methods as per user preferences. To get more flexibility, you may use payment extensions.
Still, wondering how to start an online liquor store? Talk to the experts.
Step 6: Focus on Content
For setting up online liquor store, do not consider content lightly. Dynamic content is the key to success for eCommerce stores. Therefore, only SEO-friendly product titles and descriptions will not be all – you have to focus on the content of each page of your online alcohol store. Eye-catchy content and impressive titles are some ways to grab the attention of customers.
Dynamic and SEO-friendly content help in the easier discovery of the store. The more search engine-friendly content you create, the higher position it will obtain in SERP. So, find out interesting blog topics and include this on your page, and use blogging as a strategy to take the readers to land on a product page through CTAs.
You have reached almost the end of how to setup an online liquor store – just one more step to go. 
Read: How To Write SEO-Friendly Content: All You Need To Know In 2022
Step 7: Marketing and social media integration
Your store is all set – now, it is time to market the products of your online alcohol shop. Yes, the last step of online liquor store setup is marketing. You have to promote your store on different platforms so that you can reach more customers and increase sales. For this purpose, use social media and other online forums to gain the trust of the customers. Also, creating a Facebook store can also help to reach more people for your online alcohol store. You can use your blogs and ads for promotion. These will altogether multiply your sales.
Fact: In 2021, 4.48 billion active users were found in different social media platforms which is 13.13% more than 2020.
So, this is the answer to how to start an online liquor store.
How long does it take to Open an Online Liquor Store?
Opening an online liquor store with Magento generally takes 2-4 business weeks; however, the duration may vary based on SOW.
Read: How to boost your ecommerce sales
In case, setting up online liquor store is not enough for you and if you want to achieve something bigger, here is what you can do with your online liquor store.
6. Build a Mobile App
Apart from creating an online store, you may also choose to create a mobile app for your online liquor shop to provide a handy experience to the buyers. Buyers find mobile apps very useful while purchasing as they get all of the stores in the app. To create a mobile app for your liquor store, click here.
Users often have a certain set of apps installed on their smartphones. As a result, a new merchant may not be able to convince these users to install another app. PWA solves this issue with its app-like visibility. It is actually a web store that needs no download, installation, or update. Additionally, PWA occupies the least space too.
Checkout the success story of Almutlaq Furniture and understand how the use of PWA has improved their performance.
Last, but not least, you can sell on a marketplace with your eCommerce store. Check the following to know-how!
7. Start Selling Liquor on Online Marketplaces
Planning to reach an even wider audience? Consider selling liquor on a marketplace. The marketplace itself verifies the age of the buyers of your online liquor store. Online liquor merchants can register their store with a marketplace. Therefore, the merchants will need to take the least responsibility.
To start selling liquor on a marketplace, you need to follow these steps:
Hold valid licenses for selling alcohol
Abide by the state laws
Keep valid bank details
Register with the marketplace
List the products and details
Set competitive price or compare price to mark
Select shipping options
Select marketing package
Receive orders
Related reading: How to create online marketplace?
In addition to this, you can create your own liquor marketplace and earn profit from the vendors for each sale. It is nonetheless the biggest benefit of the marketplaces.
Now, creating your own online marketplace is just a few steps away. Just Contact CedCommerce and get a marketplace solution today!

Benefits of Selling Liquor on Marketplace
The biggest benefits of selling liquor on the marketplace include:
The growing number of buyers, hence, better visibility
More exposure to potential customers
Simple, convenient, and fast
Popularity among buyers
International selling
Marketing in different channels
Less eCommerce and marketing cost
Secure payment, so, higher level of trust
More transparency
Hassle-free shipment
*Steps may vary in different marketplaces. So, check the marketplace requirements beforehand.
In short, the marketplace allows online liquor retailers to reach more customers and have higher sales. And that is why marketp;aces are so popular. Besides, a marketplace owner earns a decent amount of profit. So, start your eCommerce marketplace now.
Check out: A-Z Guide to Start an Online Marketplace
Summary on Starting an Online liquor Business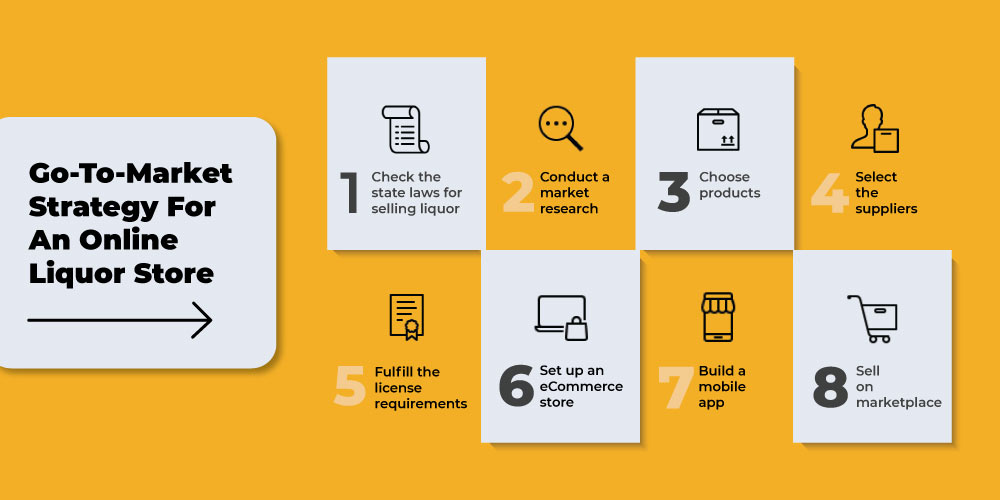 Final Thought – Selling Liquor Online – What's the Worth?
Now, summing up with the million-dollar question – does selling liquor online make sense? Indeed it does. At present, users prefer to buy A-Z online. Now, they now like to order and pay anything and everything because of doorstep delivery option So, selling liquor online is obviously worthy enough.
In addition to this, it can be said that as days pass, the number of buyers (eligible to consume alcohol) is increasing. Therefore, selling liquor online will neither have a shortage nor buyers nor demands. Moreover, during the lockdown, the alcohol industry sustained its position firmly. So, the upcoming years' forecasts affirm this statement. Therefore, it will definitely be wrong to conclude that investing in online liquor selling is a smart idea. So, fulfill your dream of opening an online liquor store today. 
About CedCommerce
Looking for assistance to start an online liquor store? For this, you can contact CedCommerce, a Magento Innovations Lab Winner (Thrice), Deloitte Technology Fast 50 (5 times) and other prestigious award winning company. Alongside, it is also a proud partner of FB marketplace, Google Shopping action, and Walmart. Therefore, to get our expert service on eCommerce store and marketplace solutions reach us and let us know your requirements.