How To Write SEO-Friendly Content : All You Need To Know In 2022
Running short of time? Get PDF of the blog in your mail.

Play Now
Pointers To Write SEO-Friendly Content in 2022
As we are moving in 2022, it's clear that the landscape of content marketing is shifting more rapidly than ever.
As a professional, you need to know the latest trends and emerging technologies to keep up with fluctuating demands of the industry. That way, you can stay on top of your strategy and become more efficient in your business.
The digital marketing space is now a congested marketing hotspot. Therefore, it's crucial to understand the latest industry trends around content and to be able to identify those areas where you can potentially capitalize and polish yourself.
When it comes to dynamic duos in digital marketing, SEO (Search engine optimization) and content marketing identify prominently. You need both to create a website that ranks well in searches and performs well in marketing campaigns.
According to Backlinko, "Updating, upgrading, and republishing existing blog posts with fresh content and images can increase organic traffic by as much as 111%."
That's why most marketing strategies include a dedicated SEO-friendly content writing plan.
What is SEO-friendly content, though?
SEO-friendly content plays a vital role in helping a business grow without increasing the marketing budget. When a post (article or blog) has SEO-friendly content, it doesn't have to be loaded with keywords. Its main motive is to enable search engines to get it, comprehend, and connect with the content that the content generator has covered.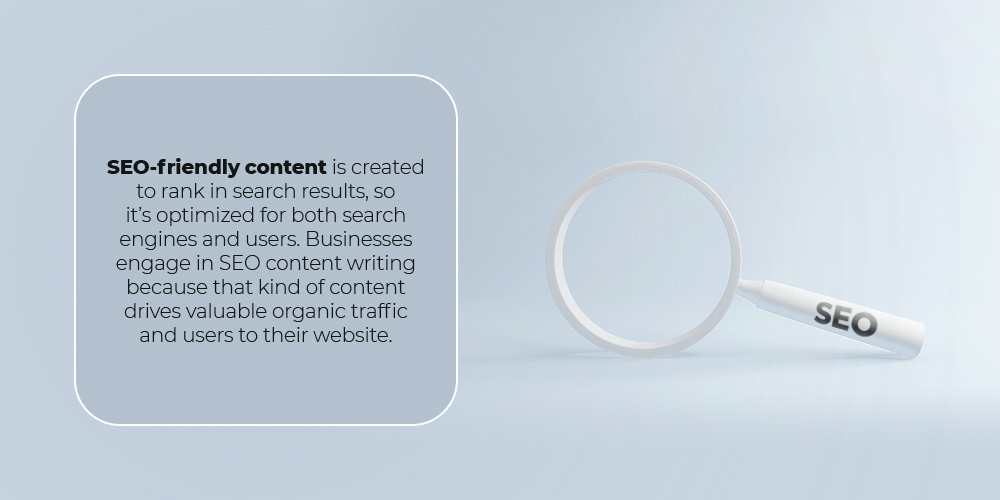 A firm's website must be search engine optimized and have an impregnable authority and a good backlink profile. All such factors will support it to rank higher, and it will appear on the Homepage, attracting more visitor clicks and thus more reader engagement. It is pretty essential because even if a page has the ideal content, no one will read it if they do not find it in the first place.
Now, if you're ready to start posting SEO-friendly content in 2022 for your business, keep reading. This post covers how to write optimized content and how to write good content for SEO in 2022.
Pointers To Write SEO-Friendly Content In 2022
SEO-friendly content makes a business protuberate among its competitors. It is not easy, but excellent results can be expected without putting in a lot of effort once a content creator learns it. Here are a few pointers for creating SEO-friendly content: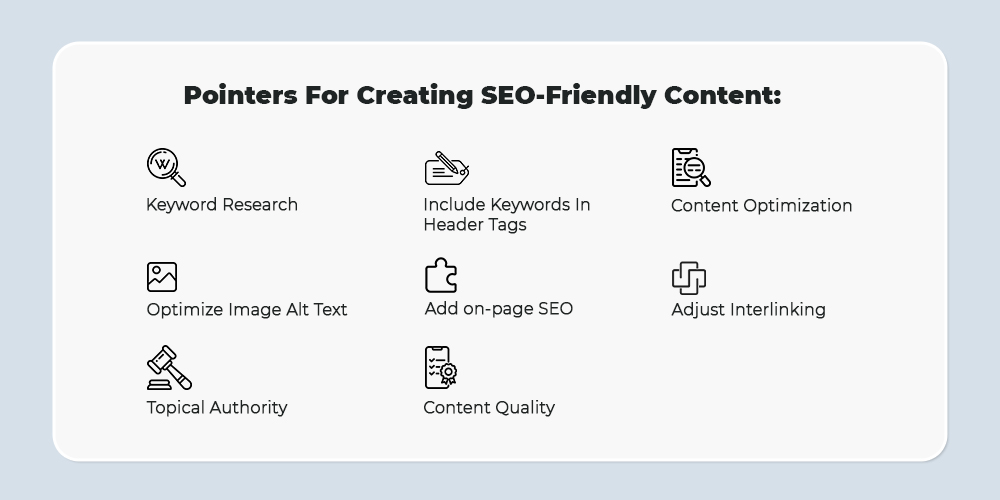 Keyword Research
No matter what, keywords remain the primary factor for efficient SEO-friendly content. They support search engines to understand your niche and content topics for more relevant SERP results.
In 2022, denotation search and search intent call a keyword; so, keyword type reshapes all the time and goes far beyond short-term and narrating ones. For your SEO-friendly content to rank higher, find and group the following keywords:
LSI Keywords(Niche Keywords)
They are rhetorical items relating to your exact keyword for Google to understand your topic better. Tools such as Linkio, LSI Graph, or the "Searches related to…" section of Google can support you identify them.
Vertical Keywords
They are words from closely related niches but with direct connections to your target audience.
Exclusive Keywords
It's your brand name and terms that support Google associating you with the niche. For example, the "Apple Airpods Pro release date" keyword is associated with Apple.
User-Generated Keywords
They're rhetorical words or phrases that your audience uses to find solutions to their queries, and they may differ from target keywords from your SEO tool. Consider Q&A websites and topical forums to see what words people most often use when talking about your topic or business.
Influencers' Names
Whenever relevant, always tag influencers or write about them in your content. It will support attracting targeted traffic and grow your website's loyalty.
Also, remember that every keyword has the intent (to buy, inform, compare, etc.). For your SEO-friendly content to rank high, make sure to optimize it for that intent.
Let's suppose you want to rank for the keyword "critical writing tips."
People searching for it could learn critical writing tips, find exercises to practice it, or buy a required writing course to enhance their skills. But Google search results tell us that the intent here could also be finding information about critical writing steps for readers.
So, to rank higher, consider the search results to get the search intent – and use semantic research tools to bundle your keyword into related concepts to cover them in content.
Read More: How To Perform Keyword Research For SEO-Friendly Content
Include Keywords In Header Tags
It has a significant role in SEO as headers enhance the keyword saturation in the content. Doing this makes the content easily skimmable, and thus users feel good to read and comprehend it without losing interest. Such headings and sub-topics with the keywords make the search engine easily identify them while crawling through the website. If you're not familiar with HTML, header tags support readers to see what your page is about. If someone wants to skip to a particular topic, they can use your header tags to search it.
Header tags range from H1 to H6.
Besides readers, header tags also support search engines to understand your content. That's why it's the best to approach during the SEO-friendly content writing process to optimize headings with your core or related keywords.
For example, a post explaining the pros and cons of plastic may have the following header tags:
H1: The Pros and Cons of Plastic
H2: The Advantages of Plastic
H3: The Disadvantages of Plastic
These tags can target keywords related to this topic, including:
Plastic benefits
Plastic disadvantages
Plastic benefits and risks
By including one or two keywords in your page headers, search engines will have an easier time identifying your page's topic, which means more precise rankings. As a perk, it makes it easier for site visitors to skim your content and find what they want.
Header plays a significant role while creating SEO-friendly content, as headings and subheadings distribute the keyword saturation in the content. Doing this filters the content, and thus readers feel good to read and comprehend it without losing interest. Topic and such heading crawl through the website.
Content Optimization
In 2022, you might want to optimize your SEO-friendly content for not only keywords and readability but also for featured snippets, voice, and video search.
Featured snippets, also called Position Zero of Google, get tons of clicks from the 1st rank in SERP. When configuring your SEO content accordingly, you can improve its chances of getting there.
How To Format
Select a keyword among those you already rank in the top 10 but not in a snippet.
Add a content block to your page, designed for a snippet: write a definition, create a table, add a sequential list, etc.
Also, if your content ranks in the top five search results already, you might want to optimize it for voice search. We know that 45% of users perform at least a voice search daily, so that this SEO trick would come in handy, too, right?
How To Optimize
Since most voice searches are query-based, include a relevant question to your content and answer it as short and transparent as possible.
Another Strategy To Try
If you have video content on your website, make sure to optimize that for SEO and Google snippets, too: optimize it into sections with a title for each of them, provide transcripts, and add corresponding video descriptions and tags for Google to understand what's in it.
Add On-page SEO
Enough has been written about On-page SEO and its importance. But search engines consider the various platforms of your content when evaluating it for ranking. Ensure you take benefits of the following:
Create a keyword-rich SEO title tag that attracts the searcher's mind.
Optimize the meta description with a CTA.
Ensure your permalink is readable and has your focus keyword.
Yoast on-page SEO meta title and description.
Keywords need to be used obviously throughout the content.
They are written for humans, not the search engine.
Optimize Image Alt Text
Although most site visitors won't go through your image alt tags, they're crucial for SEO.
Search engines can't process visual content like human eyes, and they depend on these descriptions (alt texts) to determine what shows on your page. Visually impaired readers also rely on image alt text to understand your visuals.
When you assign an alt text to your image, follow these tips:
Describe the image exactly as it appears.
Use the core keyword if applicable.
Keep the limit of 125 characters for image alt text
If you haven't used image alt text, you may quickly determine which pieces of SEO content need it. Enter the content's URL into our SEO checker. It'll look over your content.
Always check your alt text, and report which images need image alt text.
Is Your Image Alt Text SEO-Friendly?
If you haven't included alt text in your images, now's the time to do. In addition to being useful for SEO, image alt text also ensures that your site is Section 508 compliant, which you want as non-compliance can result in massive fines.
Adjust Interlinking
Internal links are links that redirect one page to another on your website. Having an intelligent internal linking plan ensures that you point users and search engines to valuable and relevant pages with other content to reference.
As reported by Google, "Pages are known because Google has crawled them earlier, other pages are discovered when Google goes through a link from a crawled page to a fresh one".
"Internal linking supports search engines."
Adding your website pages to its database of discovered URLs, Google sends instructions to investigate your site. It fetches a few web pages and then follows the links to get new URLs. So, for search engines, interlinking is used to discover contingently relevant content on your site.
Besides showing your website's structure and posts, internal links pass authority between pages and ultimately refine page rankings. For example, If a page has authoritative external links redirecting to it, it will have made up a PageRank score. This authority can then be passed to another page of your website by way of internal links. Internal linking supports people.
For users, interlinking is also a significant element in helping to navigate and get more helpful information on your website. It can be done several times on a page, but something that needs to be monitored constantly.
Topical Authority
A topical authority of your content matters for high rankings in 2022. You know that wordy content ranks better, but the sheer number of words won't work here. Whoever covers the topic wins.
Ensure to obtain in-depth content assets prevalent for your niche. Include research, case studies, visuals, related insights, and expert feedback to cover the topic comprehensively. Add videos and such interactive elements to engage readers.
Wordy content ranks better because Google thinks that the more words with all the above elements are in your content, the more likely it is that you've covered the topic like an expert of SEO.
Content Quality Of SEO-Friendly Content
Well-structured and readable SEO-friendly content might not instantly take you to the top position in Google, it will definitely have a positive effect on your SEO results in the long run. So, before you start publishing posts, it's worth it to consider a few steps.
If you want to share your thoughts across then make sure people read your entire post or page, make your content easy to read, This means thinking about the structure of the Content (text and the words) you use. Too much text without any headings or paragraphs tends to scare people off, so make sure to use paragraphs and several headers to give your audience some comfort while reading. Also, try to limit the use of difficult words and be aware of the length of your sentences. These can both make your content harder to understand which breaks your reader down while reading your content piece, peer search intent with your goals, be trustworthy, keep your content up to the date, and work on your site structure accordingly.
Have fun while writing and ensure to use variation in your text to make it engaging. Use synonyms, alternate long sentences with shorter ones, and be personal in your writing. This will help you write quality SEO-friendly content that's different from your competitor's and helps users get to know about you and your brand.
It will take some time to learn how to write SEO-friendly content. However, the sooner you begin, the better you will be at it.
Follow these pointers to write SEO-friendly content in 2022 and beyond to drive values from your copywriting efforts. They will support you and ensure that your well-written content gets more shares, leads, links, and recurring visitors.