What is User Generated Content: A Gist to your brand's assertiveness
Running short of time? Get PDF of the blog in your mail.

Play Now
Content is the king, and that's true. Content for brands helps people understand what it stands for and the kind of content they produce. Though that is not all, how about involving the audiences in the foray? Sounds cool right!
What is user-generated content?
People often have thoughts about what is user-generated content? Does it help your brand become better or is it just a marketing gimmick?
UGC or User Generated Content can be best determined as any form of contentーthat is created by individual users, rather than brands themselves, and is published on any online social networking platform or the brand's website.
User-generated content strategy refers to unsponsored/unpaid social media posts that are shared by people across every social networking platform while using or raving about any product or service. When your buddy writes a tweet about the wonderful time he has had at a resort, it's a UGC. If the brand retweets your Instagram stories about an event, they hosted, is an example of user-generated content.
However, how organizations exploit this plethora of content created by users provides power to the medium. Although organic, it may go far for brands and people to share and reshare the user-generated content campaigns.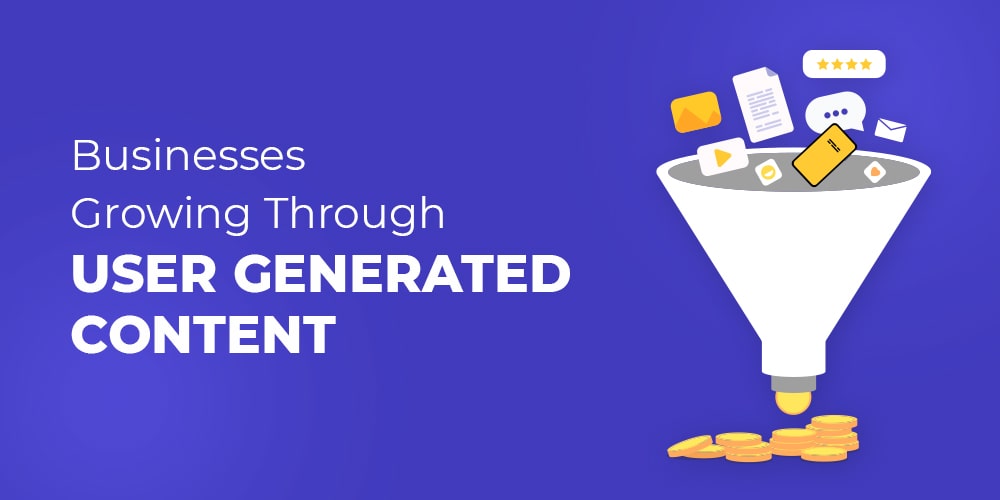 What is the importance of user-generated content?
Small businessesー who have no experience in marketingー often have a question in mind as to what is user-generated content or why it is important. However, successfully incorporating user-generated content strategy into the businesses marketing campaign could help brands in the following manner:
UGC helps in influencing the buying decision of customers
UGC is an organic form of content that has much more influence over the potential target audience due to its authenticity. Genuine online reviews have a positive impact on the viewer's mind and play an important role in their decision-making for online purchases. According to statistics, websites that have more user-generated content than the brand's generic content get around 29% more web conversions.
User-generated content ideas give brands the opportunity to reach a wider audience
The most important aspect of having a marketing strategy is to reach a wider audience. The goal here is to reach a wider audience and increase conversions and sales. Involving the users in the brand's marketing strategy might be helpful in achieving these goals. Coming up with custom brand hashtags is one such great ugc strategy. This gives people the opportunity to share their views and opinions about the brand and its products. Doing so helps brands reach a broader audience by breaking the limitations of the audience's demographic and geographical location.
User-generated content gives a much more personalized feel
Personalization is one of the best things about having user-generated content. Also, research has shown that around 71% of the audience feels ads with a personalized interest are more relevant and impactful. Personalized content can help generate enthusiasm and attract potential buyers' attention. UGC can also contribute to the creation of a positive customer-brand relationship.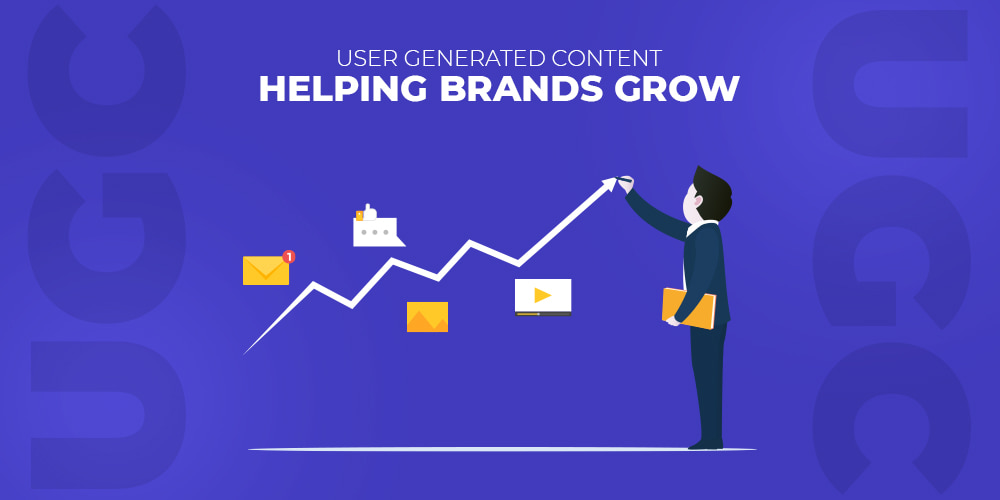 Showcase brand advocacy of existing customers
When people believe in a brand, they demonstrate loyalty and advocate for it to other consumers; i.e they speak positively and enthusiastically about it. If your company has such devoted customers or brand advocates, you can leverage their user-generated content to promote brand advocacy, which will help attract new customers and generate income through existing customers' content.
Additionally, including brand advocates and their content in your marketing campaigns will increase brand attractiveness among non-customers and help manage the company's reputation in the digital ecosystem.
Brand advocacy is confirmation of a brand's high-quality products/services and exceptional customer service.
Providing brands with unlimited content
When we consider brand vs user-generated content, the former is limited whereas the latter allows usage of new good quality content made by the brand's audience. Since there is a continuous need for authentic quality content for running a successful marketing campaign.
User-generated content allows brands to save a lot of money and gets rid of the continuous hassle of content creation. Interestingly, we have seen in the past surveys; that around 84% of millennial consumers feel having UGC on the company's website somewhat affects their online shopping.
User-generated content is considered to be more trustworthy
People of different age groups and demographic profiles consider UGC much more trustworthy. Its main reason is the fact that the content is made by people who genuinely like your brand and its products. This makes these posts and reviews unbiased, authentic, and reliable; and, the same has been proved in past studies. A study by AdWeek showed that around 47% of millennial customers and 36% of baby boomers consider user-generated content to be trustworthy while 25% of both the sections feel branded content to be reliable.
The same is the case for Instagram where around 72% of the buyers feel that Instagram photos of products being used by genuine customers influence their buying decisions. Starbucks Red Cup Contest was one such successful campaign example of user-generated content on Instagram that encouraged customers to make purchases in exchange for rewards.
User-generated content helping brands to develop credibility
One of the best benefits that user-generated content has to offer a brand is providing them with a generation of trust and credibility. You may establish the legitimacy of your products and services by using genuine and honest content about your brand. Remember that social media is all about sharing real-life experiences, and with user-generated content, your consumers' experiences with your brand will do all the talking and selling for you.
UGC also adds legitimacy to a brand's online presence by increasing brand awareness and reputation. As more people hear about you from your consumers, they will be more likely to acquire your products and services.
Help brands develop an online community
Like-minded people with similar interests and preferences often tend to form small or large groups where they share their consumption experiences about a particular brand and its products.
This gives brands the opportunity to use the content made by loyal customers or brand advocates and build an online community. These communities then help brands by creating positive user-generated content for them that increases traffic, user engagement, desirability, and brand exposure.
User-generated content marketing helps brands beat the competition
UGC is a marketing strategy that allows re-engaging their target audience. User-generated content is no traditional form of advertising and is not entirely targeted to promote sales. The fact that customers are the ones who develop UGC makes the content more reliable and genuine for other potential customers.
One other added advantage of user-generated content is that it might even boost the effectiveness of the brand's advertisements.
What are the different types of user-generated content?
Now that we have covered what is user-generated content, let us move forward and talk about the types it has. When talking about user-generated content ideas the first thing to consider is the type of content out there:
According to Smart Insights, around 53.6% of the world's population uses social media on a daily basis; thus, making targeting potential buyers through that medium necessary. It has been seen that potential users get more influenced in purchasing a product after seeing posts on social media by people they knew or genuine buyers.
People post about their lifestyles along with brands and accessories, as well as their hotel and restaurant experiences, at random on social media. Such posts eventually turn into UGC, which brands can then exploit to attract a greater number of customers in the future.
Customers can contribute content for brands via social media sites like Instagram, Facebook, Twitter, and Youtube. Brands may use this material to peel back the layers of the market and increase audience engagement.
Simply said, any user-generated content that promotes your brand on social media is UGC for your brand.
Customer reviews and testimonials are another popular form of user-generated content that is known as the Internet's word of mouth. This helps educate potential customers about the brand and its products before physically visiting the store.
It can easily be classified as accountable user statements that acknowledge the brand's authenticity. This is the best way to showcase the brand's existing happy customer experiences and attract new customers.
According to the recent stats nearly 70% of online shoppers read around six customer reviews before making a buying decision. Such a high figure makes it necessary for brands to include reviews in their online retail store.
It is the most organic form of feedback that can help brands grow globally and encourage audience interactions. Be it in the form of a third-party review site like Google review, Facebook review, Yelp review, Trustpilot review, etc., or direct reviews on the website.
The Review system allows customers to express their thoughts and opinions while also informing other customers about the brand and its products. It gives the brand the scope to improve.
Content in the form of videos
Youtube and Instagram videos are considered to be one of the primary sources of user-generated content ideas. Both一 Youtube and Instagram一 are popular platforms to add a sense of authenticity and reliability for the brand.
Unboxing videos are quite popular on Youtube that showcases the inside products of the box and these work quite well. These often have a high number of views, likes, and engagement helping the brand gain more sales and conversions. In a similar manner, businesses can also include YouTube shorts, IGTV, and Insta Reels in their marketing campaigns. These are quite popular forms of quick content and are also great for UGC.
Travel and adventure sites have also been leveraging these short forms of content made by influencers and normal people to get more UGC, interaction, and revenue. GoPro is one such example of User Generated Content on Instagram as their entire post feed consists of high-quality content being made by their users only. They share their users' videos to not only showcase people enjoying the moment but also to tell what the brand stands for. This helps the brand gain trust of the customers leading to more revenue.
Also, try to incorporate Facebook videos made by the audience for marketing. Facebook caters to a much wider audience in comparison to Instagram. Hence, it has a range of people including our parents and grandparents. UGC from these late boomers can also help brands to create authentic content around their respective products/services.
Content in form of blog posts or posts on microblogging platforms
Take into account some bloggers promoting brands on social media, along with videos and posts. It is inevitable that your brand will gain fame and a good reputation. Bloggers frequently display products alongside 'how to use' tutorials and videos that demonstrate usage of the product. Such content serves as user-generated content for the brand, increasing brand recognition among large audiences. According to a recent survey, only 75% of people prefer reading content around 1000 words which means even blogging needs to change; that is when microblogging comes into play. Bite-sized microblogs have become popular to adapt to these changing content-consumption behavior. Microblogging platforms like Twitter and Tumblr provide such short-form materials that viewers can consume on the go, at any time, and from any location.
Such content uploaded about the brand is UGC and can help the brand gain followers and drive sales.
Usage of hashtag campaigns
The hashtag campaign is quite a famous promotional method where specific hashtags help brands and their audience to showcase their products in a single place. Brands create hashtag campaigns to increase engagement with their targeted customers. It is an ideal tool for displaying user-generated content at an event or for making the event a success.
They are word-of-mouth campaigns in which customers can share their thoughts and experiences with brands. This can then be shown across the globe to increase the reach of the audience and help the brand achieve its goals.
You can create an Instagram wall using all the user generated content collected through the hashtag campaign by displaying it on a screen. These screens can be employed at multiple places to boost audience engagement.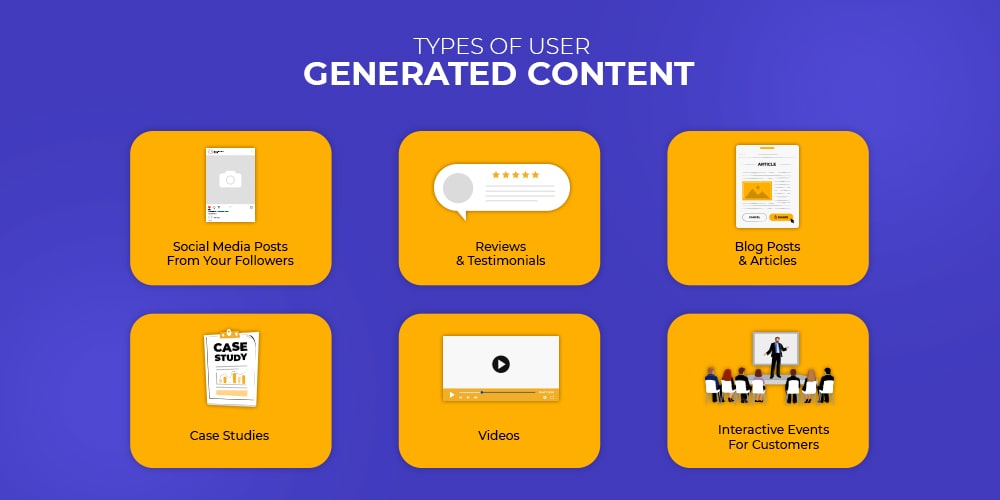 What is the future of user-generated content?
Since we have already covered the topic of what is user-generated content, let us get towards the future it has in the marketing segment. The days of purely fictional advertising have started to wither out. Now the next step in the field of advertising is the incorporation of a user-generated content strategy. UGC also helps brands by adding a more personalized feel towards the company that entices the consumers to connect gradually resulting in increased conversions.
Nowadays, people do not connect much with ads that are entirely fictional. Rather they prefer real content that showcases happy customers and proves the product is worth their money alongside the stories and values of people behind the company.
The future of user-generated content can be broadly classified into the following three sections, which are:
UGC is entirely different from any production shoots, here the focus is to get the final image over a magazine or in the form of a video for television purposes. User-generated content comes to brands in a variety of forms through different platforms like Instagram posts, tweets, TikTok videos, Snapchats, LinkedIn posts, and more.
This makes the user-generated content marketing examples suitable for omnichannel marketing helping brands save a lot of money. Since brands need not worry about content creation on a regular basis they get to save a few bucks.
When brands need to create campaigns for multiple platforms, they can just easily source and repurpose content to fit each platform. Be it from the web galleries to product pages of the online retail stores, and from social media to billboards.
User-generated content provides brands with a bulk of good quality genuine content that can be reused by the companies in the future. Brands can then republish those content on different platforms which makes UGC suitable for omnichannel marketing.
Personalization in advertising is going to rise, according to marketers. Customers will not need to read a whole website page to find content that is relevant to their needs. Using data and analytics breakthroughs, organizations may begin to create tailored experiences for their customers, such as website copy that changes the second time a user visits a page or an altogether distinct landing page based on the user's interests.
The same level of personalization is achievable in emails as well, thanks to the technology that allows marketers to produce newsletters based just on the previous link a subscriber has clicked. As the subscriber opens more links, the email software learns what they want to see and can build customized newsletters based on their preferences.
User-generated content that highlights the products that a consumer is interested in can then be used to take a consumer through the purchasing process more quickly. For example, if a clothing brand discovers that a potential customer only likes graphic superhero tees, not formals. The brand can then display them UGC about good quality graphic tees, eliminating any information around products this consumer does not like, which for this case would be formal clothing.
The Overall sustainability
Consistency is key in the content space—brands who post seldom do not achieve the desired effects. But there's a reason marketers are struggling to develop enough content. The sole problem here is that they require a lot of it.
1-3 postings per day on the brand's official Instagram handle, 5-10 stories per day, 3-5 tweets per day on Twitter, and 1 TikTok per day is a lot of content. Around 11-18 posts genuinely speaking is a little too much. This normally requires a large staff of content aggregators, creators, and a manager to monitor the entire process. This also helps ensure that their content wheel continues to produce high-value content.
However, UGC could be a solution to this problem. Since we know user-generated content might help take the load off the content team by providing them an alternative from entirely creating content from scratch. Brands are definitely going to create content from themselves but the content team could take off some steam by incorporating UGC in the rest of the content creation process. This not only saves time but also helps the brand in developing a better relationship with the end consumers.
What is user-generated content on Instagram?
Now that we know about user-generated content, let us get to know about it in terms of a specific platform i.e. Instagram, and how it can benefit the brands. According to recent studies, 11.01% of the world's active internet users access Instagram daily which makes it a viable platform for brands to reach their customers.
You must have definitely seen a tag, @mention in, or have seen some content made by somebody else on Instagram in your messages section. Generally, these are customers creating content however, they could also be potential buyers or a brand's audience in general.
UGC is the content that the users make themselves so the foremost reason for incorporating it in the brand's content marketing strategy is it saves time, money, and effort. The other reason why brands should use it is the fact that genuine users are the ones who make these contents which make it more validating and genuine for the audiences.
However, not all user-generated content can be used for marketing, right?
So how do we determine which one to use and which one to leave? The answer is quite simple. The content that matches the tone, style, color, and message of the brand is a keeper. We can also use content that focuses on the positive aspect of your brand or the benefits your products offer. Go Pro and Starbucks are two such brands with some great examples of user-generated content on Instagram. Go Pro does not create much content themself; however, their entire Instagram feed has great posts that speak through the power of their audience.
Reading all this, we are bound to wonder why user-generated content is important for Instagram marketing and how to select it for the purpose let's move forward? The steps to prompt buyers to create more and more UGC for your platform are:
Encouraging the audiences on Instagram to share user-generated content
Here you must try to encourage people to use your branded hashtag and/or @mention your profile in Instagram contents that are related to your brand. Brands or stores with physical locations could use signage and selfie stations to encourage people to take photos and tag them. The other popular way is to conduct giveaways or contests having UGC as the qualifying entry requirement.
Select relevant user-generated content to share on Instagram
When it comes to choosing the UGC for a brand the prime focus should be whether the content meets the brand's color, tone, and style.
Request permission to share user-generated content on Instagram
Once you make the decision about the UGC you are going to share it on your social media account. Move to the next step where you'll need to ask the creator for permission in writing before reposting the content. If you don't, the creator might sue your company for any revenue you make through that post.
In the case of Instagram posts, brands can ask for permission via a comment on the post itself or through a direct message. Let them know that you like their post and would like to share it on your official Instagram account. Then ask, "Do we have your permission to use it?" Once you get the permission, you are free to post the content on your account. However, you should still @mention and/or tag the original creator.
Sit back and share UGC on the Instagram feeds and stories
Now, let's look at some of the tools you may use to share user-generated content on Instagram stories and in the feed. There are a lot of free apps that allow the reposting of content to the feed. These apps save the original post, image, and caption and allow you to share it on your own Instagram page. They will also include a watermark with the username of the original account.
Using a screenshot to share UGC is more and more common and simpler than most reposting solutions. This is fine as long as you have permission and continue to tag the original person.
In terms of Instagram stories, there is a built-in sharing tool that allows you to share stories directly. However, this is only possible if the user tags your account in the story. If there are no tags then it would be difficult to simply repost the content on your own. If you don't use the native in-app sharing mechanism; you'll have to take a screenshot of the photo or video you want to upload. Even for this, you'll need to obtain explicit permission from the content creator to publish it.
What are the pros & cons of user-generated content?
Since we have already covered the topics about user-generated content and its purpose, we must now focus on the perks UGC has along with its downside.
Below mentioned are some pros that brands could enjoy with the user-generated content that are:
Reduces the brands content burden
Creating good quality content on a daily basis on any particular topic could be hectic for content marketers. We all know that the Internet is a source of unlimited information across the globe. This makes creating genuine good quality content difficult; and, that is where user-generated content comes into play and reduces the burden on businesses of producing outstanding content.
Saves their time and money
Creating compelling premium quality content not only requires great ideas but also time to work on those ideas. As we all know time is money. User-generated content helps brands in the matter by allowing them to outsource their content needs which saves both time and money.
Helps to improve the brand reach and engagement
As we all know, consumers consider user-generated content more trustworthy than the branded content; and, that is particularly the case with product reviews. This makes it important for brands to ask their customers to review their products and services. It could help boost the brand's engagement. It would also help increase user-generated reviews that inevitably could lead to more conversions. As per Shift4 Shop, around 82% of consumers keep user-generated content and reviews before making a buying decision. Aerie is one such popular brand with examples of user-generated content 2020 that is and has been using content created by its users and gaining more reach and popularity.
Helps build trust amongst the customer
As mentioned before, consumers consider user-generated content more reliable and trustworthy than any branded content. A recent survey has shown that 92% of consumers trust user-generated content campaigns more than any branded marketing strategy. This is the reason why incorporating user-generated content into the brand's marketing strategy might help the brand. It also helps developing trust and credibility amongst the target audience.
UGC not only helps in building trust amongst the users but also benefits the site's SEO. Ways in which user-generated content might help improve the brand's website ranking on Google:
This could improve the sites dwell time
User-generated reviews tend to have many keywords related to the brand
Showcasing customer review scores on the website's rich snippets might help the website rank higher on the SERPs. It also helps increase the site's clickthrough rates.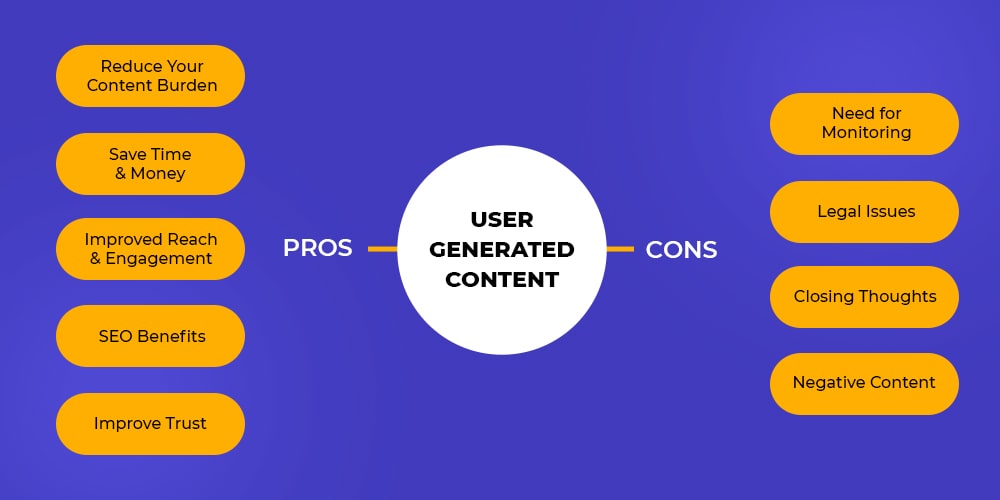 Cons the user-generated content strategy has are:
Less control over the content
User-generated content might lead to some kind of negative perceptions about the brand or the company online. People aren't always predictable, and not every person will like what you have to say or are selling. Brands must keep in mind that user-generated content could also lead to negative feedback, which can be accessed by other potential users.
Of course, moderation of such content could prevent your brand from such negative feedback being visible on their site. However, this constant censoring of that perfectly valid feedback might just backfire on business.
There is a need for close supervision of the content
Constant monitoring and moderation of user-generated content are needed for the brands. As users might turn nasty sometimes and a healthy discussion about the brand might turn into an online maligning.
Monitoring helps combat spam as it might quickly fill the comments and feedback sections.
Legal issues of the content
When you start to use UGC for marketing you have to keep in mind that you did not make it yourself. So it has got to have some legal aspects that you need to keep in mind. Such content entirely belongs to the person who uploads it on their social media. Any brand willing to use it would need the creator's expressed permission before using it for marketing.
At the very least, you need to provide a proper mention to the content's creator. It will help show the content does not belong to you but to the person mentioned. Just keep these in mind and you are good to go.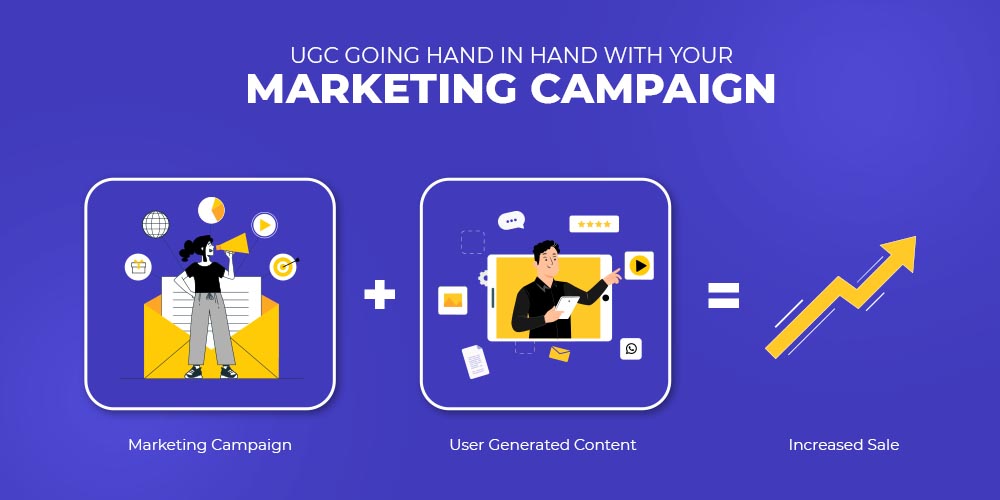 If you have a business to sell your products or services and have a bunch of loyal customers then it is time to up your marketing game. Now that you know what user-generated content and how using it might help benefit your business in building trust and revenue try to take advantage of it.