Start An Online Food Store: A Great Business Idea
Running short of time? Get PDF of the blog in your mail.

Play Now
Foodiebay aka Zomato – Indeed, a household online food startup name in India. Do you want to start an online food store? Then, you must read on to understand why this business is worthwhile and how you can make the best of it.
Let's get a quick look at the backstory of this great online food marketplace!
Started off in 2010 as Foodiebay, this online food startup brought a revolution in the Indian food industry. Well, absolutely of its kind food delivery chain. And India's very first food-tech unicorn took the market by storm. And forever changed the way food is ordered and delivered.
I think Zomato needs no introduction, neither does Swiggy. You and I, both are well aware of how these two along with many other online food delivery apps have made our life easy and convenient by providing us our very beloved food, anytime & anywhere!
In the world of ever-changing variables, food remains a constant. An entity that no one can live without. So, don't you think it's a clever idea to jump into an industry that is on an ever-growth path?
The scope of online food ordering apps is indeed extensive and remarkable. 
So, let's do a quick fact check:
44% of consumers based in the USA use Online food delivery services at least once a month.
In case you're looking forward to establishing your own online business, it's a great time for you to jump into the online food industry and start an online food store. As the customer demands are soaring for online food ordering apps, that's what online food startups like UberEats, FoodPanda, and GrubHub are betting on.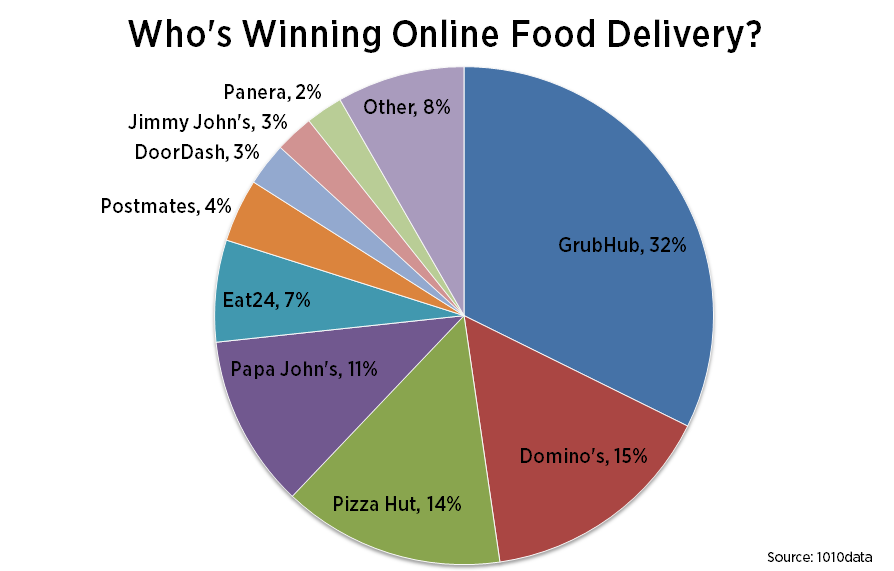 Source: Forbes
Still not convinced?
Read on to discover the endless opportunities in the online food industry. And understand how you can make the best of it.
Looking forward to starting an online food delivery marketplace? Take a tour of our eCommerce solution and explore!

What is an online food delivery marketplace?
An online food delivery marketplace is same as a website or a mobile application. Because it enables customers to place orders from a wide range of restaurants. And facilitates restaurants to represent their food menu online through a third-party app. Some of the best examples of online food startup businesses are Zomato and Deliveroo.
So, an online food delivery marketplace works much like an online food delivery app of a single restaurant. But what makes the marketplace stand out and popular is that the online marketplace app encourages independent restaurants to catalog their food services instead of listing the services on a brand basis.
Also, the best part about an online food store or marketplace is that it is brand-neutral. Therefore, it's safe to say that an online food business startup is an ideal solution to get away with monopolistic industry exercises and other issues that are usually confronted by traditional online food stores.
For an entrepreneur living in 2021, it's a great proposal to start an online food store business. Mainly because of the post COVID industry landscape as customers are keenly placing orders online as it does not require human interaction and fewer visits to the crowded public restaurants.
Also Read: Success Story – Wyoming Deliveries
Why Is The Online Food Delivery Business So Popular?
So, first imagine this:
In the 24*7 constantly moving metropolitan cities where there is not even a second to spare due to ultra hectic individual schedules. Think how reliable and easy it will be to have your food delivered from your favorite restaurant real quick, right at your doorstep, by just tapping your fingers on that smartphone?
Okay, but why would you need an online food delivery app for this? You can also directly order from a restaurant's website, right?
Also Read: What Is Hyperlocal Delivery Model?
I'm sure that this thought must have crossed your mind. But what makes an online food delivery app popular and major success is the fact that they offer a wide range of food items from hundreds of restaurants and hotels. That too on just one app! It's equivalent to having food menus of multiple restaurants at once – a legendary food marketplace! Enough of a reason to start an online food store? We've more of them.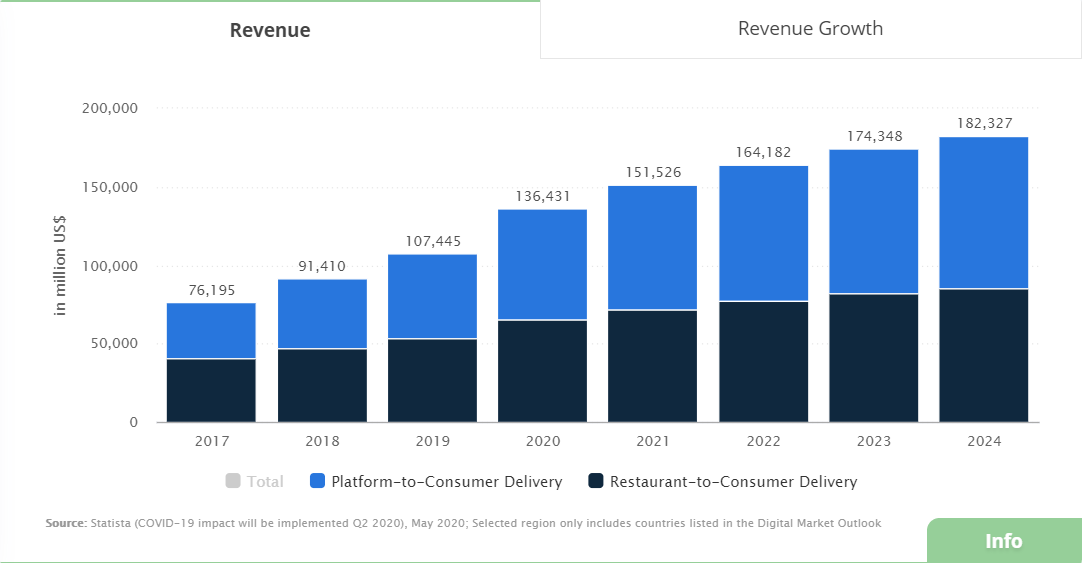 Source: Wishdesk
Now that you've come this far reading about the scope of the online food delivery app, I'm sure you must be interested in creating one such epic online food startup of your own.
We've said this earlier and we will say this again:
Online food ordering and delivery businesses are on an unprecedented surge. Moreover, it's high time for businesses and entrepreneurs to mark their presence in this industry and leverage the opportunity awaiting.
So, to safeguard our claim, here are three top reasons why you need to start an online food store startup:
Need No Inventory
Guess what!
You don't need to have an inventory.
Neither do you need to invest in infrastructure maintenance?
Well, thanks to the extensively cost-friendly online food startup business. Here's how this is possible:
The scope of an online food delivery business /marketplace goes beyond dealing with the basic chores involved in a regular online food business.
An online food ordering marketplace lets you:
Connect with different types of restaurants at one place
Reduces the task of preparing food for the customers, packaging the order, and delivering it to the customers.
You, as the online food startup owner, only need to streamline these processes (supervision) and manage the transactions.  Therefore, you just don't need to worry about anything else. How cool is that!
Complete Control Over E.V.E.R.Y.T.H.I.N.G
You get complete custody over all sorts of transactions occurring on your marketplace.
The store owner can even regulate and oversee all the transactions carried out in your marketplace.
As a store owner, you get the power to halt the transaction halfway. You can do it unless the eatery verifies that the placed order has been successfully delivered to the customer.
With the help of this extended control ability, you will be able to increase the credibility of your online food startup business between customers.
Choose From a Wide Range Of Types Of Food Businesses
Online food ordering marketplace provides extensive opportunities to different types of food businesses. Without actually caring about its type or the level it stands on.
It varies from takeaways & restaurants to cloud kitchens and even ice cream parlors, etc. An online food delivery app is a one-stop destination, capable of offering a wide range of eateries. Apparently, a contemporary restaurant site can never offer the same. This enhances the brand image of your business and helps your startup increase its reach.
Also Read: How To Create An Online Marketplace?
How does Online Food Delivery Marketplace Work?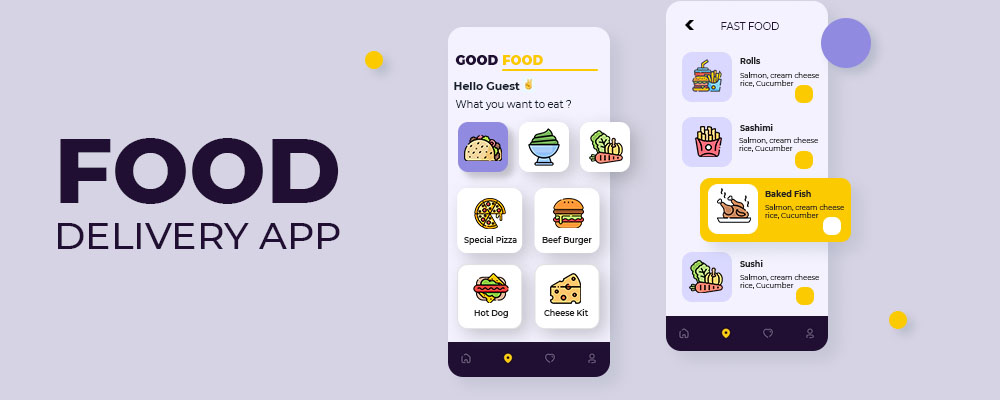 The online food marketplace is created as a web portal and mobile application.
Customers visit the online food ordering marketplace website or apps to browse the food catalogs of a wide range of nearby restaurants.
Next, they place their order from the restaurant of their choice which directly moves to the Restaurant Order Management Tablet App / Mobile App.
Then, the restaurant accepts and processes the order and further assigns it to the nearby delivery boy to deliver the order to the customer's doorstep.
How to Start A Food Delivery Business?
The online food marketplace solution you choose for your business can either make or break your business. So, why not get a little clever and choose the one that offers maximum benefits and endless support. Now, I know you must be thinking, 'As if a solution like this exists". Well, to your surprise, a solution like this exists and in fact, comes with added benefits –
Quick & Easy Setup: No need to worry if you're not someone who comes with a technical background because our online food store solution requires no technical skills. You can even customize and it's also super easy to set up.
Get Free Upgrades: Stay ahead of your competitors with constant free upgrades and make your marketplace stand out.
Endless Customization: Go beyond the regular online food store solution and feel free to explore and customize the solution as per your wish.
Diligent Support: Get a consultation from professionals and industry experts.
Start An Online Food Store With CedCommerce
At CedCommerce, we can help you in creating your Online Food Store Marketplace in a few easy steps with our Food Delivery App Development services. With the advanced and contemporary look of our Online Food Store Solutions, your business can win over a wide range of audiences. Not just this, you can also keep your orders organized and automated at the same time. Let's quickly navigate through the top-notch capabilities of CedCommerce Online Food Store Solution:
Also Read: Zomato Clone Script: Facilitating online food ordering system

Advance Features of Online Food Store Marketplace
Admin Features
Add and Check products: Admin gets the ability to add endless products and can even browse and get info on the top-selling products on their dashboard.
Commission Management: Admin can easily set miscellaneous commission rates for every purchase of the vendor's products and services. Product type, category wise, and vendor wise.
Attribute Management: Admin gets the power to formulate numerous attributes for products and sellers.
SLA Management: With the help of this agreement between the Admin and the Vendor, both of them can align and work concerning specific conditions like cancellation/completion of orders.
Deals and Offers: On festivals and special occasions, the admin can run deals and offer discounts related to the products and services.
Delivery Boy Management: Admin gets access to efficiently manage the delivery of the placed orders by appointing a delivery agent to each.
Advance Transaction Management: Admin can easily manage the transactions of vendors and can make the payment by delivering their amount through bank transfer, PayPal, or Cash.
Manage store Functionality: Manage store functionality, opening-closing day, date and time, manage blackout day, can limit the purchase of products.
Return and Refund management: Admin can easily regulate return and refund by establishing return and refund policies on the website.
Vendor Features
Delivery Locations: Vendors are enabled to put in multiple locations to which they deliver their products. Based on the provided locations, products will be visible to the customers.
Bulk product (Import/Export): With the help of the CSV file, vendors can easily create or import/export products in bulk.
Easy Return and Refund management: Vendors get the control to manage returns and refunds for their products right when they are approved.
Manage Order: Sellers can easily manage their orders, create invoices, shipments, and credits memos for the orders placed.
Social login: Vendors can handily log in/register using various social media platforms like Facebook, Linked In, and Twitter.
Product Management: As a vendor, you are allowed to create unlimited products and organize product pricing and stock availability.
Vendor Commission: The vendors are allowed to set commissions on different products as per their preference based on category, Product.
Payment request: Vendors can simply review their total earning and pending payments and request their payment from the admin from the vendor panel itself. Admin/Customer :
Help & Support: The Admin can add a support number or help desk email for their customers for any query or issue related to products. Customer.
Customer Features
Multilingual Support: Our advanced online food store solution supports multiple languages, allowing users to switch languages as per their preference from the available set of languages on the website.
Locate Nearby Store: The customers can effortlessly discover nearby stores by entering their pin code/zip codes by hyperlocal functionality.
Secure Payments and Fast Checkout: Our offered payment methods are safe & secure and are easy to use. Customers can pay in both online and offline (COD) mode.
Review and Ratings: Customers can also discover the reviews and ratings of sellers in the review section based on the integrity and cost of their products.
Return and Refund management: It's extremely easy to return and refund the products on the online app or website.
Compare Related Products and Offers: Customers can also compare products of different sellers based on their price and ratings.
Refer A Friend and Earn: Users can refer the app to their friends by sharing referral codes on their social media or mail and earn attractive offers and bonus points.
SMS Notification: Customers will receive an SMS notification once their order is confirmed or any order status change
Wrapping Up
This is just the beginning! We have a wide range of multi-vendor marketplace solutions and extensions. Our solutions are future-ready and technologically smart to make eCommerce sorted for you. Impressed by these extensive and progressive features? Discover more by getting in touch with us and start building your online food startup today!