Facebook Business Manager: A Central Destination to Manage your Business on Facebook
Running short of time? Get PDF of the blog in your mail.

Play Now
Social media platforms like Facebook and Instagram have been gradually turning themselves into social commerce, making it easier for businesses to grow and reach their customers. From Facebook newsfeed to Facebook messenger, the audience is talking about businesses, products, and services.
If you are thinking about getting your brand across Facebook Commerce, you need to know about Facebook Business Manager. It's an important tool that keeps all your business assets centralized, safe, and organized in the same place. With this said, read more to know all about Business managers and the aspects of selling across Facebook Commerce.
What is Facebook Business Manager?
Facebook Business Manager serves as a one-stop-shop destination that allows you to manage your business assets. You can manage multiple Facebook Pages, ad accounts, Instagram accounts, and product catalogs, all in one place. Besides, it provides you with the listed functions: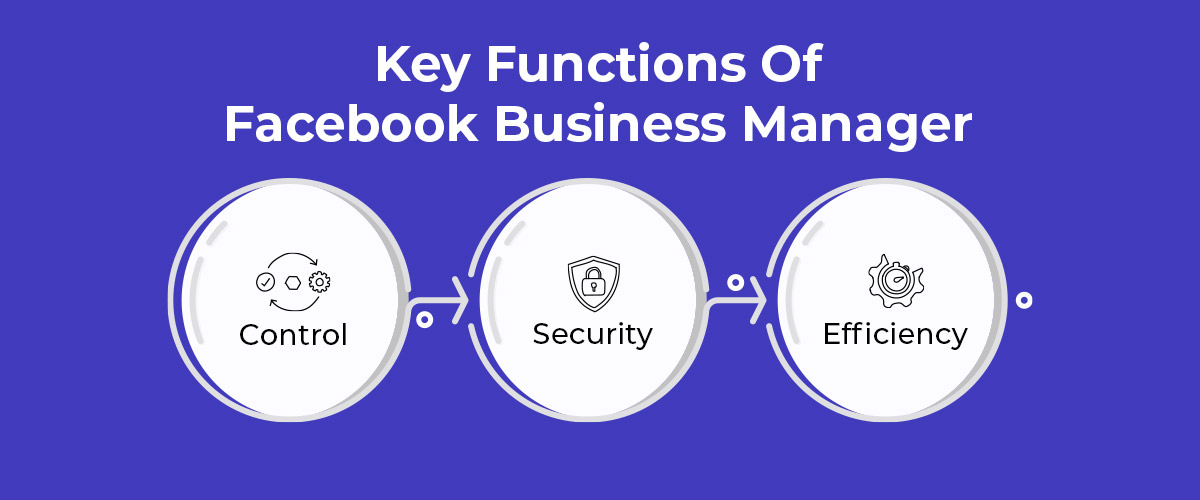 Control: Facebook Business Manager provides you with a centralized location from where you can manage all your activities.
Security: Identify risks and see recommended actions you can take to improve security.
Efficiency: Manage multiple assets with batch actions. You can track performance across multiple Pages and ad accounts.
Is Facebook Business Manager the same as your Facebook personal account?
While talking about Facebook Business Manager, you might wonder whether your Facebook account and Business Manager account are the same or not.
The Facebook Business Manager account isn't connected to your personal account. For accessing your Business Manager, you don't need a personal Facebook account. Besides, it helps you, monitor, create, and publish ads, and pages related to your business. While, on the other hand, your Facebook personal account holds your personal details about your business, product, yourself, etc.
Advantages of Facebook Business Manager
Getting your brand across Facebook surfaces through the Business Manager leverages you with the listed advantages: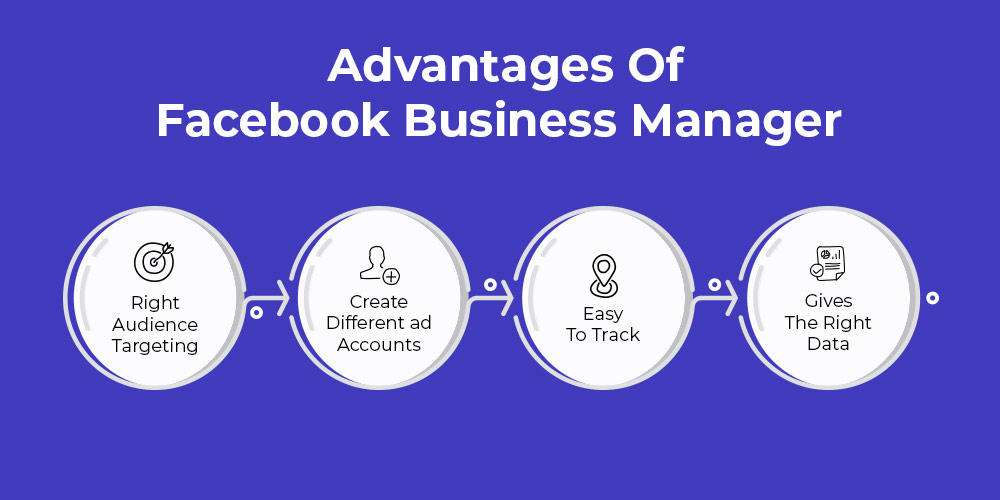 Right audience targeting: Target your potential customers easily through Facebook ads. It also allows you to create custom audiences for different campaigns.
Create different ad accounts: Create separate ad accounts for every client or business you serve, and organize them by objective for reporting.
Easy to track: You can manage all your business activities from one location. So, the Facebook Business Manager makes it easy for all businesses to track their orders, details, and other activities.
Business insights: See the performance of your ads across different ad accounts, get reports of the assets and target your customer audience more effectively.
Gives the Right Data: Facebook Business Manager allows for accessing valuable data and product catalogs. The Facebook product sets can be built much more quickly through the Business Manager. Also, through a well-established product catalog, your audience can reach your business more efficiently.
How to create a Facebook Business Manager account?
Till now, you must have got an idea about the benefits of Facebook Business Manager. Now let's uncover how you can create your Business Manager account in an effortless manner. Let's explore the steps one by one:
Set up your Facebook Business Account
The first step to set up a Business Manager is to create an account. It is assumed that you already have a Facebook Page. In case you don't, then you can create one in the later phase. With that said, for creating your Facebook Business Manager account, you need to:
Go to the Facebook Business Manager page and click on "Create Account."
Fill in the basic details about your business such as:

Business name.
Your name.
Business email address.
Then click on "Next."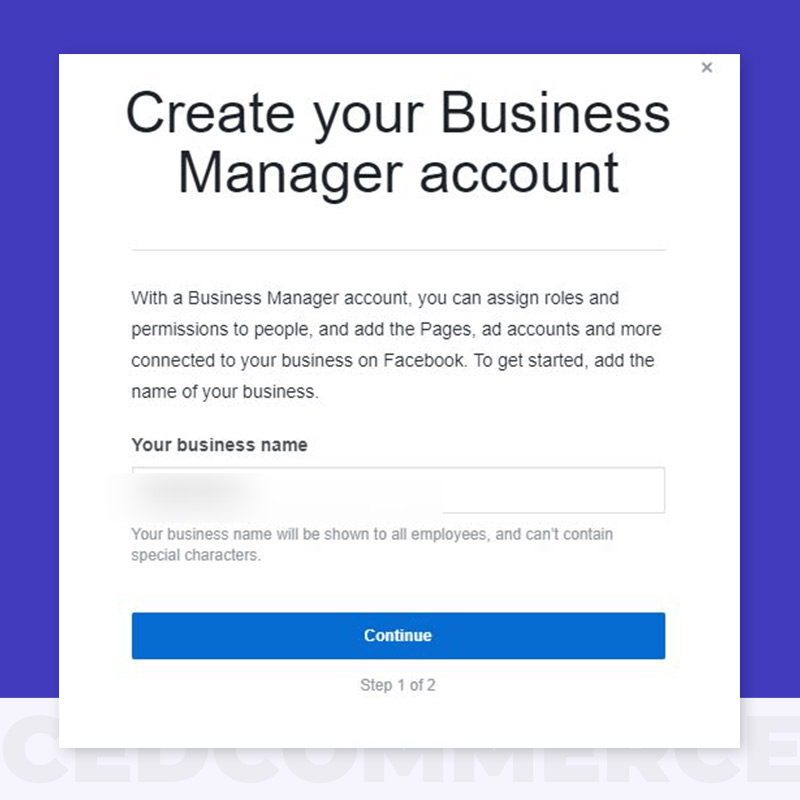 After this, enter your physical business address, phone number, and website. Once complete, click "Submit."
Once done, you'll receive a confirmation on your registered email. Within the message, click Confirm Now.
Add your Facebook business pages
If you already have a well-established Facebook page, you can link it with your Business Manager account. OR else, you can create a new Facebook page.
To add a Facebook page to the Business Manager account:
Go to the Business Manager dashboard, and click on Add Page. From here, you can link all the Facebook and Instagram Pages with your Business account.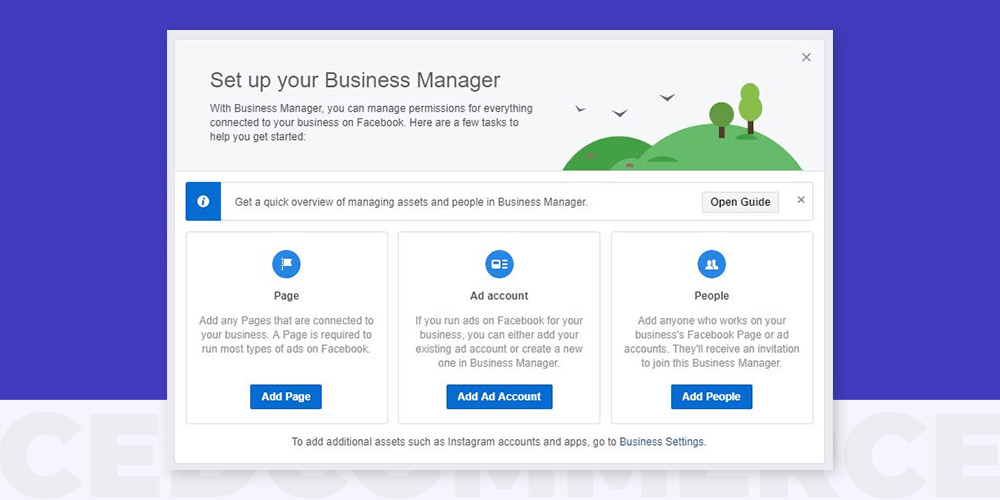 To link an existing page, click on "Add Page" and enter the Page name or URL.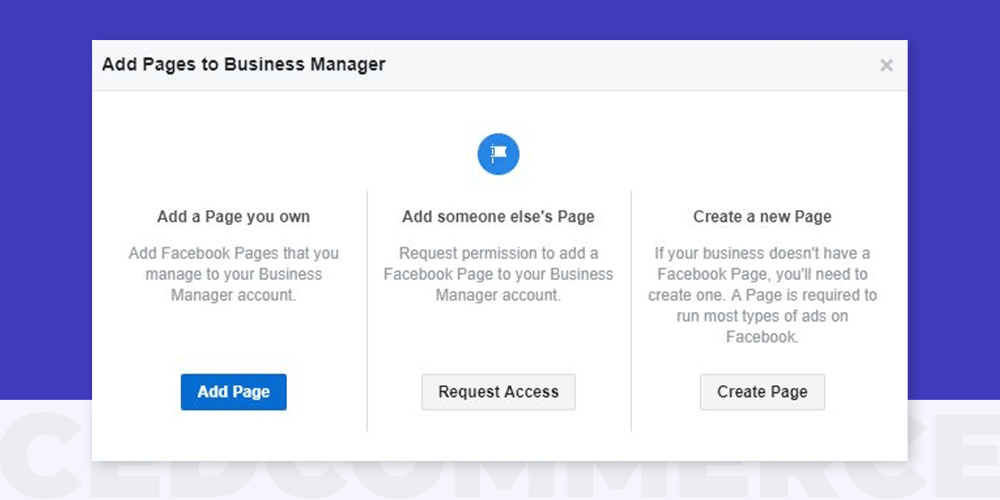 Or, to create a new page, you can click on the option of "Create Page" and then link it with your Business Manager account.
Once you've linked the Pages, you can keep track of all your posts and their respective performance metrics in one place.
Add your Facebook ad account
To run ads using Business Manager, you'll also need to link your ad account. To connect your Facebook ad account:
Click on "Add Ad Account" to link your existing ad account and then enter your account ID.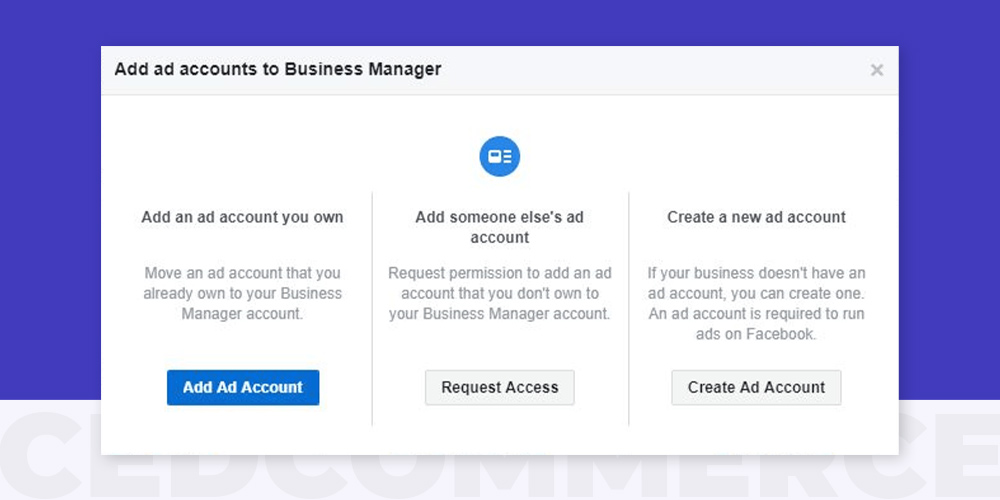 If you want to create a new Facebook ad account. Go to the Business Manager dashboard, click Add Ad Account, then Create Account.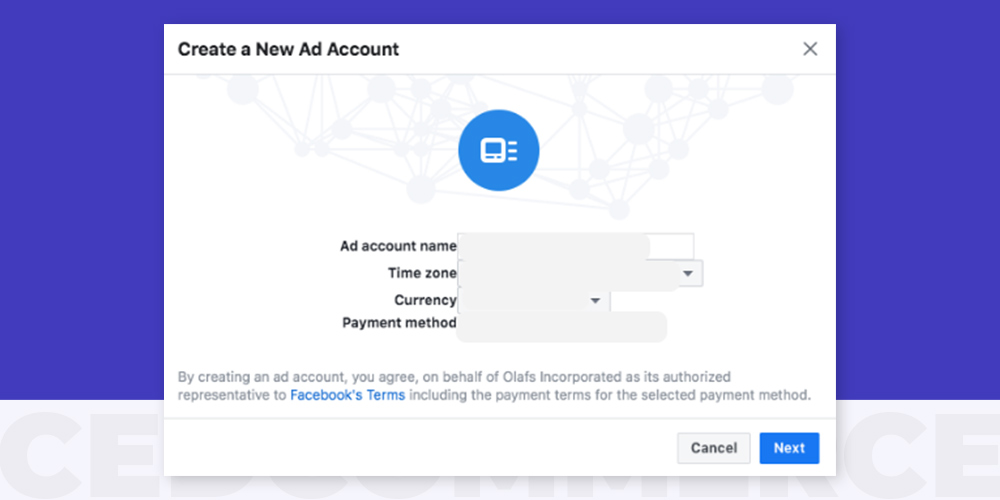 Enter your account details, then click Next.
Once done, you can also choose to add people to your Business Manager account. To do so, go to Facebook Business Manager. Go to Settings. Under "People," click "Add" to add people to your business account.
Add your Instagram account
You can also connect your Instagram account with your Business Manager account. To do so, visit your Business Manager dashboard, and click Business Settings. In the left column, click Instagram Accounts. Click Add. In the pop-up box, enter your Instagram login information and click Log In.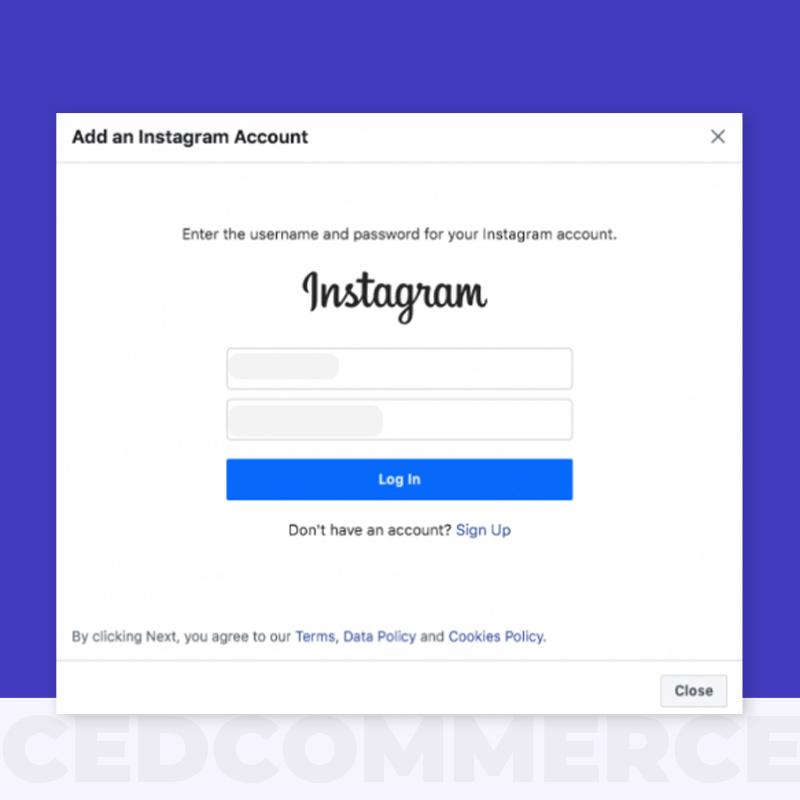 Create Facebook Catalog
After setting up your business across Facebook Commerce, you have to add the Facebook catalog to your Shop. To do so, you can create your catalog through the Business manager in quick succession:
Go to Business Manager and select Catalogues.
Click on 'Add Catalog' followed by Create a new catalog.
Give a name to your catalog and select your inventory type.
Select Create catalog.
Once done, you'll need to go to Commerce Manager to add and manage products in your catalog.
Facebook Business Partners have another way around
If you have an eCommerce business, you can connect with Facebook Business partners for hassle-free selling. Shopify integration solution CedCommerce: Facebook & Insta comes equipped with the features of Facebook Business Extension (FBE). By integrating with Facebook Business Extension, you can unlock a broad suite of Facebook business tools for your customers across multiple verticals; Facebook Shops, Page Shop, Facebook Marketplace, Instagram Shopping, Facebook ads, and much more. Besides, the app gives a glimpse of your entire selling journey. The app dashboard provides you with information about your products, orders, earnings, and all recent activities. Thus, making your selling experience seamless.
Summing it up
Facebook Business Manager solves a lot of your concerns with user access and permissions by having everything in one central location. While Facebook has made it easier to keep track of activities and made it a streamlined process if you are a business having your stores across Shopify or WooCommerce, you can connect with Facebook Business partners and get your Shop ready across Facebook Commerce in absolutely no time. Besides, through Business Manager, brands like yours can run multiple reports across several ad accounts at once. So why wait? Get yourself onboarded to Facebook and scale your business accordingly.