How To Sell On Amazon Netherlands – A Safe Haven For Nordic Sellers to Build and Scale Their Business Online
Running short of time? Get PDF of the blog in your mail.

Play Now
Looking to establish an eCommerce business on the land of windmills? Well, there can't be a better platform to do so than the best online marketplace in the Netherlands – Amazon. A perfectly designed marketplace to cater to the customers' demands as well as the seller's needs. This blog will walk you through the eCommerce in the region, the perks, challenges and the process of how to sell on Amazon Netherlands.
On March 10th, 2020, Amazon launched its full-fledged online marketplace in the Netherlands (Amazon.nl). The Amazon Netherlands launch turned out to be quite spectacular as Amazon offered a massive range of more than 100 million products across 30 categories. Since then, this marketplace has made a stable position in the eCommerce community in Europe, especially in the Dutch and Nordic countries.

Our Experts have closely studied the launch of Amazon in the Netherlands, both from the perspective of online customers & sellers. If you directly want to skip to the section on how to sell on Amazon Netherlands, then click here to scroll to that specific section. Otherwise, continue reading to understand the full picture.
Here are the 5 things you must know about the Amazon Netherlands launch and how it has impacted eCommerce in the Netherlands.

How Amazon has impacted eCommerce in the Netherlands?
Here are the 5 major changes that were observed since the inception of Amazon Holland:
1. Product Pricing Slashed:
We all know that Amazon is the leading online retailer in the world, and its introduction to the Netherlands eCommerce has definitely resulted in redefining the way eCommerce is perceived in the region.
Amazon made it quite clear that it will eye for capturing the maximum market share in the Netherlands. The launch of 100 million products and 30 categories is the witness to it. To spice up the competition, the next thing Amazon did was slashing down the prices of the products, thus attracting customers from other marketplaces (like Bol.com & Zalando) to Amazon.

Our experts observed that to refrain Amazon from capturing a significant market share, other marketplaces in the Netherlands were obliged to reduce product pricing.
As a matter of fact, this turned out to be quite favorable for customers as they enjoyed huge discounts by shopping online. This somewhat made a dent in the offline shopping model in the region as well.
How is this good for online sellers in the Netherlands? Well, sellers did benefit from this as they experienced a massive influx of potential buyers. Although winning the buy box may have been difficult due to competitive pricing, but the pros outweigh the cons as online sellers from the Netherlands are getting a chance to list their products on a global platform.
Now coming to the next point of discussion.
2. Growth of eCommerce in the Netherlands:
Until the last year, 71% of online customers in the Netherlands prefer local retailers. While the major parts of the remaining customers chose to shop from other European Amazon websites, including in France, German, and the United Kingdom.
But this trend is changing since the launch of Amazon in the Netherlands – as major outgoing traffic has been diverted here. This is quite fruitful in terms of Dutch eCommerce as the overall revenue is expected to show an annual growth rate (CAGR 2020-2024) of 5.6%, resulting in a market volume of US$19,846m by 2024. (Source: Statista).

And the good news does not end here!! The Dutch business and financial news television channel RTL Z has announced that Amazon is planning to expand its Dutch headquarters with the introduction of 400 new employees.
This will serve as a boost for both Amazon.nl and eCommerce in the Netherlands.
3. High Streets suffered as the Shopping trends shifted Online:
One of the most significant impacts of the Amazon in the Netherlands has been observed in the traditional way of shopping, the high streets.
The launch of a global online shopping marketplace has deflected customers from traditional retail stores to online shopping. As of now, 96% of 17 million Dutch natives are internet users, and this has proved a catalyst to shift interest towards online shopping.

If you are a retailer in the Netherlands, now is the best time to take your business online.
The traffic for customers on Bol.com has also taken a severe hit as Amazon Netherlands gulped a lot of customers in the area. So sellers who are selling on Bol.com are advised to start considering Amazon as their alternative stop.
Do you know that you can sell the same products on Amazon and Bol.com simultaneously? Learn How
4. Created A Great Opportunity For Brand Building & Awareness:
The Launch of Amazon in the Netherlands is similar to the cherry on the pie for online sellers as they are getting a golden opportunity to display their brand on the world's largest shopping stage.
This launch can also be seen as a key to reach out to a broader audience and cover a larger geographical area. With Amazon, it's easily possible as we all are quite familiar with the capabilities of the Amazon marketplace. Just with one simple decision to sell on Amazon Netherlands, you can lay the foundation of a stable global online business.

Amazon has not disappointed any type of seller as it has introduced 30 categories to sell products. So irrespective of what product you are selling, you can efficiently capitalize on this opportunity.
For new sellers, the Amazon Netherlands can turn out to be a perfect head start that can set everything in motion.
The stage is set up; the audience is already here; all you have to do is Begin. Start selling on Amazon Netherlands Today.
5. Opens Up Multiple Cross Border Selling Opportunities:
The inception of Amazon in the Netherlands has opened up a whole new source of revenue for online sellers – ie, Cross border eCommerce.
Yes, you heard it right!!!

It was found that the Amazon Netherlands has attracted a huge lump of customers from neighboring countries like Belgium, Denmark, and the Nordics.
Earlier, customers from such countries used to shop from Amazon France, but with the introduction of Amazon Netherlands, they have switched to save the delivery and shipping costs.
As an online seller, if you are looking to establish your business cross borders, then Amazon Netherlands is an ideal place to begin.
Let's move on to a very important segment of this blog, ie. how to sell on Amazon Netherlands.
How to sell on Amazon Netherlands?
To sell on Amazon Netherlands follow these:
Sign Up for a Seller Account
Choose your source marketplace as Amazon.nl
Choose an Individual or Professional selling plan (based on your requirements)
Provide other necessary details and bank account details.
Start Uploading Products
Choose for Fulfillment By Amazon (optional)
Start Selling on Amazon Netherlands.
Congratulations!!! You have your very own Amazon account.
But
Setting up an online shop on Amazon Netherlands is the easier part. The real deal is getting more sales, visibility, and staying on top of other sellers. 
Here are a few expert tips to sell on Amazon Netherlands Marketplace:
Tips To Sell On Amazon Netherlands Marketplace:
Tip 1: Focus on the most selling items:
The dutch eCommerce is largely popular for clothing and fashion. Also, there's a huge demand for household goods and appliances. Experts believe if you include these product categories, you'll surely get a headstart to the selling campaign on Amazon Netherlands.
Learn more on what are the top-selling products and categories on Amazon 
Tip 2: Include Amazon A+ Content in your product description:
Visibility is the first step toward sales. Product visibility leads to brand awareness, which in turn leads to winning customer's trust and eventually the sale. And the best way to gain product visibility on Amazon is the Amazon A+ content. This innovative feature increases sales by improving the conversion ratio on an average of three to ten percent. To learn more about Amazon A+ content – click here. 
Tip 3: Opt for the Amazon FBA program:
As a seller on Amazon, your primary focus must always be towards increasing sales. You need to always keep your foot on the gas pedal and aim to gain more customers. You must not involve your valuable time in the after-sales process less such as delivery and fulfillment. Luckily Amazon provides a full-fledged delivery and fulfillment program which takes care of all the activities involved after-sales hence allowing you to remain focused on the more pressing concerns.
Tip 4: Focus on getting 5-star reviews from your customers:
The major factor that transforms a visitor into a customer is customer reviews. The reason why you must stress on getting positive feedback is that not only it adds value to the listed product but also enhances your reputation as a seller on Amazon. So try and get in touch with your existing customers and ask for positive feedback. The more 5 stars on your products the greater are the chance of successful purchase. Learn how to get 5-star reviews on Amazon
Tip 5: Get assistance from an Automated eCommerce tool to sell: 
Manually managing everything on Amazon often leads to some uninvited errors. Sellers selling on more than one platform face problems in the simultaneous management of multi-channels often leads to catastrophic errors. To avoid such mishappenings, an automated eCommerce integration solution for Amazon is the perfect tool. This tool allows bulk product management via a centralized dashboard that makes it easier to claim the buy box on Amazon. You can easily avoid overselling on Amazon with real-time synchronization of orders, products, and other details.
Amazon has now spread its wing in the heart of the middle east with the launch of Amazon Saudi Arabia – read more.
There must be a question swarming in your mind? With Amazon in the mix, which is the best online marketplace in the Netherlands? Is it Bol or Amazon has taken over the crown?
Amazon vs. Bol.com – Race for the Top Online Marketplace in the Netherlands
It's a fact that Bol.com has been the most stable and favorite online shopping website for Dutch customers. But can Bol.com remain on the top with Amazon attracting a huge customer and seller base in the Netherlands?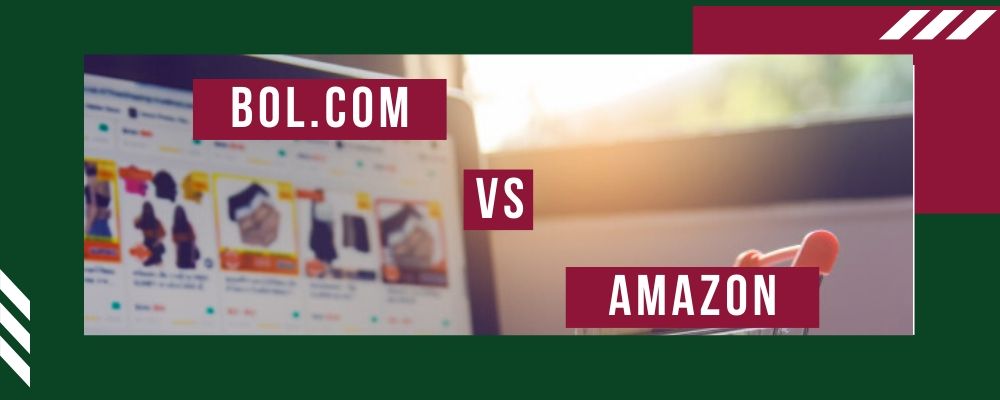 Well, right now it's not fair to announce a clear winner but I will lay down facts for you to decide.
These 3 key points will let you decide the winner of the top online marketplace in the Netherlands- Amazon vs. Bol.com:
Bol.com does trail by Amazon in terms of the product catalog size (by 4 times), BUT they do have 9 million customers in the region.
After the Netherlands, Amazon is planning to expand to Belgium, and so is Bol.com. Bol.com has already laid the foundations for this move.
Bol.com already has an alternative to tussle with the Amazon Prime solution as they have their very own Select program. Bol Select is just €9.99 per year compared to Amazon Prime, which costs around €36 annually.
The pattern of Amazon is almost quite the same. Amazon is targeting customers from the top regional marketplace, which in the case of the Netherlands, is Bol.com.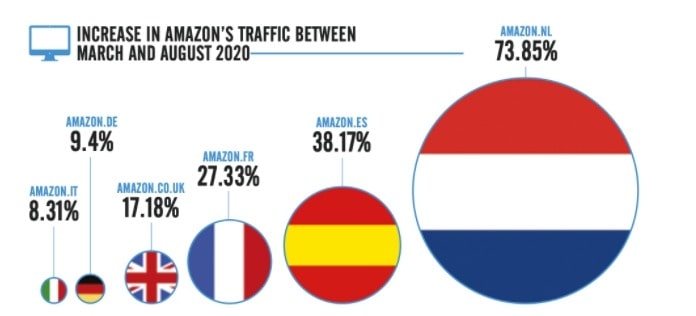 Since Amazon has declared a clear fight with Bol.com, they have to come up with a strong comeback, and until now, Bol.com seems quite well prepared. 
Let us know in the comments what is your opinion on which is the Top Online Marketplace in the Netherlands.
eCommerce in the Netherlands is getting interesting day by day. It would be intriguing to see where it goes in the coming days.
Conclusion:
By Launching a complete online marketplace in the Netherlands, Amazon has introduced its sixth country-dedicated platform in Europe. This launch shows that Amazon is quite proactive in expanding its roots in European online marketplaces. The Netherlands is currently ranked as the third country in Europe in terms of using online retail. And figures show this will only get better and better. So, from the perspective of an online seller, this is an opportunity. An opportunity to harness the power of the biggest online marketplace in the world and take the business to a whole new level. The time to think is far gone. Now is the time to make a wise decision and start selling on Amazon Netherlands.