How To Get 5 Star Amazon Product Reviews
Running short of time? Get PDF of the blog in your mail.

Play Now
It is such a feeling of relief to get positive reviews on your products on Amazon. But the big question is – Is it easy to get Amazon 5 star reviews on your products? Getting reviews (especially positive ones) from the customers requires keeping your nose to the grindstone.
Look's Complicated?
But don't worry!! We are here to make things easy for you.
The feedback of your customers on your products defines the success of your whole selling campaign on Amazon. Sellers often wonder, How to get Amazon 5 star reviews?
Well, it's simple. If you plan your selling according to Amazon best selling practices, surely you can get 5-star reviews on your products.
Why Sellers Should Worry about Positive Feedback?
The Amazon sellers must stress getting positive feedback. It adds value to the listed product and enhances the seller's reputation on Amazon.
Amazon product reviews are the best way to keep track of your performance as a seller. It helps you to understand how your customers feel about your products and services.
Sellers can easily analyze the loopholes in their selling strategies and products through this feedbacks from the customers.
Looking from the view of customers, they always seek a second opinion about your products. So, the reviews provided by other customers on Amazon helps them to make up their mind.
Online Reviews directly contribute to the product and seller credibility. It provides customers with a boost of confidence to carry forward with the purchase. It enables you to stand out in this vast competition and ultimately win the buy box every time.
Just beware of the negative feedback as they are the real deal-breaker for your Amazon business. A seller must be careful to eliminate or convert such negative reviews as soon as spotted.
In simple words – Your reputation is everything when it comes to being a successful seller on Amazon….. And what decides your reputation – The Amazon Product Reviews.
In this blog, we have tried to explain the significance of Amazon positive product reviews. Also, how to get reviews on amazon and important tips to get positive seller feedback from customers. In addition, we have also mentioned how to get Amazon 5 star reviews on your product and deal with negative product reviews.
Table Of Content:
Let us move on to them one by one.
The Definition – What are Amazon Product Reviews?
Amazon Product reviews are the feedback provided by the customers. It is regarding the quality of the product and the services provided by the sellers in delivering those products.
It is mentioned on the Amazon product page as shown in the picture below: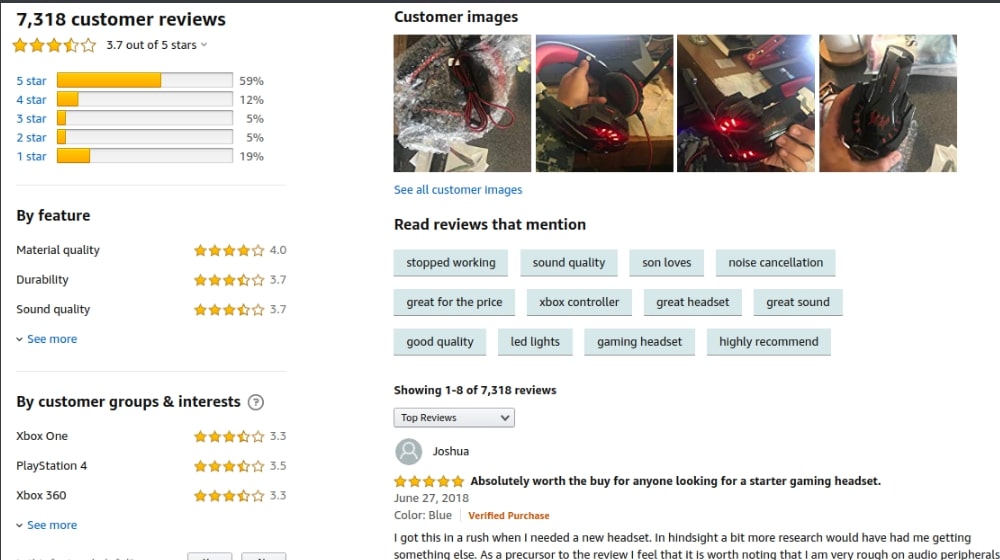 Amazon provides customers with a platform to express their views and feedback on the product. Like in the pic above 7,318 customer reviews are mentioned.
It's now easier and efficient to sell on multiple marketplaces with Multi-channel integration rather than selling on one marketplace.
Why Are Amazon Product Reviews Important?
When customers look over a product on Amazon they are in search of social proof of the product.
Many customers just scroll down to the review section to check seller ratings and product reviews.
Once they get satisfied with the reviews, then only they will start looking up other features; like product descriptions and features.
The positive reviews on the Amazon product page increase trustworthiness among customers. Since these reviews are provided by other customers who are already using the product. A personal suggestion of user-generated reviews and ratings serves as the greatest motivation to proceed with the purchase.
So sellers must keep asking themselves this question – How to get reviews on Amazon, especially the 5 star reviews. We have jotted down a few points that depict the importance of Amazon 5 star Reviews for sellers and their products:
Rank Higher in the Product Search:
The rankings of the products are directly proportional to the number of positive feedbacks and product reviews. You have a better chance to rank higher in the product search and win the buy box if you have more reviews.
Learn more on what are the top-selling products and categories on Amazon 
Increased Product Visibility:
Amazon follows an algorithm to position the products on various sections like 'related products' and 'customers also buy' section. If you are a seller with better Amazon reviews, you have a better probability to win these positions hence winning the buy box.
A seller can also easily increase product visibility by setting up a campaign using Amazon ad types.
Gain Amazon's trustworthiness:
One of the biggest perks of reviews on Amazon is that you get a better seller reputation. Amazon actively defends the integrity of its reviews. So, once Amazon considers you a trustworthy seller, selling on Amazon will become a child's play.
Get marketing insights:
Reviews provide a perfect market insight as to which products are the best selling and most profitable to sell on Amazon. "Amazon Best Sellers Rank" is provided to the items at the product level within the subcategory. From this, you can easily get an estimate of which product categories are doing well. And how to plan your sales campaign on Amazon.
Increase customer's trust:
By getting more reviews on your products you have a better chance of catching the eyes of your customers. Customers always consider reviews before making up their minds for purchase.
Since we have seen the significance of amazon product reviews, now let's move to our main topic ie. how to get reviews on Amazon.
Techniques to Get Reviews on Amazon
In order to get more reviews on your Amazon products to follow these 4 techniques:
Amazon Vine Programme
The Early Reviewer Program
Customer Followup request
Social Media Retargeting
Let's go over them one at a time:
Amazon Vine Programme:
Amazon Vine Program is a paid program by Amazon. And it provides sellers with the opportunity to get reviews on their products. Moreover, the platform charges a fee and provides sellers to get their products reviewed by eCommerce experts.
This is a perfect way of getting reviews as the products on which you wish to get reviews are decided by the sellers only.
Although Amazon doesn't guarantee that all reviews provided will be positive, there is a confirmation of the reviews being genuine. It is an ideal way to score Amazon 5 star reviews on your products.
This is an example of a review by An Amazon Vine Program:

The Early Reviewer Programme:
Another efficient tool for sellers to get Amazon reviews on those products that have no reviews.
Amazon themselves approach the customers who have bought the product to share their insights on the product.
With the early reviewer program, Amazon invites customers to be the first one to review on the product. Amazon also provides such customers with a small reward as a token of appreciation for guiding new customers.
From an Amazon seller perspective, the early reviewer program is useful for launching a new product.
The charges for this program is around 60 dollars per product. These are valid until you receive a minimum of 5 reviews on your product or one year (whichever comes first).


This is how to get reviews on Amazon via the early reviewer program.
Requesting Customers for Review with Follow up:
You must not feel awkward in asking your customers to provide you with a review of your products. It's your right to ask for a review because every successful sale can provide you with a potential review.
So after a successful transaction, you can send a mail to the customers thanking them for the purchase. Also, asking them to provide with feedback.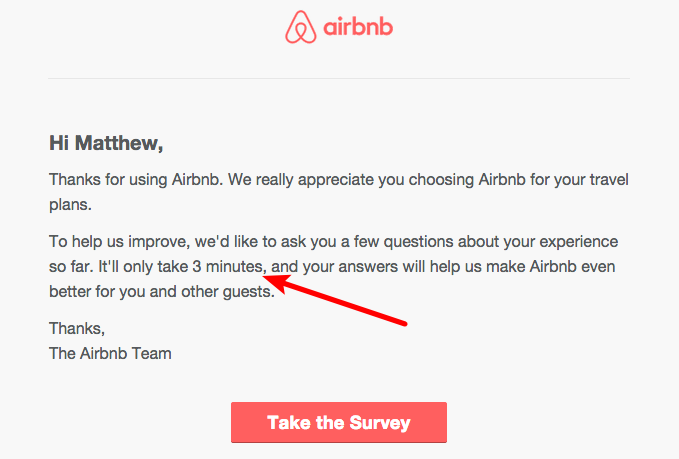 Since the conversion rates of emails are a bit less, you can opt for a much-personalized option, ie messaging.
Keeping a personal touch in your tone is more likely for your customers to click and proceed with the reviewing.
Tip: Using Auto responders are quite outdated as there is a maximum chance of your customers to ignore the mail or the message by looking at the source.
Social Media Retargeting:
Another tool you can use to collect reviews from the customers is by targetting them through social media campaigns.
The ideal way to do so is by collecting a record of all those customers and creating a custom audience for ads.
It's a foolproof method of getting more reviews on your products as there is a greater chance for customers getting involved as compared to emails and messages.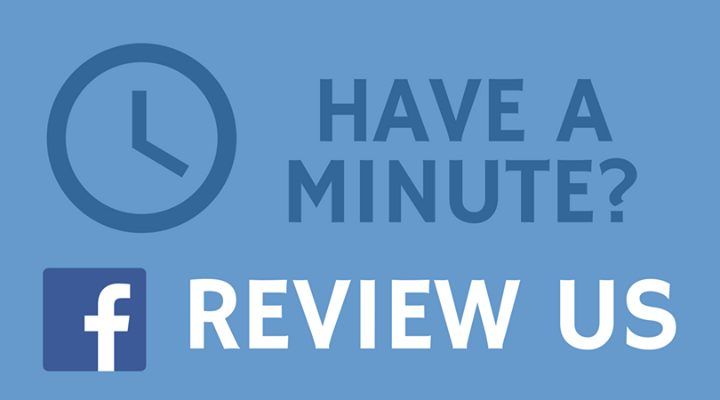 Don't miss to add an image of your products so that the customers may easily relate to.
You can use innovative methods for ads such as a small video clip or a gif explaining the same.
Protip: Try and keep the content of your ads smooth and simple as Amazon might not consider this technique ideal.
For Example: "Hi, Enjoying your products? Guide other customers by giving us your valuable feedback on our product and services. (Attach a link to your product page)"
Be sure to look at other places and Don't miss out any:
Customers do not follow a code of conduct while delivering a review on products on Amazon. Ensure to look for reviews in your social channels like Facebook, Twitter and Instagram. Customers express their opinions there only.
Some customers do leave a positive review in the seller feedback sections too, so don't miss out on that too.
So now we have covered how to get reviews on Amazon. We have also covered the importance of amazon 5 star reviews. So now a seller must ensure that the majority of the reviews are positive.
How To Get Positive Product Reviews on Amazon?
To get positive reviews on Amazon follow these 6 techniques:
Sell High-Quality Products
Optimize product listing using A+ content
Get your product reviewed from a top reviewer
Ask from your satisfied customers
Understand Buyers' Persona
Competeitior Analysis
Here is a detailed explanation:
Sell high-quality products:
Well, this doesn't come to much of a surprise but quality products are the most foolproof way of getting a 5 star review on Amazon. Selling quality products eliminates the chances of unsatisfied customers. It also increases the chances of customers providing you with words of appreciation.
You can easily look up for best selling products by going through these Amazon product sourcing tips. And sell them to gain maximum benefits.
Use A+ Content to optimize the product listings:
Since there are so many sellers selling the same products, you need to try a superior approach to describe why your products are better than the rest. To do so the best tool you got is using Amazon A plus content to demonstrate your products. By this your customers can know exactly what they are investing into. Hence eliminating the possibility of confusion of any sorts.
Here are a few best practices of enhancing your product listing by using Amazon A plus content.
Find A Top Reviewer:
Many people are unaware of this but there are thousands of Amazon Reviewers. They help customers to come to a decision while purchasing on Amazon. All you need to do is go to the Amazon top reviewers page and look for the relevant tags of a reviewer. If you deal with the same product categories you must approach the reviews.
If you succeed in getting a few Amazon 5 star reviews from them you can have a headstart for your business.
Here is an image of the Amazon top reviewer page where all the reviewers are listed:

Pro Tip: Try to establish a personal connection with reviewers. And the profile page of the reviewer often contain details like their email addresses. In case you have no luck with the email, go social and establish a connection via social media platforms.
Maintain a list of satisfied customers:
Getting Amazon 5 star reviews requires a lot of planning for the sales campaign. Maintain a list of all the satisfied clients and try and ping them in a while thanking them for the successful purchase. You can indirectly ask for a review. If they are happy, there is a higher probability of getting a five-star product and seller review.
Here's an example: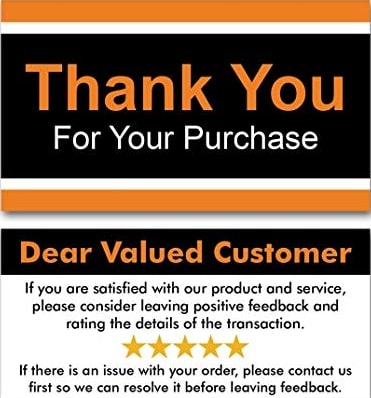 Pro Tip: Do not make your customers feel irritated. Since you are sailing too close to the wind, avoid making them irritated by frequently asking them for review or feedback.
Understand Customer Psychology:
It is very important for Amazon sellers to Understand the psychology of your customers. The best way to do so is by examining the reviews by customers. These can guide you while making important business decisions. It will eventually lead to a happy customer and Amazon 5 star reviews on your products and profile.
Competitor Analysis:
You can apply the same for this case. Survey and find out the sellers with maximum 5 star amazon reviews in your selling categories. Analyzing their strategies can surely help in improving the chances of enhancing the Amazon seller feedbacks.
Do Not Do These:
Working to get reviews on Amazon is great but there are various boundaries that need to be maintained. Amazon has a strict policy against fake or forced reviews.
Amazon will remove the product reviews under these conditions:
Firstly, If there are multiple reviews from a close connection between the reviewer and seller, Amazon will eliminate those reviews.
Secondly, if you have applied a discount of or more than 50 % then the reviews on those products might get removed by Amazon.
In some critical cases, Amazon can also take strict action by suspending your seller account.
Learn all about Amazon seller account suspension and how to get over it.
How to resolve or remove negative feedback on Amazon?
Well, there is also a downside of Amazon seller feedback – The negative feedback!!
Customers often leave negative feedback when discontent with the products or services. This can turn out to be devastating for sellers' reputations. Example of negative reviews on Amazon: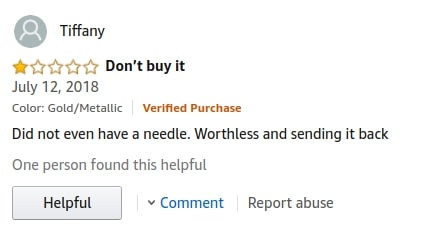 This needs to be improved and eliminated as soon as possible.
The best way to do so is by getting in touch with the unhappy customer and hearing out the reason for it.
Secondly, you must accept that this is your mistake. So, you need to provide him/her with the assurance that you will resolve the issue.
Thirdly, work on eliminating the issue and getting to know what exactly caused it to avoid it in future.
Fourthly, contact the customer and inform that their issue has been resolved. If possible try and provide a cashback or a coupon as compensation.
Lastly, after a while politely ask the client to either remove the negative review or change it to a positive one.
The process must be followed in the exact order. Also, remember that your customers are allowed to get upset but you need to resolve issues from your end.
I believe we have covered all our major topics; such as what are amazon product reviews, their significance, how to get reviews on amazon and how to resolve negative reviews. Let's get to the conclusion.
Conclusion:
Well, this fact has been established that you do not get reviews on Amazon but you have to earn them. Getting star seller feedback and product reviews require a planned campaign since your reputation is on the line. Moreover, your whole business is somewhat dependent on these reviews. So, you must try to become an ideal Amazon seller by focusing on your sales. And working on how to get reviews on Amazon products.