A Complete Guide On eCommerce In Nordic Region | Learn How To Sell On Nordic Marketplaces
Running short of time? Get PDF of the blog in your mail.

Play Now
eCommerce in the Nordic region is largely governed by these 4 western European countries – Denmark, Finland, Norway, and Sweden. Unlike most of the regions in the world where giants like Amazon & eBay dominate the market, the Nordic & Scandinavians prefer shopping from the native eCommerce platforms. Such unique shopping trends make it simpler for retailers to sell on nordic marketplaces. The top marketplaces in the region include – Cdon, Elgiganten, Fyndiq, Zalando, and Wish.
Index:
But first things first, let's start with a brief overview of eCommerce in nordic.
Overview:
For the past decade, eCommerce in Nordic regions is surging and has touched an all-time high. In fact, the total market spendings on online shopping have spiked to 30 billion euros in just Sweden. The region opens up infinite opportunities for retailers to build and scale small-medium-sized businesses. And the best part is that you need not be a native nordic to set a firm foot in these commerce-rich grounds.
Let's Discuss a few statistics and facts of nordic region eCommerce.
Facts, Statistics, and Figures of eCommerce in Nordic region:
62% of the nordic natives shop online every month which is more than 12 million customers per month.
The top eCommerce countries in the Nordic region include Denmark, Finland, Norway, and Sweden.

In the first half of 2019, the total recorded eCommerce sales were 112 billion SEK (Swedish Kronas), which is roughly equal to 11 billion euros.
Over one-third (36%) of online consumers in the Nordic region make monthly purchases from international eCommerce websites.

With an average annual online turnover of £7.9 billion, Sweden dominates as the largest eCommerce market in the Nordic region.
Selling in the nordic region is quite beneficial for Merchants in western Europe.
Almost all Scandinavians speak English, but they prefer to see websites in their native languages.

The online shopping trend in nordic eCommerce is the highest in Sweden with 68% of the total population shopping online.
In terms of the amount per person spent online in an average month, Norway is the leader with 2237 SEK per person.
Debit and credit cards are the preferred payment methods.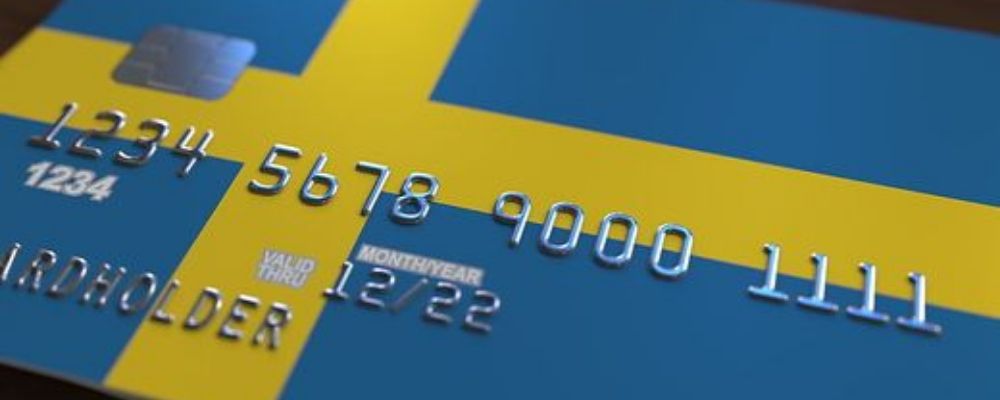 Top 5 Most Selling Products in the Nordic eCommerce:
The top 5 most selling product categories in the Nordic region includes:
Apparel and Footwear
Consumer Electronics
Beauty and Health products
Drugs and Pharmacy products
Books and Media
So if you are planning to sell on nordic marketplaces, be sure to cover these categories.
Fun Facts about the top-selling product in nordic:
Apparel and footwear are the online top-selling product category in all around the Nordic region.
In fact, a survey from Postnord shows that 37% of the Nordics have brought at least 1 or more products in this category.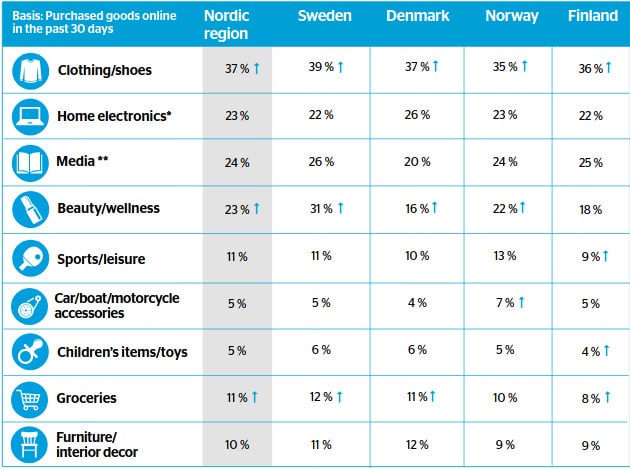 Electronics, Pharma & Beauty products are also in high demand – each contributing to 23% of the entire monthly purchase in nordic online shopping.
While planning to sell on nordic marketplaces, you must remember that Beauty and health products are limited age range products. So choose your target audience wisely.
Country Wise Product Demands in the Nordic:
If we distribute it country-wise then:
Sweden is the most dominant market when it comes to beauty & health products.
Norway has a large demand for sports & accessories.
For selling online in Denmark is quite popular for the furniture and home decor category.
There is an alternative way of looking over the most selling products in the Nordic region – The estimated amount that consumers spend online monthly in each product category: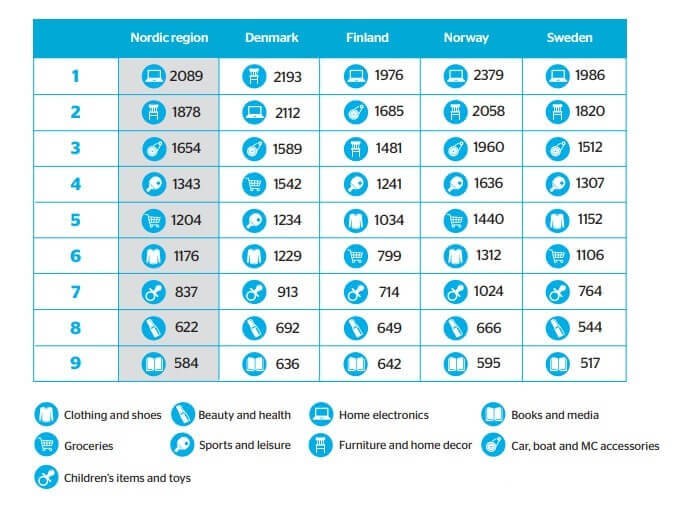 These statistics reveal that Nordics love to spend more on apparel and Footwear as compared to other product categories.
So what does this mean?
This simply means that if you are a retailer or seller dealing in clothing or footwear, Nordic eCommerce is just the place for you to begin.
Now let's move onto the favorite selling platform in Nordic eCommerce.
Top 5 Marketplaces to Sell in Nordic Region:
The best marketplaces in the nordic region include:
Let's discuss one by one
Cdon:
Cdon is recognized as the Don of online shopping marketplaces in the Nordic Zone!!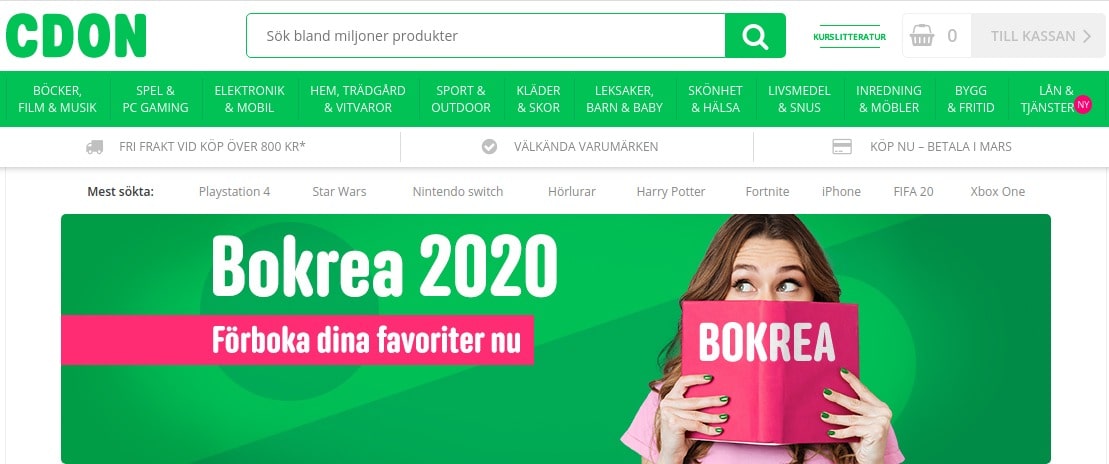 It is popularly known to attract a huge chunk of customers with the widest variety of products in sports, fashion, media, electronics, food, and much more.
In addition to the online visits, there were more than 3.3 million orders made at the online stores.
It has more than 1.82 million active customers making it a perfect platform to sell online.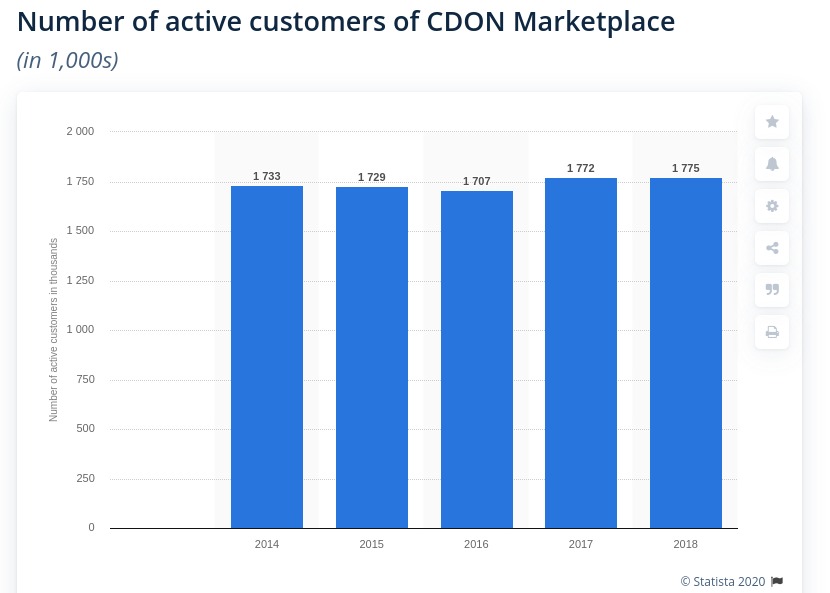 Elgiganten:
Elgiganten is the massive player speaking of consumer electronics online stores in the Nordics.

Founded in 1996, Elgiganten has its headquarters in Copenhagen, Denmark.
The most popular product categories in this marketplace include Computers & accessories, home appliances, gaming, and mobile.
Elgiganten is the perfect platform for a seller looking to commence or scale an online electronics business.
To sell on Elgiganten Marketplace, you need to become a partner by emailing at marketplace@elgiganten.se
Wish:
It would not be wrong to say that Wish is the 800-pound gorilla in Nordic eCommerce.

Wish turned out to be the most downloaded shopping app worldwide in 2018, and 90 million people use it at least once a month (Forbes)
Wish.com is one of the most popular choices for online nordic sellers to sell as it is their free ticket to take their business to 78 countries worldwide.
There are Zero registration fees, Zero product listing fees for & No monthly or annual subscription fee to sell on the Wish marketplace. All you are charged is a 15% sales commission.
Wish marketplace sponsors Los Angeles Lakers reportedly costs between $38 million to $42 million per annum.
Know more about how to sell on the #1 shopping app in the nordic region.
If you want to cover a wider audience then – Learn about the top marketplaces in Europe.
Fyndiq:
Making its name as the largest Swedish bargain superstore, Fyndiq is one of the key marketplaces in the nordic region.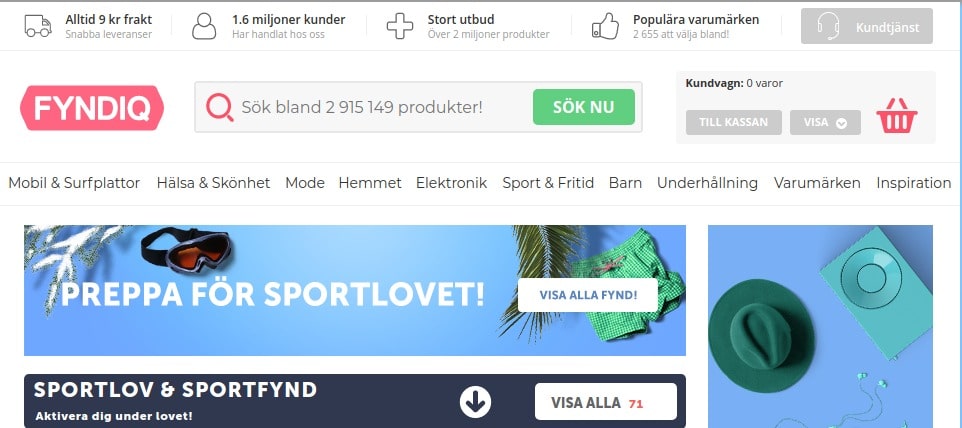 Currently, Fyndiq accepts more than 2 million monthly visitors making it an ideal place to try online selling.
You can sell a wide variety of products from over 2655 brands as the Fyndiq marketplace has over 2 million live products.
The top-selling categories on Fyndiq include fashion and accessories, health and beauty products, children's items, toys, home & living, and gifts.
Learn more about how to start selling on the Fyndiq marketplace.
Zalando:
When it comes to buying shoes, clothing, or other fashion items, Zalando is the first name that pops up in every Nordic customer's head.

Zalando dominates Western European eCommerce with 20 million active customers and a 7.4% share of the western European fashion market.
Since the Nordic region holds a huge demand for clothing and fashion accessories, selling on Zalando is just a walk in the park.
To apply as a seller on the Zalando marketplace, introduce your company by dropping an email at partner-programme@zalando.co.uk
Know more about Zalando and its impact on the Nordic region by clicking here.
Also Read: Top European Marketplaces to Maximize Your Sales
By now, we have covered the best eCommerce marketplaces in the nordic region.
Most Used Platform for online shopping in the Nordic eCommerce Region:
The online shopping trend in the Nordic region is constantly shifting toward mobile commerce.

Above is the comparison image for the%age of successful purchases via mobile in 2017 and 2019. All four Nordic countries, including Sweden, Norway, Finland, and Denmark, show a significant increase in mobile commerce.
This shift toward mobile sales channels will most likely continue, and hopefully, by the end of 2021, it'll transform into the mobile-first approach.
So what does this mean?
This simply means that while planning to sell in the nordic region, make sure to keep your website as much responsive as possible.
This is also an indication that Nordic eCommerce will advance towards mobile payments in the future.
Speaking of payments, let's discuss them in terms of eCommerce in Nordic.
Most Preferred Payments Methods in the Nordic eCommerce:
Nordics prefer Card payments (Debit card or Credit card) and 'Pay on Delivery' (POD) as the best payment option while shopping online.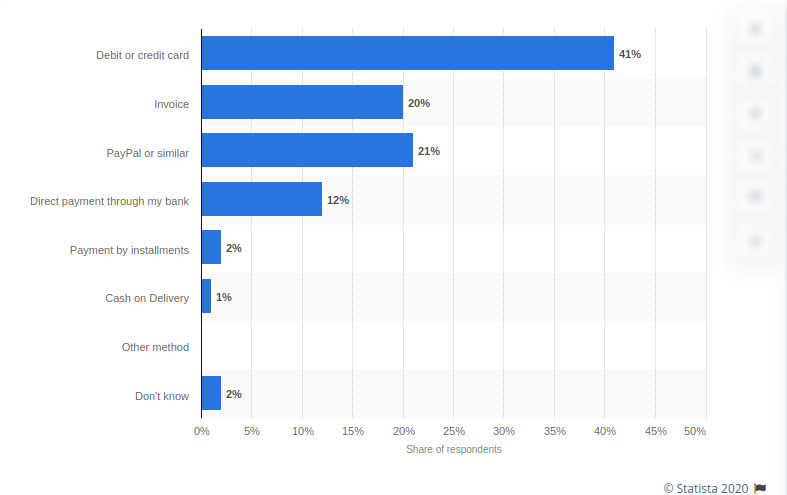 A seller selling in the nordic region must have multiple payment options, or else the cart abandonment rate is spiked.
Around 5 to 10% of customers in the Nordic region leave the cart abandoned if the preferred payment gateway is not found.
This cart abandonment rate is very high while selling on Finland marketplaces, where 16% of customers abandon the cart in case of unpreferred payment method.
You must NEVER leave out any mobile payment gateways as the nordic trend is migrating to mobile commerce.
A recent survey from Deloitte predicts that In 2025 smartphones will surpass the laptop as our preferred device for online shopping in the Nordic region.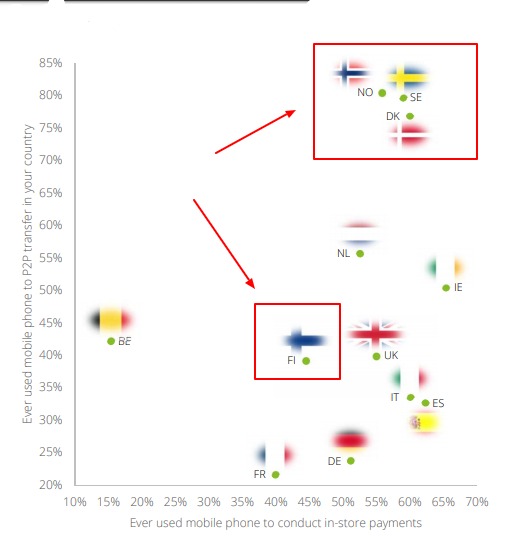 The above image from Deloitte shows a VS graph between people who ever used a mobile phone for P2P transfer and people who perform online payment.
The result shows that Nordic countries like Norway, Sweden, and Denmark have adapted to the mobile eCommerce payment culture faster than Finland and the rest of European marketplaces.
Here's a brief overview regarding delivery and returns
How are the Delivery and Returns handled in Nordic eCommerce?
Speaking of the best delivery method in the nordic region, Direct delivery to the mailbox is the most suited option.
Here is an image from Statista, which shows the choice of delivery that Nordics use while buying products online.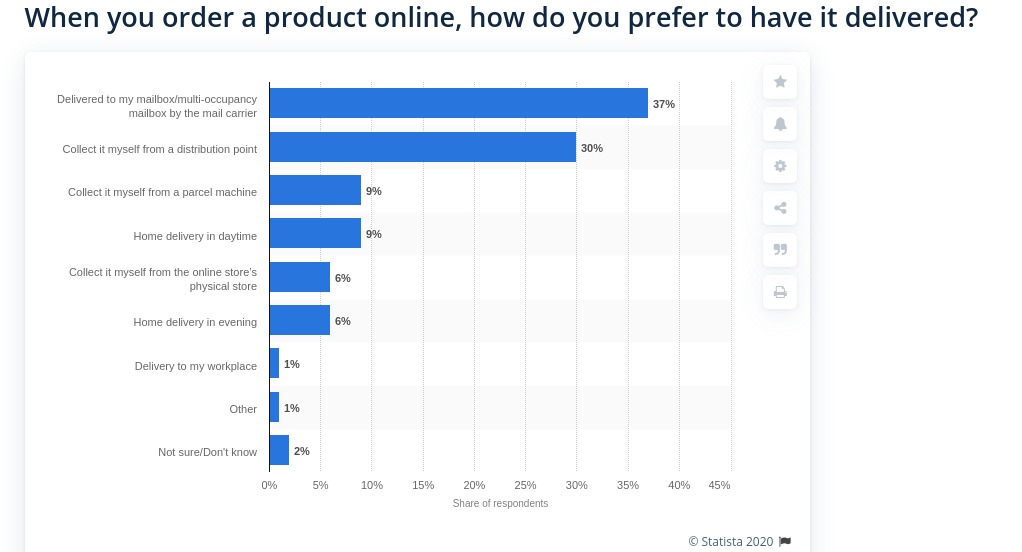 Important Tips regarding delivery in the Nordics:
The best day for delivery is at the weekends, as most of the natives prefer to receive the orders in their spare time.
Free Shipping is a must option to build a trust factor in the hearts of the Nordics. Customers refrain from buying a product online if the free shipping option is unavailable.
People in Denmark prefer the products to be delivered at home.
Returns are quite common in the Nordic region as 1 out of 10 customers return the products brought online.
FUN FACT …
Free returns are quite necessary for the Nordic region. A report reveals that 80 percent of Finns consider free returns to be significant.
Finland holds a record for the maximum returns in the Nordic region with 14% returns. It means that while selling in Finland marketplaces, you need to be sure of what you sell.
Note: The Preferred delivery method may also be influenced by the number of products in the shipments and the time of year of the purchase.
Cart abandonment in the Nordic Region:
An incomplete purchase is a nightmare for online sellers. It's a feeling where you baked a perfect cake but still missed the icing on the top.
The Nordic region is quite common for the cart abandonment issue if you did not stick to the rules.
A report from Statista concludes that 85% cart abandonment rate on mobile and 79% on desktop.
Below mentioned are the reasons why nordic customers did not complete the purchase.
5 Tips to avoid Card Abandonment in the nordic eCommerce region:
Offer multiple payment gateways
Keep the delivery charges to a minimum
Zero shipping charges
Offer Multiple Delivery options
Offer 1-3 days Delivery
I believe we have discussed much regarding cart abandonment. Now, let's move to a more exciting topic in Nordic online shopping, i.e., cross-border eCommerce.
Does Nordic Customers Shop Cross Border?
Yes Indeed!! Nordic customers love to shop from abroad from countries like the United Kingdom, China, and the USA.
As per 'eCommercenews.eu' – 29 percent of Nordic consumers shop online cross-border.
When you know who your customers are and what they love, it gives you an edge on the competition. The image above shows the nordic customers' preference towards the countries from which they shop cross borders.
Wish to explore more on Cross Border eCommerce?
A seller must stay updated with the current eCommerce trends to keep up with the customer's expectations.
Now let's ascend towards the eCommerce trends to sell on Nordic marketplaces.
eCommerce trends in the Nordic region.
"New purchasing processes and customer behavior are rapidly evolving, and the desire to change in pace with the market is crucial for success."
– Håkan Ericsson, President, and Group CEO PostNord
The latest trends in Nordic eCommerce are listed below:
More & more people are migrating to mobile commerce. By the end of 2020, Nordic countries like Denmark, Sweden, Finland, and Norway will shift to mobile-first commerce.
Nordic online shopping attracts more customers between the age of 20-35.
Product tracking is a crucial feature to be included, as the customers love to keep track of the current position of the product.
Customers love to explore each and every aspect of the product before clicking on Buy Now!! Multiple angle HD images, small explainer videos are appreciated by nordic customers.
Efficient Packaging and Timely delivery is the code for successful eCommerce in nordic.
After analyzing the trends, we must also learn How to build an ideal eCommerce website for the Nordic region?
The answer is – choose the best eCommerce framework in the region.
Top eCommerce Frameworks to sell on the Nordic marketplaces:
PrestaShop
Opencart
WooCommerce
Magento
Choosing the right platform is the most basic and vital step of being an online seller in the Nordics. Therefore you must do comprehensive research and analyze what's best for your business.
PrestaShop:
Prestashop is the most widely used eCommerce framework by nordic eCommerce sellers.
It's an opensource selling platform that provides everything you need to sell, including store development & management, order management, payment gateways, and much more.
However, you can simply link your PrestaShop store to any of the top marketplaces using multichannel integration extensions and start getting orders directly from the best nordic marketplaces.
Opencart:
Opencart is also a pretty compatible and affordable platform to sell in the nordic region.
The reason why opencart is on the list for the best selling framework is that it provides end to end solutions a seller need to create, scale, and run your business.
Currently, 342 000 eCommerce businesses are empowered by Opencart – So what are you waiting for?

Luckily, by using multichannel marketplace integrations, you can connect your Opencart store with any or many of the nordic marketplaces.
Magento:
Magento is recognized as the leader in the Open Source eCommerce globally and its extensively used in the US and UK regions.
The popularity is catching up in the Nordic region quite quickly.
Centainly In the past few years, Magento has successfully hosted multiple events, including Meet Magento Sweden, to expand its popularity in the Nordic region.

WooCommerce:
WooCommerce is also a quite popular platform to build an eCommerce-based website in the Nordics and sell online.
With more than 85M downloads, WooCommerce powers over 28% of all online stores.
The best part about this framework is that it is highly customizable and is compatible with multiple 3rd party extensions.

What are the Best Nordic Marketplace Solutions for Sellers:
The best nordic marketplace solutions include multichannel eCommerce integrations. These are open-source third-party extensions that are installed in your eCommerce platform. These marketplace solutions make it easier for sellers by:
Reduce manual work & errors by automatically updating order, inventory, item, customer, and shipping data.
Stay updated with automatic notifications for order shipment and allow easy product tracking.
Easily Upload any number of products in a single go on any of the best nordic marketplaces.
To know more about the Best Nordic Marketplace Solutions, click here.
I believe until now we covered each and every aspect of Nordic eCommerce including statistics and figures, Top Selling Products, Most Used Platforms & payment methods, Delivery returns and refunds, cross border opportunities, latest eCommerce trends, top-selling products, marketplaces, and frameworks.
Moving on, Let's go through one last topic for today ie. how to sell on Nordic Marketplaces.
How to Sell on Nordic Marketplaces?
To sell on nordic marketplace, you need to follow these guidelines:
Go through the statistics and analyze the opportunities
Learn about the top-selling products and categories
Choose the best marketplace to sell
Include all the popular Payment Methods in the region.
Plan for the Delivery, Shipping, and Returns strategies.
Look for cross border opportunities
Learn the latest and upcoming eCommerce trends
Choose the best Nordic Marketplace Solutions
Enjoy Selling
Let's ascend towards the final words.
Conclusion:
There's no doubt that eCommerce in Nordic is rapidly evolving, and this evolution has opened up ample opportunities for online sellers to take their business online & sell on Nordic marketplaces. Most importantly, the customers in this region love to shop, and the whole nordic retail is shifting towards the online approach. In Denmark, just under ⅔ rd of the total population shop online, and the same is the case with other nordic countries as well.
The bottom line is – To Sell on Nordic marketplaces, you need to cover all your bases, analyze your target audience, the latest trends, search for the best marketplaces, the top-selling products, the best platform, and then you are all set to do wonders.