7 Wicked Halloween Ideas To Boost Your Sales
Running short of time? Get PDF of the blog in your mail.

Play Now
Halloween is here! And all the zombies, skeletons, and witches are out to play and ghost around and so should your business! Here are some wicked Halloween ideas for Wish sellers to hype up your sales and keep the zombies alive. The NRA forecasts the holiday spending to hit $102.74 this year. And ofcourse this is not worth missing. So get ready for spooky Halloween 2021 with these witchful ideas.
Create Witty, Scary Halloween Videos Of The Products
Videos are highly engaging. And creating a 30 sec "How to" video of the product can hype product sales unbelievably. When the shoppers know what they are buying and how to exactly use it they are more likely to buy it immediately. This also reduces the possibility of returning the product. For example, if you are selling makeup products. You can make a video on Halloween makeup and how your product can create and enhance the scariest look. Promoting your brand through a Halloween theme video can be icing on the cake. Include haunted houses, goblins, witches, spiders to align well with the Halloween theme. Give your buyer a spine-chilling experience even when they are buying. Videos have earned a reputation for being the audience's favorite. Use them to target and retarget your shoppers.
96% of buyers see videos to know more about the product. And 84% accept that product video persuaded them to click on "Buy Box".
Create Buzz Through Your Social Media.
Even minor changes in your social media handle can bring the Halloween vibe to your store. Therefore, these ideas can be helpful. Things you can do to revamp your social media account as per the Halloween theme:
Add black and orange pumpkin or macabre spider web to your logo.
Make boomerang videos to show Halloween 2021 fun.
Stage your products in a spooky way.
Create a short video to show how buyers can use the product.
Add the creepiest image to the page.
Give Halloween ideas to your buyers.
Add fun illustrations to existing photos of your products.
On Instagram, Facebook, or Twitter, go crazy with Halloween puns.
Enable 2-day Delivery For Last-Minute Shoppers
Timing is everything. Wish has various shipping methods and you can opt for any. But don't forget there is always someone who didn't plan Halloween a week before. It's now up to you to prove that you've got their backs. Enable 2-day delivery on your Wish products and improve product visibility at the same time. In fact, fast shipping is so important nowadays that 27% of customers will choose one brand over another based on their delivery alternatives. Customers value 2-day delivery above small extra spending. It influences where they shop, how much they spend, and what kind of reviews they write.
CedCommerce Automation Can Ease Your Work
If you think managing so much and delivering product in such a short time span is difficult. Use CedCommerce's Wish integration to streamline the process. It eliminates unnecessary havoc and repetitive work. You can operate your Shopify store and Wish store through a single panel. You may also easily link shipping carriers so that the buyer can trace their order at any time. All these benefits are provided in just one app. Along with that it also takes care of your other need like bulk uploading, multiple warehouse management, and many more. To know more about the Wish integration app refer to "Wish Integration by CedCommerce".
Halloween Themed Costume is a "Must-Have" For Your Store
Halloween sale marks the beginning of the biggest retail holiday season. And giving your shoppers a reason to buy is the best strategy you can opt for. When someone thinks of this festival, the first thought that strick is "Where to buy Halloween costumes?" So be ready to provide the best selling products to your buyers. You can look for what's trendy this season and fill your store with relevant items.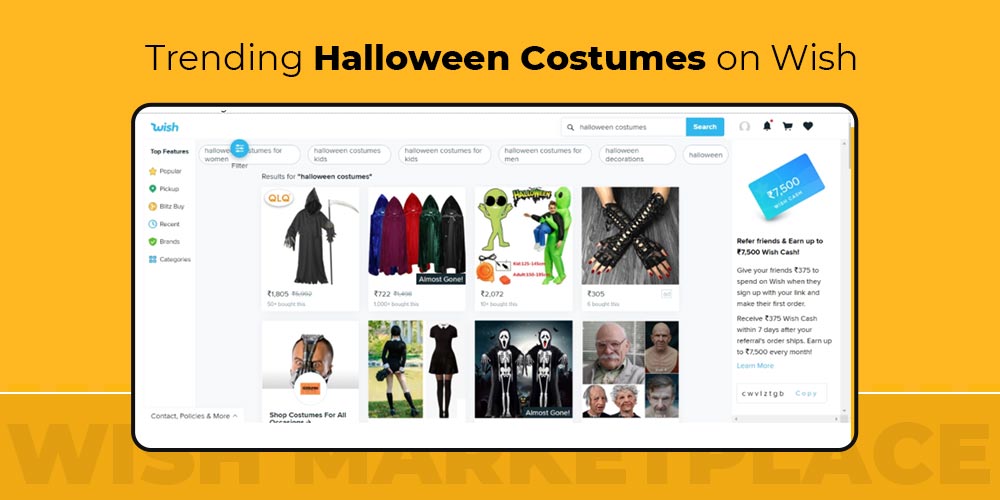 Not just that, marketing your product at the right time is equally important. Tell your shoppers what's trending and what are best-selling products on Wish. Have sufficient inventory of Halloween costumes. That's the most demanded product.
Add a Spooky Touch To Your Halloween Sales
It's Halloween 2021, so your existing and new customers might expect great deals. An all-out sale, a tiny discount on the next buy, or a Halloween theme freebie with every purchase over a specific amount are all possibilities. Use Halloween 2021 to understand your buyers better. You can conduct a contest or quizzes to know better about your buyer. Or you can also ask them to share their favorite Halloween costume or look. And in return, you can showcase your product that might meet their requirements. You can also share more Halloween ideas for decorations and everything.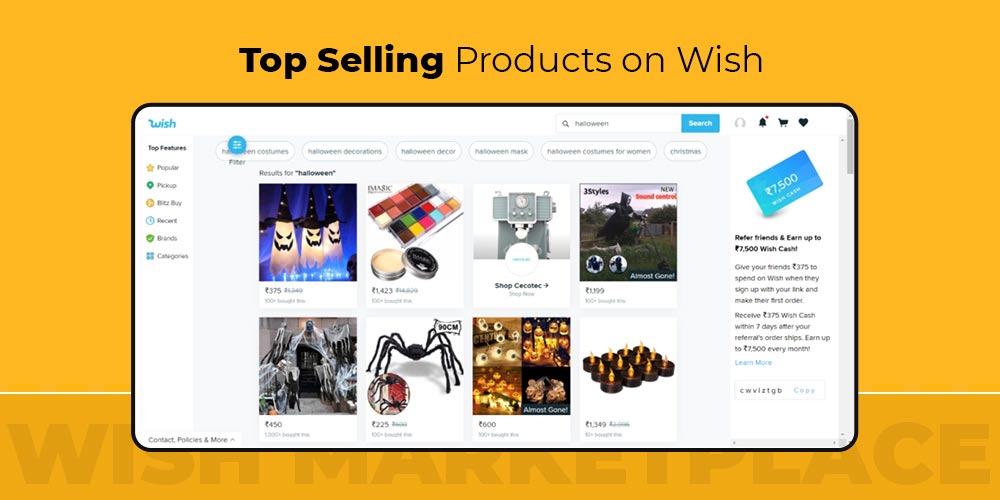 Don't forget to treat your loyal customers.
Arrange giveaways for engaging customers.
Share Halloween newsletters and email to update shoppers about the Halloween sales.
While interacting on social media, offer them discount codes.
Use Cross-Sell And Upsell Technique
Halloween is an exceptionally relevant holiday for recommending related products. According to the NRF, more than half of Americans will decorate their houses or dress up in Halloween costumes. There are a lot of Halloween decorations, and costumes usually contain a lot of different features. As a result, these items are suitable for cross- and upselling. With Halloween costumes, you can recommend Halloween makeup products as well. With spooky spiders, you can upsell hanging ghosts ang give your buyer a witchy vibe. Customers are more likely to buy in a bundle if you offer more relevant products to them and sell them at a lower price than if you sold them separately. Upselling and Cross-Selling are always the best sales strategies that you should carefully explore if you're seeking rapid victories.
Share DIY Guide With Your Shopper
Use blogs and teach your viewers and potential customers something beneficial this Halloween. Because DIY is so popular right now, you could make a DIY guide full of innovative ideas for how to celebrate this holiday, starting with the creepiest recipes, costumes, and craft decorations, and ending with throwing a large-scale party. Encourage your shoppers and buyers to use your hashtag to share photos of their "Halloween Ideas". For Wish #Wishoween is a trending hashtag this season. You can promote it too through your product. Sharing DIY ideas and guides can be a game-changer for you. You can suggest creating a Halloween decoration look by using products that you sell. Like Skeleton, spooky web, hanging ghosts, and many more. Not just that you can also share other Halloween ideas to sell more and lure your shoppers. If you are wondering who will take the pain of writing a guide and how will this work? Whether or not it is suitable for your business. Get in touch with an expert and resolve your queries now.
Key Takeaways
In a year full of gimmicks, a little skele-fun with your approach can pay off. There's still time to spookify your brand – now go have some fun with Halloween 2021! Preparing for Halloween takes a lot of time and effort. There is, however, a silver lining. Halloween marks the start of the holiday season for online sellers, with Black Friday, Cyber Monday, and Christmas sales to come. As a result, preparing for Halloween reduces the amount of work required for other upcoming holidays and events. So there you have it – seven spookily effective and simple Halloween ideas for your Wish store. We hope you'll be able to bring in at least one this year and see the increased engagement and sales you're hoping for.