Sell on Zalando- The Best Fashion Savvy Marketplace in the World
Running short of time? Get PDF of the blog in your mail.

Play Now
It's every seller's dream to sell on Zalando, the biggest fashion marketplace in the world. But for some sellers, this dream can turn to be a nightmare as selling on Zalando comes with some exceptional challenges. Through this blog, I will try to explain everything you need to know to sell efficiently on the Zalando marketplace, including seller account setup, selling fee, requirements, challenges, top-selling products, and an overview of Zalando marketplace explaining its contribution to the European eCommerce.
So let's begin,
A brief about Zalando:
The best way to describe the Zalando marketplace is the biggest digital ecosystem containing the widest variety of clothing and fashion accessories of more than 4,000 brands. Thus with a network spread across 20 countries, Zalando is the undisputed leader in European fashion retail.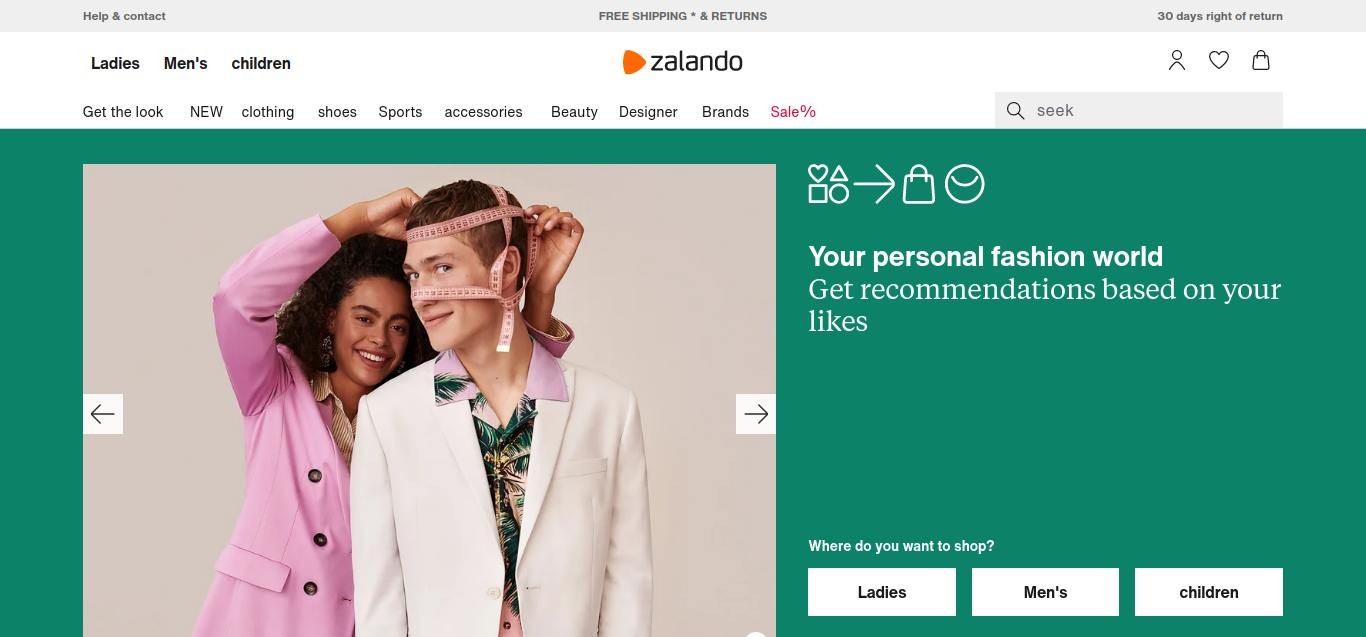 Started back in 2008 in Berlin, Germany, Zalando began its journey as an online shoe store. The locals loved it and soon, it got transformed into a full-fledged fashion marketplace for all sizes including women, men, and kids as well. Moreover, Zalando marketplace sells products under a wide range of categories, including Clothing, Shoes, Sports, Fashion Accessories, Beauty products, and Designer products.
Therefore from the perspective of an online seller, the Zalando marketplace is a self-sufficient platform that has everything needed to set up a stable and profitable online business. A dedicated fulfillment service, product exposure to customers in 20+ countries, low selling charges, and options to sell under 4000+ brands – what else can you ask for?
So now, let's support what I have said so far with statistics and figures on the Zalando marketplace.
Some Key Statistics for Zalando marketplace:
50.2 million active customers (Q3 2022) Statista
42 million active customers (Zalando)
An average basket size of 56.90 EUR (Statista)
185.5 Million orders were made on the Zalando website in 2020
The most revenue-generating categories on Zalando are Apparel (58%) and Footwear (34%).
In 2022 Zalando experienced an 80% increase in monthly visitors
1,000,000 assortments available
560 million visitors per month
More than 6500 brands of products are available to sell
Available in 25 countries
Zalando's contribution to the European eCommerce:
When we speak of eCommerce growth in a region, regional marketplaces play a vital role in it.
The same is the case with Zalando and European eCommerce. In the last decade, Zalando has made a firm position accounting for more than 10 per cent of the continent's entire fashion market.
As a matter of fact, the Predictions reveal that Zalando's 2021 revenues will grow between 24 and 29 per cent. Thus breaking it down in numbers it will range somewhere between 9.9 and 10.3 billion euros.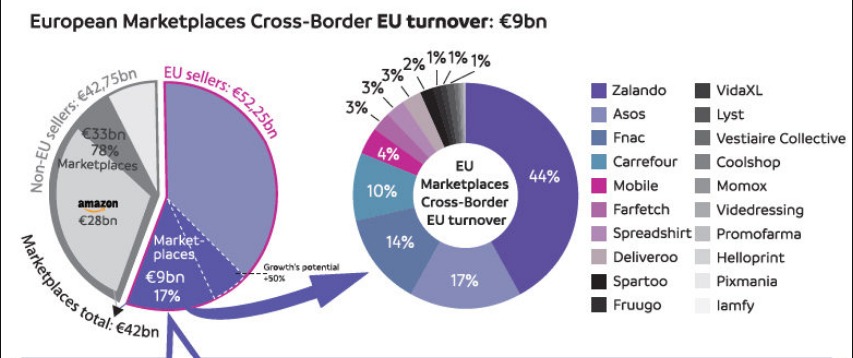 Also Zalando has a fair share of visitors and active customers, which are growing rapidly with time, making it the most visited online fashion destination in Europe.
Therefore, another reason Zalando is such a key figure in European retail is its future growth potential. 
Moreover, the Zalando marketplace is also dominant for cross border eCommerce in Europe.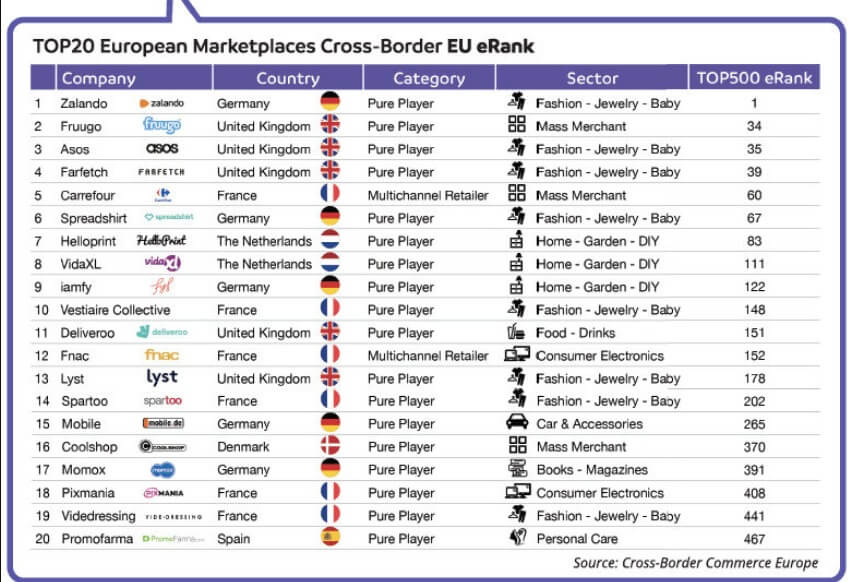 Zalando co-CEO Robert Gentz commented: "2020 has been a year like no other. We have kept our eyes on our long-term vision to be the Starting Point for Fashion. For the coming years, our focus remains on growth and investments for the long-term."
Moreover its quite clear that Zalando is not only restricted to a single country but the entire European region. 
What are the selling Fees on Zalando Marketplace?
The selling fee on Zalando is divided into 2 categories:
Selling commission
Fixed monthly charges
Also, the selling commission on Zalando is based on the type and the price of the product being sold. It usually ranges somewhere between 5% and 25%.
Speaking of the monthly fee for selling at Zalando is quite nominal.
The good thing is that NO selling fee is charged for the first three months giving sellers an advantage to settle in and get familiar with the platform.
Note: There are No sign-up or product listing fees on Zalando.
What are the minimum requirements to sell on the Zalando Marketplace?
For sellers looking to commence selling on Zalando marketplace must fulfill the following requirements:
Must have a webstore online.
You must have your business registered.
Must have products in digital under at least one of the following categories (clothing, shoes, sportswear, and equipment or accessories).
Must offer free delivery and free returns with a 100 days return policy.
Note: Thus it is advisable to fulfill all the above points before applying for the seller account to avoid outright rejection.
What is the seller registration process on the Zalando marketplace?
So now comes the very crucial step you need to know to sell on Zalando marketplace.
Thus to register yourself as a seller, follow these steps:
Phase 1:
Company Introduction: The first step is to introduce your company to Zalando. You can do so by framing a mail to partner-programme@zalando.co.uk with all the details listed below.
Accept and sign the seller contract of Zalando.
Accept the contract with the logistics carrier (in case you opt for it).
The next step is filling out the master data sheet, which looks something like this.

The master data sheet is a very important part of the seller registration as it contains fields such as:

Name of Shop
Company Address
Contact details
VAT identification details
Warehouse details
Bank account details

After the master sheet, next, you need to comply with the VAT Policy
Now you need to submit a Know Your Customer (KYC) Document
So now let's ascend to the 2nd phase of the seller registration process.
Phase 2:
Technical Setup-
Here you need to provide the details of the Merchant & Developer Admin
Upload your product image along with the Brand Logo(s)
Note: Minimum of 200 px width // Height is dependent on the ratio of the logo // Landscape logo Version is preferred if multiple versions // JPEG format // Aspect ratio: 2:1 (3:1, 5:1, 7:1) // No max file stipulated as we resize // RGB Format (no CMYK).
That wraps up the 2nd phase.
Phase 3:
The 3rd phase is the logistics and delivery settings.
Make sure that you have the resources to timely ship and deliver the Zalando orders with your carrier.
There are various document templates for selling on Zalando. Ensure to follow the templates provided by Zalando for the following:

The delivery note,
The return note,
The return instructions,
The invoice.

You have to send a sample of all the above to Zalando
There is one more thing that needs to be sorted with Zalando in terms of logistics & delivery. You have to inform the Zalando personals whether you are feasible with the:

Delivery to a DHL Packstation,
Delivery to Pickup Points and
Cash on Delivery for your placed orders.

There is one thing to be noted that your customer delivery service must be available by phone and email from Monday to Saturday from 9 a.m. to 8 p.m
This mostly wraps up all the steps involved in the delivery and fulfillment setups in the Zalando seller registration process.
There is also an option for the Zalando Fulfilment Services which we will be discussing later.
Phase 4:
Now comes the next phase which is compliance with the VAT policy.
Zalando makes it very clear with the statement that the seller will bear the sole responsibility for all sorts of tax obligations in the countries where your products are listed live on a Zalando marketplace.
You need to remember the following pointers for the VAT policies for selling products on Zalando.
For selling products in Germany, Local VAT registration is mandatory.
If you have opted for the Zalando Fulfilment Solutions and additional VAT registration is required. This is as per the number of countries you are using to store products in Zalando warehouses.
Phase 5:
KYC
The last step for seller registration on the Zalando marketplace is the KYC. It's just a set of questionnaires that you need to answer.
Your KYC is approved after physical verification of documentation by Zalando. Those documents include:

A copy of the trade register of the company
A copy of a valid personal ID of any person acting on behalf of the company (for example – passport)
Proof of a private residential address (e.g. a copy of Rental Agreement or Lease Agreement.)
Proof of place of birth (only if not stated on the personal ID) An example can be a birth certificate.

After this Zalando ensures the quality of the provided documents. In case of any discrepancies, they may also contact the responsible person directly.
Well, you are all set now.
You have taken the hard step. Now it's all a smooth sail.
Zalando Fulfillment Service:
Zalando offers a full-fledged fulfilment and delivery service for sellers. By opting for this, the sellers can tap into the logistics network and capabilities of Zalando for timely delivery with increased sustainability.
The Zalando Fulfillment Service ensures delivery on the same day or latest by the next day. From the seller's end, there is one simple responsibility ie. to store your product stock in one of Zalando Warehouses. Zalando takes it from there and does all the packaging, shipping, delivery, and even the stock management.
Zalando lifts heavy loads from the seller's shoulders by taking the responsibility of handling returns.
Why Choose ZFS:
Reduces the burden
Timely delivery
No additional cost
Easy International selling
High customer satisfaction
How does ZFS work?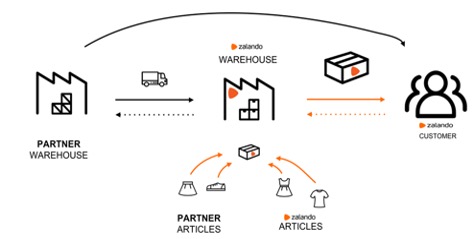 The infographic above explains how the ZFS works.
You store your products in Zalando Warehouses
You receive an order
The details for the order and quantity are sent to the fulfilment centre.
Your order is packed with the desired details and shipped
Your customer receives the order within the same or next day.
Easy, Isn't it?
So in case you have not opted for ZFS and using a 3rd party delivery service, Zalando prefers to go through these:
For Germany –
The Netherlands
For Belgium
To get a detailed list: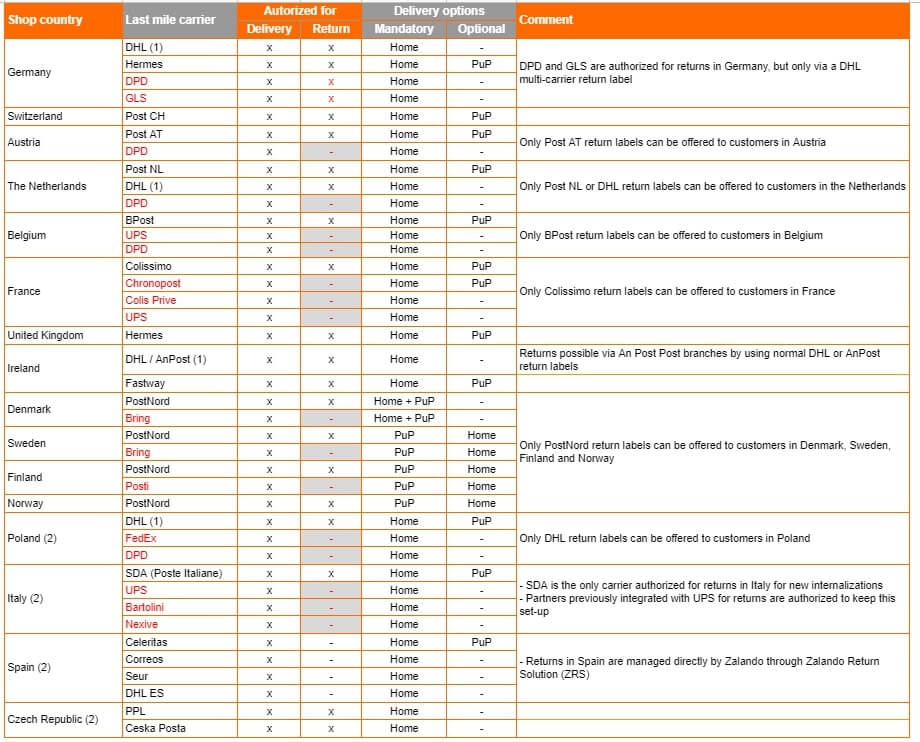 A lot has been discussed about delivery and fulfilment. So now, let's move to another interesting topic….
Zalando Marketing Services (ZMS)
Zalando Marketing Services is the best possible way of advertising your products on the Zalando marketplace. This is an additional service offered by Zalando which paves the way for sellers to expand product reach to the widest variety of customers.
ZMS is a nice way of overcoming the neck to neck competition
Therefore there are three major services offered by ZMS:
Consumer Insights:
Based on your previous selling records, your targeted customer base, and the product categories that you are selling, Zalando offers a feature of customer insights. This service opens up a unique way of analyzing & understanding potential customers. Furthermore, this tool also offers some impeccable advice on how to enhance your marketing campaign.
ZMS Creative:
This part of ZMS is something very unique and my favorite. The ZMS creative offers a storytelling format to your marketing campaign. It uses the data from your previous sales and campaigns to create a well-structured & engaging storytelling campaign.
ZMS Media:
This is the basic media campaign that utilizes the power of various online channels to place your marketing campaigns. Also it uses the Zalando website, various social handles, and common online platforms to run your marketing campaign.
Payment methods available on Zalando:
Zalando marketplace allows sellers to use a wide variety of payment methods including:
Credit card (Visa, Visa Dankort, MasterCard, American Express)
PayPal
Payment by invoice
Moreover there is 128-bit SSL security encryption during the payment process to protect the data.
Therefore at the end of each month, sellers receive the following billing documents:
Invoice Overview
Sales Settlement
Return Settlement
Correction Settlement
Some Do's and Dont's for sellers on Zalando marketplace (Best practices including):
Do's-
Respond to any error notification from Zalando on time
Use Good Quality Images
Supply the Mandatory Fields Details
Aim at Satisfying Your Customer
Write Catchy Product Descriptions
Don't-
Avoid selling restricted items
Do not use low-quality product images and videos
Dont keep the pricing of the product high
Dont ignore the negative feedbacks of the customers
Also Read: Things You Must Know Before You Start An Ecommerce Business
So now let us move on to the best selling items on Zalando.
What are the Best Selling Items or Products on the Zalando marketplace?
The best selling product categories on Zalando includes:
Footwear
Fashion Apparels
Bags and Accessories
Personal Care
Toys and Babies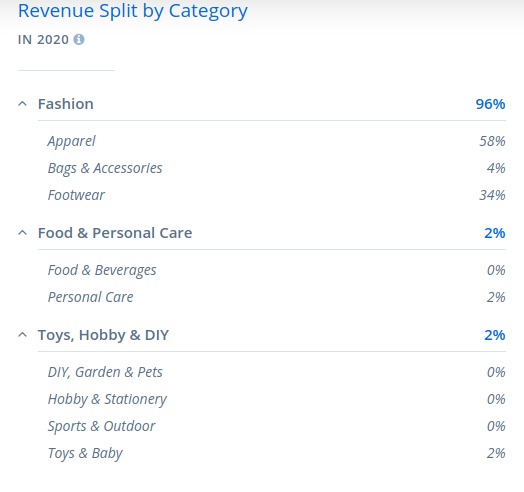 What are the major challenges while selling on the Zalando Marketplace?
Competition to win the buy box
Managing the product catalogs
Timely Delivery (next day or same-day)
Managing Refunds/Return and 100 days return policy
Major Competitors of Zalando in Europe:
The Major competitors of Zalando in Europe which deals with similar product categories and cover the same region includes:
Also Read: Multi-channel Selling: Experience eCommerce At Its Full Potential
FAQs for Zalando seller
Q. Is there a limit on how many articles can we sell on Zalando?
Ans. No, there is no such limit. Zalando allows you to sell as many articles as you like as long as you comply with Zalando's Ethical Standards
Q. Can I modify my products after uploading on Zalando?
Ans. Yes sure. You can add, modify and remove any current items at any given time
Q. Can I use Zalando Fulfillment for the selected region and use my own for the rest?
Ans. Yes, Zalando gives sellers the freedom to opt for Hybrid fulfilment services. Wherein, you can use your own logistics setup and the Zalando Fulfillment simultaneously.
Also Read: Marketplace Alternatives of Amazon and eBay in Europe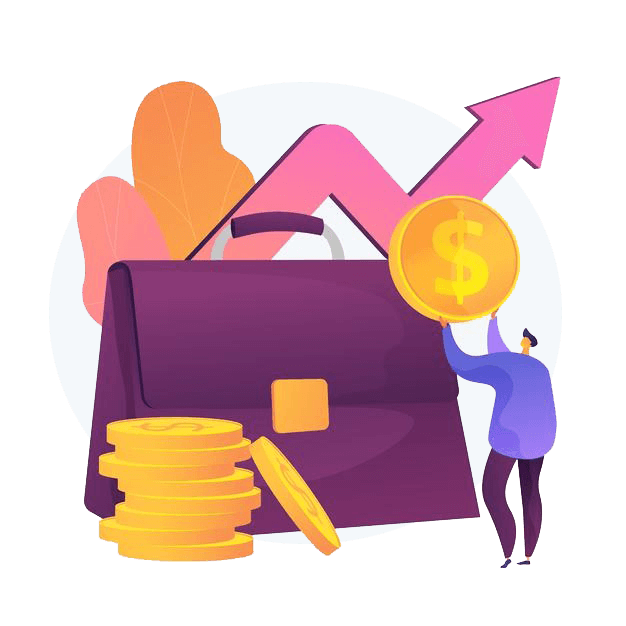 Looking for tricks to improve sales on Zalando
Get in touch with experts to learn the secrets to increase sales on Zalando
Conclusion:
 In the end, it boils down to the fact the Zalando is the undisputed leader in terms of the fashion-based marketplace in Europe. Hence it's quite obvious from the details mentioned above that this marketplace has everything from a seller's perspective including:
low selling charges
high growth potential
wide target audience,
wide range of product categories to sell
customer reach in multiple countries
dedicated fulfilment service
timely payment with security
What else do you need?
So start selling on Zalando marketplace today.
Also in case you have any queries regarding the Zalando marketplace, feel free to mention it in the comments sections.