Rule eCommerce in France by Learning How to sell on Cdiscount Marketplace
Running short of time? Get PDF of the blog in your mail.

Play Now
Cdiscount is one of the largest and most prominent e-commerce websites in France. They came into existence in 1998. Initially, Cdiscount was a retailer selling only their goods, but by 2011 they launched their online marketplace.
Cdiscount targets buyers looking for low priced products. Unlike Amazon, only the best, i.e., lowest priced products, are shown to buyers on the Cdiscount e-commerce marketplace. It also accepts the request of 3rd party merchants willing to sell on the CDiscount online store and share the same ethos as Cdiscount.
With an impressive stat of 114 orders being placed every minute, Cdiscount is the most cherished online marketplace in Europe.
Popularly known to surprise customers by availing steep discounts and lucrative seller benefits, Cdiscount has made a place among the hearts of millions of European shoppers and sellers.
From A Seller's Perspective: Why Sell on Cdiscount Marketplace?
Cdiscount is one of those marketplaces that sells lock stock and barrel. This online marketplace allows sellers to sell under 30 broad categories and 2000 subcategories. These include household appliances, clothing, technology, and many more. In short, Cdiscount sells everything except fresh food and vegetables. Thus, making it an ideal place for both new and old sellers alike.
Another eye-catching stat is that for the past eight years, sellers from across 70 countries have become a part of Cdiscount, and the number has now risen to 10,400 active sellers.
The above figure shows the immense growth potential and the reliability of sellers towards this thriving eCommerce marketplace.
Even sellers who are selling on other giant marketplaces like eBay and Amazon wish to be a part of Cdiscount as it is comparatively easier to trade and earn here.
Affordable Selling, Fast approval, and Faster Onboarding Get Started with Cdiscount from anywhere.
Another reason why Cdiscount has turned out to be such a revered marketplace for online sellers is the easy enrollment process. For new sellers, there are no registration fees required. So if you wish to start selling on Cdiscount, begin today and start earning from day one.
Additionally, Cdiscount is among those few marketplaces that allow an unlimited number of product listings in your catalog. There are no listing fees but just minimal monthly fees.
These arguments make it quite clear that Cdiscount is the best destination for online sellers. To support what I just mentioned, here are some highlighting facts and statistics. 
Some Facts and Figures about Cdiscount:
Here are some quick facts about Cdiscount Marketplace-
10.2 million active customers.
23 Million unique visits per month
Over 540,000 sqm of warehouses
Up to about 10,000 professional sellers
Present in more than 70 countries across the globe
About 91.84% traffic comes alone from France
Up to over 40 Million Products in all categories
The average annual turnover of around €1.6 billion
Over to 30 product categories and 2000 sub-categories
Average basket value of €110
28.5% of overall sales come from High tech electronics and IT
Cdiscount's Growth Potential:
For the past couple of years, Cdiscount has emerged to be one of the fastest-growing marketplaces around the globe. A report from Payoneer shows that Cdiscount's product list has grown by over 80% in the last year.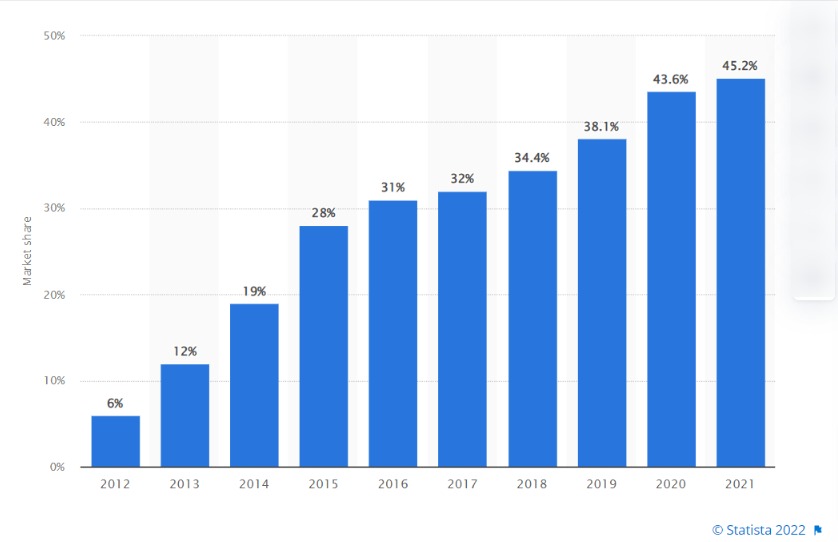 Among such product listings, home appliances, furniture, and tech items are the most selling. Cdiscount's growth potential is reflected by its annual turnover, which is more than 1.6 billion euros. For an eCommerce company facing competition with mammoths like eBay and Amazon, this is quite an achievement.
What Are The Most selling items on Cdiscount?
Cdiscount sells on about everything. Cdiscount currently has over 40 million live products listed on it. Here is a list of item categories it sells and excels.
DVD, Blu-rays, books, and music
Computers, photography, phones and audio-visual equipment
Appliances, homewares, and furnishings
Grocery, wine, and alcohol
Fashion, cosmetics, baby products, and jewelry
Musical instruments, pet products, and luggage
What Does it Mean for online sellers?
Cdiscount is among such marketplaces where online sellers have the freedom to choose from a wide range of categories to sell. As long as the market share of Cdiscount is concerned, 28.5% of it's market sales consist of high-tech electronics and IT appliances.
In simple words, high tech and computing products are the most demanded products on Cdiscount.
So, if you are an online retailer in Europe and seeking a head start, so this is where you can begin.
But there are some items which are not allowed on Cdiscount. These items include
Prohibited Items on Cdiscount:
Sellers are NOT allowed to sell the following items on Cdiscount:
Item sales or marketing that adversely affects intellectual property rights, industrial property rights, and any other applicable rights.
The items that are discriminatory or that incite to violence (weapons, toys, and replicas of arms, etc.)
Anything racial, religious, or ethnic hatred.
Live animals
Stolen goods
Advertising, including in the form of links
Medication, drugs of any kind, or products that encourage the use of drugs.
Items are liable to present a danger to health, safety, or the environment.
Anything that harms public policy or the rights of third parties.
Those items that can not be offered or marketed legally.
Articles for which the offer or sale are liable to harm morality or the image of Cdiscount.
I think now we have discussed a lot about this excellent marketplace. So now, let us move to a crucial question who buys from Cdiscount and then, what the requirements to sell on Cdiscount are?
Requirements to become a seller on CDiscount marketplace?
To start selling on Cdiscount, you need a seller's account, to get one, apply here.  The process of becoming an authorized seller in Cdiscount it's quite easy.
First and foremost, Cdiscount has no country restrictions, which means you can become a seller irrespective of the country you belong to or wish to sell in.
Secondly, you need not accept any Product Exclusivity Terms for selling on Cdiscount.
Thirdly, Cdiscount allows cross-border trading, so you have the freedom to reach and serve your customers in any country.
Fourthly, To speed up the process of bulky product uploading, Cdiscount allows hassle-free product uploading by all these medium:

API
Content Management System
Spreadsheet/CSV
So it's safe to say that Cdiscount has no such restrictions for sellers as it welcomes sellers and customers from all across the globe to benefit and be a part of this rapidly growing organization. Once you get approved by Cdiscount to sell on their e-commerce marketplace.
How to create a seller account on Cdiscount?
The first step of selling on Cdiscount requires you to create a seller account. Sellers with a valid VAT number are eligible to apply for selling at Cdiscount. The form can found at the official site where it intakes an email address to send you the link for registration.
First Page of the form contains contact information (Name, Phone Number, Position in your organization) and identity proof document to be uploaded.
Second Page of the form contains Company Name, Headquarters Address, 'Legal form' of the company, Share Capital, date of creation of the company, Shipping address, returns address, customer service address, and a document to prove your company's existence.
Third Page of the form contains Bank Name, Account holder name, Bank address with relevant codes, and a document about bank details.
Fourth Page of the form contains the Shop name that will appear on Cdiscount.
Have a look at the form of seller account creation:
How To Perform Product Listing on Cdiscount? 
You can choose to list your products either through seller panel or API. API makes your work easier by syncing your store with Cdiscount and managing the data about products, orders, inventories, refunds, shipping, all in real-time across platforms. For catalog products, you need to set the selling price, condition (new or used), and inventory. As soon as inventory is added, the item goes live on Cdiscount for sale.
There are many e-commerce platforms available to build your online store, such as Magento, Magento 2, WooCommerce, and so on.
Selling Fee and Commission Rates on Cdiscount
The monthly subscription fee starts from €39.99, and the variable commission begins from 5%. The commission is applied to the entire cost, including the shipping.
Cdiscount Commission rates are as follows:

How to manage orders on Cdiscount Seller Panel?
With every placed order, an email is sent to the seller. Each order is required to be processed in two working days, in order to confirm product availability. The amount of order or product is deducted from the buyers' account as soon as availability is confirmed.
A positive or zero balance in their seller fees account with Cdiscount.
Valid bank account details.
Does Cdiscount Offer Delivery & Fulfilment?
Yes. Cdiscount aims at lifting a massive load off the shoulders of their sellers by providing their delivery and logistics services.
Merchants selling on Cdiscount can opt for Clogistique or Cdiscount Fulfilment, reliable logistics services allowing sellers to not to worry about product delivery. Cdiscount fulfillment takes over your entire delivery, including the storage, packaging, shipping, and transportation.
Additionally, they also provide further customer query handling too. For an online seller, there can't be a better way to sell as now you can save a lot of time and effort and attend to more pressing concerns.
How are returns and refunds managed?
Cdiscount requires that sellers have customer support services available in french. The claims made by customers can be any one of the following.
For Items Not Received – It is recommended that you liaise with the carrier provider and generate refunds as soon as possible.
The Items as not described – In case of any such discrepancy provide a full refund needs and the product is returned to the seller.
If Item is defective there are two options – replacement or refund generation.
Returns for any other reason – According to French laws, a buyer can return the item within 15 working days, and sellers need to comply with this.
Counterfeit Items – Such a case results in direct account termination. Moreover you are also liable for a full refund.
What are the shipping options available?
Cdiscount has a gamut of choices for buyers to choose their shipping options, as followed
Home Delivery
Delivery to Groupe Casino Store
Collection from sellers own store
The group from Collection Point Network
Is it safe to sell on Cdiscount?
Cdiscount has a stringent policy against any fraud or illegal schemes, so you need not worry about any.  As far as the payment is concerned, Cdiscount releases payments 3 times in a month. Or in simple terms, your payment will never get late for more than 10 days. Even in the case, the customer is paying in installments; the sellers receive the full amount.
Moreover, Cdiscount concludes all the payments through FIA-net and 3D secure, which ensures that the payments are protected on both customers and seller's ends.
Hear what other sellers have to say:
"Cdiscount helped us broaden our customer pool and win new customers from outside our site. Our sales increased by 10%. If you're looking for an efficient and financially worthwhile system, then Cdiscount is the one." – Henri Orsinet
Additional Benefits:
Cdiscount is the best platform for Brand development as they have a huge social media fan following. On Facebook, they have more than 1.65 million followers and similarly on other platforms like Twitter and Instagram.
To further improve their seller's credibility and benefits, they perform regular promotions on print as well as electronic media.
Furthermore, Cdiscount offers its sellers an opportunity to increase their visibility on the marketplace through PPP (Pole Position Programme).
This program aims at the following objectives:
Intensify customer loyalty
Enhance the website traffic
Develop new methods to improve eCommerce
Gain product reviews
So now only one question remains is, are you willing to sell on Cdiscount? Reinforce your eCommerce crusade by selling on France's biggest online marketplace.
Official Channel Integration Partner Of Cdiscount:
Being proud partners of Cdiscount, Cedcommerce offers an easy and efficient way to start selling on Cdiscount with Marketplace Integrations.
Save time and resources by adapting to a centralized and automated eCommerce management system.
Real-time price sync
Automated inventory management
Bulk Management System for easy product upload & archiving products
Unlimited Order Synchronisation on Cdiscount.
For any further info regarding product functionality, request a free Demo Now.
Conclusion:
It all boils down to the fact that Cdiscount is an ideal platform for new sellers to emerge and enhance. Cdiscount aims to help merchants to transform their thoughts from traditional retail business to competitive online eCommerce by providing them a huge platform and exposure to the worldwide customer base.
If you have any queries related to selling on Cdiscount or other similar marketplaces.
Don't forget to share your thoughts in the comment.