Rewind the Etsy year in Review to plan your store in 2022
Running short of time? Get PDF of the blog in your mail.

Play Now
The year 2021 was truly satisfying; even after a severe pandemic at the beginning of the year and many ups and downs, we have successfully helped merchants like you to grow your businesses on Etsy and Shopify. Well, establishing a business and leveling it up is every merchant's dream. We at CedCommerce always strive to come up with an easy way to make your dream store a reality. Here we came with Etsy Year in Review for you.
This has pushed us to achieve even greater heights with our Etsy Marketplace integration solution. We are happy to have around 28k new sellers onboarded on our App this year and unlock the seamless way of managing Etsy-Shopify stores together in real-time to grow even faster globally. Here we are bringing you a glimpse of 2021 – A journey where hard work paid off-Stay tuned!
Etsy Marketplace Integration: The New features updates for easy selling in 2021
Most importantly, the Etsy marketplace integration has been making your selling process comfortable and relaxing since its launch. In the middle of the year, we brought some new updates to simplify the selling process through updated workflows that streamlined the entire procedure. As promised, we constantly strive to provide the best experience to our customers through regular updates and modifications on our app that help you experience a smooth process.
Let us have a quick recap of those updates
Product profile: Profiling means putting the products under the categories they belong to with all related attributes. The steps involved in the profiling process earlier took time, Whereas now with the new update, the procedure is simplified. Now you can find the profiling method on a single page.
Multi-location: This feature is for those who have their products stored in various locations (warehouses). For instance, your product is available in 3 different locations, you may select any one location and manage your order from there.
Refund order: The latest upgrade in the refund order status explains- You can easily restock the inventory after it is refunded. Maintaining the stock status between both the stores has become easy with this new feature.
Disable Etsy Tax for all countries: This new setting is for sellers from all over the world, who are selling on Etsy through the app. This new feature update enables you to exclude the taxes on Shopify for Etsy Orders. Since you have already paid tax to Etsy, this setting exempts Shopify taxes, i.e., avoiding double taxation.
Here is an announcement that Etsy is raising seller transaction fees up by 1.5%. This move has been taken to improve the marketing and support to further extend our strong momentum.
The motivating feedback from Happy Etsy Marketplace Integration Sellers
Apart from the feature updates, we are happy that our clients are delighted with the services and 24/7 support. The marketplace experts remained available round the clock to help you with each step.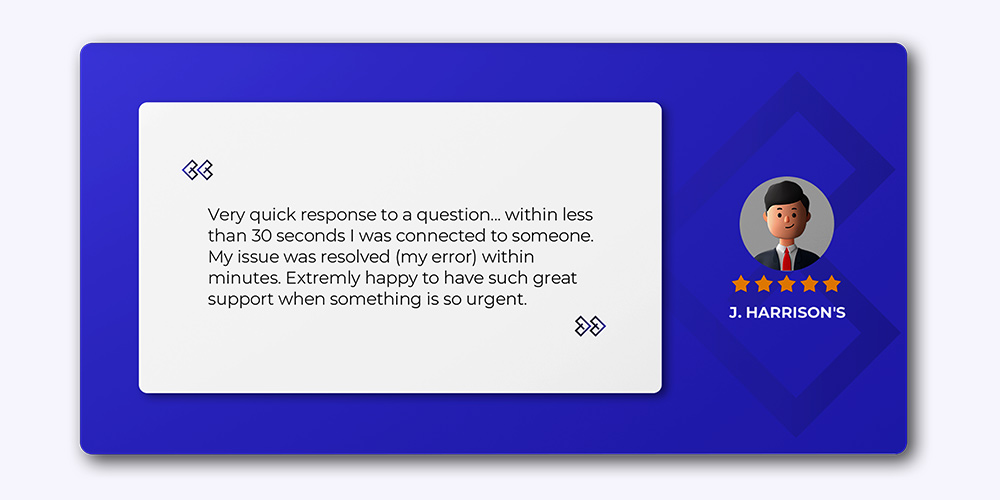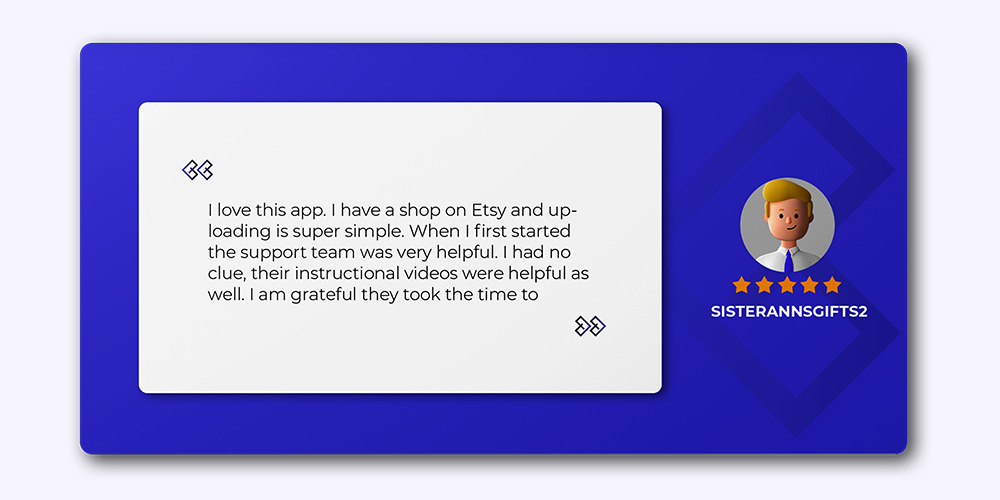 Eager to know in detail about the Features updates-Here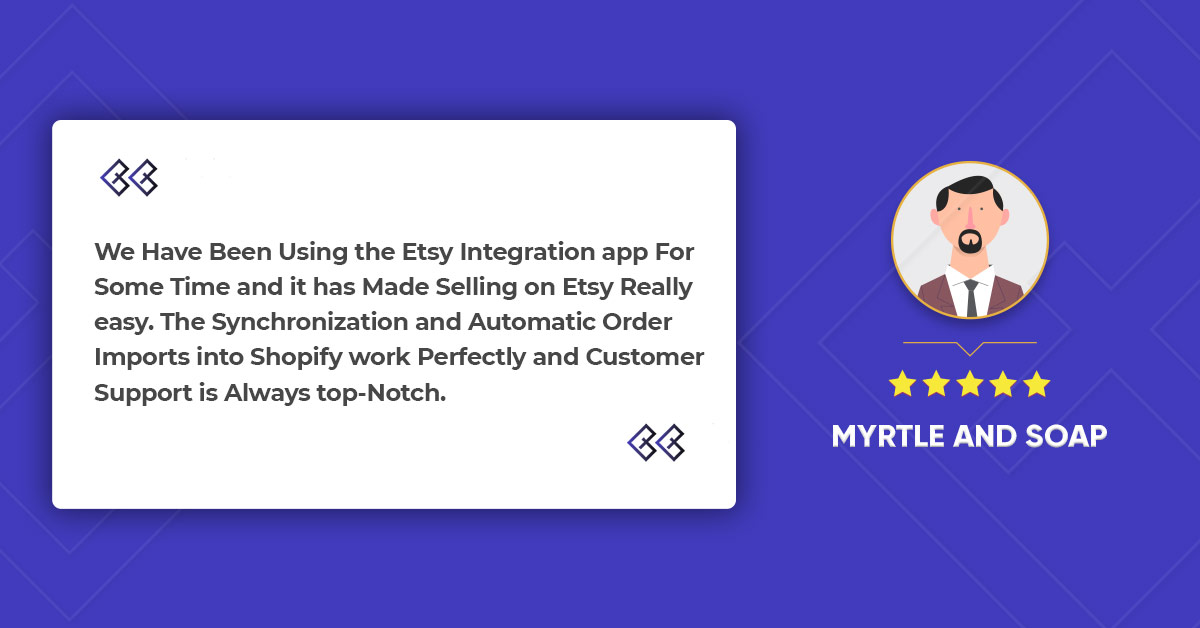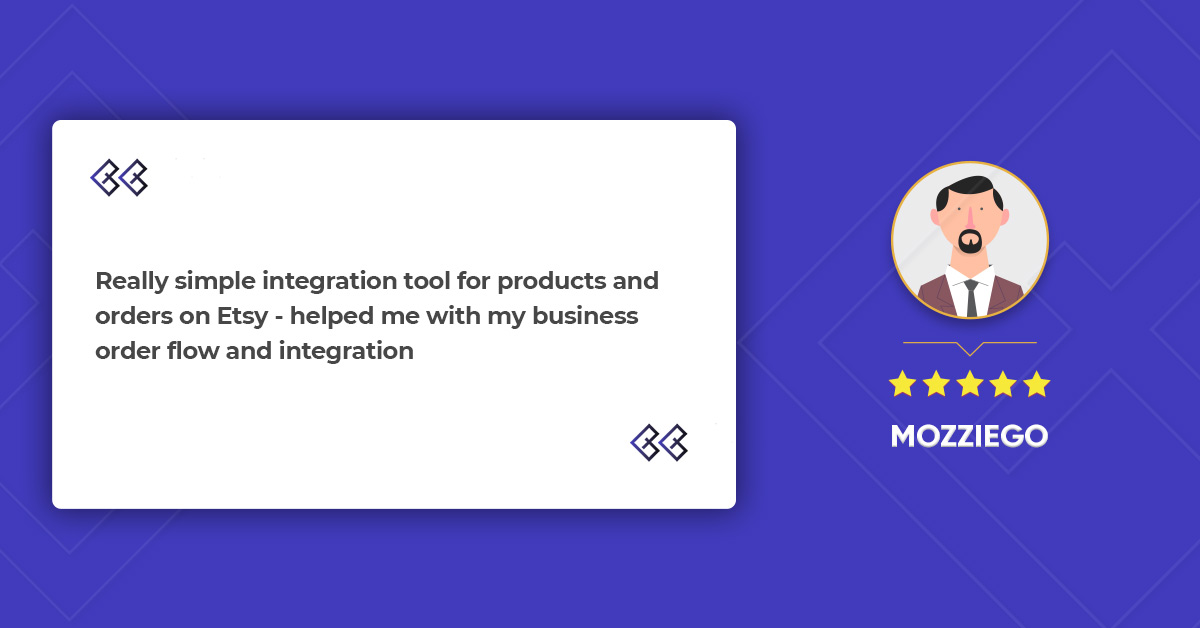 Ease your selling with suggestions from a successful Etsy Seller
After the initial pandemic hustle, people are getting vaccinated and coming out of the panic zones across the globe. From May 2021, buyers began preparing for the festive season with lots of excitement. We connected with one of our precious sellers "Anna Beck" through a webinar during the festive preparations. She has been using the Etsy-Shopify integration solution for a long time. In the webinar, she has shared a lot of fruitful suggestions for sellers, which may help you sell on Etsy or optimize your selling procedure during the festive season.
Here are some of the viewpoints of Anna Beck
Firstly, you should try spending $2 a day on Etsy ads to see what happens. Secondly, it will be good for you if it works, you can later spend more.
Similarly, you can fetch more traffic through Google Ads. So, if you have more than $10,000 in revenue, Etsy will automatically enroll you in this program.
The most amazing part is you don't have to manage an Etsy ads account; as Etsy does it all for you. You need to pay when you make a sale.
Learn how to stand out from your products among competitors.
Anna has been selling POD items on Etsy, she is thankful to CedCommerce that has helped her to set up a profile easily. She has shared her seamless experience where the App pulls variations from her Shopify store and helps her to sell well on Etsy. She has shared her viewpoints on Etsy plans and Listing management, which has helped her in various aspects. We have helped several other sellers like her whose growth has skyrocketed after they installed our app. Below here, find the webinar video and learn more from her experience.
A tour to the Etsy Year in Review of Etsy Marketplace Integration businesses in 2021
There were wonderful things that happened this year, from beginning to sustaining the businesses on Etsy. Etsy took various measures for the benefit of sellers like you. Let us take you to a flashback of the year 2021 and Etsy.
Etsy acquisition to the big Marketplaces: In 2021, Etsy acquired the two fastest-growing e-commerce marketplaces Depop(known for second-hand fashion) & Elo7(Known for unique and handmade items). The Etsy acquisition of these marketplaces will benefit both existing and new sellers. Since these marketplaces fall into a similar purpose and business model to Etsy, this decision will help Etsy establish a foothold in those regions where these marketplaces are already famous.
Etsy Video Listings: Videos on Etsy listings do wonders in sales; they allow you to show your items in various ways that you cannot do through pictures alone. After watching the listing videos, around 73% of people are likely to buy a product. A well-prepared video of a product can increase buyers' awareness and boost sales. Therefore, nearly 8 million videos are uploaded on Etsy.
Etsy digital items: Digital products are intangible items; However, once a purchase is made, all you need to do is arrange for the digital products to be delivered electronically. There are tons of digital products to sell on Etsy. Once your buyer purchases digital products, they can decide whether they want to print them out (printables) or use the downloaded version of your digital product. This year, such items have become a trend, and sellers enjoy selling comfortably; you need to be creative.
Festive Sales: After the health hazard in 2020, Etsy stepped into 2021, another unknown condition. However, Challenge continued in 2021. But lots of hope because of better conditions and vaccination has ignited the vibes of the festive season with excitement for big sales.
The Verdict is here!
The covid and lockdown situation witnessed in 2020 and the first half of 2021 might repeat in the coming time. In addition, the new omicron variant can put the world on shutdown for some time, so you have to get ready to face it. Above all, don't let your business affect you, as you can stock up the raw materials much before the supply chain stops. Therefore, you should also start manufacturing some items in advance; so that your sales are not affected.
Let's Sum Up
The year 2021 was the package of challenges and fun; apart from health pandemics, your buyers enjoyed shopping on every occasion. Many New sellers came on Etsy with hope and scope for their creativity. The festive season has proven to be an excellent decision for them to flourish. Etsy is a platform with never-ending opportunities; update yourself with all new trends on it.
Covid era has declined the businesses of various online stores based on Woocommerce, Shopify, Magento, and other channels. However, some were less famous, whereas some had less reach in different regions. Etsy is supporting such sellers like you and will continue to be. Most importantly, the Etsy marketplace integration has made your selling serene and wonderful. It is a bridge for you and your success with two stores of creativity.