Here's the only Etsy Trends Guide You Need Before You Spark in Festive Season 2021
Running short of time? Get PDF of the blog in your mail.

Play Now
The festive season is on the way!
Is your Etsy store ready for the most-awaited holiday sales this year? Every year festivals bring lots of chances to grow your business; grabbing an enormous number of buyers straight to the products in your store. As shoppers start preparing and shopping for holidays much earlier; being an online merchant, you can create innovative items to sell on a creative platform like Etsy as per Etsy trends. An astonishing yearly increase of 51% in the number of buyers, purchasing from a growing community of 4.36 million creative sellers is thus carving out a picture of all the possibilities – this unique marketplace holds.
Find out the new Etsy trends guide to hike this year's Holiday sales.
Etsy Trends Previous Year
Last year, the online shopping trend boomed due to the fact that it's easy and comforting, however, this year too, shopping online will remain a favorite among buyers. Even though the pandemic has affected everyone's lifestyles, it would never be able to stop people from shopping and celebrating in the festive season. In 2020, masks, home decor-living items, gift items, party supplies, and jewelry were part of Etsy trends.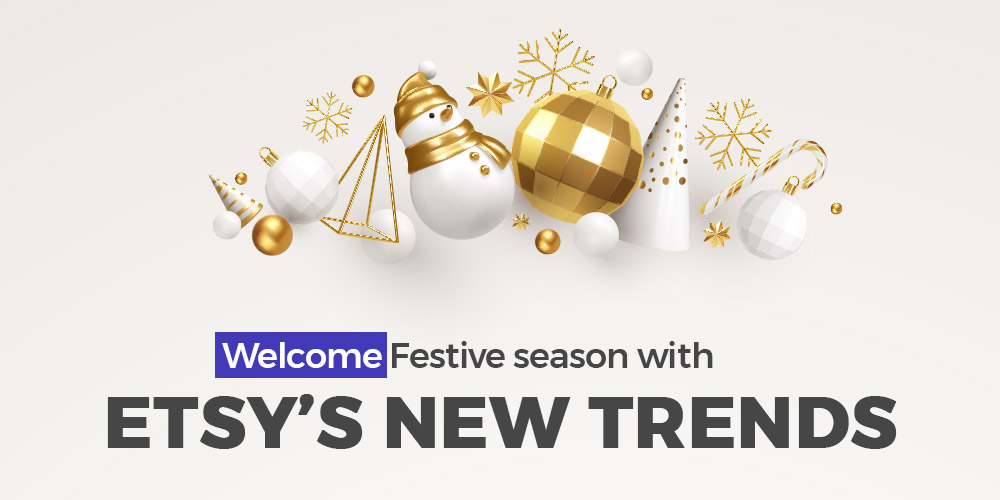 This year has come up with new trends and ideas among shoppers as well as for artistic creators like you. The introduction to new product categories, Etsy's acquisition of famous marketplaces, and new updates on the marketplace have broadened the opportunities for Etsy's festive season sale 2021. Let's give you an Etsy trends guide and find out what are the recent Etsy trends and how these might shape your holiday sale on Etsy.
Why should you use videos in Etsy listings to improve the selling experience?
Have you ever tried videos on Etsy listings? If not yet, then it's a must-try feature to bring authenticity to your listings. Listing videos are increasing engagements on social media. A drastic change in buyers' activity can be seen, as they can trust more before making a purchase. Etsy has already introduced the feature to use videos in Etsy listing in 2015. Since then, video listing has resulted in an enormous increase in conversion.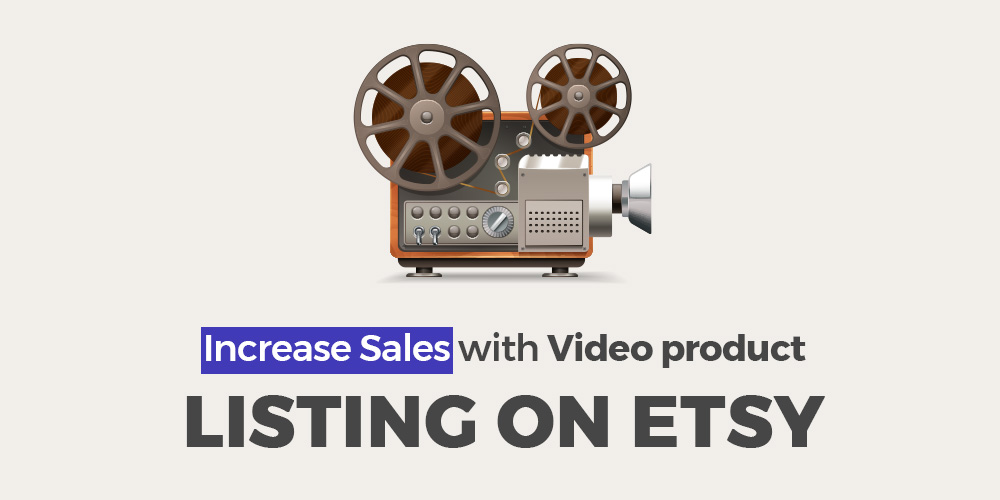 Videos on Etsy listings do wonders in sales; they allow you to show your items in various ways that you cannot do through pictures alone. After Etsy Quarter 2 result 2021, it has been noticed that 73% of people are likely to buy a product, after watching the listing videos. A well-prepared video of a product can increase the awareness of buyers and boost sales. Also, nearly 8 million videos are uploaded on Etsy. Buyers can make up their minds to purchase after finding details of a product-making and a clear view from each angle.
The festive season is coming; adding video on Etsy listings will benefit you. Adding video to an online listing can increase transparency that will enhance buyers' confidence that they wouldn't get from pictures alone.
Let's give you some benefits of video listing during the Festive season.
Firstly, You need not explain everything about the listing in the product description.
Secondly, You can showcase your product from various angles and how it will look when used inside a room or home.
Thirdly, You can demonstrate each of the variations of the product in a video.
Lastly, you can explain the need and know-how of the product, it further helps in assembling or safekeeping the products.
Listing videos can help you gain your buyer's trust, which will enhance your sales. If you haven't yet tried Etsy video listing, now is the time you can create before the festive season sale begins.
How does Etsy acquisition to top online marketplaces benefits Sellers?
As per the recent update, Etsy has acquired three fastest growing and most loved e-commerce platforms. These top online marketplaces are Reverb (acquired in 2019), Depop, and Elo7 (acquired in June 2021). Each marketplace excels in its product line, capturing a good market and target audience worldwide.
Reverb is a marketplace famous for new, used, and vintage musical instruments. During the festive season, these products will be much in demand for personal use or gifting purposes. Whereas, Depop is a marketplace to buy and sell unique fashion. 90% of its active users are young customers who adopt second-hand fashion quickly. Additionally, Elo7 is a privately held marketplace for unique and handmade items ranked as Brazil's top 10 e-commerce sites. Since it deals with over 40 retail categories, it has improved your chances to grab ideas for your stores and listings.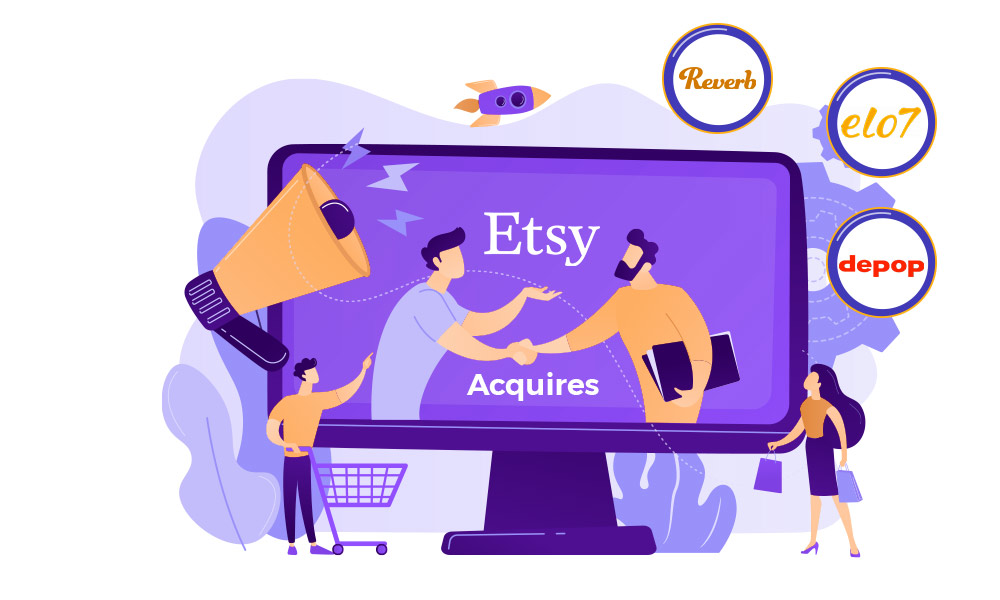 The Etsy acquisition of these established marketplaces is benefiting both existing and new sellers. Since these marketplaces fall into a similar purpose and business model to Etsy, this decision will help Etsy, establish a foothold in those regions where these marketplaces are already famous; further helping in building Etsy as a "House of Brands."
Before the festive season, it is an exciting opportunity for sellers, specific to the above regions, to embark on their journey on the creative capital – Etsy.
These marketplaces have set the buyer's expectations rather high from including a vast variety of products. Etsy trends- Etsy's acquisition of top online marketplaces will bring rich buyers and therefore potential traffic to Etsy. You can allure this traffic towards your store through various marketing tactics and selling varieties, allowing you to trade in more regions worldwide.
How beneficial is Introducing Etsy new categories for you?
To keep the platform updated and trendy, Etsy expands with new product categories giving shoppers more options to choose from and buy. These Etsy trends updates allow you to sell and grow more, as you can sell in more varieties of product categories that have been newly introduced this year.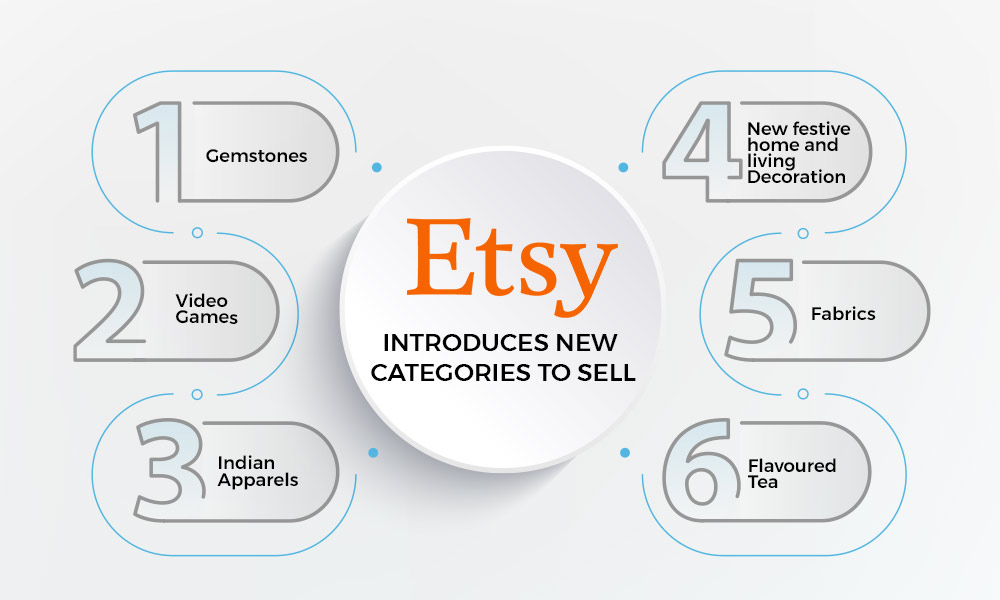 Since the Festive season sale is near, you can create various items to list on your Etsy store falling into Etsy new categories introduced. Some categories are-
Gemstones: Etsy has included 82 new options to the gemstone type attribute.
Video Games: New subcategory has been introduced for video games. These include products like arcade games, Consoles, controllers, and joysticks, etc.
Indian apparel: Etsy has introduced kurta for boys kurtas, Kurtis, lehengas, and salwar kameez for girls. Such categories are meant to promote and support growing sellers in India.
New festive home and living decorations: Etsy has added categories for diyas, dohras, thalis, and much more festive home and living requirements.
Fabrics: These include chikankari, silk, and many other furniture and dress fabrics available.
Flavored tea: Certain varieties of tea are available such as black chai, green, herbal, matcha, oolong, pu-erh, Rooibos, and much more.
Apart from these, some more Etsy category list are introduced, such as jackets, shrugs, trousers, new accessories, etc. Your buyers will be in the mood for celebrations; all such Etsy new categories will provide them with good products and opportunities for you to sell. Having so many product categories means more options to sell and serve your buyers. Even if you are selling in any one product category, it is a chance for you to experiment more and start adding some more product categories to your store. You can even create new items from your innovative ideas. As per Etsy trends, during the festive season sale.
Here is an exclusive (Q & A) session with a successful 6-figure Etsy seller, Anna Beck sharing some crucial insights around the holiday season. Her experiences can be an eye-opener for many existing and aspiring sellers like you. Get the inspiration as you prepare and kickstart your festive season sale 2021.
Make your Etsy store ready before the Festive season sale 2021
Many merchants running online stores have also begun selling on Etsy. So as to expand their reach to privilege global exposure and good sales. If you are running a single store targeting a few buyers. You can link your store with a store on Etsy. Managing both in sync will help you in selling efficiently. CedCommerce is helping many merchants in connecting their online stores (WooCommerce, PrestaShop, Magento, Shopify) with Etsy.
Get your Etsy store holiday-ready and updated. Fetch time to time guidance from the experts! 
Before the Festival season, integrate your stores quickly. So that you focus on sales during the events rather than struggling to manage them. If you already have a store on Etsy and now want your brand to flourish. You can have an online store linked. Since there will be a flood of buyers on Etsy during festive times. Get your listings and store ready for the same. 
This Festive Season Flourish your venture with Etsy
This year you have a lot more to do to enhance your business. New Etsy categories have broadened the scope of selling varieties of items. Similarly, the Etsy acquisition has brought mind-blowing traffic to the platform, benefiting you in selling more. You can even drive traffic towards your online store if you link with your Etsy store. Now is the time for you to prepare a checklist for the coming festive season sale. And decide on what to sell and what promotional tactics you can inculcate to achieve higher sales.
With Festive season approaching, buyers will soon be on the lookout for the perfect products and gifting items. You shall pull up your socks now and start revamping and preparing your dream venture on Etsy.  Follow these suggestions from Etsy trends Guide, start your Etsy store now with CedCommerce. Let your creativity outshine this shopping season.