Learn How To Sell on Reverb Marketplace & Spread The Melody Of Your Online Store Worldwide
Running short of time? Get PDF of the blog in your mail.

Play Now
Looking to sell Musical Instruments Online? Well, you've landed in just the right place. In this blog, I am going to tell you a perfect destination to showcase your musical gears with millions of musicians across the globe who are eager to buy your gear. Yes, I am talking about the Reverb – the largest online marketplace dedicated to the sole purpose of buying and selling new, used, and vintage musical instruments. So get ready to roll as you are about to learn everything you need to know on how to sell on Reverb marketplace.
Let's have a look at what topics we'll be covering in this blog:
So let's start with the introduction.
A Brief about Reverb Marketplace?
Reverb.com is an online marketplace to buy and sell music gear which launched in 2013. Since then this website has successfully transformed into a vibrant community of buyers and sellers across the globe. The site allows anyone, from large dealers and manufacturers to small shop owners and individuals, to create free listings for musical instruments and other related equipment.

Reverb marketplace is evolving and in the past 7 years has successfully made its name as the #1 destination where the global music community can connect. 
Here are a few figures and stats:
Reverb Marketplace has currently more than 383k active sellers
It has an impressive customer base of 1.05 million and counting
Currently, Reverb has roughly half a million listings of music-related gear.
Experiences more than 10 million monthly visitors which rounds up to 92.5 million visitors per year.
Currently has more than 2.6 million registered users.
In August 2019, Reverb.com was acquired by Etsy for $275 million.
Do You Know ?
Reverb is known to auction gears from popular artists such as Wilco, Green Day, Billy Corgan, and Ray Lamontagne.
Ok so now that we've learned the paramountcy of Reverb, let's ascend to the topic of how to start selling on Reverb marketplace.
How to Sell On Reverb Marketplace?
To become a seller on reverb you just follow some guidelines and steps which are as follows –
Save and Review Listing
Ok so now let's dive into the steps:
Step 1 – Create a Reverb Account
The first and the easiest step towards setting up your store at reverb.com is to create an official account. It's pretty basic to do so.
Just visit Reverb.com sign up link
A page opens up with basic details.

Fill in all the details and click on sign up
You are all set
Step 2 – Choose The Products You Wish To Sell.
After the account creating it's time to start choosing the products, you wish to sell. For that:
Click on the Sell button on the header of the website
You'll be redirected to the product selection page as shown below.

Enter the name of product you wish to sell and click on search button.
All the products pertaining to the searched term will get listed

Choose the exact product or the most similar product you find by clicking on the button – Sell One Like This.
 You'll be redirected to a new page

Now you've to fill the form one section at a time. 
You have to describe your product and give full details of the product regarding the brand name, product condition, year of manufacture, price and country of origin etc. Upload your product photos and photos dimension should be 620*620 pixels.
Step 3 – Choosing the Product's Condition:
The first section in the product form is choosing the condition.

Select the year of manufacture.
Choose the Finish and Color of the product
Now choose the appropriate Listing Title of your product. You can choose the title of your choice.
Now after that choose the condition of your products.
The product condition on reverb may vary as:

Brand New
Mint
Excellent
Very Good
Good
Fair
Poor
Non Functioning

After that, you choose the pricing of your products.
You can also upload these product details via SKU by clicking on the advanced option.
The next step to sell on reverb marketplace is uploading the image of your product.
Step 4 – Uploading The Image of your product:
Choose high quality images of your products and click on Upload photos.

Remember to use images from multiple sides.
Reverb also allows you to upload a youtube video to demonstrate your products even better.
Step 5 – Provide A full description of your products
The description should go beyond what's in the pictures and describe everything and anything that a potential buyer might want to know about the item.
The product description on reverb does not have a word limit – so you can freely explain in detail.

Choose the default language based on the majority of your target audience.

A few pointers to remember while writing your product description:
Understand your target audience
Try to paint a full picture by explaining the entire details
Use Natural Language and Tone
Optimize your content for search engines
Now lets move to the next step, ie: The Shipping details
Step 6 – Set up Shipping Details:
As per the standard definition, Shipping details mean from where you will ship your products and in which region you will deliver the products. 
First, select the country where are you shipping from.

You'll have to provide the other details such as city, state, postal code and phone numbers.
Go through the shipping guidelines and accept the terms and conditions.
You can choose the method as:
We are at the last step of now ie. deciding your shop name.
Step 7 – Describe your shop name
Provide a beautiful and attractive name for your shop so that customers would have a look at your shop. It means the shop name must be funny or creative.
Your shop name will be visible to the buyers.
It's not permanent which means that you can change your shop name later.
An example is shown below.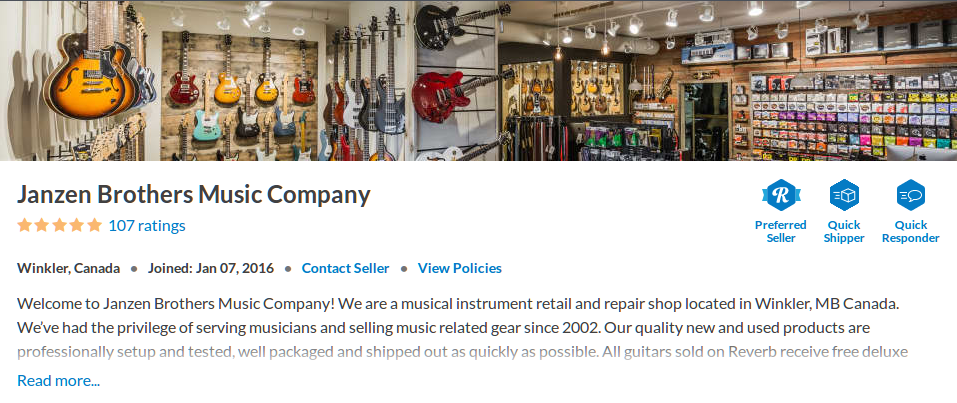 I believe that wraps all the steps to sell on Reverb marketplace.
But there one question that is still unanswered.
How much is the selling fee on Reverb?
Reverb marketplace follows a very transparent seller fee structure. 
The fee can be broken down into 2 parts:
5.0% selling fee.
2.7% + $0.25 payment processing fee.
Let us take an example:
Suppose you are selling a drum set with a marked price of $90
You are charing an additional of $10 as shipping fee
Which makes the total price of $100.
The selling fees will be calculated as:
$5 selling fee ($100 x 5.0%) + $2.95 payment processing fee ($100 x 2.7% + $0.25).

Note: Sellers that only accept PayPal will be charged payment processing by PayPal instead of Reverb. PayPal's rate is 2.9% + $0.30USD per transaction.
The minimum fee to sell on Reverb marketplace is $0.50 and $500 is the maximum selling fee.
What are the Top Selling Products on Reverb?
In order to stay on the top, you need to learn about the top-selling products of Reverb. Here's a list of the most popular products on Reverb:
Electric Guitars / Solid Body
Effects and Pedals / Overdrive and Boost
Electric Guitars / Semi-Hollow
Acoustic Guitars / Dreadnought
Bass Guitars / 4-String
Amps / Guitar Combos
Pro Audio / Microphones
Drums and Percussion / Drum Machines and Samplers
Electric Guitars / Archtop
Effects and Pedals / Delay
If you are a new seller and wish to set a firm foot in eCommerce by selling on Reverb marketplace, these products will prove to be a boost to your selling campaign.
After the top-selling products on Reverb let's move to another interesting topic – the most popular brands.
Most Popular brands to sell on Reverb Marketplace.
Reverb marketplace sells the widest variety of brands in terms of music. I have categorized 3 top brands in each category:
Guitars
Effects & Amps
Boss
Electro-Harmonix
TC Electronic
Keyboards & Synths
Recording Gear
Focusrite
Shure
Behringer
Drums
DJ Gear
Do You Know?
"Reverb Gives" is an initiative started by the Reverb community to help youth music programs get the gear they need to make music.
What Makes Reverb an Ideal place to sell?
Reverb seller protection – Reverb has you covered every step of the way
5-Star Buyer Community – Millions of high-quality prospective buyers from all over the world search
Transparent Pricing – Easy and transparent pricing to make a large ROI
Seller Assistance – Reverb has a global support team of gear experts who are ready to jump in and assist with your sale
Regular pro tips – Reverb provides regular guidance to help you get the most money for your gear

How Seller Community Responds to Selling On Reverb marketplace?
Here are a few music geeks who found Reverb an ideal place to sell music gears. Witness what they have to say:
"Our Reverb Shop helps us get our inventory in front of musicians from all over the world who love instruments as much as we do."
-DAVE PLUNK
Owner of Music Makers, Galesburg, IL
–
"Reverb did an incredible job helping me sell off a grip of guitars a couple years back. They made the whole process easy and I've actually gotten a lot of good feedback from several of the buyers, so i'm glad my gear wound up in good hands."
-CHRIS SHIFLETT
Lead Guitarist of Foo Fighters
–
"I use Reverb all the time to sell old gear and to find new things to add to my growing collection of effects."
-SARAH LIPSTATE
Composer and Guitarist
Until now we've discussed all we need to sell on Reverb marketplace.
But do you know you can easily cut down all the hard work while setting up your store and selling manually on reverb using automated eCommerce solutions?
Interesting, isn't it?
The Best Tools and Solutions to sell on Reverb marketplace:
The best tool to sell on reverb is the marketplace integration solutions by CedCommerce.
This world-class tool is designed in a way considers all the hardships faced by a reverb seller while selling online. It provides some impeccable features such as:
Centralized Platform to manage all the processes automatically
Real-Time Synchronisation of products, order, and inventory
One-click bulk product upload and management
Order auto acknowledgment and shipment
Live notifications of activities such as stock and orders.
Product categorization and management
Smooth Inventory Management 
and much more.
To know more about the Reverb marketplace integration solutions by CedCommerce click here.