Revamp your Etsy store to Aim Buyers from Southeast Asia Regions
Running short of time? Get PDF of the blog in your mail.

Play Now
No wonder why more online merchants are flocking towards southeast Asia regions for a good market. As per the studies, the e-commerce market is expected to reach around $67,640 Million in South Asian countries in 2022. Fashion & clothing, Furniture-Home decor, Baby products, and Electronics are all most sold in these regions.
Events like Singles Day or 11.11 are celebrated in China. It is becoming more and more popular in the US and worldwide. Similarly, Doubles Day or 12/12 is another much-awaited event of China celebrated in many other regions. Couples celebrate this day, likewise valentines day.
Etsy being the most creative e-commerce platform is always a favourite among buyers. Sellers from various regions are selling on this platform. Since creativity has no boundaries, Etsy has sellers from worldwide selling on the most significant occasions. In this article, find the opportunities to sell in Southeast Asia Regions with guidance on how you can start online sales.
The Scope to sell in Southeast Asia Regions
South Asian countries is a region of over 670 million people; it is the heart of many emerging markets. A recent report found 69% of Southeast Asia regions are now on the internet, with mobile penetration from the region exceeding 887 million. South Asian countries consist of various countries like Indonesia, China, Malaysia, Thailand, Singapore, Vietnam, and more.
As per the reports, an estimated 70 million people have shopped online in six South Asian countries since the pandemic began. As the Government announced to stay at home, there has been a rapid increase in the adoption of e-commerce and digital payments. This trend of online shopping will likely continue. It is estimated that the number of online buyers will reach 350 Million by the end of 2022.
Since people in these southeast Asia regions are very technologically friendly, with adaptation to new markets it has lots of scopes to sell here. Provided, the rapid increase in digitization among buyers from this region brings a ray of hope and lots of opportunities for you to sell in these regions.
Here is an announcement that Etsy is raising seller transaction fees up by 1.5%. This move has been taken to improve the marketing and support to further extend our strong momentum.
How can South Asian Countries act as a Power House for Etsy?
SEA countries have the highest mobile penetration than other countries. Mostly they prefer online shopping over brick-and-mortar shops, and amid the pandemic, the scope of eCommerce has increased rapidly. Since people operate the sites mainly through their mobile devices, it is more easy and more convenient to shop.
Shoppers from these regions have a habit of shopping the new trends. You Need to be very creative and updated for your listings. ECommerce has turned global to local and local to global which means even if you reside in the US or any other country for that matter, you can harness the potential buying community in Southeast Asian regions by bringing your creatives to the shoppers.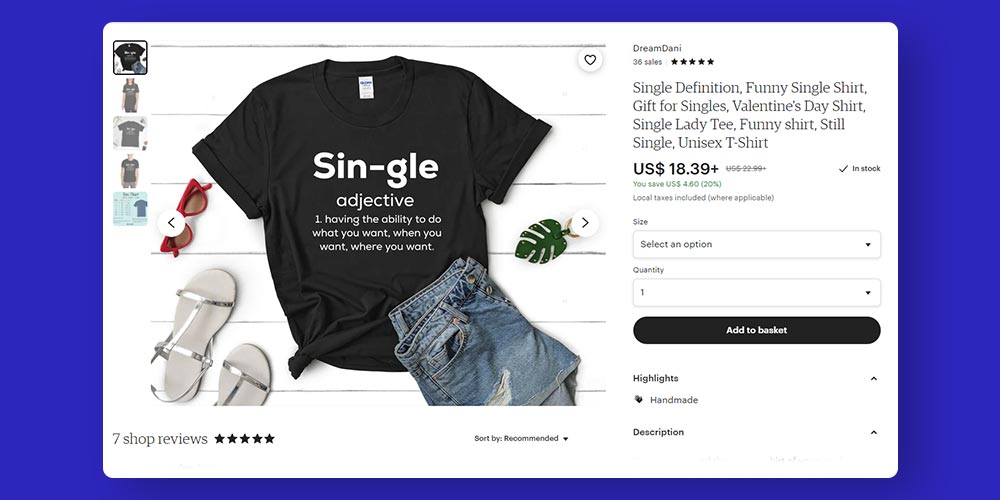 Growing your small-scale business to a global level is always a great idea. Well, for this, you have the option to go multichannel with a big platform like Etsy. It is observed that there are a plethora of products that relate to southeast regions, like Thailand T-shirts, flags, BOHO jute bags, jewellery, Items for the Chinese new year, etc. So you have a chance to grow your business among such buyers in south Asian countries.
Benefits of having your online store during Festive Season in South Asian Countries
Singles Day and Double's Day are an extravaganza where China's e-commerce companies like Alibaba, J.D.com, and Pinduoduo offer good discounts on their platforms. Similarly, many other global marketplaces, such as Etsy, come up with good sales during this period.
With the motive of self-love, every year on 11th November singles all around the world celebrate Singles day. This event originated in China, wherein massive online shopping is witnessed globally, comprising people buying for themselves. On Singles Day, people indulge and treat themselves to presents, good meals, a night out, and everything related to self-care and pampering. As per the reports, about 2,50,000 brands participated last year in the Singles Day Sale. The US has been the top country selling products to china.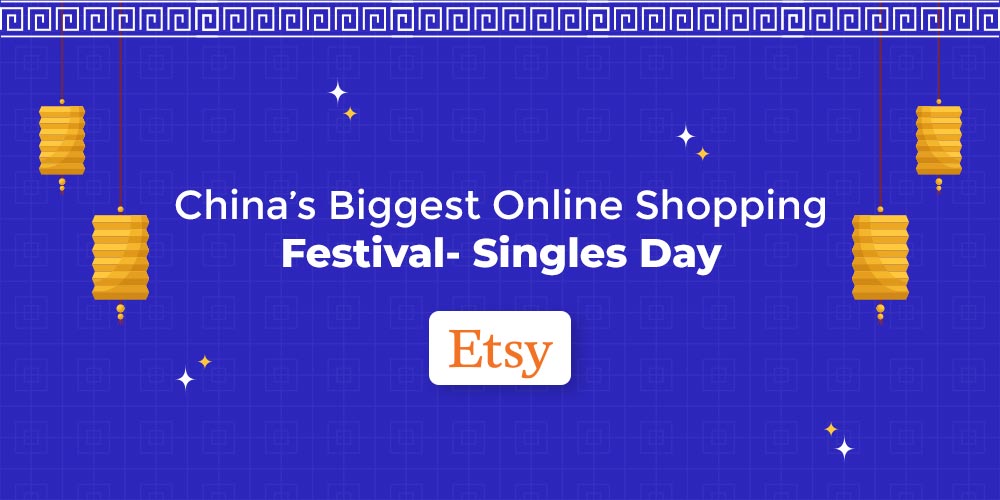 Similarly, Doubles day, also known as the Chinese version of Black Friday, is another most loved festival in China and now everywhere else. A few years back, in 2011, the Ali Baba group founded Doubles Day for couples. It is celebrated on 12th December every year to uplift smaller online stores that may have been unable to scale more during Singles Day.
One of the best advantages of these days is having an online store to be a part of the year's most significant sales. Buyers come to shop to find suitable items for themselves with reasonable concessions and freebies along with the order.
How can Sellers from SEA regions sell on Etsy?
Since each day various businesses are growing on Etsy, buyers can now find items from various regions. For example, Thailand art prints, Bohemian shorts, boho jute bags, gemstones, Brazilian necklaces, and much more. So basically, Etsy has buyers as well as sellers from the southeast Asian regions.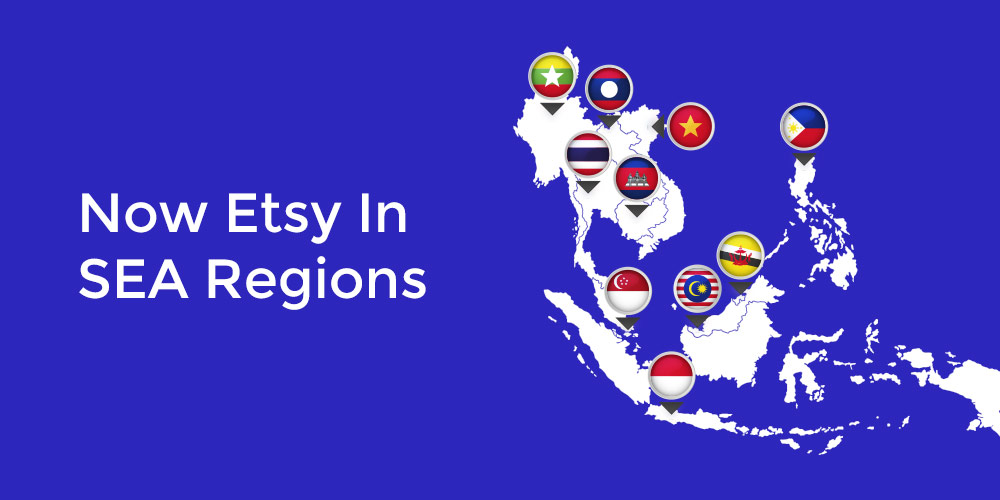 Selling on Etsy from anywhere across the world is not rocket science. You can follow simple steps to start your store on Etsy. Those sellers from SEA regions need to follow a rule for payment that differs since Etsy has a list of countries(eligible countries) that can use Etsy payment methods to receive payments from buyers. Whereas if your nationality does not come into that country list, you have other options for it.
Get the Guide on How to sell on Etsy-Here
There is a list of certain countries that are eligible for utilizing Etsy payment facilities from PayPal. Opening a Paypal account means being eligible for Etsy payments. If you are from these eligible countries, you can transfer the amount to your Etsy account once you receive an order through PayPal. But in those countries that don't lie into eligible criteria- You can use your own PayPal account to accept payments. This means you will receive the amount in your Paypal account as the buyer pays.
Tips to Increase Online Sales during Singles day and Doubles Day
So now, If you want to start your online store on Etsy or are willing to sync your online store with Etsy, then prepare your listings with prominent tips and tricks. Always prepare and follow, Tips to increase online sales. So basically, if you want to increase your online sales during Singles Day and Doubles Day, manage your listing and sales plans accordingly. Prepare accurately for this festive season.
Items you can sell: You shall focus on selling those items that indicate self-love and are for single use. For example, A T-shirt with the caption "happy to be single" or a ring for self-commitment. Your buyer will buy anything that they love for themselves. Still, you can be creative for some product categories. Similarly, you can sell a couple of related items for doubles day.
Prepare your listings Prior: Since you have buyers from US and SEA regions, pre-planning with the survey is necessary. Watch buyers' activity on Etsy and inculcate some items in your listings, like boho jute bags famous in Thailand, gemstones, and much more.
Optimize your Online store: As you have linked any one of your online stores made on Shopify, Magento, or WooCommerce with Etsy, this festive season, you may receive good traffic. So what you need to do is optimize. Make your store ready to bear the traffic load so that your site doesn't crash.
Advertise about the offers prior: Make sure that you communicate about your offers and discounts at least a month before to your buyers. Make use of Etsy ads, social media, and different forums for the same.
Cross-Sales: This is another good option for your Singles day and Doubles Day sales, cross-selling the items. If your buyer is purchasing a dress from your Etsy shop, you can recommend a relatable accessory available at your online store. By doing this, you can increase your sales and traffic at your online store.
Prepare your Etsy stores for more events ahead in 2021
Being an Etsy seller, you have to be active on trends and events lined up in a year. If you want to benefit from the sales, make sure that you have a good plan for upcoming events. Make it a priority to prepare your store and listings on time as per the occasions and buyers' needs. Once the singles day sale is gone, get ready for children's day, BFCM, Christmas, and new year plans. The festive season will give you more than expected benefits.