Prepare your Store for the Spooky Etsy Halloween Festival 2021
Running short of time? Get PDF of the blog in your mail.

Play Now
Peek A-Boo!! Halloween Festival 2021 is right here. Are you ready with your plans and product ideas for the Etsy Halloween festival 2021 sale? Despite the pandemic, there has been a 32% increase in searches for Halloween-related items in 2020.
Last year's most sold products were customized face masks, DIY kits, home decors, and printables, but the Pandemic situation is so much under control in 2021, meaning you can expect more traffic and sales to your Etsy store. Let's help you do that by beginning the Halloween preparation with you. Here are the most sought-after trends and shopper's expectations that you can straightway apply to reap the best of the season.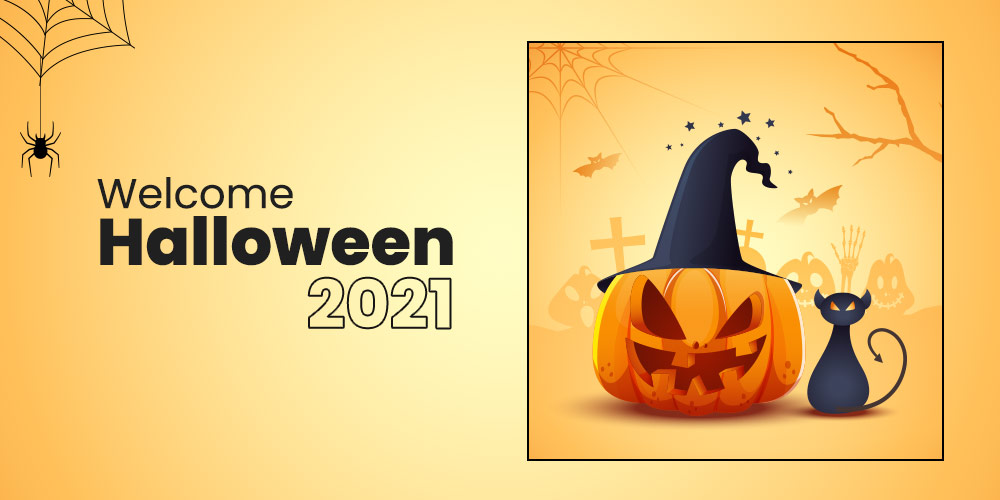 Buyers Search Query for this Etsy Halloween celebration?
Buyers on Etsy have become very specific with their choices and innovative purchases at the same time. They want to break the old tradition of black and orange color combinations for every Halloween-related item. As per Etsy, buyers wish to purchase Halloween-themed items matching their home decors, where they match different color schemes to maintain the decorations even after the holiday season.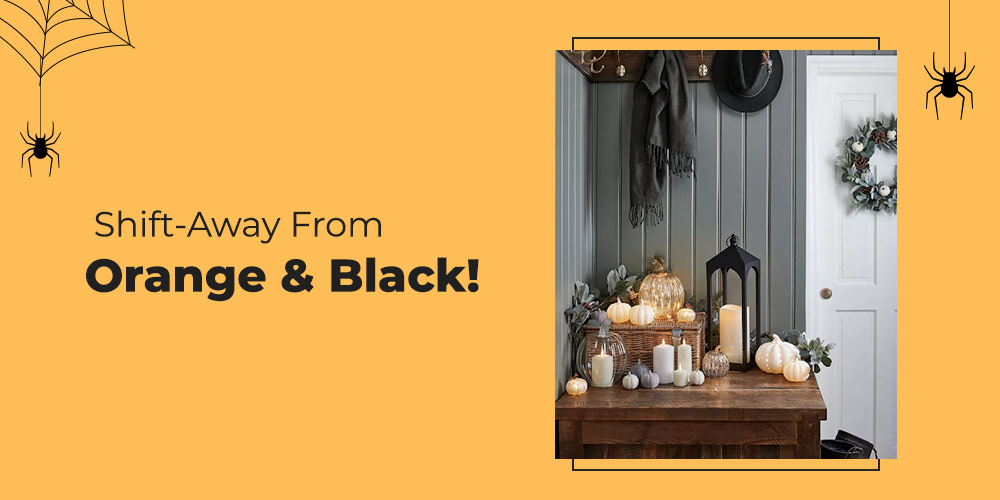 The new trend does not mean that the old orange-black trend is vague. In fact, you can experiment creatively to bring something new to the celebration. Buyers are searching for spooky items in metallic and blue colors. There is also a whopping hike of 123% in pink Halloween items on Etsy. Make use of these new expectations from your buyers and bring innovations to your listings. Plan and try out newness at your store this festive season.
What can be the most sold items on Halloween, this year?
The Year 2021 has come up with many expectations from the buyer's side and opportunities for you to grow. As per the Q2 result, Etsy has witnessed good sales and traffic due to the acquisition of big e-commerce platforms such as Reverb, Elo7, and Depop. It is obvious to have good traffic on your Etsy store from different regions of the world. You have many options to create items for your buyers, such as costumes, sell vintage musical instruments, and various handicraft items.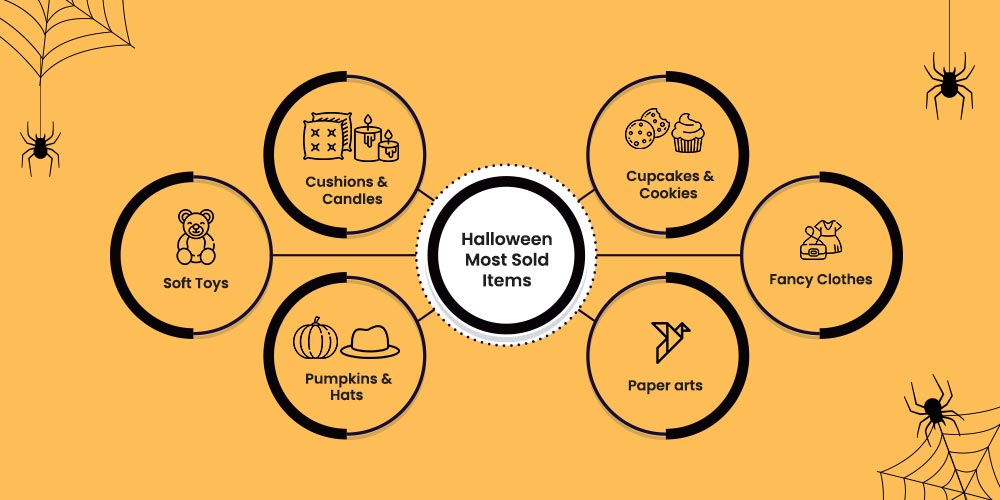 Some of the ideas for the most sold items on Halloween are:-
Decors: You can sell Halloween theme-based candles, stands, wall stickers, carpets, lampshades, and much more that decorates your buyer's home differently. All these items can be available in different colors and patterns.
Kids section: People are searching for ghostly fancy costumes for their kids so, you can add such fancy costumes in your listings. Go for selling hats, accessories with costumes, scary hand gloves, coloring pumpkins, clay modeling items, etc.
Soft Toys and Decors: Well, people are willing to buy spooky soft toys for decorations. They want to keep this as a party decoration. So you can sell some stuffed toys like pumpkins, bats, skulls, Casper, etc.
Furniture and Accessories: It's a celebration time; of course, the home decor will go theme-based. People are searching for bean bags in orange-black color, pumpkin-designed bean bags, and couches. You can give a Halloween-themed shape to the furniture. You can also design cushion covers, curtains, and bed sheets with spooky printables.
Party Supplies: Celebration time! Party is obvious. Allure your shoppers with some scary paintings, paper decors with ghostly effects, hanging skeletons, and much more like that.

Eatables: Since Etsy also allows you to sell eatables, you can make and sell ghost faces cookies, cupcakes. Try bloody themed cakes and pastries.
You can plan out all these items to any color scheme you love to make. The shift away from this orange and black reflects that your buyers are much more confident in choosing newness than last year. Nowadays, buyers are keen to experiment with color combinations they love and want to curate a display that works within the existing aesthetic of their homes. There was a 54% increase in searches on Etsy for metallic, glitter, or holographic Halloween items.
Here is an exclusive (Q & A) session with a successful 6-figure Etsy seller, Anna Beck sharing some crucial insights around the holiday season. Her experiences can be an eye-opener for many existing and aspiring sellers like you. Get the inspiration as you prepare and kickstart your festive season sale 2021.
Quick tips to fetch customers to your Etsy store.
Now you must have got some ideas about what to sell on Etsy during Halloween. It might be possible that you earlier had a standalone store, and you have come new on Etsy. Do not worry about the sales and revenue; just be creative with your listings for every event.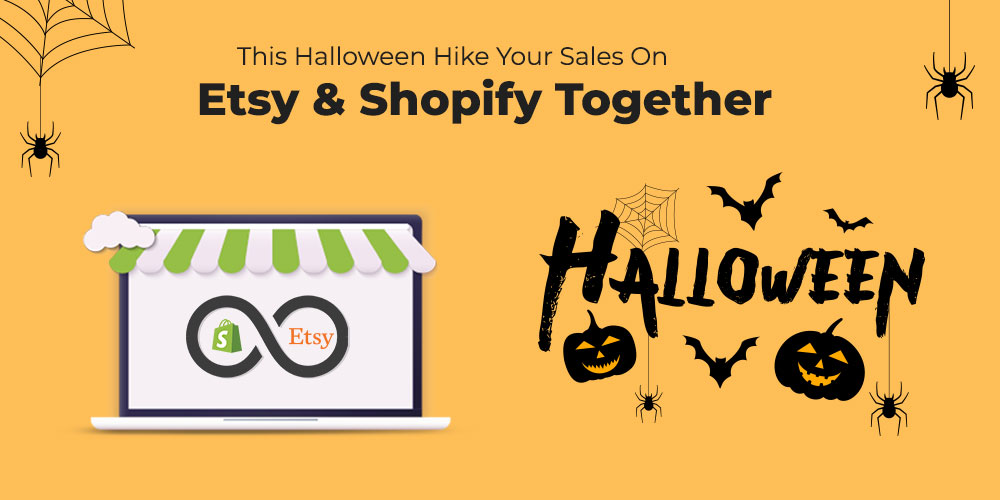 Firstly, if you have an Etsy store and an online store, link them together for seamless selling. Etsy Marketplace Integration is affordable and accessible, which will help you to achieve hassle-free operations while selling on both platforms. Handling them together through a single panel will give you a good sales experience this festive season.
Once you have connected the stores, you can also inculcate good marketing strategies to build good reach.
Halloween Theme Store: Try to list Halloween theme-based items at the beginning of your Etsy store. Organize your listings accordingly. Give your buyers Etsy Halloween party ideas.
Provide Early bird offers and discounts: Since buyers tend to complete their shopping before Halloween, you have a chance to provide discounts and deals for your customers to grasp them early.
Make use of social media: Modify your CTA buttons and sales strips with new Halloween images. Make use of good spooky GIFs and graphics to promote your store over social mediums like Facebook, Instagram, and Pinterest.
Surprise your customers with FreeBies: Try to maintain the excitement among shoppers. You can surprise them with alluring gift items(freebies) with every Halloween purchase.
Creative packaging: You can provide Halloween wish cards attached to the package. You can also use innovative methods to pack items that look spooky.
Expand your venture to stand among Best Halloween Etsy Shops
Etsy is a vast platform where you can experiment a lot with your creativity. You are open to creating anything that you and your ideas make. It also has become a favorite platform for artists, creators, and sole business owners to make good sales and develop their small and medium venture into a full-fledged brand. That is why all those who wish to expand into multichannel selling mostly connect their stores with Etsy or once they have a considerable number of shoppers coming, they often end up having their own standalone shop.
The festive season has already come. Before your buyers start looking for event-centric items, plan your Etsy listings and promotions to make the most out of the season. The app provides 24/7 support which will help you in festive sales this year. For already existing app users, just try out all new features and use your innovations for good results.