Overview of E-mail Marketing: Definition, Types and Benefits
Running short of time? Get PDF of the blog in your mail.

Play Now
What is Email Marketing?
E-mail marketing is a great marketing strategy, a type of content marketing that includes emails to promote businesses. Also, it helps subscribers to get aware of your latest offers by integrating them into your marketing efforts.
E-mail marketing performs a lead role in your marketing strategy with lead generation. It keeps your subscribers engaged with purchases through various marketing emails.
E-mail marketing is a term, that you may familiar with before but you may not know exactly what email marketing is? Which we will cover in this blog.
How Does Email Marketing Work?
E-mail marketing is not about sending emails to subscribers there is more to it.
It includes the process of developing promotional emails, testing, feedback, and maintaining them, etc. Also, it can be implemented to increase sales, loyalty and deliver critical information about the brand.
E-mail marketing is interconnected to email advertising.
It is not a complicated technique but it's a process that requires a lot of A/B testing to detect how to best communicate with your subscribers in a way that is productive for them and for your business goals.
Here is an outline of how email marketing works:
Sign up with an email marketing tool
Create an email marketing strategy
Create and grow your email list
Setup automation tasks
Observe and improve campaign performance through A/B testing
Regularly clean your email lists
A Marketing Email Contains the Following Components that are,
Subject Line
The subject line is your first milestone with the subscriber in their inboxes; While theory varies from one to another.
Learn: How To Create a Good Email Subject Line For Your Business Emails
As per data from Marketo, email marketing recommends 41 characters; seven-word long subject lines to be ideal.
Greetings
You can select a graphical and formatted message that is not personalized for an individual subscriber.
For example, in the company announcements, a generic greeting for all would make sense.
Marketing automation also lets you welcome each subscriber by their name; this adds personal assistance that drives higher conversion rates.
Content
There is no specific format to follow while creating email content. You can draft around with texts and images, add flow charts and GIFs, and even emerge videos.
Call To Action
Call to Action directly associates your marketing email with a revenue-generating action.
For example, an existing subscriber might ask to check their shopping cart, a new visitor could ask to subscribe to the domain, and a subscriber who had "zoned out" could be informed about the latest offers, discounts, and products.
Unsubscribe Button
Often, companies get customer email IDs by purchasing email lists. While communication may be to the point, the subscriber should always have the freedom to opt-out. Unsubscribe tab infuses confidence in your brand and establishes transparency.
Types of Email Marketing
E-mail marketing is a practical & economic marketing tool that combines amenities with technology. It provides the ability to reach more inboxes, which can improve sales growth.
Three major types of email marketing that you can use to grab the attention of your subscribers are:
E-mail Newsletter
The email newsletter is a single communication that can use to deliver:
Promotional emails
Important account information
Product updates and much more
An email newsletter will help to build brand reputation and awareness. While creating an email newsletter, it is essential to consider various points, including:
Content length
Type of information
Alignment of images and text
Design
Call to Action (CTA's)
Every audience is unique, so it is vital to exhibit with different formats of email copies.
Transactional Emails
Email receipts, invoices, billing statements, order confirmations, and refund status are examples of transactional emails. The user's action initiates them. Transactional emails dispense an excellent opportunity to turn a routine email into a path back to your website.
For instance, Email receipts generate high open and click rates.
Behavioral Emails
Behavioral emails are targeted messages based on the subscriber's behavior.
By getting to know your customers and creating buyer's personas, you can make your emails relevant to where customers are in the buying cycle.
Here's a list of some behavioral emails you can automate:
Welcome/Onboarding
Recommendations
Browse abandonment
Product review requests
Replenishment/re-orders
Password renewal/reminders
Free trial validity
Cross-selling
Purchase anniversary renewal
Re-engagement
Email marketing tools trigger emails; whenever a subscriber clicks through a button reads an article or watches a video etc. That's just the beginning.
As you collect more data about a subscriber can personalize the email to increase significantly the chances that subscribers will engage with your website and purchase products or services.
Benefits of Email Marketing
The benefits coupled with e-mail marketing are huge. It's a way to reduce some of the risks associated with SEO algorithmic rotations. This is important because once you get to a point that you have a huge list of active email subscribers; you can panic less about SEO rotations that can have a negative impact on your website traffic.
Successful email marketing can achieve desired goals for your business. Knowing the benefits of e-mail marketing will allow you to draft a plan to expand your customer base!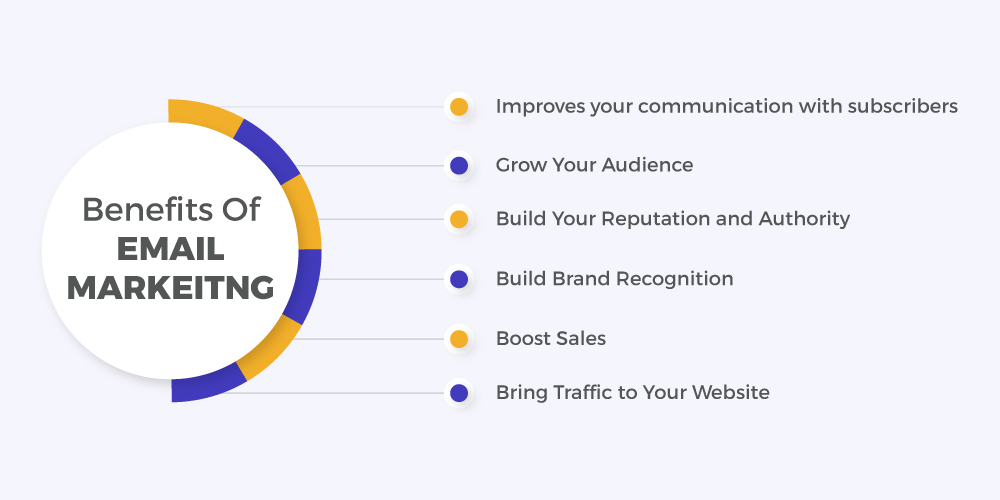 Improves Your Communication With Subscribers
Sending out weekly and monthly emails to your contact list means that you are consistently communicating with your customers about your business and ongoing deals or offers. You must first get the individual permission to use their contact information; you know they are already an engaged audience or follower of your business. Keeping this communication is the best way to maintain engagement while reminding your existing customers that you are still serving quality services and products.
Alongside offering quality products, prioritize email security as well. In that matter, follow DMARC reports and avoid phishing attacks when communicating with email subscribers.
Grow Your Audience
As a business, it is not always easy to stand out in a crowded marketplace. Email marketing permits you to assemble an audience fascinated by you without paying for other advertising channels.
Build Your Reputation And Authority
Email marketing is the ability to intensify your reputation and authority in front of your subscriber email list. It means the more quality content you put out the more people interact with your email copy.
So, when your business will get a high reputation then your subscribers will take you as an expert in your industry. Also, they will start investing their time and money in your hands.
Build Brand Awareness
The more user sees your brand logo in their inboxes, the more they will come to recognize your business.
Brand awareness can be a game-changer for all businesses as many people know your brand, then they will select your brand over your competitors; as it is familiar to them. Always build credibility and increase brand reputation at the same time.
Boost Sales
An effective email marketing can boost sales and revenue, Thanks to impulse purchasing!
Try using a tempting call to action to increase sales, with prominent buttons that link straight to your deals or checkout page. An attractive deal ends up sending more traffic to your website.
Bring Traffic To Your Website
One of the most significant benefits of email marketing is generating traffic to your website by engaging your subscribers to explore more about your brand or product.
In fact, the more people you send well-written, engaging newsletters and deals out, the higher your traffic at the business site.
Remember; whenever you decide to link your site in your email copy always add a unique call to action to encourage your audience when they click through your site.
Writing Things To A Close
In the end, e-mail marketing services are professional strategies mean to support businesses to guide and improve their email campaigns.
Email marketing is a part of digital marketing that includes SEO, social media, and PPC marketing, or it can be handled as an individual entity.