How To Get Lead Generation Through Content Marketing: The Ultimate Ways
Running short of time? Get PDF of the blog in your mail.

Play Now
Do you know how digital marketing agencies and everyone is pouncing on the part that lead generation content marketing strategy is the need of the hour in the day and in case you're missing out on something today? It may be due to your lack of spending, your resources, time, or something. Only what seems to be the crucial part of content marketing is lead generation.
80% of b2b marketers prefer content marketing for lead generation. As a result, it is seen that it generates three times as many prospects as outbound marketing and costs 62% less.
There is a great demand from readers for high-value content for lead generation in the world of digital marketing. And if you meet that need, you'll build the trust of your users. Therefore with informative and valuable content, you'll attract leads.
Want To Generate More Leads Online?
Marketers need to rely on content to engage with prospects and customers in today's buyer landscape, but your content must educate, inspire, and beg to be shared. It should assist leads in overcoming challenges and achieving their aspirations. If you can do that, leads will flock to you, and you'll gain their trust.
Here are nine ways to generate qualified leads through content marketing. So let's get started.
Research For Buyer Persona
If you want to generate leads through content marketing, what is the first thing you must do? The first thing is to target the right audience and collect in-depth information so that you can understand your ideal audience.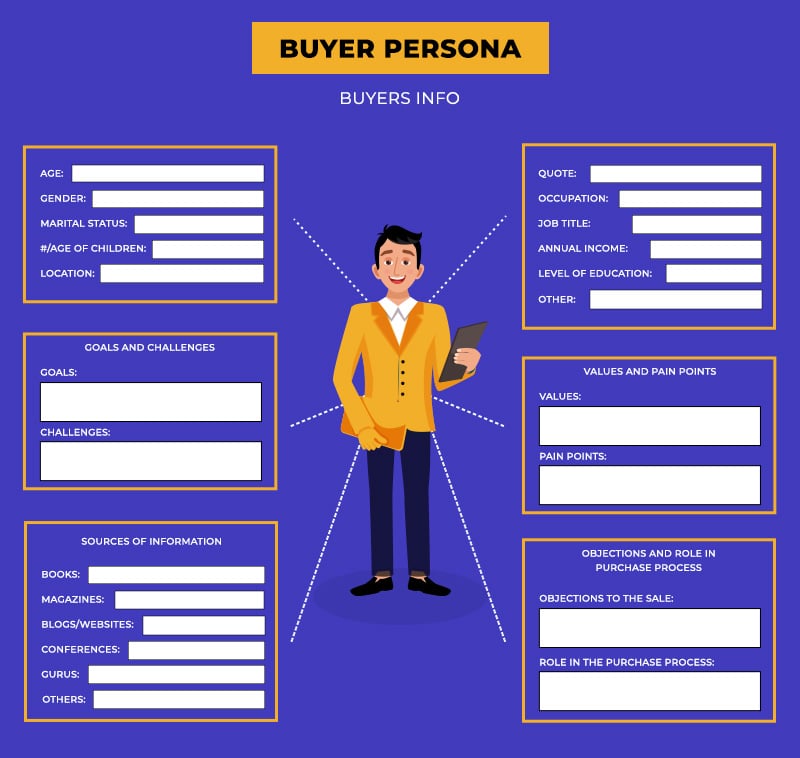 The basic principle of creating great content is that it must appeal to your target audience. If it doesn't, you won't generate any leads and end up with unqualified leads, which is worse than capturing no leads. Therefore, if you focus on lead generation content marketing, you need to specify your target audience and create a buyer persona for them.
Select Lead Generating Content Type
Lead generating content provides valuable information for free in exchange for an email address known as a lead magnet. So when you create a lead magnet, focus on what your target audience is looking for. In this manner, you can create a compelling piece of content that will hit the right target with the right goal that is lead generation through content marketing.
There are multiple types of content, but you have to select the content that suits your target audience best and accomplish your motive behind writing that content. In such a case, focus on providing specific solutions to the common needs of the target audience.
For example, if you're a tattoo artist and want to create a list of potential customers who will enroll in your online course, video, or purchase your book. What will be the most effective way to communicate your ideas to the potential prospect? Ebook, articles, or videos.
Now, a short video will do a much better job than an ebook or an article when you are a tattoo artist. Because no matter how in-depth or descriptive information you give, tattoo instruction needs a visual demonstration.
In the same way, if your target audience is transporters, it's natural that these people will be driving all the time. Videos, articles, and ebooks will distract these people while driving, but audio or podcast will do the job nicely. Therefore, you need to be practical and straightforward with the type of content you choose for your target audience.
Lead generation through content marketing is effective only when choosing the right content type with the correct list of your target audience. So, it's up to you to decide which content type will suit your prospect and help in lead generation.
Content Creation
Data-driven and high-quality content is the solid foundation for content creation and lead generation through content marketing. So how will you build the right content that targets your desired audience through lead generation content?
Here are a few steps that you can follow for creating lead generation content.
Determine The Type Of Content That Users Prefer
You can spend some time and research for the content that your audience is looking for. Track, discover, and understand your target audience searching for and creating content around that particular topic.
Examine Successful Content Headlines
What better way to determine the efficacy of your headline than to examine pages that have already risen to the top of Google results? This is the simple and effective way of creating the most successful headlines.
8 out of 10 persons who come across your headline will click and read it. But, they'll continue reading that point depending on how the headline persuades them.
This means that you have to spend time on your headlines. Try to learn from the A-list bloggers and copywriters who understand how to mold headlines for their users. You can study online publications and examine top-ranking headlines performing well on the search engine results pages.
Study most successful headlines to engage with your readers because lead generation through content marketing is possible if you can provide insider knowledge with your headlines and compel readers to land on your content.
Collect Your Data And Statistics
Generate quality leads with data-driven content. Check your Google Analytics account and make a note of the following metrics and evaluate your performance.
Percentage of new and returning users
Number of page visits
Ranking keywords
Number of new users
Bounce rate
Exit rate
The above information will help you know the areas you have to focus on and the areas that need to be worked on. So that you can publish high-quality content for generating quality leads, based on the Google analytics information, create successful content that will improve conversion rate and help generate quality leads.
Scale Up Your Brand Visibility With Content Marketing.
Write Your Content And Make It As Detailed As Possible
Giving in-depth information through your content will never fail as a content marketing strategy because findings, surveys, and tests, show that Google favors informative and data-driven content over shorter content.
Create opportunities through business blogging and help your business grow.
Content Distribution And Promotion Channels
Promote your blog posts through different channels to get new customers through content marketing and convert them into leads. You can use the following channels to promote your content.
Paid Distribution Channel
Organic Distribution Channel
Influencer Marketing
Content Syndication
You have already collected information that is relevant to your target audience by measuring various metrics and data. Now you need to collectively use them for lead generation content marketing by determining the most suitable medium for your content promotion.
Select the medium where your potential customer is active and consuming the data because all you need is quality leads.
Paid Distribution Channel
Paid Distribution channels where the marketer spends money on ads to get traffic. These channels generate results immediately. If you optimize your PPC campaigns properly, all you need is to purchase some ads, and you can be in the race of generating traffic within a matter of hours.
Social media ads for example, Instagram Reels Ads
Display ads
Search ads
Content discovery networks
This is the easiest way to direct your prospects to informative content. You should wisely use paid mediums for getting leads and converting them into prospects.
Organic Channel
Organic medium is a way to drive traffic but grows and delivers results after a long time. But the most significant advantage of this medium is that it's budget-friendly and probably the best way to go. Below are a few organic channels that can be used
Search engines
LinkedIn
Instagram
Pinterest
Twitter
YouTube
Quora
Tumble
Now, when you understand your audience, invest in search engine optimization, improve page speed and make navigation easier for your leads with your published content. You can drive organic traffic to your online store or website by taking the opportunity of social media marketing and generate organic leads for your business.
Influencer Marketing
Influencers are a great way to target an audience in your niche. Through the buyer's persona, you have identified and obtained the much-needed information. Use the information for lead generation. Now how will you do that? Build relationships with the influencers and try to get into a dialogue with them.
Syndication
You have a valuable piece of content on your business that can bring in several leads for your company. But what if nobody reads your blog? In such a case, all your efforts would go in vain. Therefore, content syndication will help you with capturing leads to your website with your target audience.
It's a massive opportunity to get many leads. In the process of content syndication, you post your content on third-party websites that are popular than yours and have a greater audience reach. These sites syndicate your content in their b2b lead generation network to help improve lead acquisition by aiming for potential leads.
And the best part of content syndication is that you can keep that traffic coming to your website. Medium, YouTube are good examples of promoting your content through syndication.
Select the right channel based on your specific audience. Target lead generation content marketing strategy to get exceptional results for your business and your job of lead generation through content marketing is completed.
Provide Lead Magnets
Another lead generation content marketing strategy is to provide lead magnets. Attraction is the key to lead generation. And for that, you have to deliver value. And that's the role of lead magnets to help you solve your audience's problem and serve as an incentive for visitors to provide their details.
Examples of lead magnets are:
Cases
Reports
Quizzes
Ebooks
Webinars
Videos
Take away point: Videos are the most prominent form of content right now and small businesses can take benefit from videos.
Why lead magnets are an essential asset in the process of lead generation content marketing strategy.
Firstly, lead magnets are helpful in every stage of the buyer's journey.
Secondly, lead magnets help find an immediate solution for your audience.
Thirdly, lead magnets can be used immediately.
Last, lead magnets cater to solutions to a problem.
So, as a part of content marketing strategy, take advantage of lead magnets and get them working for your businesses.
Scale Up Your Brand Visibility With Content Marketing.
Content Upgrade For Lead Generation Content Marketing
What is a content upgrade, and how will it help in lead generation. You might have come across the option of downloading a report, content, or the bonus within a blog that you're reading in a different format. This is precisely the content upgrade. Here's a content upgrade example where you can offer a guide and break down every step in a comprehensive way.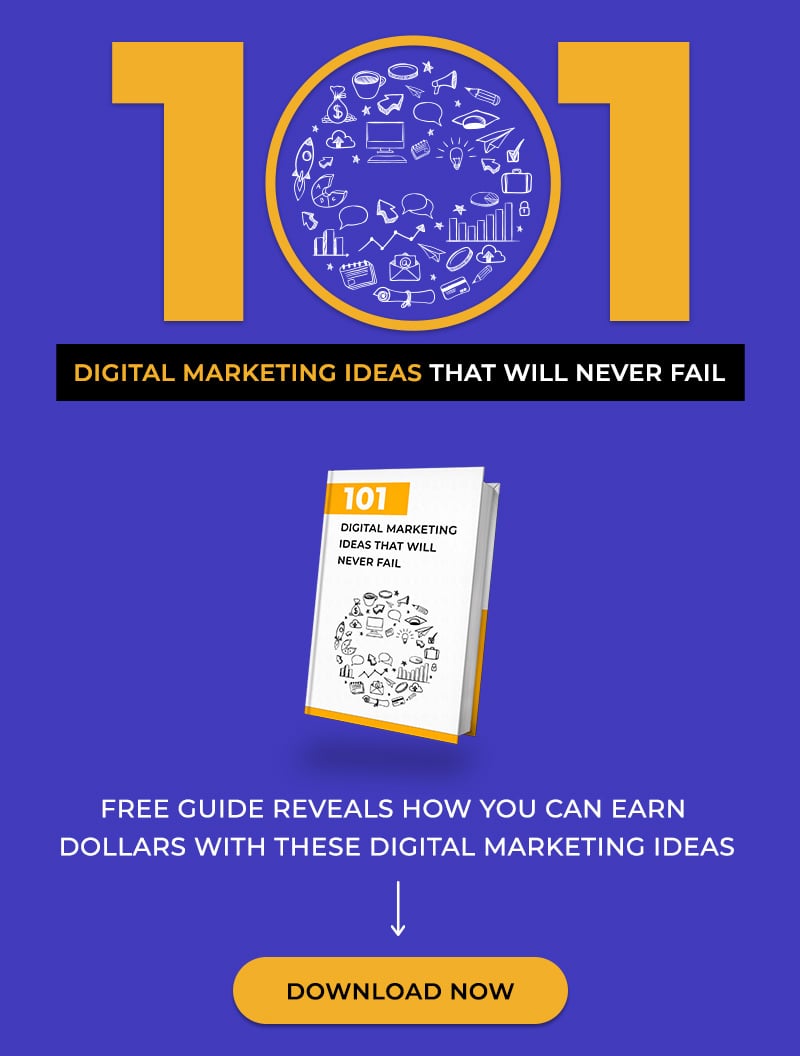 So, how does this work as a lead generation content marketing strategy? When you give away a bonus or report within your blog post to the readers. It helps you to build an email list. And create a chance of converting these readers to subscribers.
When you provide quality content to your readers, you'll be surprised to find a lot of people downloading your content and submitting their email address in exchange. Such is the power of content marketing.
Upgrade Your Landing Page
For lead generation content marketing, you should never forget to connect the readers to your landing page. Because landing pages serve as the initial brand engagement, a way to nurture leads with engaging content, or a way to generate qualified leads via form fills. Take a look at this landing page form. They have just asked the requisite questions, and since they are short and concise, the chances of a better conversion rate are higher.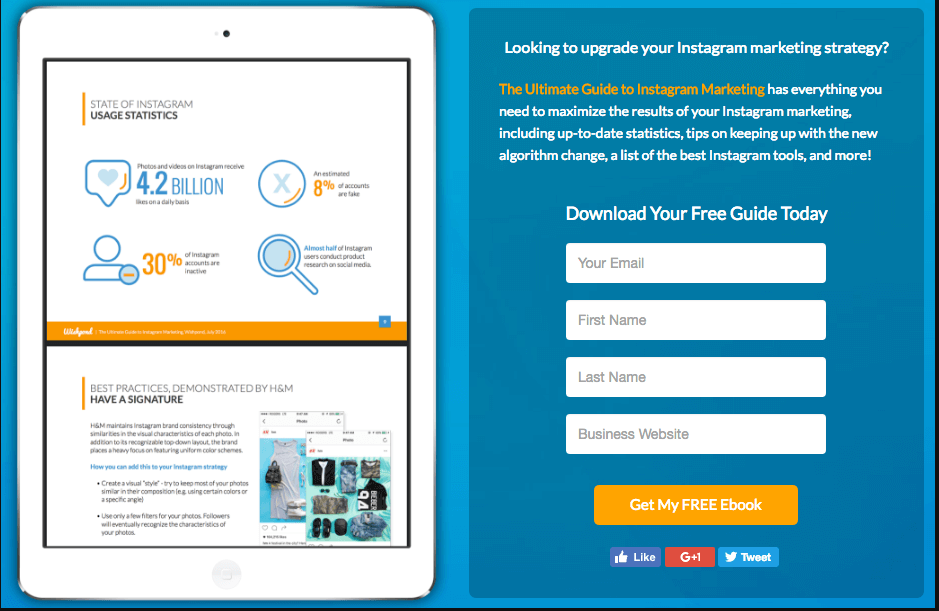 A landing page is a place where visitors land when they click your Facebook post, find your PPC ad or find you in a search. Follow the best practices to make sure you optimize your landing page for conversion. Remember that landing pages are an essential part of any inbound marketing strategy.
Guest Blogging
Guest blogging is an activity that helps generate backlinks, increase ROI, improve brand awareness and generate quality leads for your business. However, many businesses fail to take advantage of what most websites offer. They allow you to leave a link in your author bio after a guest post. The catch here is that you can leave a link that redirects to your landing page by promising a lead magnet.
Content marketing is evolving, and many businesses are optimizing their guest post strategy for lead generation and customer acquisition. Hence, as long as you continue to produce quality and engaging content, guest blogging is a great content marketing strategy for building brand loyalty and increasing business reach.
Long-Tail Keyword
For lead generation through content marketing, keyword choice is essential. If you want to convert leads, you have to be selective and more specific with your keywords. You have to rank for the keywords that your target lead is searching.
And for that, you have to satisfy them with your content. Because when the audience realizes that you have what they are searching for, they are more likely to join your email list. So, with a more specific and targeted audience, you are more likely to convert prospects into leads.
Conclusion
You can simplify lead generation with the best strategies in practice. Little efforts can pave the way for marketers to convert visitors into qualified leads. Use of lead magnets, content upgrade, long-tail SEO, buyers persona, etc, can be used as a content marketing strategy for increasing conversions and getting qualified leads. If you need some guidance on building a solid lead generation program, we will be glad to lead you through it.
Want To Generate More Leads Online?