How Blogging For Businesses Helps Them Grow
Running short of time? Get PDF of the blog in your mail.

Play Now
"Blogging for business is a very tough task."
That, my dear friend, is a white lie. However, it is not even the most straightforward task in the world for businesses. Learning about blogging for business doesn't mean everything has to be about you. It is actually for your buyers. Blogging for business is not really about interacting with your buyers but trying to impart knowledge to them. Blogging is significant, particularly for one reason. Almost everybody researches the internet for a query, education, or product information.
Businesses work in an ever-changing landscape of technology and consumer demands. So, it becomes essential for companies to establish a comprehensive online marketing strategy that works at 360 degrees.
Websites that have a blog attract 55% more traffic. 
And blogging for business gives that consistency over time and again to businesses to target the audience, drive traffic, and build brand awareness.
Blogging for business is an inexpensive way to get the desired results and enhance inbound marketing effort.
For decades, organizations have promoted their business through content marketing. And today, in the world of digital marketing, despite the outburst of digital technologies. Content is the king and stands firm to benefit the businesses.
So let's dive into the benefits of blogging for business. But before that, you must be precise with two terms, "Blog" and "Business Blogging."
What Is a Blog?
A blog is a short form of "weblog," meaning a website where blogs are updated regularly in reverse chronological order. The latest blog appears first, and the older blogs are appearing later. A blog features dairy-type, and the blog content is known as blog posts or entries. And now, what is a blog post?
A blog post is an article written on the blog.
What Is Business Blogging?
Business Blogging is the marketing channel through which businesses get online visibility by using blogging as a tool. So, when a company chooses business blogging as a marketing tactic, in such a case, companies create blog posts(article) that inform their target audience about their business.
For example, Suppose you are a jewellery brand, in such a case, your blogs will talk about ideas revolving around the jewellery industry. Or you're a food brand then you're surely going to blog around topics delighting the foodies and can promote your blog post using Facebook business page, Twitter, and Instagram.
Therefore, business blogging is a way to reach out to people looking for your product or services over the internet.
Benefits Of Blogging For Business
Increase Website Traffic
Relevant and high-quality content with consistent blogging for business helps drive traffic and more leads because of the simple equation that says,
"More traffic= More leads."
According to Hubspot, "Businesses that blog regularly tend to attract 55% more traffic than those that don't."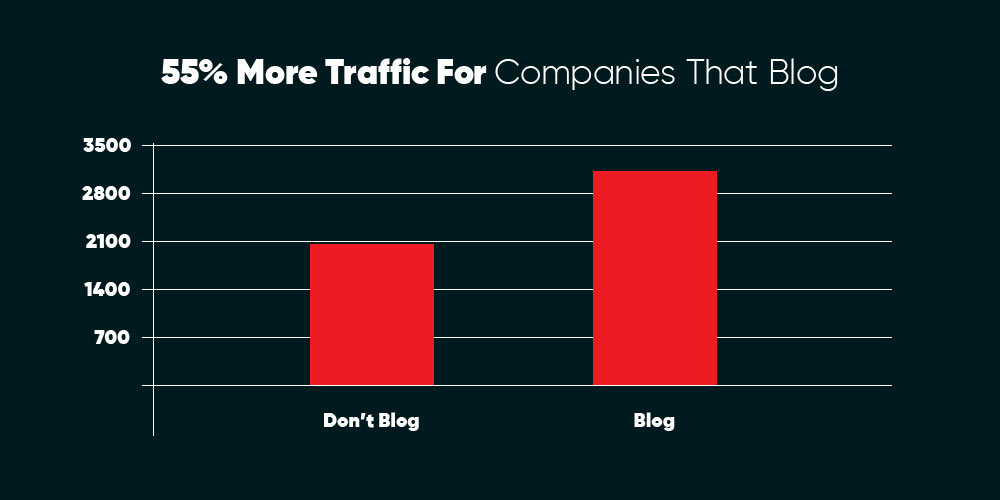 So, blogging for business can be a powerful tool to drive organic traffic with a great piece of content that targets the audience's pain points and describes the quality content followed by the headlines. So, make sure to make your content credible, informative, and high-quality to drive traffic to your website.
It Helps Convert Traffic Into Leads
Next, you have the traffic coming to your website with the help of blog posts that you created by blogging for business. Is this the only benefit of blogging? No.
The blog post that is created and published is an opportunity to convert the traffic into leads with a Call-to-action-button that is used by businesses in their every blog post. A call-to-action button is an essential element of content marketing strategy and used when blogging to convert interested visitors into leads through CTA.
Websites that have a blog attract 55% more traffic. 
So, with the help of blogs, you can convert traffic into leads. Isn't this one of your sales and marketing goals?
Attract New Customers
Blogging for business is a marketing tactic that most companies work on, and if you have not started with your blog, you should start one today. Your business needs a blog post to drive traffic and gain new customers because a company can grow only when you have customers.
So, when you start blogging you
These factors result in search engine visibility and target audience with the lead generation's marketing strategy through the informative piece of content.
When blogging for business, adding CTAs inspire action that helps nurture customers and visitors and help attract new customers. Moreover, when your company does blogging, it helps nurture customers and potentially bring leads.
Expose Your Business To The Readers
Blogging is the core foundation of an effective marketing strategy and engages with an audience looking for a solution to their query. Blogging for business is an effective way to expose your business before the readers. Some readers take an interest in a piece of content that is useful, relevant, and provides related information regarding the products and services. This way, users also find your content in the related topics of your concerned business.
Whenever a blog is created, goals are set with an integrated content plan that offers value to the target audience to get the best result. The readers use Google and other search engines to answer their questions, and blog posts help the readers get the ultimate solution to their queries.
Websites that have a blog attract 55% more traffic. 
So, whenever blogging for business, it adds indexed pages to your site and increases the chances of its online visibility. Resulting in increased exposure of your business before the readers organically.
Moreover, with improved search engine ranking, blogging helps a piece of content rank for keywords. Related keywords that readers search on Google and other search engines and thus expose your business to the readers.
Hence having a blog post on your website increases opportunities for gaining exposure for your business to the readers. So it would be best if you took on this opportunity and put in little hard work to get great results.
It Helps Establish Authority
Establishing authority is another benefit of blogging that businesses take the privilege of quality content. Giving the website visitors powerful stuff to rely on to resolve their doubts and get educated about the products or services they want to know through blog posts is a productive strategy.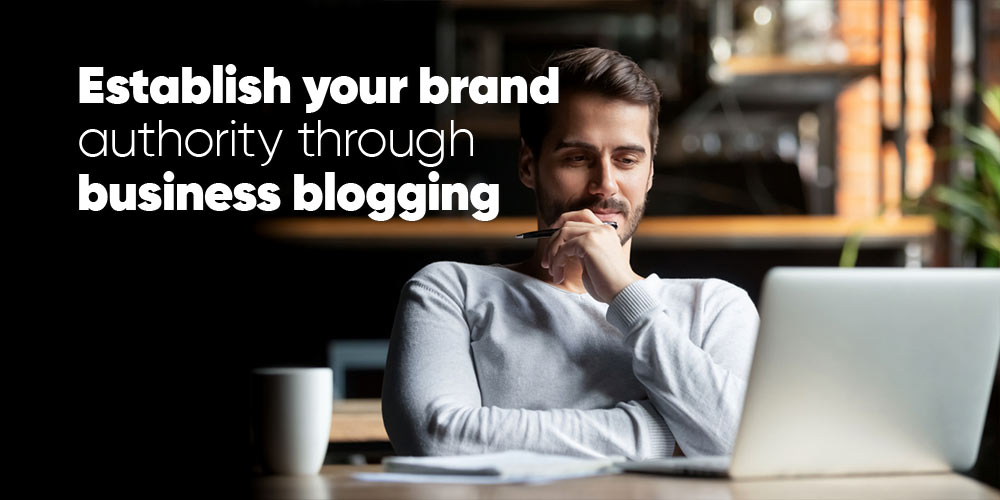 And many businesses struggle because of ineffective marketing strategies. Your potential customers or targeted audience start trusting you with the quality content you provide through blog posts, and for a vast number of people, Google is the first and the last source of information.
Therefore blogging helps create an environment and pave the way for sales by establishing expertise. And people prefer to buy from an established brand – the one they see as an industry expert because of the trust.
As a digital marketing expert, blogging for business can be a handy tool for educating the prospectus and finding answers to their everyday questions via your company's blog posts.
When your audience encounters you as an industry leader, they start building trust in you, trust your suggestions and opinions, and achieve your blog post for solution. This way, blogging for business will position you as an established authority and help build your brand by sharing knowledge and assisting prospects.
Generate Backlinks
Blogging gives the website visitors quality content and provides all vital information about the industry or business in general. If the blog posts provide valuable information that solves the customer problem, then the blog might be used by other websites or blogs. And when these websites link to your blog, it is a solid signal to Google and other search engines that your webpage is worth surfacing on a SERP.
These recommendations referring to backlinks
Increase your domain authority
Help in ranking in search engines
Create a mark for your website
Create Opportunities For Sharing
Whenever any business writes a blog, it gives Google and other search engines a chance to rank your piece of content and creates an opportunity for people to share your blog link over multiple marketing channels. Blogging for business can be a game-changer for your business and deliver exceptional results.
Websites that have a blog attract 55% more traffic. 
So, blogging gives access to the following points that help create opportunities for sharing.
A blog post allows readers to tweet the best points of the blog post. Thus increasing the number of shares and allowing the piece of content to promote itself.
With the attractive features on your blog post, you attract the readers' attention to promote your blog and get shared through social media channels.
With multiple sharing platform options at your fingertips, blogging for business increases your brand's possibilities, resulting in cohesive sharing opportunities.
That's the epitome of free marketing that every business can take advantage of and get desired results.
Online Visibility
Blogs are an essential part of building an online presence and assisting marketers in analyzing their audience and communicating with them. Blogging for business helps create an online presence, and regular blogging helps maintain an online presence by generating backlinks, social sharing of the content, and determining the brand's originality.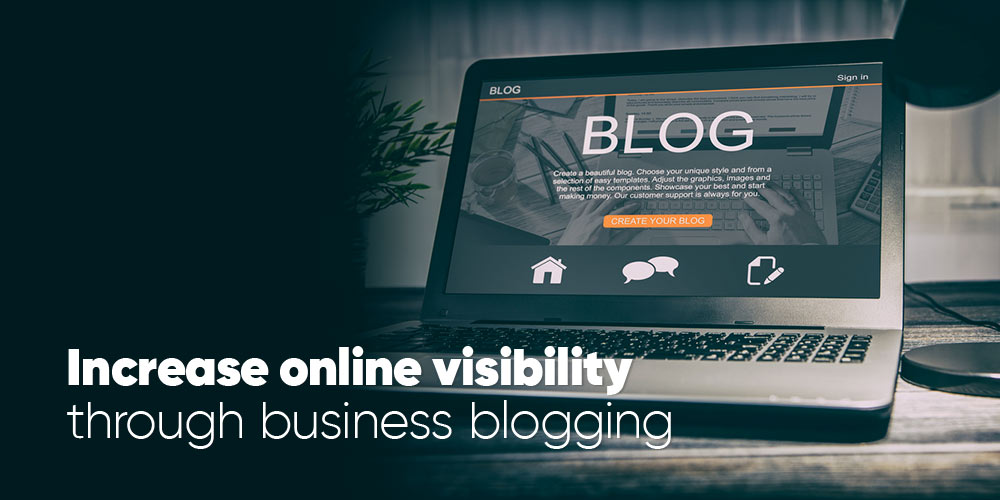 A business can define its originality with increased visibility, and blogs help the brands to do so. Now the question is, how? The answer is simple.
You write blogs that revolve around your industry and give information about the products and services that your business deals in with the help of an informative piece of content. This piece of content will resolve the questions of a person who wants to purchase your product and avail of your services.
Blogs will inform them about your products and services and give them insight into your industry, and this way, with each blog post, you will be able to increase your reach and online visibility. Moreover, blogging for business gives the potential customers ease to search your brand online because of the regular blogging that adds to the increased indexed pages.
And thus expanding the online visibility of your business. Moreover, with on-page SEO techniques, you can easily make your content SEO-friendly and improve your search engines ranking. Here is a quick guide to search engine optimization of your website.
Business Blogging Drives Long Term Results
According to Hubspot, "About 70% of the traffic and 90% of the leads that they generate comes from blog posts that were published in previous months or sometimes years ago." And this is the most significant benefit of blogging that it reaps the fruit all season. And one of the major benefits that businesses can achieve through blogging as a necessary element of inbound marketing and content marketing strategy.
Websites that have a blog attract 55% more traffic. 
Often businesses miss this opportunity. So you can optimize older blogs overtime to bring sufficient organic traffic and gain authority by building brand loyalty.
You can check out this blog post to improve your customers' brand loyalty through online branding.
Build A Flow Of Trust
Blogs speak for your brand and connect directly to your website's readers over time, and people buy from the brand they trust. Trust is a ruling component in the online world. And to support this statement, here is a study by Econsultancy that states 61% of customers read and trust online reviews when making a purchase.
Since blogs directly connect with the readers, they build relationships with potential customers and directly influence them. And by publishing quality content through regular blogging, you can directly attract people to your website and social media. And the reason why I am saying this is because, According to Evercoach, 81% of U.S. online consumers trust the information on blogs. The percentage proves that blogs are the deciding factors in most of the purchases made by potential customers.
Therefore, the blogging business is a vital and evergreen content marketing strategy that helps build trust and customer relationships.
Collect Emails
Blog posts contain a call to action button that is very helpful in collecting emails. The most accessible source to collect emails of the willing prospects that take an interest in your industry and want to explore more.
Emails are the most helpful method of a direct marketing channel that helps
Inform customers
Nurture the lead into customers
Drive sales
Build a community
Help in brand awareness, etc
Emails come with a great advantage, and blogging for business helps collect Emails using CTA buttons. And thus, blogging can be a part of the email marketing strategy for lead generation.
To End………
Blogging for business with quality content works as the most effective marketing tactic in the world. It is one of the most working content marketing strategies that companies often choose for themselves.
Blogs act as a medium for generating great content for businesses that want to reach out to a vast audience and gain potential customers through targeted audiences. Whether you have a small business or a large business, blogging for business has always proven to be the best content strategy in building the brand and promoting the brand with little efforts over the years.
I hope with the above-stated benefits of blogging, you can figure out the importance of blogging for business. Business blogging has always been a question by companies that how blogging helps business. With small efforts, you can achieve great results that are recurring in nature and will benefit you lifelong.
Websites that have a blog attract 55% more traffic.