PPC Advertising-Know The Core Benefits Offered!
Running short of time? Get PDF of the blog in your mail.

Play Now
Did you know that 46% of clicks go to the top three paid ads on the search results? An engaging number right? The most lucrative way to maneuver your sales funnel or even increase your brand recognition worldwide is through PPC Advertising.
In fact, paid search ads are capable of enhancing brand awareness by 80%. Advertising by far ensures stomping your brand towards success. Though all formats for Internet marketing are incredible, the one that takes your brand to the other end of the spectrum is Pay Per Click Advertising. This format can be tailored with a limited budget and reaps you the best results in no time. Let's see how!!
PPC contributes to a goal-oriented marketing
PPC visitors are 50% more likely to purchase than organic visitors. So advertising through PPC keeps you ahead of the pack.
Deep down that sales funnel, ranging from the awareness to the interest to consideration or from the intent to evaluation to sale, the resolution should be firm. PPC benefits you with a refined and goal-focused marketing strategy that fosters results only when the buyer's intent is crystal clear with a graded buyer journey.
Advertising this way bridges the gap between the prospect to become a full-fledged customer. The intermediary, facilitating the middle of the funnel, PPC drives dedicated traffic to your website. As compared to the other conventional channels of marketing, it lets you target the set of audiences who are otherwise unaware of your products or services.
A stringent method of marketing as you are in complete control of your budget exhaustion. A campaign can continue if it scales up and gives profits, but could be paused or stopped anytime if it isn't getting you the desired results.
Flexible marketing ensuring monetary gains
Pay Per Click Advertising happens to be incredibly flexible and ensures monetary results in a quick time especially for the growth of small businesses. It's all about the query and it's the solution, and you could mold your prospect in any manner. As a matter of fact, 70% of millennials like it when they can click on a product from an ad.
Offering you a multilayered targeting strategy, PPC advertising benefits ensure comprehensive coverage of all networks across the web to offer expansive targeting types. The impressions, clicks, and conversions, for a particular audience, enables segmented performance tracking, giving a wealth of marketing data.
Advertising through the pay-per-click guarantees results faster than SEO in particular. These are significantly measurable in terms of the return on investment when we take the PPC benefits into consideration. On a complimentary note, one major benefit of paid search advertising is that it gels well with the other marketing channels. With the whole gamut of unique and fun-loving content building and distribution, the mixture thereby guarantees greater support to the customer buying cycle. In concern for a targeted set of audience, organic traffic performance or the SEO efforts can be worked upon, or complemented with far-reaching insights for the extent of the visitor engagement with the Pay Per Click Advertising.
These ads that are run through a Pay Per Click Advertising method might be auction-based in major cases, in which the advertisers only pay for what is clicked. PPC Advertising is the smartest way of advertising out of all for small businesses in particular. Additionally, advertisers need to make sure that their strategies meet their goals! You could now…     
Convert Browsers into Buyers with Google Ads
Once your prospects have an intensive engagement, they are clear in their heads with the idea, they have got the solution and so they may convert. Now, it so happens that if the audience finds the ad relatable, they will connect instantaneously. If they connect, a relationship is directly established, and the future for your business is bright.
PPC benefits with targeting that drives immediate results
75% of people that click on ads said search ads make it easier to find the information they are looking for.
Pay per click marketing is one of the favored options for targeting the right audience online, for marketers and small business owners. It is so because of the impact it creates on the target audience.
The smartest way to advertise, giving an out of the blue experience, thus driving compatible and competitive results. This platform caters to a large audience, as you can directly advertise on a varied scenario.
A boost in the traffic register, when you reach the right set of audiences. Based on a number of factors including keywords, location, website, device, date, time, etc, your products or service could be pitched to the apt audience at the right time. This certifies a measurable target approach, perhaps justifying the faster and measured results attained.
From the costs to the views to the clicks to profits etc, the flexibility of a PPC campaign denotes a clear measurable ROI. As you are halfway through, achieving your goals, this form of Advertising provides a subtle makeover to your website and covers the other half for you. So, get up and get going as it's time now to rescale your business with PPC advertising!
Segmenting audience, creating Remarketing list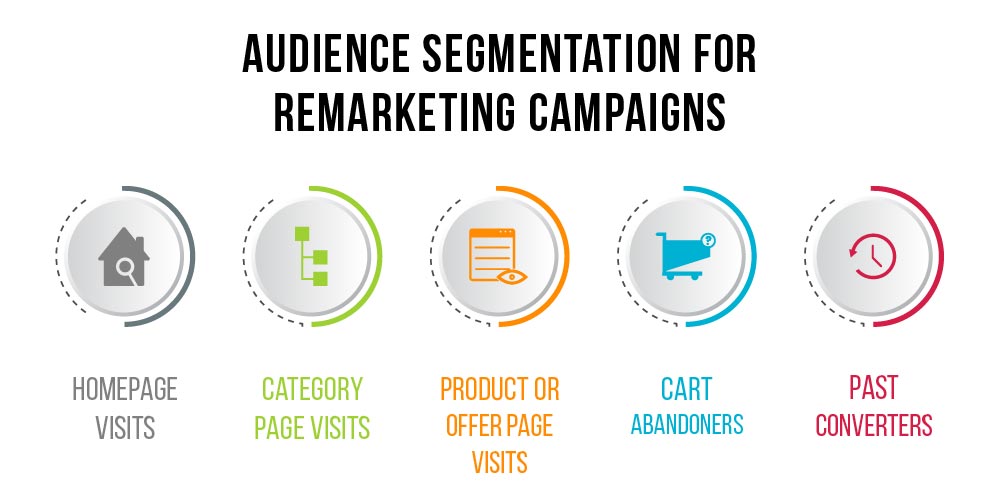 It is the engagement, you know that is the stepping stone to foster relationships.
Engagement with the right audience is pampered through pay per click. As the traffic on the search engine is genuinely looking for the answer to their queries. There is a compulsion to push out hard to engage traffic.
Customers who see the re-targeted ads are 70% more likely to convert on your website. So, in case of your already visitors, they should again be eyed upon with the Remarketing campaigns. This increases your brand recognition, thereby pouncing upon the way to boost your conversions. The benefit of paid search advertising is that it is not only effective but efficient as well.
Reaching out to your previous visitors or users, it is like the reminder set up for the audiences previously interacted with, to maneuver them making a purchase eventually.
We can target effectively the already known users in different segments and create an audience list and target them in different campaigns.
A great way to strategically position your ads optimizing successfully to become enhanced observable to your already visitors. Thus making them adapt to your product or service once more. It is just that, to bring in quality in your marketing campaigns, you need to produce quality yourself. It'd now the right time to generate quality…and…
Convert Browsers into Buyers with Google Ads
PPC Advertising Benefits-A measurable ROI in limited budget
Advertising returns $2 for every $1 spent – a 200% ROI rate.
The traffic through the search engines is exquisite. As a matter of fact, Search traffic has the best conversion rates for most websites. This is the traffic that is more likely to convert in the long run. As they have been in search of genuine products and services that could satisfy their thirst anyhow.
Let's take into consideration the budget restrictions that come into play with PPC Advertising. Already being said that you only pay for what is clicked, there are no budget restrictions imposed, since you pay when clicked. One of the main PPC benefits is that it is measurable whether what you pay for creates a profit or loss, especially for small businesses. If in case the budget spent exceeds the maximum ROI, you could immediately stop or pause or tweak, an already running campaign for a greater return on investment.
Analyzing your results with the right tools helps you apply the right marketing strategy throughout. It's your ad that has to perform the best when compared to your competitors, or you could just lose a customer. This form of representation happens to be a great tool for exercising your marketing strategy throughout the entire sales funnel, with rich functionality and reporting.
Thus with the PPC Ads, they might impulsively connect with your product, directly. When the connection is established, you can make a conversion out of it. This would eventually enhance the return on investment(as when the sales and revenue would increase).
PPC Ads increase brand exposure and the conversion likewise
Advertising through the cost per click methodology increases your brand exposure and therefore gives you a chance to break into a new market with more competitors. This caters to a platform to get familiar with new products and services, which in turn would help your brand to offer more. Hence, the more you offer, the better are the sales and revenue.
Over 60000 searches made every second!! The search queries are literally hurled in order to be answered! The answers, therefore, have to be top-notch. Ensuring that your products and the services provided out of the box features, or a one-stop solution, thus you can be the preference to their questions.
You should know that your competitors are doing great in this manner of marketing. You also have to make full-fledged strategies to advertise yourself and make full use of the search engines. If you happen to be the best possible option, nobody will ever look beyond you or jump to the other thousands present there. Since the flexibility of this form of advertising not only allows the advertiser to advertise on the Google search and display networks but also on the third-party sites of the same.
Advertising this way is justified
It is like riding away your fate, as Advertisers cherish their limits defined for spending on Ads.
It's a lucrative form of showcasing what you offer, and cost-per-click terminology helps to express a glimpse of your products. Hence justifies its presence as the Advertisers only have to pay when their ads are being clicked. This ensures that the overall account settings for the advertisers are intact.
PPC Advertising benefits obviously with the most thoroughly bifurcated advertising format. It is just because the marketers have immense data at their attention. Such diverse formats for advertising such as email contacting. Website visitors or in-store visits are at its doorstep. Now, this offers the chances of repeated purchases! Thus impacting the sales and revenue to a greater extent.
The benefits of paid search advertising increase the opportunity of interacting with your audience. As with subsequent interactions with your audience, chances for increased conversions multiply. This is known as customer attribution.
Herewith such a format of search engine marketing, you will never have to bite the bullet and suffer a loss because the results are much synchronized and real-time. If your ads aren't performing well and you are not getting results as expected, you can immediately make changes in the ad campaigns and get the desired results.
PPC and SEO go hand in hand
PPC Advertising is an auction-based form of advertising. An auction is immediately triggered as soon as the search query is made. It comprises keyword-targeted-based bidding, where there are bids on the keywords that actually happen to be the search queries of the audience.
Now, to make their ads rank on the search engines, the advertisers bid precisely on the targeted keywords. Since there is a lot of emphases laid on the keywords, it can help improve the SEO Strategy. This actually identifies the search keywords that are most valuable to your business strategies.
Thus the combined SEO and PPC efforts under the umbrella of SEM help you find the loopholes if any, in either of the two channels, with one covering up for the other. This guarantees both long-term consistent and short-term scaled results. With SEO getting the website ranked organically higher and PPC earning you more visitors, both PPC and SEO assist each other and let small businesses grow and multiply.
PPC Advertising Benefits – an opportunity to advertise locally and globally
Your ad campaigns help establish your brand presence locally and globally. Since you are advertising in a direct manner to the targeted audience on the search engines and other multiple formats. There are chances that people having segmented requirements might click your ads according to their suitability.
This defines the extent of exposure that your brand may get. Thus your services can be tailored globally to give them a third dimension as well. This shows that you have a chance to let your brand enter into a new market, with enhanced recognition and may culminate into testing the best of your capabilities.
Some sizzled others fizzled!
As explained above, the ad campaigns thrive cherishing results but still let the advertisers scringe. You may digress a little from your original plans if you aren't running a successful campaign for your Pay Per Click. Getting inevitably outsmarted with your poor campaigns isn't the way, you always have the experts to talk to in the industry. Just contact!