How To Market To Gen X
Running short of time? Get PDF of the blog in your mail.

Play Now
You cannot ignore gen X marketing in a constantly changing digital landscape. Gen Xers possess the best marketing characteristics and are a great target audience that the marketers overlook.
Though, small gen Xers possess high purchasing power. Where, millennials are the trendy new market, and baby boomers are the established audience, but Gen Xers are where the money is. They love the latest technology, independence, their families, and freedom.
So, how do you reach this seemingly forgotten generation and turn them into loyal customers? It's all about your marketing strategy. With four significant priorities that generation X conceive, you can trigger these pain points, and the ball is in your court.
Starting business
Paying for children's college
Financial independence
Homeownership
According to the U.S. Department of Labor, Generation X outspends all other generations regarding housing, clothing, eating out, and entertainment.
Gen Xers have experienced purchasing both online and in-store, so you have to be strategic with how and where you market to this audience.
Plan your marketing strategy for every buyer group. 
Who Are Gen X?
Generation X is the term used for Americans born between 1965 and 1980 and wedged between Baby Boomers and Millennials, with an estimated population of 65.17 million in the U.S.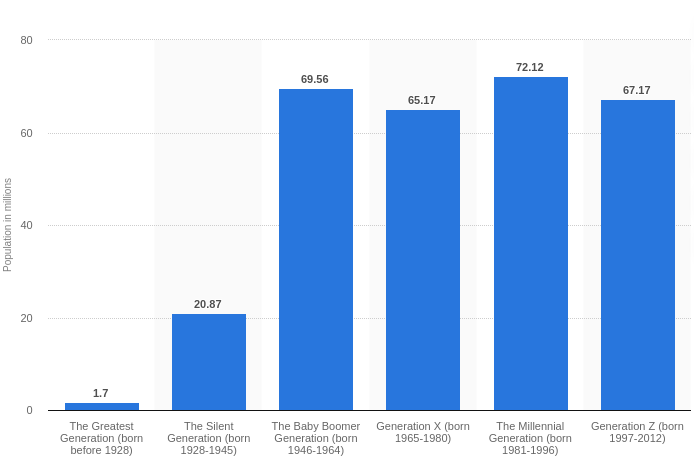 Source: Statista
Gen Xers is the most influential audience to target and generate revenue. And carry a large portion of the buying power and technological conduit.
But before marketing to gen X, it's essential to understand the generation that envelopes gen X, the Baby Boomers, the population of America born after the end of World War II. The generation was born between 1946 and 1964 and is currently 57 to 75yrs.
With high numbers and relative prosperity, baby boomers are the economically influential generation. Today, the majority of the baby boomers are retired or preparing to retire.
What are the featuring characteristics of the baby boomers?
The featuring characteristics of the baby boomers are:
Focused and hard-working for their livelihood
Baby boomers grew up fighting to compete for resources and win
Value relationship
Are independent and self-confident
Pursue excellence and quality
Whereas millennials, with an estimated population of 72.1 million, are the largest population in the U.S. The millennial generation was born between the birth years 1981 and 2000. Now where the younger millennials are still reluctant to their parents.
The older millennials might have younger ones working in a professional career and have high-priced college debt. The millennials have shared that they are very tech-savvy and not as loyal to brands as older generations.
In this regard, Gen X can understand the perspective of both generations. They relish the new tech-savvy bunch, spending time with families and having independence. But one can not neglect the point that Generation X has witnessed some most significant events, including the Y2K crisis, civil rights movements, and several wars across the Atlantic, to name a few.
The impact of these significant events has made generation X financially independent, family-oriented, and self-reliant. However, we may neglect that, but Gen X's effect on the economy and the workplace is hard to ignore.
Stats On Gen X
Before you reach Gen X for marketing, here are a few facts you might want to keep in mind.
Generation X loves social networking sites, and the top 3 leading sites are – Facebook with 76 percent users, YouTube with 70 percent users, and Instagram with 47 percent users.
Gen Xers outspend millennials and baby boomers by 41% and 18%, respectively. (SmartAsset)
A strong brand loyalty – almost 50% of Gen Xers are brand loyal.
Gen Xers are the tech-savvy bunch, with 96% active on the internet and 85% mobile device users.
Keep device usage in mind when marketing to Gen X — they spend more time per week on all devices than Millennials do: 21 hours on smartphones, 9 hours on PCs, and 4 hours on tablets.
Featuring Characteristics Of Gen X
Gen Xers are reaching the peak of their career and planning for retirement, while others are juggling childcare. They work to live and embrace online shopping. With high purchasing power, gen Xers influence the market. This generation shares some common characteristics that must be kept in mind when creating a marketing strategy.
Financially Stable
Gen X ers are at their highest-earning years and are on their way to reaching the top of their profession. The members of this group spend more time on government websites obtaining financial information. The cohort is credited with entrepreneurial tendencies. Therefore, ignoring gen x marketing means ignoring the demographic cohort that has high purchasing power.
Family-Oriented
Caring for the family's love and giving the best is among the top priorities of gen Xers. They are preparing themselves for their family expenses, and with this comes an opportunity. The opportunity to win gen Xers with the best marketing strategy and make them use your service for years. Therefore Gen X marketing will work as an overall service provider for brands.
High Purchasing Power
With tons of purchasing power, accounting for 31 percent of the total U.S. income gen Xers are the money makers. Therefore, businesses can choose to research and market to this generation. And use this characteristic feature to explore the taste and preferences of the Gen Xers and market to them, and build strong relationships.
Many Events Define Childhood.
Gen Xers have seen many events past their lives, from the post-civil rights movement, internet crisis to the Y2K crisis, to name a few. This generation demands having an authentic message throughout your marketing with valid information.
Spend Lot Of Time Researching Online
Generation Xers invest time in researching before making any purchase and are particular about brands' messages. So, make sure your companies information is consistent across all directories, social platforms, and yes, not forget your website. Therefore gen X marketing requires the simple strategy of providing a lot of information.
Digital Channels For Marketing To Gen X?
What can be the most effective way of gen X marketing in the changing technological landscape? There are multiple ways of digital marketing for constantly increasing online presence and to reach potential customers during the early stage of buyers' journey. But when you have a target audience like Gen Xers, you must target the mentioned five most effective digital channels for gen X marketing.
Facebook
Facebook is the 'KING' for gen X marketing with 76% active users. Moreover, members of generation Xers are more likely to engage with brands on social media. Therefore, as a digital marketer, you can use Facebook advertising as a highly effective marketing tactic for gen X marketing.
Create a Facebook-specific market plan to engage with the members of gen X. Remember to incorporate the following when planning gen x marketing:
Add a description to your about us section of the company.
Company details including – name, address, website, phone number, and working hours.
Make use of the call-to-action button.
Respond to customer messages as soon as possible.
Keep a record of important information.
Post regularly for updates.
Use Facebook advertising to attract your target audience.
Utilize discount offers and coupons to drive online purchases.
Moreover, this will help you grow your Facebook business page and grow your reach to a large audience.
Email Marketing
Make Your Emails Interactive to reach 58.2 billion Gen Xers that use the internet every day.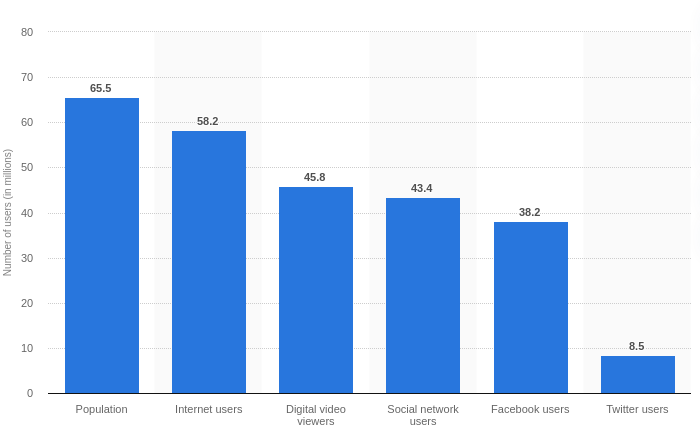 Source: Statista
Though email marketing may sound old-fashioned, it is the king for gen X marketing. Gen Xers check email regularly. They are responsive to coupons and discounts sent through emails.
Email marketing to generation x is very cost-effective and eco-friendly. Email marketing is a win-win marketing tactic for gen Xers with engaging, clear, and focused messages.
So, if you want to communicate with Gen Xers, provide a lot of information in your emails about the product and services. And reach out to them with personalized offers tailored to their taste and preferences and prior purchases.
Learn: How To Create A Good Email Subject Line For Your Business Emails
Video Marketing
It may return as a surprise that digital video is big among gen X marketing. Yes, more than the social media sites. They constantly listen to the marketing and advertising messages from significant channels, absorbing them from televisions, radio, newspapers, social networking, cable, and mobile.
For gen X, it is a regular action and lovable activity. No wonder about 75 percent of gen X downloads or streams a video up online at least once a month. If we talk of preferences, most of us would agree or might have experienced their life choices, and preferences are more or less cliche.
Gen X is interested in politics, world news, home decor, cooking, DIY, past music, commercials, pop culture, etc. They want to know what's changing. What's going on more than any other generation.
They want to connect to their grandchildren. If we concern ourselves with video marketing, youtube is the most popular platform for videos. But, gen Xers loves watching video advertisements on Facebook.
All of this should make it pretty much clear that Gen X will watch educational and entertainment videos combined. You have to offer vital information to them to recognize the importance of your product and services. Introducing emotional elements in your video marketing always works for Gen X.
Popular Directories
Gen X ers love to research a business online before making an online purchase. Therefore it becomes essential for companies to provide consistent information across popular websites and directories and include the listing on:
Social media
Google or Bing
TripAdvisor
Yelp
Other popular online directories
Your Website
Website is an essential element of marketing strategy and becomes even more critical when marketing to gen x. The reason is simple and justified because gen Xers embrace online shopping with focused research. They are less prone to moving in waves of trends and straddle the line between digital and traditional media.
Design your website with complete information and the best featuring elements to attract more members of this generation.
How To Tailor Your eCommerce Marketing Strategy For Gen X
Gen X is your true hybrid when it comes to marketing. You have an excellent chance to reevaluate your marketing strategy for gen Xers with a huge opportunity to grab those extra dollars. Appeal marketing to gen X with a real-world narrative and seal the deal by outlining clear values. Now you can engage with gen Xers with the below-mentioned marketing strategies that will work to favor you.
Provide Discount
With target marketing to generation X, providing discounts can be a part of your marketing automation plan. Gen Xers love availing coupons and discount offers irrespective of the product being for adults, seniors, or children, as they are family-oriented.
Moreover, Gen Xers are continuously hunting for online deals and are most active in using promo codes and coupons. 93% of Gen X have used coupons in the past year. So you can hit generation X by providing discounts and offers.
Use Videos
Gen Xers enjoy learning and adapting to new technology, from watching 32 hours of TV a week to 45.8 million consuming digital videos. Gen X looks online for information and entertainment. They dig into every possibility before purchasing a product or service.
You can use videos for gen x marketing and to showcase your products and services and outline your company's values. You can also find ways to connect to gen X with new skills and cultural zeitgeist and get a ready-to-engage audience.
Check Out: How To Make Your Video Content Interesting
Incorporate Nostalgia For The Future
Generation X is nostalgic and connects to the past, so marketing to gen x reconnects them with the past. And trigger the memories related to past events, old TV shows, or music from the past. Below are a few marketing tactics to incorporate nostalgia for the future.
Delight members of gen Xers with digital marketing by taking what's old and converting it new again. Infuse gen X marketing with nostalgia by hitting the emotional level of generation X and linking your brand message. Appeal gen X marketing with the below-mentioned points:
Attract the attention of gen Xers by telling them that you are associated with something they already love.
Share story from the past
Incorporate social media with memory-triggering features and throwback hashtags.
Try to use these in your marketing channels.
Be Authentic And Personal
Loyalty Program For Gen X Marketing
Gen Xers have the highest brand loyalty and have a high affinity for the brands they trust. However, they are less influenced by new brands and spend more on businesses with good services. Therefore, you can use loyalty programs to encourage repeat purchases with gen X members' prime earning potential.
Provide Authentic Reviews
Reviews play an essential role in the purchasing action of gen X marketing. If any product might be appealing, but you see or hear a negative review about it, there is more than half a chance of you not buying it. Similarly, Gen X has more than half faith in the studies. They believe in experience and time practice and consume reviews online.
Make sure that your product reviews are displaying in google searches to benefit your organic ranking.
Reflect Security And Protection
Members of Gen X hold solid values and keep the desire for safety and security. Therefore with gen X marketing show messages that reflect these values and build connections with them. Show them you are faithful and provide reliable service that is secure and wants to build strong relationships.
Use Traditional And Social Ads
Remember the time without digital marketing. Gen Xers are those consumers and therefore counter uniformly to modern and traditional marketing. Thus, gen X marketing tunes comfortably into online channels for entertainment, news, and product information and uses print, radio, and television.
Provide Great Customer Service
Gen X marketing focuses on providing quality with excellent customer service. So you can target the market and reach members of generation X. Therefore, offer a quick response and resolve their queries immediately if you want Gen Xers to become loyal customers and give positive reviews.
Mobile-Friendly Website
Members of gen x are increasingly using mobile devices to search for news, information, and buying experience. Hence, optimize your website for mobile devices and make your content mobile-friendly. Lastly, make sure your website loads quickly and gives the users a seamless experience.
Conclusion
As boomers begin to retire, Gen X is taking over as the leader of the workforce. They are the generation that companies must reach when selling their B2B goods and they are the new decision-makers. Despite the fact that this generation is frequently referred to as "the forgotten generation," if you impress them, they will not forget you. So, if your brand needs a digital marketing lift, we can help you plan the marketing strategies for the coming 2021.
Market to 76% active Gen Xers on Facebook.