BigCommerce sellers: List your Amazon & eBay listings on Walmart this festive season
Running short of time? Get PDF of the blog in your mail.

Play Now
Amazon and eBay have been the spot for the merchants and independent BigCommerce sellers to sell their items. However, Walmart has gained a significant eCommerce share in the past few years in the US. Meaning more sellers are looking towards Walmart Marketplace as a viable addition to their multichannel approach. So, if you, too, have been thinking of listing your Amazon & eBay listings on Walmart, this is the right time for that!
Though eBay leads Walmart in terms of revenues, visitors, and network, Walmart is strategically more poised to compete with Amazon. The reasons are:
Walmart has deep pockets due to retail stores.
Also, every US citizen lives within an average of 10 miles of Walmart.
Walmart eCommerce growth (Listings to Walmart)
The above two reasons have given Walmart a considerable advantage. Besides this, when Marc Lore became the CEO of Walmart.com after Walmart acquired Jet.com, one quick thing he did was to convince the Walmart board to shift their focus from books, electronics, and toys to areas that were popular and seemingly generating more traction over a period of time, namely apparel, fresh food and everyday essentials like drugstore items.
As a result, Walmart has evolved as a universal marketplace where buyer personas of all types and from all walks of life converge to shop. Besides everyday essentials, Walmart also allows 3P sellers to offer their products in 24 categories, including health & personal care, jewelry, computers, sporting goods, and more.
Some of the other notable changes are:
A highly user-friendly website design
$35 AOV threshold for free shipping
Partnership with Deliverr for fast 2-day delivery
BOPIS (Buy Online Pickup In-Store) as a fulfillment method
All of the steps mentioned above enabled Walmart to boost its sales, evident from the fiscal year 2021 report that Walmart saw an increase of 79% in its sales.
Major Buyer Personas driving Walmart's eCommerce growth
The majority of buyer persona responsible for Walmart's eCommerce sales boost are millennials. Currently, millennials make up a quarter of the US population [83.1 million]. Moreover, 88% of them live in metropolitan areas.
As almost half of them (over 40%) are parents, they spend more on everyday essentials.
54% of their spending is online, which amounts to $600 billion annually.
Furthermore, millennials' affinity for generic brands (60% of millennials prefer generic brands) works in favor of 3rd party sellers.
Besides all of the changes, Walmart's strategy to open the doors for third-party sellers with excellent products, excellent customer service, and quick delivery history made Walmart the second-largest online retailer in the US, after Amazon.
Walmart starting to outshine Amazon
Contrary to Amazon, Walmart doesn't seem to be replicating those successful products on its platform. The company isn't white labeling; it is acquiring or expanding additional services to third parties. Given the brand's rise over the last couple of years, now is the best time to create Amazon & eBay listings on Walmart and invest in getting your products on the Walmart marketplace.
Walmart still needs a lot of catching up with Amazon. Still, it has positioned itself as an excellent alternative for independent brand labels to connect with potential customers by adopting a multichannel strategy.
"Being an Official Channel Integration Partner, we can make the experience of applying, getting approved, uploading, and then succeeding on Walmart a hassle-free experience."
Let's see all of the reasons why should you choose to sell on Walmart if you already have an eCommerce store:
Reasons to sell on Walmart marketplace
As the merchants already selling on Amazon or eBay are already aware that these marketplaces have established high credibility with their buyers, there are inherent benefits of selling on these marketplaces as well as listings on Walmart, such as:
Huge customer base
Great fulfillment network
mCommerce presence
Diversified payment methods
Analytics tools
Campaigns and promotional tools
However, Walmart has several distinct USP over the other two – Amazon and eBay, which are as follows:
No Monthly or Initial Setup Fees
It gets easier and cost-efficient for you at Walmart as it follows the pay-as-you-go model, which means there is no monthly fee, initial fee, or listing fee charged by Walmart. Whereas Amazon and eBay have different types of fees involved, like monthly account fees, item listing fees (eBay), apart from category-wise commission fees, or a combination of all of the fees mentioned.
2-Day Shipping
Since ship fast or go home is the way in eCommerce, Walmart has partnered with Deliverr to enable marketplace sellers to ship faster. However, sellers' advantage is that the fulfillment, pick-pack, and storage fees are lower than Amazon or eBay.
Benefits of Walmart Connector for the BigCommerce sellers
The Walmart Marketplace Integration app by CedCommerce, for Bigcommerce sellers, is awarded the Rising Star 2017 & Great User Experience 2017 Award by Finance Online. The app synchronizes the BigCommerce seller Store with Walmart. The app earned 97% user satisfaction and was rated 8/10 by the Finance Online review team.

With the help of APIs, the Walmart Connector creates a channel facilitating the synchronization of product inventory, orders, and updating product information. It helps BigCommerce store owners manage the products from the store itself. The Connector simplifies multi-channel selling by offering a multitude of benefits as listed below:
Bulk product upload
With the Walmart Connector, you get the flexibility to upload many products on Walmart using the bulk product upload feature. So, it helps you save on the time that you would have lost in uploading the products one by one.
Product profiling
With the app's product profiling feature, you can create profiles and easily assign products within these profiles. This helps in assigning uniform settings to all the products with the profile. All changes and updates made to the profile get applied to all the multiple products within the profile.
Shipment management
The integration helps to manage shipment procedures. You can create profiles based on Item weight, shipping method, and distance of warehouse from the customer with the BigCommerce Connector.
Also, you can easily set the type of shipping you want to provide for different products on Walmart. Meaning you can set Next Day/2-Day/3-Day Shipping methods for any or all of your products on Walmart.
Order management
With Walmart Connector, orders are automatically acknowledged as soon as they are created. The Connector helps to generate orders from Walmart to your BigCommerce store automatically.
Real-time synchronization
The Walmart Connector synchronizes the product details between your BigCommerce store and Walmart in near real-time. Meaning with the app's usage, changes in the inventory or price on the BigCommerce store get updated on Walmart too. Therefore, this helps to maintain uniformity on both fronts.
Run promotions
Additionally, with the promotional pricing feature of the app, you can quickly run product promotions on Walmart. The feature helps you run clearance and reduced-price deals on Walmart. With this feature, the product's new price is displayed along with the amount saved and the original price to instigate purchase.
Win Buy Box
Moreover, the impressive repricing feature of the app helps you win the Walmart Buy Box. You set a minimum and maximum price range for your Walmart products, and the repricing feature helps you win the buy box if the revised product price lies between the price range you entered.
BigCommerce Sellers: How to sell on Walmart with BigCommerce?
Selling on Walmart is easy. All you need is to follow the steps given below to onboard Walmart hassle-free from your BigCommerce store: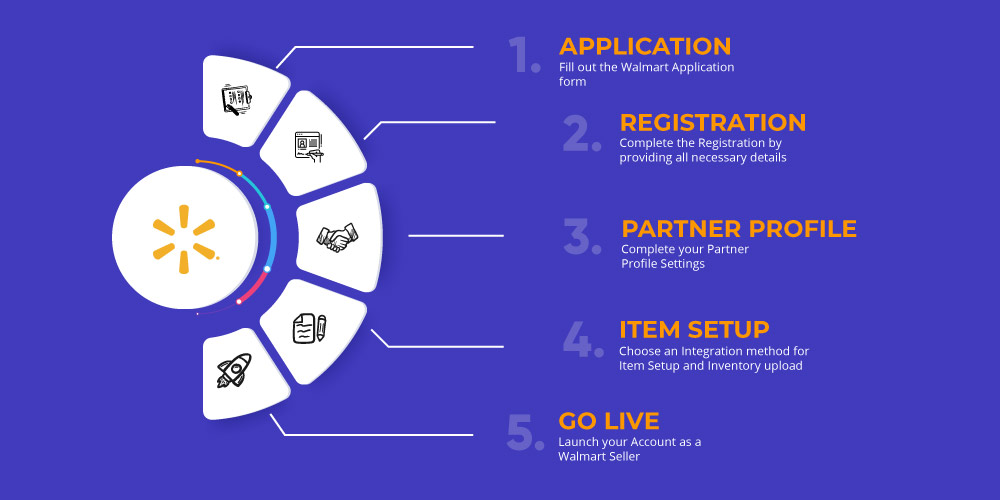 1st Step: Application
Apply to be a Walmart Seller by filling up the marketplace application form. Once approved, start completing the below steps.
2nd Step: Registration
The Registration process of Walmart consists of the Account Creation, Signing the Walmart Retailer Agreement, providing necessary details for Company Registration, inputting Taxes (W-9) information, Updating Payment Information, and Shipping Information.
3rd Step: Partner Profile
Next comes completing Partner Profile, wherein you need to enter your Company details, Customer Service details, Contacts info, Shipping details, Return Policy, Privacy Policy, and Tax Information.
4th Step: Item Set-up and Inventory Upload
Finalize an Integration method for setting up items and uploading your inventory on Walmart.
5th Step: Launch Your Seller Account
Once all the above steps are done, you will be ready to launch your account as a Walmart Seller.
To Sum Up
As a part of your multi-channel sales strategy, considering expansion and performing your Amazon & eBay listings on Walmart will prove to be the next big thing for you. Also, being already selling on Amazon or eBay will be a plus point for fast acceptance of your marketplace application form, as Walmart prefers the Seller's eCommerce experience on these marketplaces.
Once accepted, CedCommerce's BigCommerce Connector for Walmart will simplify your selling processes on Walmart. You will also be able to smoothly manage your sales on the BigCommerce store and Walmart in an efficient manner. With the help of a dedicated account manager from CedCommerce, you will be made familiar with the integration usage, and various selling aspects on Walmart will also be made hassle-free for you.
So, what are you waiting for? Get in touch with us 24/7 to know more about CedCommerce's Walmart Connector for BigCommerce for a seamless selling experience on Walmart.
Also read: