Best Open Source Integration Solutions for Walmart in 2021
Running short of time? Get PDF of the blog in your mail.

Play Now
Quick Brief: Want to start selling on Walmart? Need a perfect eCommerce platform to integrate your online store? If yes, then your search ends here! As open source solutions are becoming popular for eCommerce development, selecting an Open Source integration solution for Walmart is worth your investment.
Finding the right ecommerce platform for your business can be a difficult task. This is because of the endless available options to choose from among the SaaS-based platforms and Open-Source based platforms. SaaS-based platforms usually work upon the "you get what you see" principle, which has numerous drawbacks. Zero control and Lack of customization are to count a few.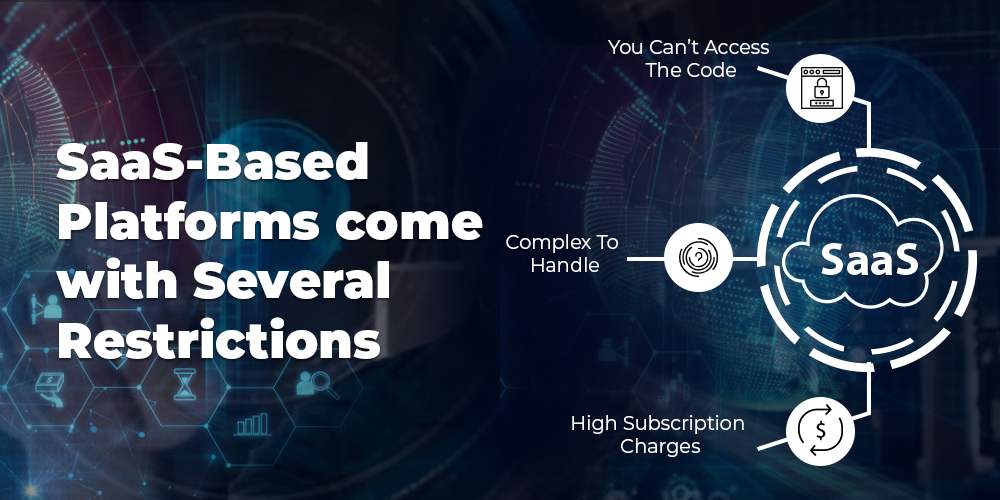 Although simpler to handle, SaaS-based platforms have endless restrictions—open-Source platforms, on the contrary, offer numerous benefits like minimal restriction, Extensive customization, and much more.
Contents:
Why Choose Open Source over SaaS?
While creating an eCommerce platform from scratch, think Open-Source. Open-source Integration provides the ultimate power of customization that SaaS-based platforms don't. With Open-Source platforms, you have the advantage of complete control, intense customization, extensive community support, and much more.
For numerous advantages in the eCommerce world, Open-Source platforms are becoming more and more popular and will only continue to grow.
Therefore adhering to the "Like custom? Like Open Source", CedCommerce provides you the perfect Open Source Integration solution for Walmart Marketplace.
CedCommerce's Open-Source Integration Solution for Walmart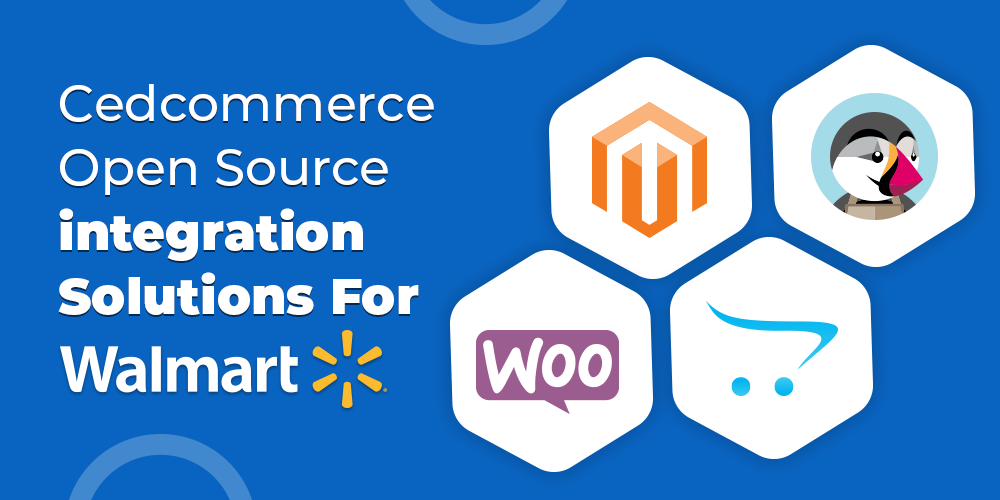 Each Open source Integration solution offered by CedCommerce provides numerous unique features for seamless integration with the Walmart Marketplace. Some of the standard features of its unique integration solutions include are:
Seller control.
The flexibility of customization for enhanced features.
It runs on your server.
You can easily sync your eCommerce store with any of these Open Source frameworks and grow with their respective robust solutions.
Walmart Magento Integration by CedCommerce →
The Walmart Magento Integration by CedCommerce is an integration solution that effortlessly connects your Magento store with the Walmart marketplace. The advanced Walmart Magento integration solution initiates product inventory and order synchronization between your Magento store and Walmart marketplace via Rest API.
The Rest API allows you to export products to the Walmart marketplace effortlessly. Walmart Magento Integration by CedCommerce provides numerous interactive features that ease your onboarding as per Walmart Policies.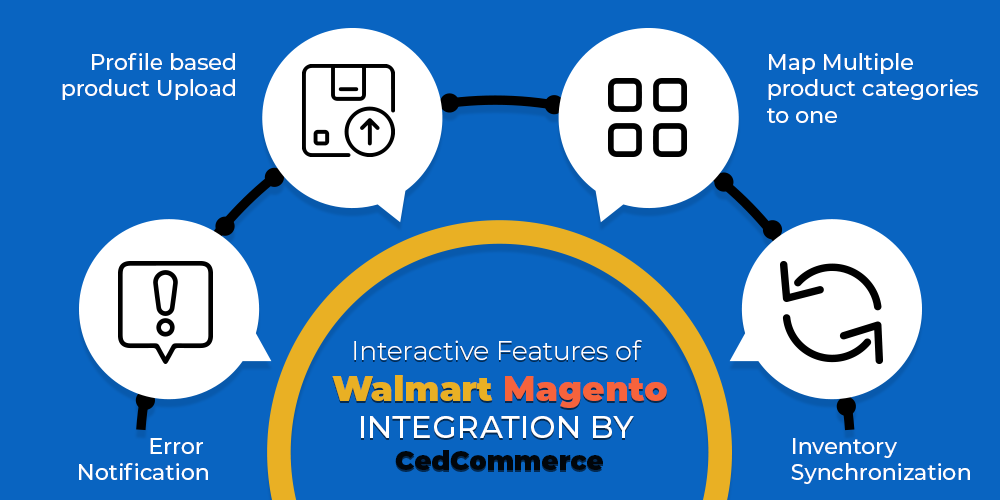 Walmart PrestaShop Integration by CedCommerce →
The Walmart Prestashop Integration by CedCommerce aids you in bypassing the complex procedure of uploading products on Walmart via CSV. It also assists you with a handy mechanism to upload products directly on Walmart in a few simple steps from your Prestashop Store through API. 46800
The powerful Walmart PrestaShop integration by CedCommerce offers numerous features such as synchronization of products, data, orders, and stock units, to name a few.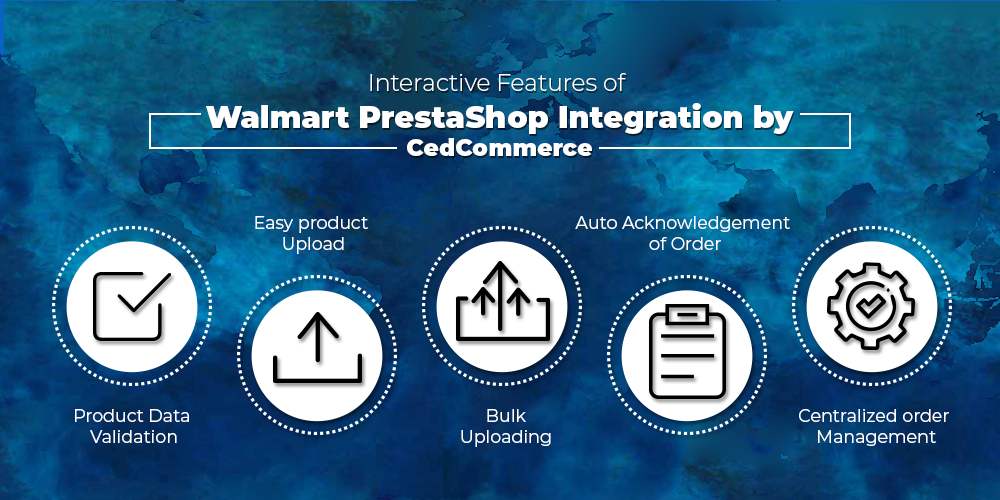 Also, Read:
WooCommerce Walmart Integration by CedCommerce →
The WooCommerce Walmart Integration by CedCommerce is a one-stop solution for your store. With CedCommerce's WooCommerce Walmart Integration plugin, you are least likely to face any technical issues while managing your store. The Integration offers numerous exciting features such as one-time free installation, lifetime free upgrades, three months free support, and much more.
Walmart Opencart Integration by CedCommerce →
The Walmart OpenCart Integration by CedCommerce helps you avoid the complex process of uploading products on the Walmart marketplace. With the Walmart OpenCart Integration by CedCommerce, you get the flexibility to sell on Walmart Canada Marketplace from your Opencart store. The Integration comes with numerous features such as product data validation, easy product upload, bulk uploading, auto acknowledgment of order, and much more.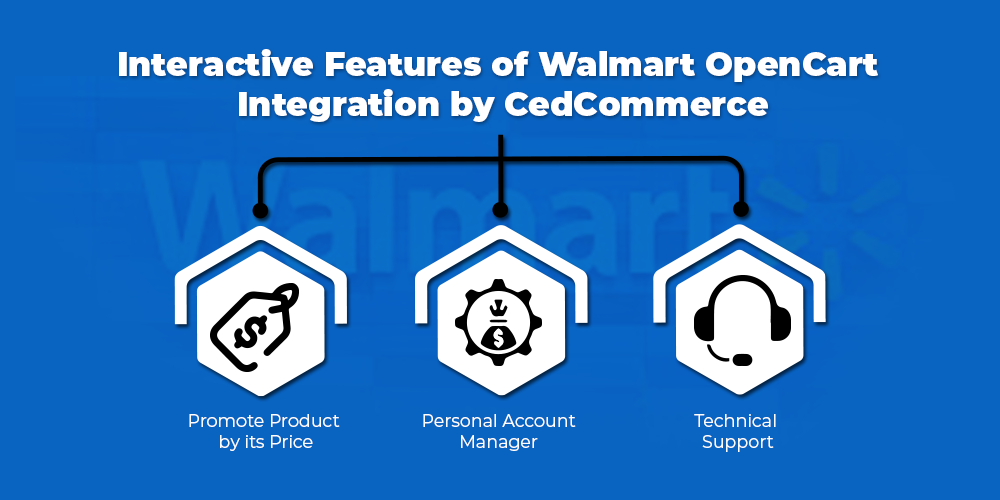 What we are saying is
Walmart marketplace is the perfect platform to expand your multi-channel approach. Knowing the same CedCommerce provides you the ideal most integration solutions to onboard Walmart and serve its enormous customer base.
CedCommerce Open Source integration solution for Walmart provides you native solutions and data security. With their integration solution, you can increase your product sales by offering it to millions of customers on Walmart.
CedCommerce's Open Source Integration solution for Walmart helps overcome manual efforts of setting up items and synchronizing the inventory across platforms. Our integration apps revamp several aspects of selling online. With a bit of support from CedCommerce, you can turn your hard work into a massive success. So, contact CedCommerce to find the perfect solution for your requirements.