With new features, selling on Walmart gets more enriching with Walmart Magento Integration Extension
Running short of time? Get PDF of the blog in your mail.

Play Now
March 16, 2017 – (Portland/Oregon) –The promised "Coming Soon" features of the Walmart Magento Integration extension are available now. With these newly added features, selling on Walmart from Magento has been further simplified. The advanced features of integration extension automate numerous selling processes so that you can sell effortlessly on Magento and Walmart simultaneously.
If you are also looking to expand from Magento to Walmart seamlessly, this Walmart Magento Integration extension is something you must use.
Key features of Walmart Magento Integration
Numerous benefits of the Walmart Magento Integration app simplify how you sell on Walmart. The critical features are the ones listed below: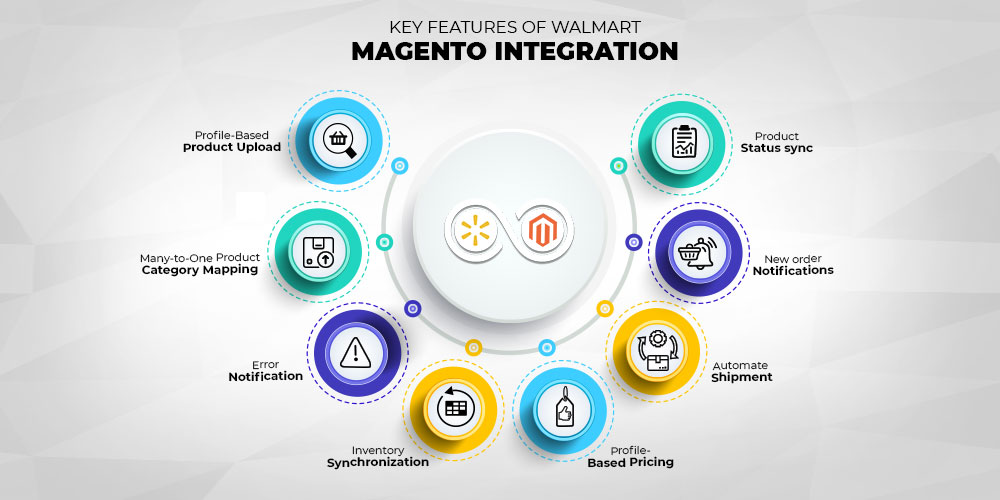 Profile-based product upload
Now upload your Magento products on Walmart by creating profiles. This makes the product upload process quick and hassle-free.
Many-to-One product category mapping
With the Walmart Magento extension, you can map multiple product categories of your Magento store with a single Walmart category.
Error notification
If an error occurs while uploading a product on Walmart, the app notifies you.
Inventory synchronization
The app establishes a real-time synchronization between your Magento store and Walmart. This helps you in maintaining a uniform inventory on both sales fronts.
Profile-based pricing
Create profiles and set product prices based on the profiles. This helps you quickly increase or decrease the product prices based on profiles to apply a uniform pricing rule to all the products in that profile.
Automate shipment
You can also automate the shipment process with Shipstation, Shipwork, Stamps.com, Linnworks, Xtento, and ShipRush extensions.
New order notifications
You will now receive notifications whenever a new order is fetched from Walmart.com.
Product status sync
There is near real-time data and status synchronization of products between your Magento store and Walmart.
More features are coming soon
Moreover, some new features would be added to Walmart Magento Extension soon, and they're:
Vacation mode
This feature is similar to top hibernation mode. Thus, whenever you are traveling or are incapable of fulfilling the orders, for reasons best known to you, this feature would make products unavailable on Walmart for that duration.
Social sharing
You will be able to share the products that went recently live on the Walmart marketplace on businesses' social profiles.
About CedCommerce
CedCommerce is the Official Channel Integration Partner of Walmart.com. Fueled by the rich experience, CedCommerce develops solutions that make multichannel selling seamless. Over the years, the company has provided customized eCommerce solutions to address the sellers' unique needs. 30000+ clients worldwide using 850+ products convey the success story of CedCommerce's eCommerce solutions and the other services the company delivers.
Additionally, with CedCommerce's solutions, you also get 24/7 support services. CedCommerce aligns a dedicated account manager who is always there to help and guide you about the integration extension usage and any other help you might need during app usage. So get in touch with experts to sell your products on Walmart in a way like never before.
To sum up
CedCommerce's Walmart Magento Integration eases the way you sell on Walmart from your Magento store. The app's numerous features simplify your day-to-day multi-channel selling tasks. Thus, from inventory synchronization to product profiling and from automating shipments to error notifications, the app does it all for you. All the extension's features aim to make selling on Walmart hassle-free.