CedCommerce's Walmart Mexico Integration Module Live on PrestaShop Marketplace
Running short of time? Get PDF of the blog in your mail.

Play Now
Portland, Oregon (19-12-2018)- Walmart Mexico Integration module is now available for sellers on PrestaShop. Now easily integrate your PrestaShop store with Walmart Mexico marketplace, and sell quickly. The integration simplifies multi-channel selling from PrestaShop to Walmart Mexico and allows expanding your Prestashop store more efficiently.
On the launch of Walmart Mexico PrestaShop integration, Co-Founder of the company, Mr. Abhishek Jaiswal, stated that-
With the introduction of Walmart Mexico PrestaShop Integration, CedCommerce has successfully attempted to achieve Real-Time Synchronization of orders, products, pricing, and inventory by aiding interaction between Walmart Mexico APIs and PrestaShop store.
Key Features of Walmart Mexico PrestaShop Integration
The key features of Walmart Mexico PrestaShop Integration that simplify selling on Walmart Mexico from PrestaShop are as follows: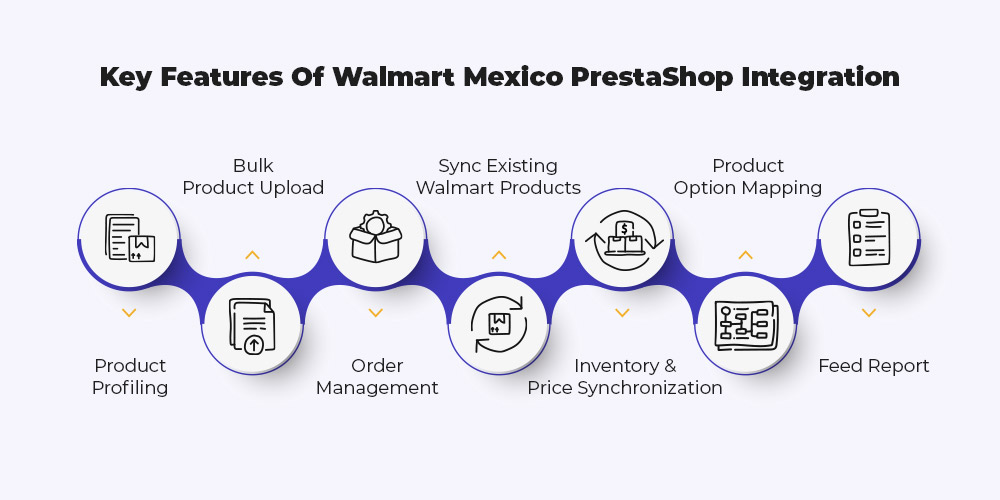 Product Profiling
By creating profiles, you can map the products of different categories from your PrestaShop store to the respective categories of Walmart. Thus, making product uploading on Walmart well organized and easy.
Bulk Product Upload
Products can be uploaded in large numbers from the PrestaShop store to the Walmart Mexico marketplace. The extension, thus, saves time and labor.
Inventory & Price Synchronization
The Walmart Integration for PrestaShop synchronizes prices and inventory between your PrestaShop store and Walmart. Thus, changes and updates made in the product prices on your PrestaShop store get reflected on Walmart.
Order Management
You can easily manage orders from your PrestaShop store and Walmart in an easy way. So, when an order is received on Walmart, it automatically gets imported on PrestaShop using Integration extension.
Product Option Mapping
The extension also lets you easily map the product options between Walmart and PrestaShop stores.
Sync Existing Walmart Products
If you are selling on Walmart and PrestaShop simultaneously without this extension, then using the integration extension, the same SKUs between Walmart and PrestaShop get mapped automatically. Thus, reducing the manual tasks involved.
Feed Report
The extension generates feeds for all your uploaded Walmart products, and with these feeds, you can quickly check the details of products uploaded. Thus, resolve any possible error that might occur.
How to Install the Walmart Mexico PrestaShop Integration?
Easy steps for the installation of Walmart Mexico PrestaShop Integration extension are as follows:
Download the extension from PrestaShop add-on Page or CedCommerce's product page.
Go to the 'Modules and Services' tab.
Click on the 'Add a new module' Button in the right corner.
Select the Downloaded module file.
Click on the 'Upload this Module' button.
About CedCommerce
CedCommerce is a one-stop shop for all your eCommerce needs. CedCommerce offers solutions that simplify eCommerce and make online selling a more straightforward process. Having a long journey of successful eCommerce expertise, team CedCommerce serves the clients round o'clock. Therefore, with the custom eCommerce developments from CedCommerce, you can quickly master eCommerce.
Furthermore, CedCommerce's solutions power eCommerce in more than 25 countries with 850+ products. So, come and shake hands with us and make eCommerce simpler.
To Sum Up
The Walmart Mexico PrestaShop extension simplifies selling on Walmart Mexico from PrestaShop. Connect your PrestaShop store with Walmart Mexico and get free expert support from CedCommerce. The 24/7 customer support will help you all the way. Moreover, a dedicated account manager will assist you with each step of installing the Integration extension.
For any further help, feel free to get in touch with CedCommerce from your preferred social media platform like Facebook, Twitter, or LinkedIn. You can also reach out to CedCommerce experts on WhatsApp or Skype.