Take your business to the next level with Walmart Prestashop Integration
Running short of time? Get PDF of the blog in your mail.

Play Now
Prestashop Addons Marketplace has made available the Walmart-PrestaShop Integration Module by CedCommerce. This integration module is compatible with Prestashop 1.6.1 – 1.7.7. Walmart Prestashop Integration helps sellers bypass the complex procedure of uploading products to Walmart via CSV's. It gives them the handy mechanism to upload products directly using Walmart API's.
Incepted in 2010, CedCommerce is revolutionizing the way eCommerce is perceived and performed over the Internet. With 30,000+ satisfied customers and 850+ products tailor-made for almost every eCommerce platform, CedCommerce successfully simplifies multi-channel selling.
Though we have already developed Walmart Integration Solutions for Shopify, BigCommerce, and Magento frameworks, when we were fed with the requirements for Walmart-PrestaShop Integration, we came up with an integration solution for it as well.
"We are passionate about ecommerce and developments. So, we founded CedCommerce, where we have a team of dedicated developers engaged in successful e-commerce custom developments. This allowed us to gain a powerful insight into the niche requirements," said Mr. Abhishek Jaiswal & Mr. Himanshu Rauthan, Directors and co-founders, CedCommerce.
Highlights Of Walmart-Prestashop Integration Module
This module provides an easy way to upload seller's Prestashop store products directly to the Walmart marketplace in some simple steps through the usage of APIs provided by Walmart.
Walmart-Prestashop Integration strengthens the whole stage with the accompanying features, such as: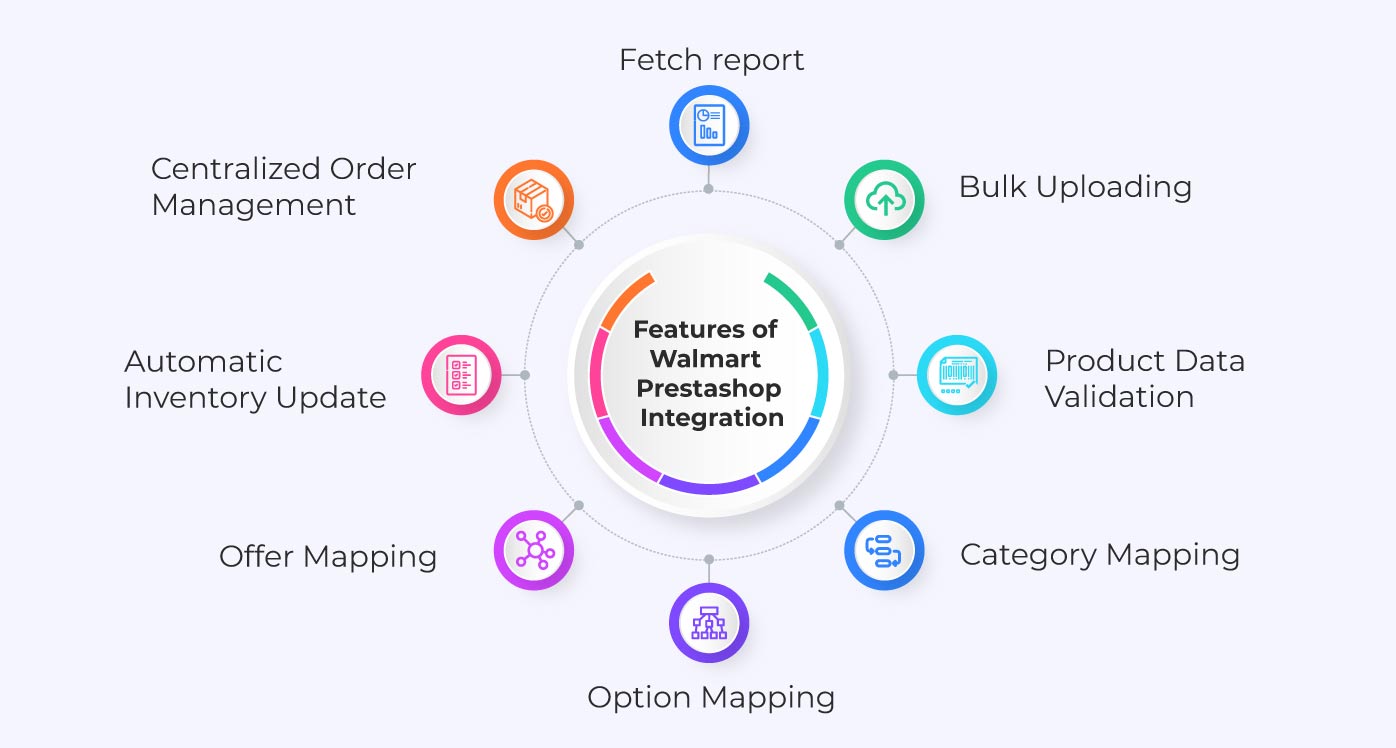 Bulk Uploading
This feature will ease your selling processes by facilitating bulk uploading of products on Walmart. So, no more uploading of products one by one. This way, the extension reduces manual work and saves time that you would have wasted in individual product upload.
Product Data Validation
The Product data validation feature of Walmart Prestashop Integration enables you to validate all Prestashop product information as per Walmart's set standards and values.
Category Mapping
With the help of this extension, you can easily map your store categories with the Walmart categories. Thus, allowing you to perform advanced attribute mapping. This helps to improve the visibility of your products on Walmart.
Option Mapping
The Integration simplifies the mapping of product options from your profile and their easy uploading to Walmart.
Offer Mapping
The Walmart Prestashop integration gives you the flexibility to map offers and your products in the profile section and send them to Walmart.
Automatic Inventory Update
Enjoy complete synchronization of inventory between your Prestashop store and Walmart. Auto Inventory Updates means that whenever an order is created on your store and gets shipped, the stock gets updated at both ends, i.e., Walmart and Prestashop. This occurs through the feature of the cron job of Walmart Prestashop Integration.
Centralized Order Management
The Walmart Prestashop Integration simplifies order management for you. The app comes with a centralized order management system, allowing you to acknowledge orders or cancel them easily.
Fetch report
You can easily download product data information from Walmart into Prestashop and check reports using this Integration.
About CedCommerce
For more than a decade, CedCommerce has been assisting merchants and businesses with its tailor-made ecommerce solutions designed to help sellers unlock their true potential. CedCommerce helps merchants pave their path smoothly in today's competitive market. Thus, establishing itself as a one-stop-shop for all business and e-commerce related solutions.
Additionally, being the official channel integration partner of Walmart, CedCommerce helps you sell hassle-free on Walmart. Right from Seller application to onboarding and then to the final launch of account as a Walmart Seller, CedCommerce helps you uncover every aspect that simplifies selling on Walmart.
To top it all, CedCommerce's integrations offer impeccable customer support that helps you resolve all your queries in real-time.
To Sum Up
CedCommerce's Walmart Prestashop Integration reduces the hassle of managing multiple platforms while selling on Walmart.com from your PrestaShop store. So, be it product uploading, inventory synchronization, or orders acknowledgment, the Integration simplifies all store tasks to make multi-channel selling easy. Also, the user-friendly interface makes it simpler to manage the two stores from a common platform.
For any further queries, get in touch with CedCommerce, Walmart's official Channel Integration Partner. The experts from CedCommerce will resolve all your questions in no time. So what are you waiting for? Try it now!