How to get API keys from Walmart Marketplace ?
Running short of time? Get PDF of the blog in your mail.

Play Now
Lots of merchants want to connect their online stores based on different frameworks (WooCommerce, Magento, Shopify etc.) with Walmart Marketplace. This article is dedicated to "How to start Selling on Walmart Marketplace?".
You will get the knowledge of the following in this blog:
What do you require?
The API keys for Walmart Marketplace are:
1. Customer Id
2. Private Key
3. Consumer Channel Id
To get these details you must have a Walmart Seller Account and to get a Walmart Seller account you have to apply on Walmart to become a seller. Sellers can directly apply on Walmart to get an account (direct link to get an account: Sell on Walmart) or sellers can take help from Integration Channel Parnters of Walmart in getting their seller account.
An Integration Channel Parnters of Walmart can help sellers in getting Walmart seller account. If you want CEDCOMMERCE to contact Walmart Marketplace for your Seller account click here install the Walmart Marketplace Integration App and fill the form linked on the Step- 2 of the configuration now to get one for your.
If you apply yourself
Fill the details and submit it.

Wait for Walmart response as they will send you an email regarding approval of your application.

This may take 3 to 4 weeks time.
If you apply through an Integration Channel Partner
Need to install the app.

Fill the form linked on Step-2.

Channel Partner will contact Walmart team for your seller account.

You will receive an e-mail immediately from Walmart team regarding your application.

In which you will find a link of half-filled application.

Need to complete that application.

You will get approval from Walmart within 2 weeks.
If your invite gets accepted, Walmart will provide you USERNAME and PASSWORD for their seller panel.
2. Use the USERNAME and PASSWORD to login into the Seller Panel.
3. Complete you Partner Profile Settings in Seller Center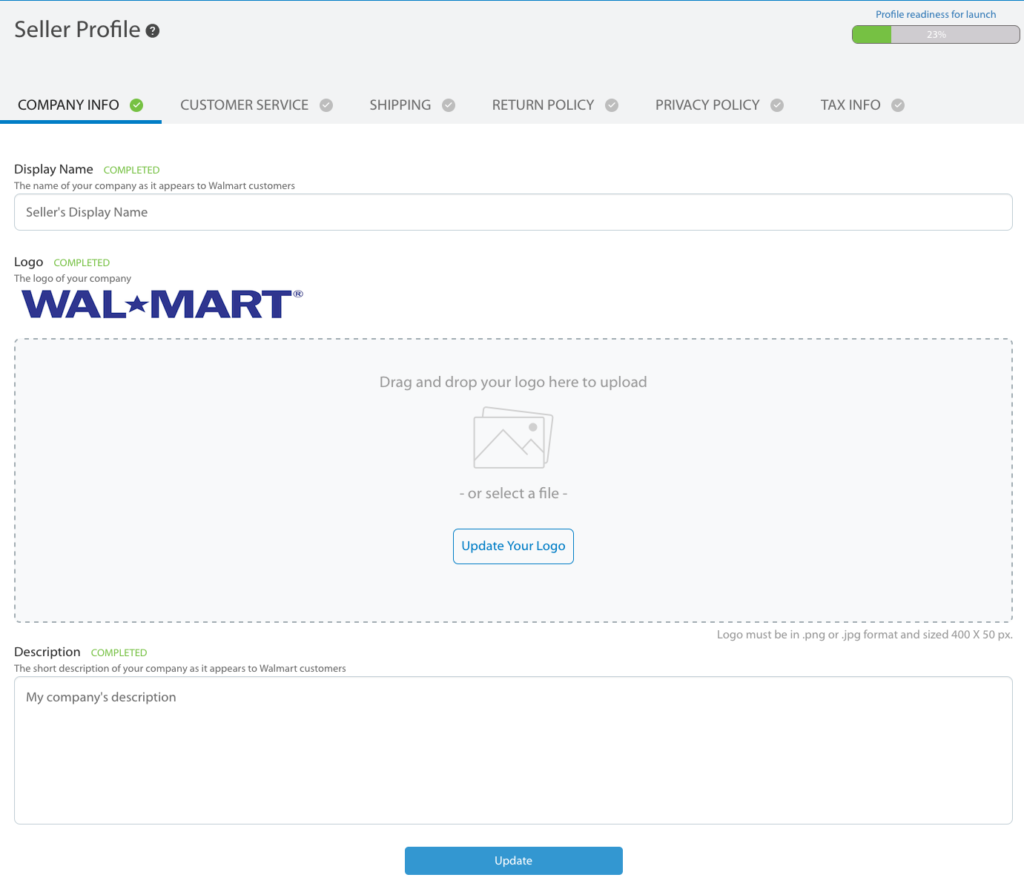 To get the API Keys follow the below steps:
Step 1:  Log in to your Walmart Seller Center.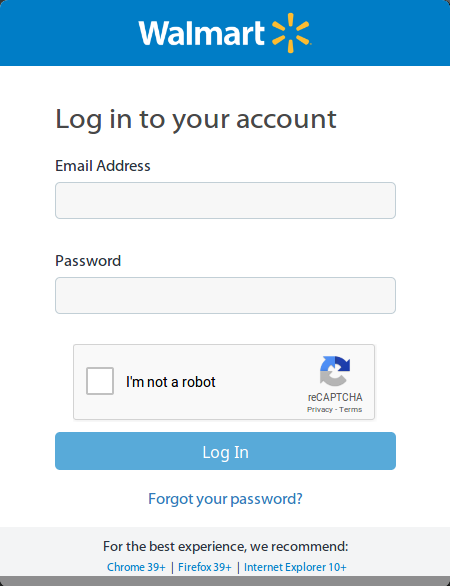 Step 2: Click on Settings Button. (See in the image below, highlighted in BLUE)

4. Then click on API. (See in the image below, highlighted in BLUE)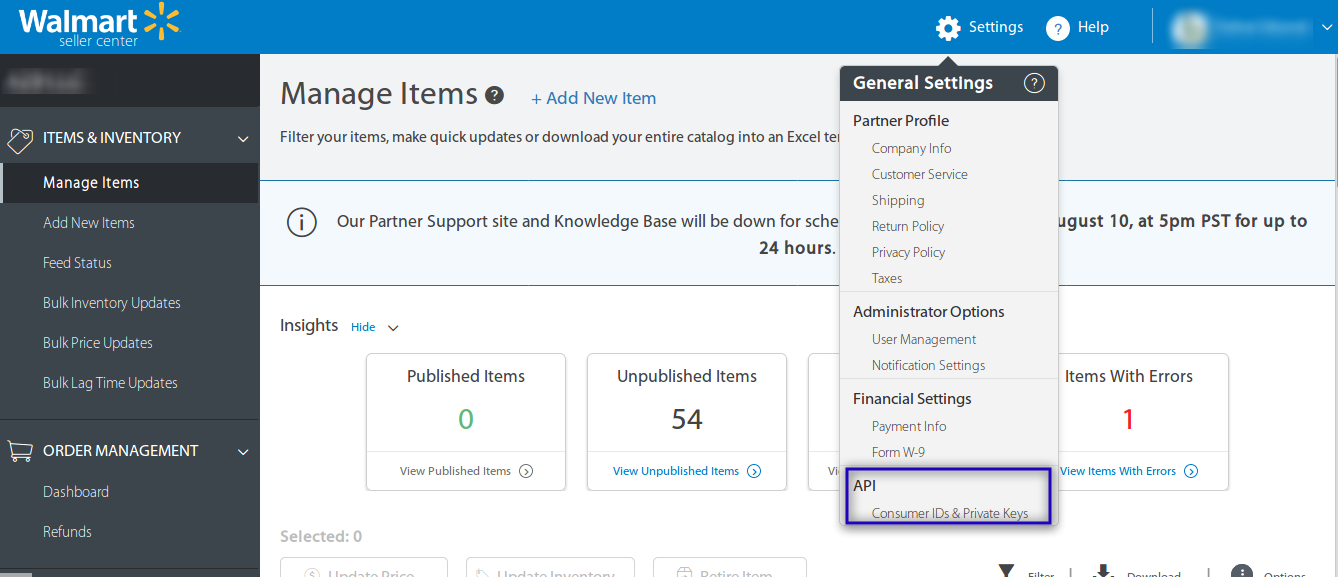 5. After Clicking on API, following picture shall appear.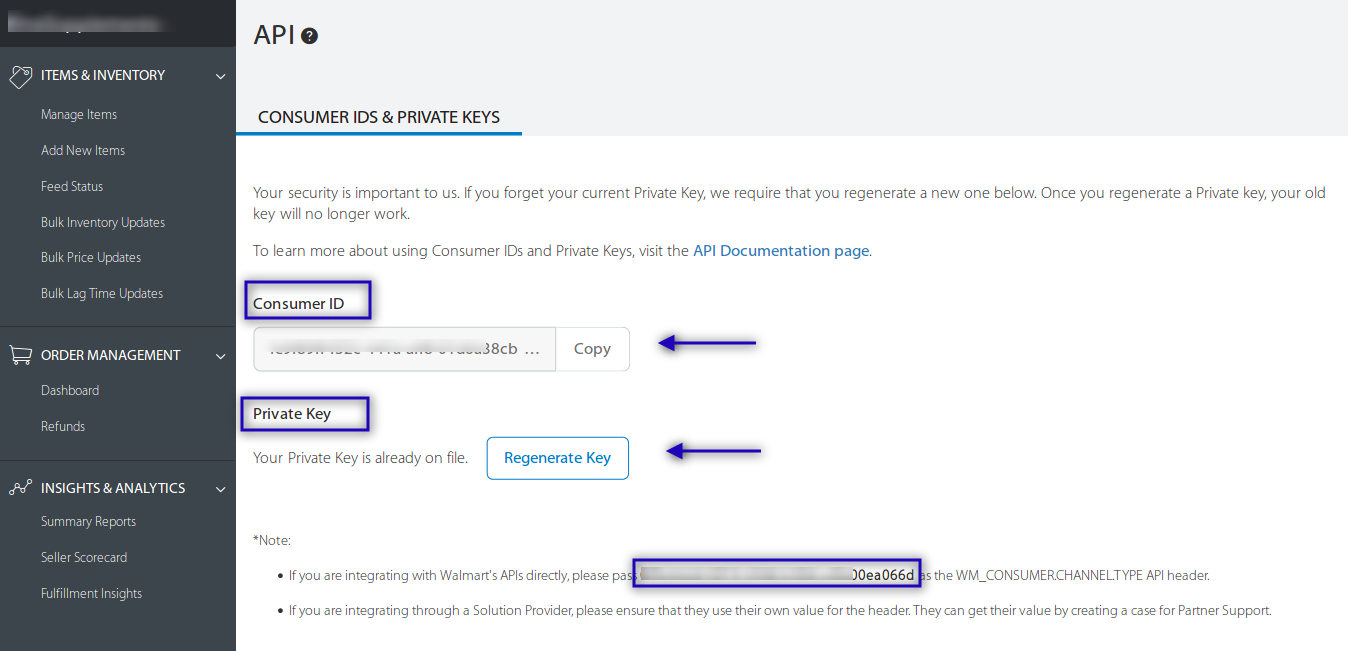 Note: If Private Key is not provided, CLICK REGENERATE KEY and the Private Key will be regenerated. See below image:
These are the required Customer Id, Private Key, and Consumer Channel Id.
You can use these API Keys to integrate your store with your Walmart Seller Account so that you can sell your products without any complexity or difficulty.
THESE KEYS ARE COMPULSORY FOR ANY EXTENSION OR SaaS SERVICES THAT INTEGRATES YOUR STORE WITH WALMART.
An Integration app helps you in the following when you integrate it to your Walmart seller account:
1.    Helps you in completing Item and Order Testing.
2.    Easily upload your products (all or selected) on walmart.com
3.    Keeps your inventory and price synced to Walmart.
4.    Push all the updated on walmart.com that you make in your products on your store.
5.    Easily manage your orders by creating them at your store.

Thanks for your interest !
Team CedCommerce