5 Striking Tips for doing Effective B2B Email Marketing
Running short of time? Get PDF of the blog in your mail.

Play Now
Welcome to the world of B2B (Business to business) marketing strategy; B2B Email Marketing is the Best Approach that Every Company Should Implement.
Email marketing is a sequential, systematic process to deliver marketing messages to a targeted audience.
A company may send emails to their subscribers, aside from order confirmations and direct responses to customer's queries; which can be measured as a sort of email marketing.
Email marketing is a part of Digital marketing; which restricts internet marketing via social media posts, blogs, websites, etc. It permits companies to keep their subscribers informed and adapt their marketing announcements or messages to their audience.
Email marketing is still ranked as the most efficacious marketing channel, beating out social media, SEO, and affiliated marketing strategies.
What is B2B Email marketing?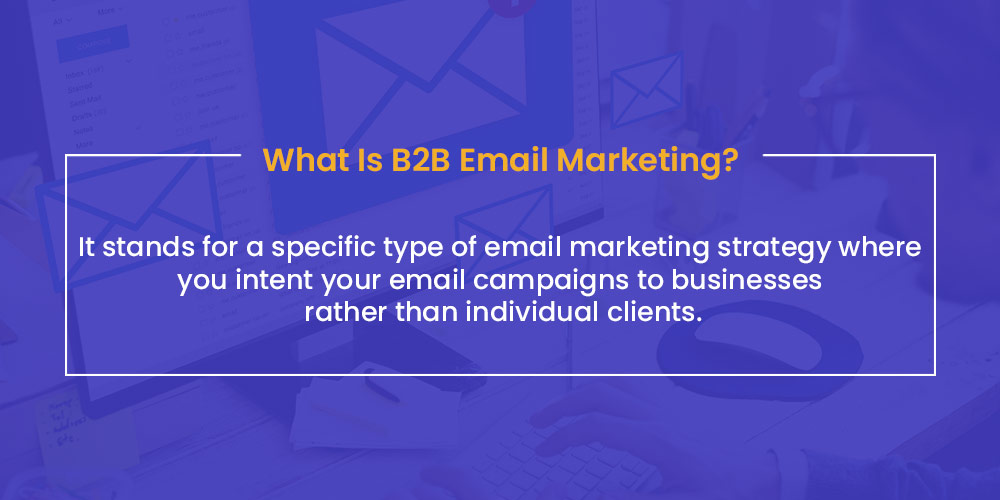 Before we go in-depth into this ingenious online marketing strategy, let's first define the B2b term;
B2b (Business to business) involves exchanging one business's products or services to another company by meeting their requirements.
As marketers, we know that the B2B concept frames a relationship involving the exchange of products or services between two or more business entities.
But do we know?
How to interpret the B2b concept to an email marketing strategy?
"B2b relationship terms are based on logic".
When working with another business entity, it's mandatory to understand the logic or reasoning behind a purchasing verdict- to get down into the essentials of their business requirements. As a result, this means you must be more in-depth with your marketing initiatives and must focus on points that matter most to a business or brand, such as time, revenue, and resources.
A successful B2B email marketing strategy is the summation of different kinds of emails by business entities; playing a role in promoting leads from the audience to the stage at which a proposal has been signed.
Make sure to give information that will support your audience to fulfill their goal. It's fine to talk about your company or product, but only related to how it can support the audience, and keep it clear and concise. If you have a lengthy piece in a newsletter, provide just a summary in the email and link it to the full post.
To have a successful B2b email marketing strategy, here are "5 Striking tips for doing effective B2B Email Marketing".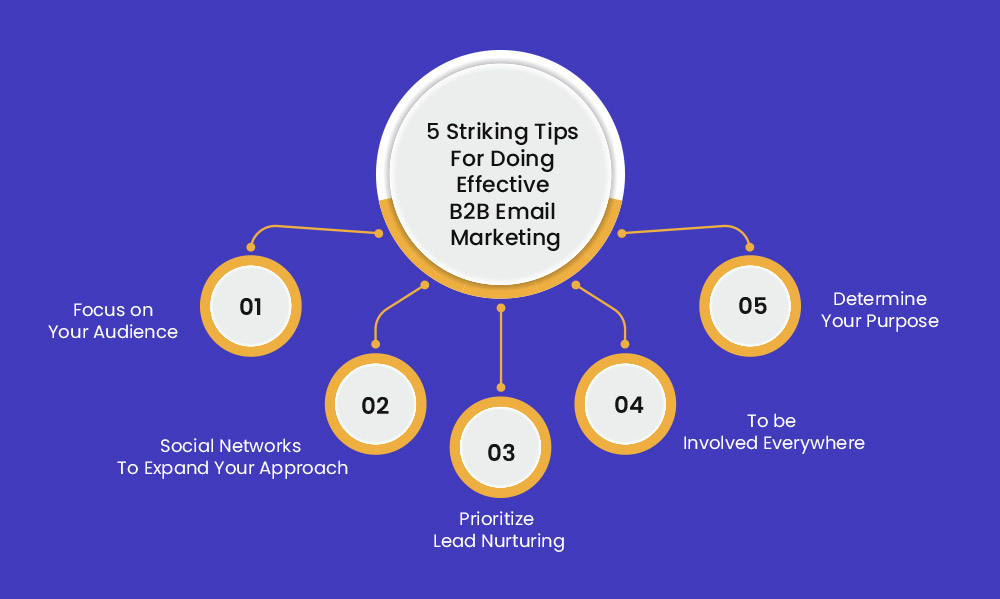 Tip #1 Focus on Your Audience
In B2b email marketing, you have to address an administrator, not an individual.
While individuals are liable to ideas and fast decisions, company administrators carry a much bigger responsibility. You can look for readers to take the time to make the final purchase. Many of them are likely to refuse your proposal because of the minor marketing flaws.
Depending on how many potential buyers you are working with, you may want to contemplate focusing on each administrator separately. Including some personalization to each pitch could take you near to effective B2b marketing planning.
Make sure your B2b email marketing strategy approaches the audience, not just the company. This way, you can appeal to the buyer at two key angles.
Tip #2 Determine Your Purpose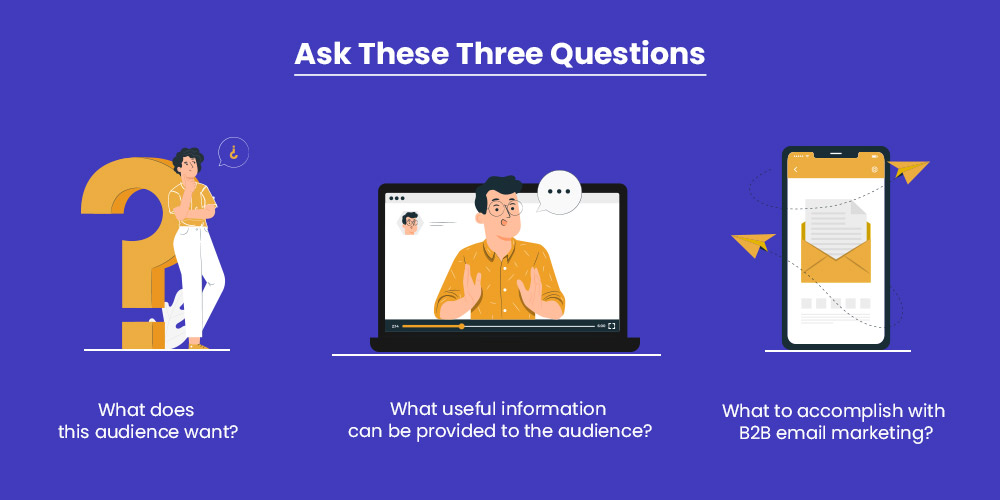 Remember that everyone is not as interested in your company or product as you are. Ensure to provide information that will support readers to meet their wants and desires.
It's fine to talk about your company or product, but only as it relates to how it can support the reader. And keep it short. If you have a lengthy piece in a newsletter, provide just a summary and a link to the full posts.
Tip #3 Prioritize Lead Nurturing
B2B marketers face a longer sales funnel than others. A lead needs to understand the importance of using your solution to address its tribulations. Since the decision to take advantage of a particular product or service may need to be made by various people, the buyer's journey takes a lot of time to be done.
That's why it's vital to pay exceptional attention to lead nurturing. Taking each lead through the steps of the sales funnel carefully, answering their queries, providing relevant content, and making the conventional offers at the perfect time can support businesses to improve the conversion rates.
Email marketing is very effective for lead nurturing.
While it provides a direct communication way to the potential customer, it nurtures the lead smoothly without forcing it to make a decision. Corporate administrators tend to trust email more than they do at other mediums like social media.
If you create a sturdy lead nurturing system that is a part of your B2B email marketing campaign, you can develop a familiar relationship with potential clients. In the future, this relationship may transform into imperative brand loyalty.
Content marketing is an essential part of lead nurturing. Use email as a medium to share the existing content with the target audience in an interesting yet incisive manner.
Tip #4 To be Involved Everywhere
Email marketing campaigns require lists of sufficient size and accuracy to create reach – this is 100% true. Yet many B2b email marketers still ignore opportunities to get potential customers to engage. Look for any point where you touch your clients: websites, downloads, conferences, inquiries, click-through from associated sites; any source where you can communicate to the audience.
Of course, it's necessary to ask for indirect concurrence at every touch-point- make it a binding agreement beyond admonishment. Once you have their agreement, you have a much more valuable asset. Because a newsletter subscriber is simply worth more than a website visitor. Website visits are temporary and unpredictable.
While you ultimately want to drive your traffic there, your clients don't necessarily engage with you there. Newsletters provide multiple, regular opportunities to develop client relationships.
So, make it as easy as possible for prospects and clients to get your newsletter involved. Locate links or fields manifest in navigation areas, not hidden at the bottom of pages or hidden in sub-categories like contact us or services.
Tip #5 Social Networks To Expand Your Approach
Include all of your social network sites into your email templates. This ensures that your clients may find you in places other than email and your website. When you do this, be sure to give them a call to action: "Like Our Instagram page for latest offers" or "Follow us on Twitter for How to write a compelling Landing page". Incorporate hashtags – especially when binding your brand or service to events or special promotions. Finally, don't be afraid to ask for email subscribers on your social media posts.
In Writing Things To A Close
Tracking your B2B email marketing metrics can be revolutionary for your business. If you are using an email marketing tool, chances are you get a detailed report for your email's capabilities.
According to the Content Marketing Institute,

"Approximately 85% of B2B marketers work with some form of email marketing software – making it the second most-used type of tool, behind analytics software (86%)".
Monitoring your open & click-through rates, bounce rates, or more supports you to get the flaws in your B2b email marketing strategy.
Analyzing what went best and worse can support you in your next B2B email marketing campaign.