9 Ways To Understand The Importance Of Email Marketing In Your Business
Running short of time? Get PDF of the blog in your mail.

Play Now
Email marketing is a cost-effective solution for brands to reach customers. It gives brands the power to build strong communication between customers and businesses. Moreover, the importance of email marketing is clear from the fact that 99% of people open their emails daily. Email marketing is not limited to a single group of people. Above all, every generation prefers email.
The Importance Of Email Marketing For Your Business
Email marketing is of vital importance for businesses and a core marketing channel for brands. You can judge the importance of email marketing from the following points.
Email Marketing Provides Global Reach
In 2020, the number of global email users was 4 billion and is set to grow to 4.6 billion users by 2025. With constantly increasing email users, you cannot deny the importance of email marketing in reaching a mass audience. Whether you want to create a profile on Instagram, Twitter, or Facebook, you need an email address.
What's surprising is that the number of active email users is more than the number of social media users worldwide. Given the large number of individuals who use email to make purchasing decisions, it's easy to see why email marketing is an effective way of reaching a large audience and connecting with customers and prospects.
Scale Up Your Brand Visibility With Email Marketing.
Email Marketing Delivers Unrivaled ROI
The importance of email marketing in getting a higher return on investment is unmatched because, for every $1 invested, the return on the investment is $42. Thus making it clear that email marketing can help you get the most out of your marketing budget.

Here are some data given by Litmus that will help in increasing email ROI. You can always keep a note of the following and prioritize the below-mentioned points for your emails.
Firstly, brands that include A/B testing in their emails generate an ROI of 48:1.
Secondly, brands that use double opt-in receive a 13 percent higher return on investment than those that employ single opt-in.
Thirdly, anti-spam laws do not affect the email ROI for legit senders. Despite the anti-spam laws in the European Union. They show similar ROIs to the US brands.
Fourthly, the use of live content in email results in an ROI of 50:1.
Lastly, preparing a pre-send checklist for emails results in an ROI of 48:1.
Email Marketing Helps In Lead Generation
Leads are essential for any business to grow and generate revenue. And you cannot deny the importance of email marketing in generating leads and nurturing them. Email marketing has proven itself as the most effective channel for lead generation. You can increase leads through email marketing. Email marketing campaigns help qualify leads for your sales team and save time on bad leads.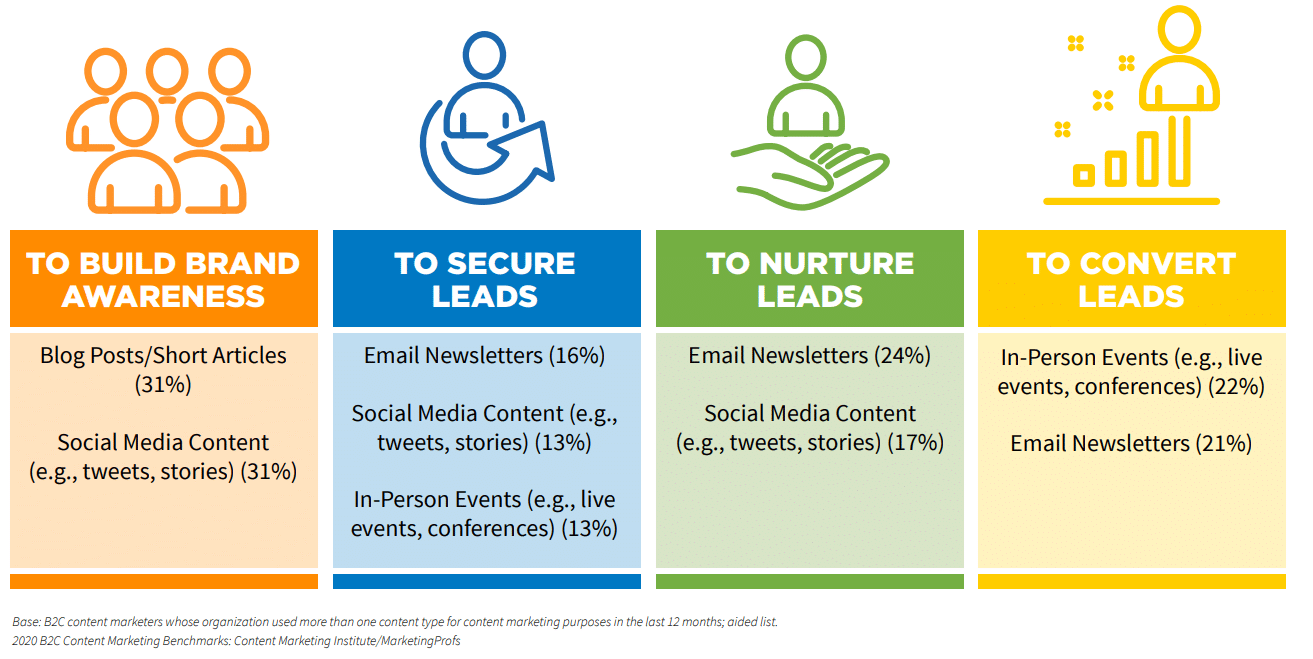 Source: Content Marketing Institute
Check Out The Related Post On Lead Generation
Email Marketing Is Cost-Effective
You can do mail marketing at a lower cost compared to other forms of marketing. There are no advertising fees, print or postage costs, etc. Unlike traditional marketing, where a large amount of money needs to be spent. Hence email marketing is time-saving and cost-effective. Multiple emails can be compiled and sent in a day. There are free email marketing tools that can be used to generate emails.
Furthermore, to automate, track, and analyze emails, email marketers consider investing in professional software. However, there may be a modest expense associated with sending thousands of emails at once. These costs are significantly lower than those associated with other marketing channels.
Since marketers always have a crunch of time and money, email marketing campaigns can be more efficient while simultaneously producing income and leads. As an email marketer, you'll agree that cost-effectiveness is one of the importance of email marketing.
Email Marketing Helps Measure Performance
If you want to prove the importance of email marketing or another form of marketing strategy, you need data. Data enables marketers to deliver quality information and visualize facts and statistics. You get an unbiased evaluation of your campaign performance. Email marketing provides the ease of tracking performance with the help of marketing software.
Most email marketing software will allow you to track open, click-through, and conversion rates, making it easy to see where a campaign can be improved. With the help of email management tools, you can easily access the data and track, measure, and monitor your email marketing performance.
Scale Up Your Brand Visibility With Email Marketing.
Email Marketing Improves Sale
The importance of email marketing in improving sales cannot be ignored. According to Hubspot, email is the most important source of ROI for 59 percent of the marketers, and marketers who deployed segmented marketing saw a 760 percent boost in income.
Email marketing campaigns can highlight products or services, urge customers to buy those products which they have abandoned before their final checkout, or send customers exclusive offers. Furthermore, 59% of respondents in this survey say marketing emails influence their purchase decisions; implying that personalized messages and a cute call to action in an email can influence the major decisions of the buyer journey.
You can also utilize email marketing to automate a portion of your sales process, which can help you boost sales.
Email Marketing Is The Preferred Communication Channel
As a marketer, you cannot deny the importance of email marketing as an effective medium for communication. Email marketing is a fruitful business marketing strategy. According to Smart Insights, email yields 50 to 100 times more CTR when compared to Twitter and Facebook combined. But if we discuss about the customer's perspective, 60% of people subscribe to brands' email lists to receive promotional messages. Showing the haze around how email is here to stay.
Furthermore, people prefer social networks as a personal form of communication, whereas emails are a professional medium for communication. According to MarketingSherpa, most individuals want to receive promotional content via email, with only 17% preferring social media.
Stating that people expect to receive information about the products and services through emails compared to social media. It's always necessary to improve communication with your audience, and emails allow you to easily communicate with your audience and build brand loyalty through online branding.
In addition to sales, brand awareness, and customer engagement. According to Hubspot, 86% of professionals prefer email for communicating for business purposes. Counting on the data, you can leverage the importance of email marketing as a preferred channel for communication.
Email Marketing Supports Personalized Experience
Personalization in email marketing is crucial to stand out, and it's another reason behind the importance of email marketing. Triggering personalization in emails is an incredible way to target email prospects and customers and give a personalized user experience. While basic personalization in email marketing focuses on using the subscriber's name in the email subject line.
You can do a lot more with the advanced practices that include addressing the subscriber by changing the content on the email based on the customer's location, gender, and other data you have about them. While most personalization in email marketing is focused on addressing users by their first name, there's a lot you can do.

Source: Really Good Emails
This email from DavidsTea is a great example of how to use data for sending personalized emails. By showing customer's preferences and the day he became a customer. This email triggers the subscriber. This email demonstrates that they are not just another customer, but a valued individual.
The personalized approach by brands shows that even in the massive collection of customers, they do not forget any single user. Beginning from day one, they use automated yet personalized emails to engage each user by tracking their actions. The outcome is so successful that it engages users 9 out of 10 times.
For instance, Netflix or Amazon prime has the history of all kinds of shows you have ever watched, and based on that, it further shows you the best picks, sending them via emails.
Email Marketing Helps Increase Traffic To A Site
As a marketer, the importance of email marketing in generating traffic to a website cannot be denied. With email marketing, companies send traffic to their site and improve SEO. Further, allowing brands to engage with their audience. A well-designed and well-thought-out email campaign can get your subscribers to visit your website, click on the offerings, and persuade them to buy something. If you do it well, you'll be able to meet your website traffic targets.
Here are few ways to drive traffic using email marketing
Make the emails scannable
Use mobile-friendly emails with mobile-friendly content writing
Send personalized emails
Optimize your landing page for email campaign
Respond to the customer's email
Automate post-purchase messages
Combine social media with email marketing
And a lot more
Just be careful not to send out a barrage of emails on every new development in your company. Plus, remember to add a call-to-action button in your emails so that the readers can click through your site.
Related: How to grow organic traffic to your online store?
Final Words
If you think that email marketing is a logical step for your business, you should start with your best email marketing practices. The points mentioned above are not the end. There's a lot more that comes along with email marketing.
Scale Up Your Brand Visibility With Email Marketing.
It possesses the power to bring you sales, increase website traffic, help in lead generation, measure performance, support personalization, and more. Above all, you will see an impact on your business if you use email marketing.