Read this Shopify's 'Toy' story of Amazon Listings management via a simple Integration solution
Running short of time? Get PDF of the blog in your mail.

Play Now
Connect Shopify to Amazon!
Read this blog to find out more about such an Integration.
Short Summary
When Kyle from Umbrella Games faced some Amazon listing challenges, they instantly went on a market hunt to find an app that will:
Support quicker Amazon listings management
Provide complete market credibility
Reflect genuine outcome of profits and sales
As a business operating in the toys industry, this Shopify store couldn't delay the search for an effective solution. Which means, a slower process management might adversely affect the business, placing orders and limiting further customer reach.
CedCommerce, along with its Shopify sales channel app, provided the store what it needed and improved business performance. Not only did the integration solution make room for fresh orders, but also for their quick fulfillment.
Umbrella games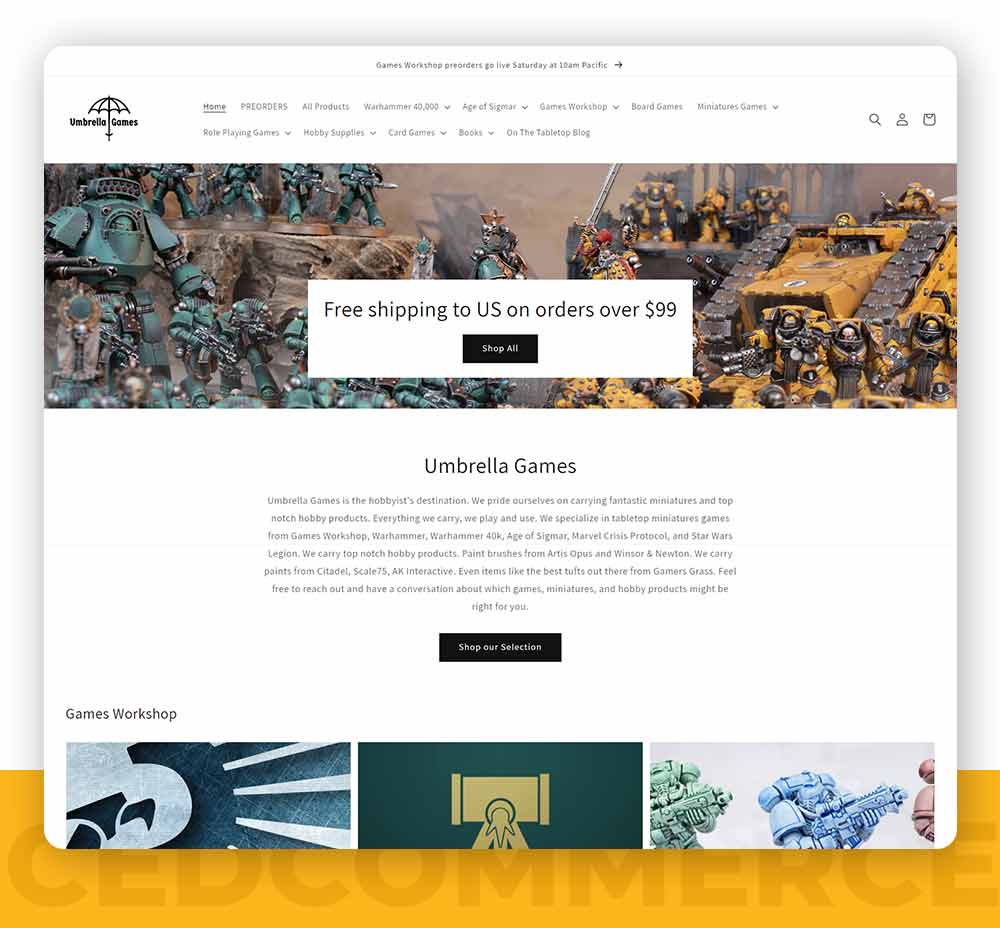 Right from the Golden State itself, Umbrella Games started selling online in November, 2020. The Shopify store (A hobbyist's destination!) retails miniatures and top notch hobby products. Also, they showcase an expertise over products like tabletop miniatures games from Games Workshop, Warhammer, Warhammer 40k, Age of Sigmar, Marvel Crisis Protocol, and Star Wars Legion. 
Connect shopify to amazon!
Furthermore, the store also sells paint brushes from Artis Opus and Winsor & Newton. With extensive product lists, they also sell paints from Citadel, Scale75, AK Interactive and items from Gamers Grass too! Such hobby products:
Attract customers from different market segments
Attract multiple types of customers, according to each's persona.
As an FBM seller, the store is responsible for overall purchases and fulfilments. Hence, as 'power' comes with 'responsibility' a better business management would come from consistent operations and quick business actions.
Problem
As this store began its selling journey, it discovered an instant requirement related to its Amazon listings. Therefore, the main seller challenges were:
Manual inventory sync takes more time
Difficult management of Amazon listings
Absence of a centralized solution
Umbrella Games mainly face competition from different market players (in the Toys and Games industry). Hence, factors like slow process, updates and business approach contributes in deciding the company's rank or performance among others.
Solution
After the problem was discovered, the seller right away went to the Shopify purchase store. Therefore, they began their ultimate search for a compatible solution. With a special recommendation from Shopify's staff, the Amazon by CedCommerce app was introduced!
This official sales channel app of Shopify is reliable and caters to seller needs. As a result, the integration app, along with a focussed team of developers and managers, handled:
Slow inventory sync with quick automation. Hence, it further enabled inventory data migration from Amazon to Shopify.
Delayed notifications by quick syncing of updates
Variations in Amazon listings through quick edits like changes in product descriptions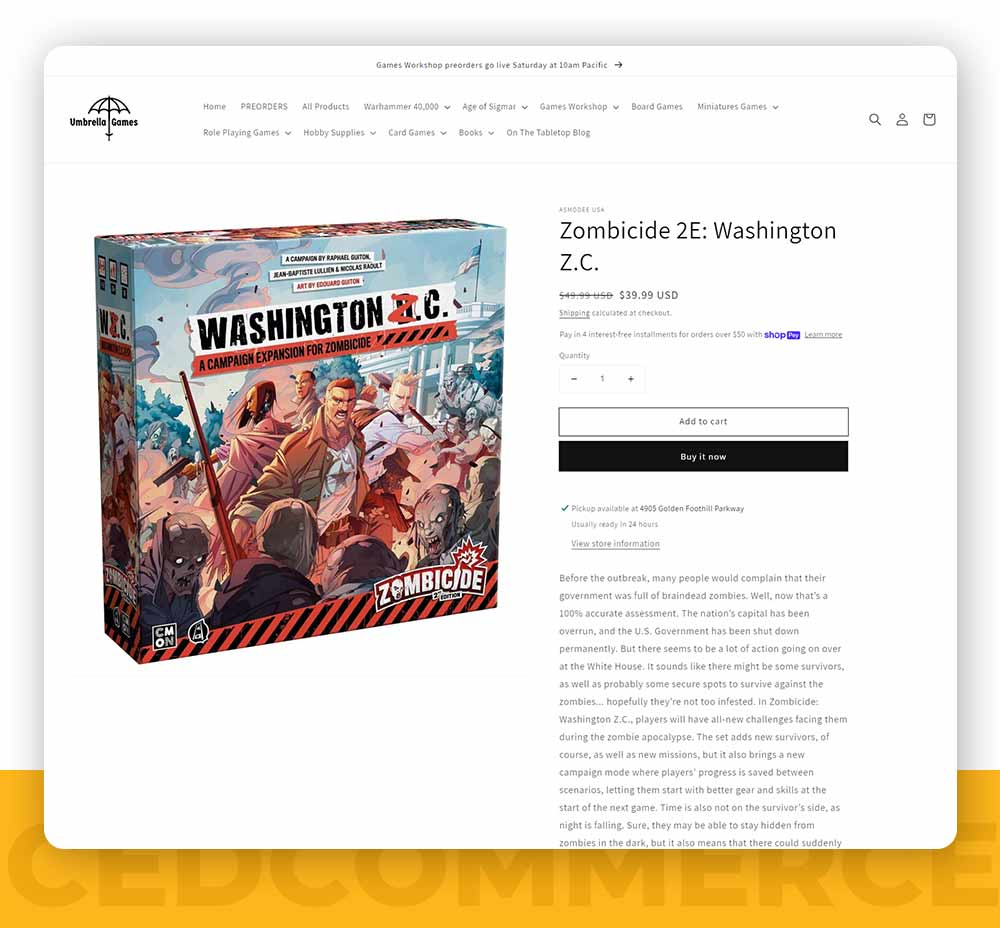 Result
Hence, with an absolute 25% increase in store traffic, Umbrella Games recognized its needs and made progress with the aforementioned app.
To quote, the store is now, 'Selling without any issue!'. 
Amazon by CedCommerce app has been developed to cater all retail and related issues for a successful market existence. Along with experts and managers, the app support lets sellers have a detailed operative user experience and aims to help through each challenge faced.
For instance, since Amazon allows retail of almost every product category; in case of any listing discrepancy (blocked or inactive listings), the integration app notifies the seller, right on the store's Shopify dashboard. So now connect Shopify to Amazon!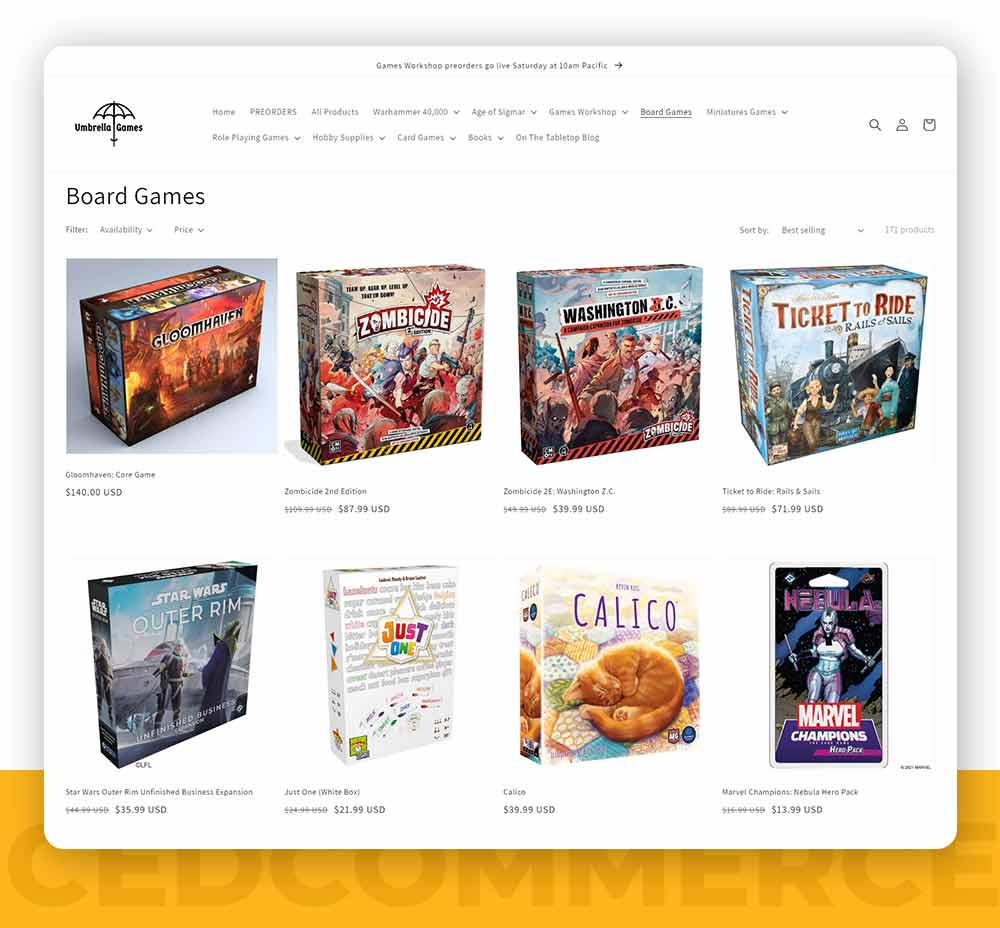 Few retail limitations (Product listings)
Sellers from a dynamic market (like the Toys and Games industry), wherein buyers' personas and trends keep on changing, it's highly imperative to keep up with the latest metrics of modern success and how to achieve them.
Connect Shopify to Amazon!
Below are few other seller challenges that are pretty common to all:
Duplicate listings

Sometimes sellers can have double or duplicate listings created due to the absence of automation. Manual creation of listings naturally brings in more chances of such errors.

Inefficient item imagery

A blurry product image might not be as efficient in reflecting its value than the one with higher pixels. Poor image quality also increases navigational challenges for buyers.

Slow inventory sync and updates

For instance, an inactive listing might oversell an inventory, if not rectified at the earliest. A late notification or inventory update might ultimately result in loss of orders if the buyers' needs are left uncatered.

Errors impacting item discoverability

A bad image, incorrect product title or even basic Amazon listings rules might adversely affect its discoverability as it might get subdued (according to marketplace's algorithm)

Shipment errors

As FBM sellers disclose and predefine their shipping dates to Amazon; an error while uploading the dates or related fields, could directly lead to listing suppression i.e. making it invisible to the buyers
Become limitless with-
Amazon by CedCommerce app
Predefined product templates to avoid Duplicacy

Retailers can create set templates for products to reduce redundant steps every time new products are uploaded by predefined inventory (price and more)

Customized listings and offers

Any seller can integrate their store and directly upload Product feed from Shopify to Amazon Seller Account. Alos, they can also place offers on the existing products from the app.

Near-real-time Inventory and data sync

And track it too! Sellers can perform operations such as editing price, description, and other relevant information. Without switching platforms. They can also keep a check on the inventory count as well by setting a minimum threshold limit to avoid overselling.
Connect Shopify to Amazon!
They can also track product status, and set auto-delete for inventories that go out of stock to protect their performance.

Connect multiple Amazon accounts

Through the Shopify store, one can link and control multiple Amazon Accounts. Furthermore, all their listings from one spot, as long as the accounts belong to the same country.

Manage orders and Shipment

This integration app also ensures that all orders generated for the listings on Amazon are synchronized with the Shopify Sales channel and can be attended to, right from the Shopify panel. Also, enables prompt notifications for orders generated or failed. Additionally, it also provides tracking information and automates (update) status for Amazon orders from the Shopify panel. 
Now easily connect Shopify to Amazon.
Conclusion
Connect Shopify to Amazon!
When CedCommerce asked Kyle 'Do you plan to use our services in the future?', his answer was an affirmative yes!
Amazon by CedCommerce app proved to be one of the best in the game by effectively solving every seller's problem and helping businesses like Umbrella Games to succeed
Read these other inspiring stories for fellow Shopify sellers: