Provide Valid Tracking Details for better Walmart Seller Performance
Running short of time? Get PDF of the blog in your mail.

Play Now
To stay relevant on the Walmart marketplace and to provide an enhanced customer experience, you need to abide by the selling standards laid down by Walmart for sellers. One of the important aspects of which is to provide Valid tracking details on Walmart. Providing Valid tracking numbers for Walmart is a must to sell successfully on the platform.
As a Walmart Seller, you will be introduced to a fun thing called the Seller Scorecard. There is a close relationship between Valid tracking details and Walmart Scorecard. To sell better and improve your seller scorecard at Walmart, it is important to pay attention to tracking details and accuracy. Providing Valid tracking numbers for the orders, you ship out can help you increase customer satisfaction as they help customers locate their orders.
What is a 'Valid Tracking Number' for Shipments?
Most customers prefer to have an idea of where their product is immediately after they order it. This gives birth to the concept of 'Tracking the Shipment,' and one needs valid information- tracking numbers, to do so. But the question arises, what accounts for Valid tracking details on Walmart?
For a Tracking detail to be Valid, the Shipment method and media should abide by Walmart Guidelines. Hence, they should have:
Alignment with a carrier, which is acceptable by Walmart, such as:

USPS
FedEx
SmartPost
UPS (select UPS for UPS SurePost also)
UPS Mail Innovations
OnTrac
DHL eCommerce
Lasership
UDS
Pilot
SAIA
Estes
OtherCarrier (When you use none of the above carriers. If you select OtherCarrier and then provide Tracking Information from one of the above carriers, it will be counted as invalid.)

Correct format.
Possibility of Tracking the product using the tracking details from the Carrier's website successfully.
At least one Carrier Scan on record for the shipment.
Shipment from one of the following methods:

Freight Shipping
Standard Shipping
Expedited Shipping
Value Shipping
Whereas orders that go by the Freight method are not a part of the Valid Tracking Rate. That is inconsequential since you need to provide the Valid Tracking Numbers for shipments from freight methods or otherwise.
Why Valid tracking details are a must on Walmart
Valid tracking details help you sell better on Walmart. It is a must to provide Valid tracking numbers for shipments at least 99% of the time. Failing to do this results in Warning or Restrictions progressing to the suspension on Walmart.
When selling through Walmart, you know that certain Performance Standards need to be honored by the sellers. If the Walmart Performance Standards are not met, Walmart sends a warning message to the sellers asking the sellers to recover the performance defects immediately. This performance defect can even lead to a temporary or indefinite suspension.

What entails a Valid Tracking Number for Walmart Scorecard?
The necessary details are the Walmart Tracking Number as well as Tracking URL.
When you provide the acknowledgment for the Order, Walmart asks you to supply the following details:
Universal Product Code.
Product Name
SKU
Shipping Method which is what the customer has requested
Quantity Requested and Updated (For example, customer requests 4 and you pack 2 together)
Status

Ordered
Acknowledge
Ship
Cancel

Carrier
Tracking Number
Tracking URL
Hence the moment you acknowledge the order (which should be done within 24 hours of the order placement), you need to provide the Valid Tracking details.
How to Edit Tracking Details for Shipped Orders?
If unknowingly you select the wrong carrier method and/or entered an incorrect tracking number, no need to worry. Walmart understands this. To overcome this, Walmart facilitates the editing of carrier methods and/or tracking numbers up to 4 hours from marking an order as shipped and submitting the tracking number. This option gets disabled after 4 hours, and you will not be able to edit the carrier method and /or tracking number after 4 hours from Walmart Seller Center.
For editing, go to Order Management and then select the PO that needs updating and then click Edit.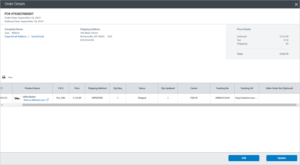 Source: Walmart knowledgebase
Delete the incorrect tracking number and/or carrier method, enter the correct details, and then click Update.

Source: Walmart knowledgebase
If anyhow you couldn't edit the incorrect tracking number and/or carrier method within the specified time frame of 4 hours, there is a different procedure for that, as follows:
Create a Case with Partner Support and select the options as follows:
Orders or Shipping > Cancelling or Revising an Order > Order Tracking Update > Update Tracking.
In the case description, enter the original tracking number or the details of the issue.
Indicate if you are having an issue or need to do edits for one order or multiple orders.
If you need to edit a single order, enter PO and Valid tracking information in the boxes.
If you need to edit multiple orders, fill the sample excel doc, write all PO numbers and valid tracking information, and attach it to the case.
Guidelines for Shipment to Improve your Seller Scorecard at Walmart
Shipments play an important role in satisfying the customers, and the quality of shipments you provide gets reflected in the Walmart Seller Scorecard. You can improve your seller scorecard at Walmart with a few Shipment related tips as follows:
Don'ts
In case you are using a method from the list mentioned above, do not select Other Carrier. If you do that and then supply a Tracking number from one of the listed carrier methods, it will be considered invalid. Also, with other Carriers, it is essential to provide the URL.
Using a Logistic service from one of Walmart's competitors isn't all that much of a great idea. Remember, Walmart takes it strictly, and in case the Tracking Numbers starts with "TBA," which is the code for Amazon Logistics, then Walmart will reject the order.
Using stamps or pre-paid envelopes for shipping is not allowed. If you do so, it will be a violation of Walmart's Performance Standards.
Do's
You should verify the Tracking Number against the Carrier to ensure that everything with the Shipping information is, in fact, Valid. There is a strong technical reason behind this. When Walmart generates the URL automatically, it uses the Carrier name and Tracking number to do so. A defect in the two fields (e.g., a Tracking number of UPS and OnTrac in the Carrier Name field) will cause the generation of a broken URL. Which, in turn, adds up to poor customer experience. Thus, before all of this could become an issue, Walmart declares the tracking information as invalid.
Make sure, the moment your package goes in the hands of the Carrier Service, you update the status to Ship. In relabeling the shipment, it becomes your responsibility to supply the correct shipment details in time. You can update the shipment with the Edit Tracking Details option if needed.
The best technique to deliver best is using the best. Try to use a popular, well known, and proven service that delivers in time and safely. Use the best shipping services for all of your orders. When people spend an extra amount on shipping, they expect the product to be in their hands safely, within a reasonably short time. With the fast delivery options, free shipments, next-day delivery, 2-day shipping on Walmart, etc., the customer's expectations have only risen. Moreover, we all know the more the customer expects, the harder it is to provide them a completely satisfactory experience. But of course, trying is the key.
With Walmart's fair warnings, all that is left for you to do is actually follow through with them. While freight shipments are not a part of seller performance about Valid traffic details for Walmart Scorecard, you need to confirm it properly. Less than Load(LTL) products, which are generally tackled by local and small shipment services, confirm that they are being sent via the Freight method.
Currently, Walmart expects you to ship the product from a US soil warehouse to a US-based address.
Make sure you manage to update the errors in the tracking details within the four hours of confirmation at any cost. Always make sure you provide Valid, correct, and well-matching tracking information. Failing to which affects the Walmart Scorecard and Seller Performance indexing detrimentally.
Ensure that the tracking number field contains only one tracking ID and that too in a proper format. Some examples of poor formatting are as follows:
Source: Walmart knowledgebase
Important Points for On-Time Shipping and Enhancing Customer Experience at Walmart
Always select the known and best carrier methods for shipping your products to customers well on time.
Use more than one method of shipping the products. If one method is not available at some point, you can make use of the other.
Go thoroughly through the pickup fees of each carrier. Understand their fee structure so that you don't make up a loss in the shipments.
Some carriers experience high volumes that surpass their delivering capabilities. If the same is the case with your carrier, try to switch to a different carrier.
If you have a warehouse in a Carrier constrained market, try to shift your warehouse to a less constrained market.
Always ensure that you have provided a customer support contact number, email address, and your working hours in the Seller Center.
Carefully pack your orders to avoid any damage.
Deliver your orders on time as most customers want their ordered products in their hands as early as possible.
Monitor your performance by reviewing your Seller Scorecard regularly.
Provide 24/7 customer service so that the customers can reach out to you whenever needed.
To Sum Up
Providing valid tracking numbers at Walmart helps in serving the customers in the best possible way. With valid Walmart tracking numbers, customers can easily locate their orders. Valid tracking details on Walmart also help sellers to improve their Seller Scorecard as they improve customer satisfaction. Valid tracking numbers also empower the customers in getting timely updates of their orders without troubling the Seller.