The Hidden Mystery Behind De-listing Of Products On Walmart
Running short of time? Get PDF of the blog in your mail.

Play Now
Selling on a competitive marketplace like Walmart requires multichannel selling expertise. Since Walmart has laid down specific guidelines that you need to abide by, any error on your part can greatly impact your selling experience out there and can lead to the de-listing of your products on Walmart. From offering competitive pricing on Walmart products to providing the best Shipping services to customers, Walmart keeps a close eye on all your selling processes to deliver a quality shopping experience to its customers.
However, if things are found going against specified marketplace policies, Walmart can take any number of strict actions, including unpublishing and de-listing of your products. The results can be perilous for your Walmart store.
To avoid these mishappenings, you need to build up some immunization that helps you overcome the hassles and errors on your part. This write-up will uncover the grounds on which delisting/unpublishing of your Walmart products can possibly occur and possible ways to avoid them.
"Why was my Walmart Product Unpublished?": Reasons for Walmart de-listings
Are you a Walmart Seller and don't know the possible reasons that can get your Walmart products unpublished? Here we have compiled a list of the probable reasons for the unpublishing of your Walmart products.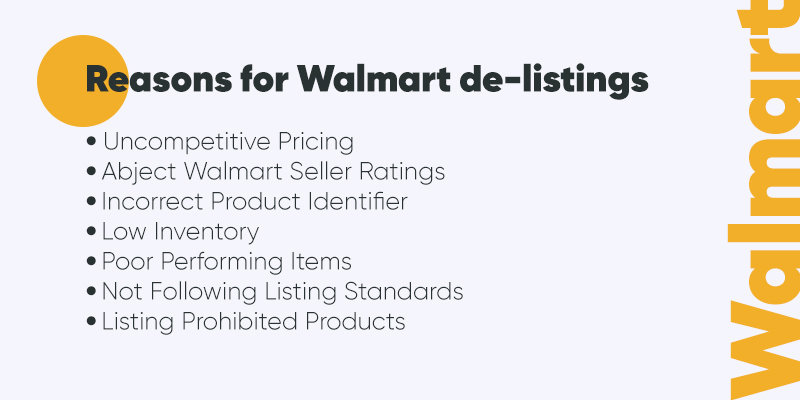 Let's dive in!
1. Not keeping Competitive Pricing on Walmart Products
It is essential that while pricing the products, you ensure costs remain at the lowest possible value. Walmart promises the customers to get the products at the best price like none other marketplaces offer.
Walmart compares the cost at which Walmart Sellers place their products on other touchpoints. Thus, competitive pricing on Walmart is crucial. Not doing so can cause unpublishing of products on Walmart, even after you modify the cost, as initial processing.
The rules that Walmart invokes are:
Price Parity Rule concludes that Walmart sellers cannot offer the same product, including the shipping cost, at a lower cost (Giving more profits to customers on other platforms).
Price Leadership Rule implies that another seller on Walmart or any other eCommerce Touchpoint offers the same product at a lesser cost, including Shipping Cost.
Hence, it is clear that keeping prices competitively low is essential to avoid the de-listing of your products on Walmart.
2. Abject Walmart Seller Ratings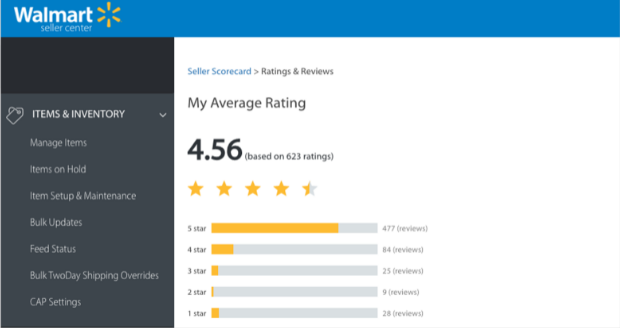 Due to one or the other lac or defect on Walmart Seller's part, the negative Walmart Ratings can grow with each sale made with a defect. This might sound harsh, but it is true; customers take time to rate you either when they are delighted or when they are slightly distressed with the product and service they just received.
Defects such as late delivery, products of lower quality or quality differing from the one that listing promises, packaging defects, etc., cause great disappointments in the customers. Reducing order defect rates is a sure shot way to ensure that your ratings remain at the best count.
While Walmart is a customer-oriented marketplace that intends to offer the best of everything to its customers, Walmart Sellers face significant scrutiny.
As per recent changes in the Order Defect Rate, Lower Walmart Sellers Ratings are no longer a reason that can cause Walmart Sellers' Account Suspension. Nonetheless, Ratings affect the unpublishing of products on Walmart directly.
3. Not matching Walmart's Product Identifier carefully and correctly
Walmart's Product Identifier should be correctly mapped to the products while listing them on Walmart. Walmart's Product Identifier is a unique set of numbers associating with each product independently for sale and trade.
By helping to recognize the product and adequately identifying the categories of item listings, Walmart's product identifiers help organize and distinguish valid products from prohibited products.
Walmart enforces that Walmart Sellers must look after Walmart's Product Identifier mapping appropriately to avoid items not getting published at all.
4. Constant low inventory and out of order stock
One thing that absolutely everyone hates is going online all excited to reorder the product you so much loved the last time you bought them. You log in, go to your order, click reorder, and then you see the out of order notice stopping you from buying it.
That was a sure-shot customer that a Walmart Seller lost due to Out of order stock. This sounds okay in the short term; sometimes sellers oversell. Especially so when they are the only ones selling the product or selling a top-rated product. And in a long time, it gets negative for your general performance.
Constantly going out of stock or low inventory products upset the customers. Hence they are removed from the listings. Thus, make sure the inventory is up to date constantly.
There are ways to handle the constant updates and stock management—automation and integration of all your touchpoints to one centralized location.
5. Items not selling enough
If there is an item on Walmart Sellers' listings that is not selling enough or customers are not happy with the products, then it is time to do something about it. Walmart can remove listings that are not doing so great. So if one of your products goes out of active status and you can no longer sell it.
Hence, try choosing items that sell as your listings. Make attempts to promote the product more and more. Improve visibility of your products to sell them better, and eventually avoid unpublishing/delisting of products on Walmart.
6. Not Following Listing Standards
Not following the listing specifications, such as the right SEO practices, correct Image of the listings, etc., can have consequences. At Walmart, you must make sure that you follow listing specifications reverently.
Descriptions, specifications, images, SEO, and Keyword-related practices help your visibility and impact, directly and indirectly, ensuring that product listing remains alive without hindrance.
7. Selling Prohibited Products on Walmart
One of the significant reasons for unpublishing products on Walmart is selling Prohibited products on Walmart. Walmart has marked a long list of products as Prohibited to ensure the Trust and safety of its customers.
Thus, selling any of those products, or a product that can be remotely marked as one of those products are bound to be removed the moment they are caught.
How to Avoid the Unpublishing of Products on Walmart?
There are numerous means to avoid the inconvenience of unpublishing products on Walmart.
1. Ensure High Sales
Follow all the practices that can get you a healthy sale while keeping excellent control over your stocks. From paid upgrades for visibility through promotions to ensuring maximum customer awareness from organic means, try everything.
Look into faster and free deliveries. Free Shipping on Walmart and other Marketplaces attracts the most customers. The chances of making the sale with 2-day delivery, next-day delivery, multiple pick-up options, and free shipping on Walmart are much higher than the listings without these offers.
The best way to attain more is by getting help from experts, automating your store, and keeping it linked with a centralized space, to overcome the causes of de-listing of products on Walmart.
2. Maintain ODR and Performance Standards
Ensure the Order Defect Rate remains at an all-time low. Faster, high-quality product deliveries about 99% of the time. Keeping up with Walmart's legal specifications, following through with the Walmart Agreement, and standing within the line of Walmart Guidelines, ensures the stability of accounts and listings.
3. Impressing and Earning the Customers
Make sure your listing appeals to the customers. Use offers, win the buy box, free shipping on Walmart, gather strategies to use Promotional Pricing, etc.
Deliver quality constantly, maintain it to earn trust, positive reviews, and all the flashes of Badges that Walmart offers.
To Sum Up
To sell smoothly on Walmart, and in a way that your products remain on the shelves of one of the most trafficked marketplace, closely follow the rules laid down by the marketplace reverently. Try offering your products at the best prices, and try maintaining performance standards within the specified limits to prevent the de-listing/unpublishing of your Walmart products. Also, maintaining enough inventory, using appropriate product identifiers, having good seller reviews, and avoiding prohibited products are critical factors determining your success at the Walmart marketplace.
If there are any other questions that you need to be resolved, get in touch with CedCommerce, Walmart's official channel integration partner. With CedCommerce's round o'clock expert support, you will be able to sell better on the marketplace. Reach out to us now!
There is more to learn when it comes to Walmart:
Get tuned in with all new podcasts brought especially for you.