Sell on Walmart Canada Like a Pro in Just 6 Steps!
Running short of time? Get PDF of the blog in your mail.

Play Now
Generating over $400 Million in sales for 2020, Walmart.ca is among the most popular marketplaces in Canada. Selling on Walmart Canada Marketplace is a great way to expand your business further. With an average of 35.74 Million visitors over the last six months, which is a 7.88% increase from last year's figures, the chances of earning significant profits while selling on Walmart Canada Marketplace are rather good. Additionally, the average session of a visitor lasts for more than 4 minutes.
This blog will tell you all the ins and outs of selling on Walmart.ca. Read on to find out more.
Steps to Sell at Walmart Canada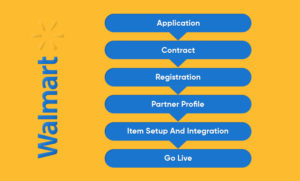 Over 85% of traffic is organic, out of which 55% is from Search Results. Getting customers is pretty easy while selling on Walmart Canada Marketplace. Hence, there is not much reason why you shouldn't consider selling on Walmart Canada. Here are the steps to sell on Walmart.ca:
It is a lucrative opportunity for those who want their products to sell on Walmart Canada as a seller. So let's start, and get to know everything you need to know about how to sell on Walmart Canada.
1. Apply for Approval
Walmart Canada Marketplace is an Invitation only Marketplace, just like Walmart USA. Thus you need Approval to sell here. As long as you meet Walmart.ca's compliance and performance requirements of Walmart.ca, you should not face any trouble getting approved to sell at Walmart Canada.
The five stages of this form involve Primary Contact, Business Information, Product Assortment. eCommerce and Marketplace Experience, as well as Operations. All details supplied here are checked for authenticity. Walmart.ca approves only after the verification results turn out positive.
Once approved, you will be notified via email and a link to start the application.
All the steps from here on are unfurling of the stages of this Application Process.
2. Go through the Contract
A legal contract opens up for you to read. It is crucial that you read every aspect of it carefully, and if there are issues in understanding certain aspects, it is advisable to consult a Legal Expert.
If certain clauses in the Contract do not go with your business's policies, take consultation first. Do not engage in the contract, as a failure to meet the terms will result in suspension eventually. And you won't be able to sell at Walmart Canada successfully.
3. Complete the Registration
With Approval, you get access to Walmart.ca Seller Centre. Log in to the new account, and you will get a Launch Checklist with certain itinerary steps that lead to the selling on Walmart Canada Stage.
On the Launch Checklist, the first step is to complete the Registration. Registration involves Account Creation, Company Registration, and providing Shipping related information.
The username or email will be automatically filled up on the basis of your marketplace application. The password you create at this stage needs to be kept safe since it will be used to log into the Seller Center for any actions hereafter.
4. Complete your Partner Profile
The next itinerary is the Partner Profile Setup.
For the Partner Profile, you need to provide the following details:
Company Information, including the Company Name you will be using, Company Logo, and the Company Description. The Company Name and Company Description need to be written in English and French both under the respective columns.
Customer Service Details, including the Customer Service Email, Customer Service Phone Number, Customer Service Escalation Email, and Customer Service Policy(in French also).
Shipping Details, including Shipping Rates, Standard Processing Schedule, Additional Days Off, and the Shipping Policy(in French also).
Return Policy, declaring how you would be handling the Returns. Describe it a maximum of 4000 characters in English and in French both.
Privacy Policy, declaring how well you take care of the customer's data. Describe it also in a maximum of 4000 characters in English and in French.
Sales Tax Information, including Nexus, Shipping Tax Codes, and Sales tax Policy. The Sales Tax Policy also needs to be written in English and French.
5. Item Setup and Selecting an Integration Method
Before Item Setup, you need to select an Integration method. You can choose API Integration Method or Bulk Upload method, based on your convenience. Once you finalize an Integration method, you can proceed to Set up your Items on Walmart.
Setting up Items involve four Steps as follows:
1st Step: Select the Category and Sub-Category for your Walmart products.
2nd Step: Keep the image URLs ready with you.
3rd Step: Send the Item Feed details in XML format if you chose the API Integration method or in Excel files if the method you chose is Bulk upload.
4th Step: Upload the Item Setup Feed files.
5th Step: Now you can preview your catalog that you are going to display on Walmart.ca. Ensure that everything is upto the mark as that is what will be visible to your customers on Walmart.ca.
6. Go Live!
Before going Live, you need to ensure the following parameters are met as per Walmart Guidelines:
At least 10% of your items be ready with the inventory and price and in saleable condition.
For the last 500 items, less than 15% Item Setup Error Rate.
95% of Items should be classified correctly.
After you complete all the steps in the launch checklist, click Go Live Button.
To Sum Up
Walmart.ca is the perfect destination for those who want to expand their online reach in Canada. With a substantial customer base, Walmart.ca presents the privilege to showcase your offerings to its 900,000 daily online Canadian shoppers.
Simply apply to be a seller on Walmart.ca with the marketplace application form. Once approved, sign the Contract, complete the Registration and Partner Profile, Setup Items and you are ready to GO LIVE on Walmart.ca.
If the Walmart onboarding process is getting too much for you, feel free to contact an expert Integration Partner, like CedCommerce. With a team of experienced professionals, you can onboard quickly on Walmart.ca and leverage the opportunities waiting there for you. So what are you waiting for? Apply now and boost up your online sales with Walmart.ca.
Bonus: For more insights, try reading: