The Success Story of a Hyperlocal Marketplace: Power Tools Near Me
Running short of time? Get PDF of the blog in your mail.

Play Now
Businesses in hyperlocal marketplaces selling commodities across categories are gaining massive popularity in recent times. In 2019, this industry received its value at $1,324.2 billion and now it is expected to reach $3,634 billion by 2027 at a CAGR of 17.9% between 2021 and 2027. This industrial growth inspired a number of entrepreneurs to create their successful marketplace story and provide comfort and convenience to buyers. One such inspired hyperlocal success story is "Power Tools Near Me".
Power Tools Near Me is a multi-vendor marketplace running on a hyperlocal business model in India. It is selling power tools for drilling, mixing, and cutting through registered vendors. Buyers enter their location after landing on the marketplace to detect the availability of vendors and their products. They can also choose vendors as per their preference.
At the time of its development, 'Power Tools Near Me' described its requirements of multi-vendor and hyperlocal provisions to myEplatform, a digital marketing company. Its requirements later led to the association with Cedcommerce which created a wonderful hyperlocal success story.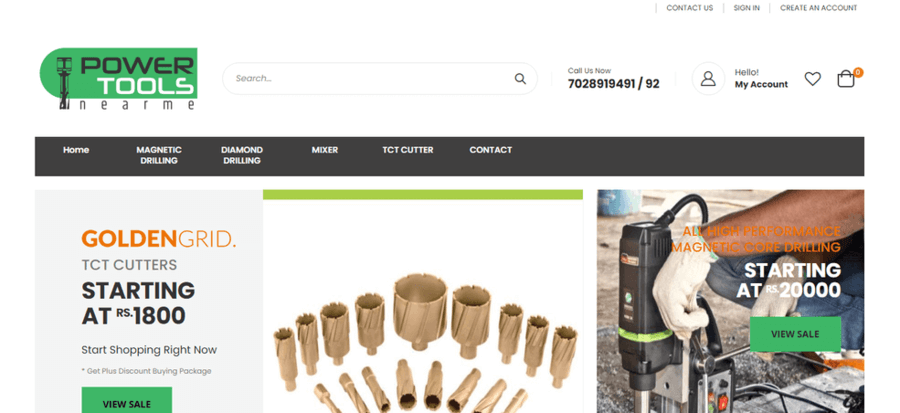 Challenges faced by 'Power Tools Near Me'
One of the biggest challenges for 'Power Tools Near Me' was spreading the hyperlocal marketplace business throughout India followed by shipping and delivery issues. Along with it, a large section of the Indian population finds themselves not very technically savvy and avoids buying online. There is a tendency to depend on the brick and mortar stores and the somewhat lackluster technical infrastructure could not completely encourage them to purchase from the internet.
India also practices the implication of GST rates on products. The hyperlocal marketplace website was facing the problem of miscalculation as it was failing to conduct this practice. This problem posed a severe risk to marketplace growth because it was not able to display product prices correctly.
Moreover, marketplace expansion throughout India and nearby vendors delivering power tools to customers called for the need for a hyperlocal system. It needed to register the location of customers to assign available vendors. But, the concept of hyperlocal was introduced recently that people are still new to. Therefore, the technical support for this system was weak due to which control on vendors seems difficult. There is no effective E-commerce marketplace success story till now.
Marketplace solutions diminished the challenges faced by 'Power Tools Near Me'
Though the challenges were harsh, 'Power Tools Near Me' did not give up and paved the way for a novel E-commerce marketplace success story. It finally found Cedcommerce. Trustpilot and website reviews encouraged 'Power Tools Near Me' to choose their services.
Cedcommerce patiently listened to problems its clients were facing that it managed to resolve later. It satisfactorily addressed the issues that occurred in 'Power Tools Near Me' by suggesting and providing befitting marketplace solutions to create a successful marketplace story-
Marketplace Platinum Package– This multi-vendor marketplace solution enabled the marketplace admin to add product attributes, mention complete product descriptions and align products to vendors. Overall, the entire marketplace functioning is under admin control after acquiring the solution.
Hyperlocal Addon– Cedcommerce suggested Hyperlocal Addon along with its Marketplace Platinum Package to specify customer location for vendors using a Google API key.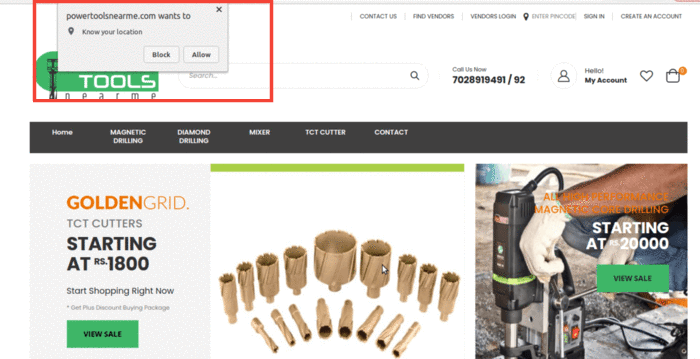 Indian GST Magento Extension– The marketplace now displays correct product prices after applying GST rates with the help of this Indian GST Magento Extension.
Vendor FedEx Shipping Addon– The assigned vendors choose FedEx shipping carriers after customers add products to the cart on the basis of their destination. FedEx then calculates and displays shipping costs at the front end to customers.
Cedcommerce also supported its client proactively not only through ticketing systems but also on Whatsapp and Skype which is less seen anywhere else. With the support of cedcommerce, Power Tools Near Me enlisted under the category of E-commerce marketplace success story.
Create Your Own Hyperlocal Marketplace.

'Power Tools Near Me' created a hyperlocal success story.
Marketplace solutions completely enhanced the appearance and user interface of the 'Power Tools Near Me'. Now, it has an interactive website design with effective navigation that buyers enjoy exploring and reaching their desired products without any complexity. They can filter tools on the basis of price, their sizes, and their names. The marketplace is also enriched with secured multiple payment methods such as VISA, Mastercard, PayPal, and AmericanExpress.
This hyperlocal marketplace website became accessible not only for the admin but also for vendors. Vendors easily utilize it and gain a handsome amount of income from it.
'Power Tools Near Me' has been utilizing the services of Cedcommerce for six months and today it is running as a successful multi-vendor hyperlocal marketplace website having more than three hundred vendors which hint at the wide catalog the buyers have access to. Power Tools Near Me created a hyperlocal success story.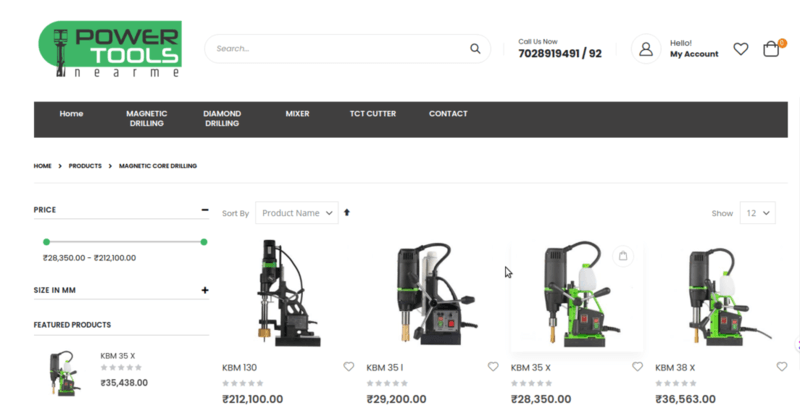 Cedcommerce will help you too.
Reaching out to CedCommerce would be worth spending your time on as it will help you create another hyperlocal success story. Discuss with the team about anything concerning progressive web apps, multivendor marketplace solutions, its hyperlocal and other addons, plugins, your offline business, and Cedcommerce will answer and satisfy you with perfect solutions. Ensure our marketplace solutions spread the word of your successful marketplace story.
Relevant marketplace success stories-
Reformation of Thaimee-d Into A Great Marketplace
The Story of Embouz:One-stop Destination For Buying or Selling Goods
Meet Inkamall, the trendsetter: Not your regular online store!