How to Rank Etsy Products During The Holiday Season
Running short of time? Get PDF of the blog in your mail.

Play Now
Etsy is a great place to sell handmade and vintage goods, but it can be hard to get to the first page of search results.
The holiday season is a great time for Etsy sellers to boost their visibility, and also to make some extra cash. You've worked hard to build your Etsy store and now it's time to take those efforts to the next level.
However, you may be uncertain about how to rank your Etsy products this holiday season. The good news is that it's not as hard as it sounds! In fact, this is the best time to start thinking about improving your rankings. This article will teach you exactly how to do that.

Let's get straight to the topic!
Why should you care about ranking on the first page of Etsy search?
It can be easy to get caught up in the hustle and bustle of holiday preparations, but you should remember that your product ranking is one of the most important factors in your holiday success.
Just ask yourself, how many times have you bothered to go to the 2nd or the 3rd page when shopping online? We're sure the answer is "not many". And this is why it's important to rank on the first page of the Etsy search result.
One of the best ways to optimize your product listings for higher search ranking during the Holiday Season is to use the Etsy seasonal search terms. These are specific search queries that shoppers use to find the products they are looking for.
The fact of the matter is that shoppers who are searching for specific things like "Christmas gifts for Mom", "Halloween gift baskets" or "Hanukkah decorations" will never be able to find your products during the holiday season if you're not using these terms/keywords in your listings.
And therefore it's imperative that you use these terms in your titles, descriptions, and tags.
Why are Etsy seasonal search terms important during holiday sales?
Some of the main benefits of using the Etsy seasonal search terms are –
More exposure due to the high search volume
It is really as simple as that, more searches mean more opportunities to match shoppers' search queries meaning more visibility for your products.
Etsy Seasonal search terms help your products rank higher
Let's say there are two products on Etsy with the titles "Gift For Mom" and "Christmas gift for Mom" respectively, which one do you think will rank higher for the search query "Christmas gift" when Christmas is approaching?
It shouldn't be a surprise that the second product will obviously rank higher because it is using the seasonal search term and people are more likely to be looking for Christmas gifts at the time.
Etsy Seasonal search terms help you rank in filtered searches
Based on a shoppers' search query, Etsy will give them options to filter their search results, for example, based on occasions, style, theme, etc. During the Holiday season, there are filters for specific Holidays.
The products that don't contain these specific Holiday terms anywhere in the listing will not appear in any of those filtered search results which is a lost opportunity. Look at this search result for the keyword "gift for kids", it contains the Holiday search filter.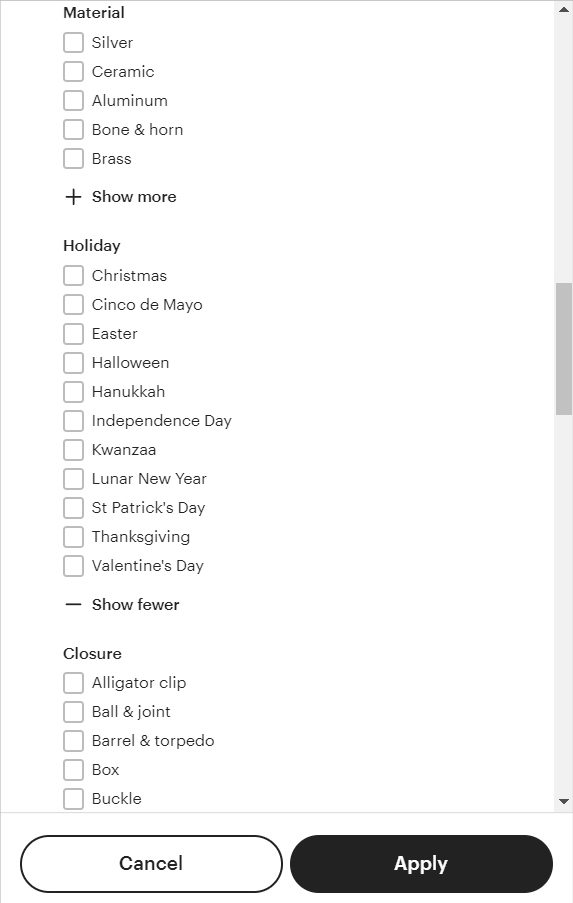 How to optimize your Etsy keywords for the Holiday Season?
Now that you know how important it is to use Etsy seasonal search terms in your product listings, let's get down to the exact process of optimizing your Etsy keywords for the Holiday Season.
Target On The Buyers Intention
Targetting buyer intent is crucial for any form of SEO, but on Etsy, it is much simpler to understand the intent because it is usually focused either on the type of the product, the recipient of the product, or a combination of the two.
In the case of the type of product, you can consider the following factors to be important for choosing keywords for the product listing –
What is the product?
What are the materials used in making the product?
What are the techniques used in making the product?
Who is the perfect buyer for the product?
Does the item fit a special occasion like a Birthday or an Anniversary?
Does the product solve any specific problem?
What is the style of the product?
What is the size of the product?
For example, when searching for "Anniversary gifts", these are the top 4 search results on Etsy, and they all have the exact search term in the title.

In the case of the recipient, people may be looking to buy something for a specific person. For example, "pendant for wife" or "bracelet for sister". So if your product is made for women, you can use these phrases in your tags to target these types of buyers.
For example, when searching for "Gift for mom" these are the top search results on Etsy and all of them have the search term or an LSI version of the search term in the title.
Lead your titles and descriptions with the best keywords
The two previous examples bring us to our next point, which is, ideally, the beginning of your title and your description should focus on your ideal customer.
But this doesn't mean that you can't target more than one customer. You still have the rest of the title, the rest of the description, and 13 tags to target multiple customers.
For example, look at this listing, this seller is primarily targeting customers who are looking for a Personalized Gold name necklace.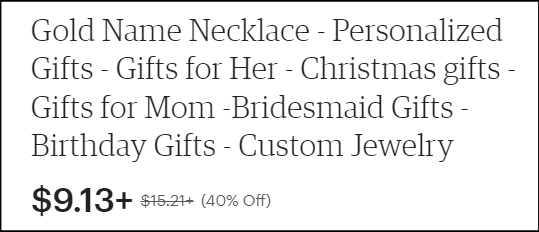 But he/she is also targeting customers who are looking for Christmas gifts, Gifts for Moms, Bridesmaid gifts, and birthday gifts.
This is a well-written title. This seller still has a lot of opportunities to target other customers who are looking for even more specific types of products based on material, size, style, occasion, etc. through the listing tags and attributes.
Specific product categories lead to specific product attributes
Let's talk about product attributes. Etsy allows you to provide certain attributes to your products based on the product category and/or the sub-categories you've selected. This allows you to target even more customers who are using search filters to find a specific product.
Products under the clothing category will have different attributes than that of Jewelry. For example, look at the number of attributes from which customers can filter the search result for "rings".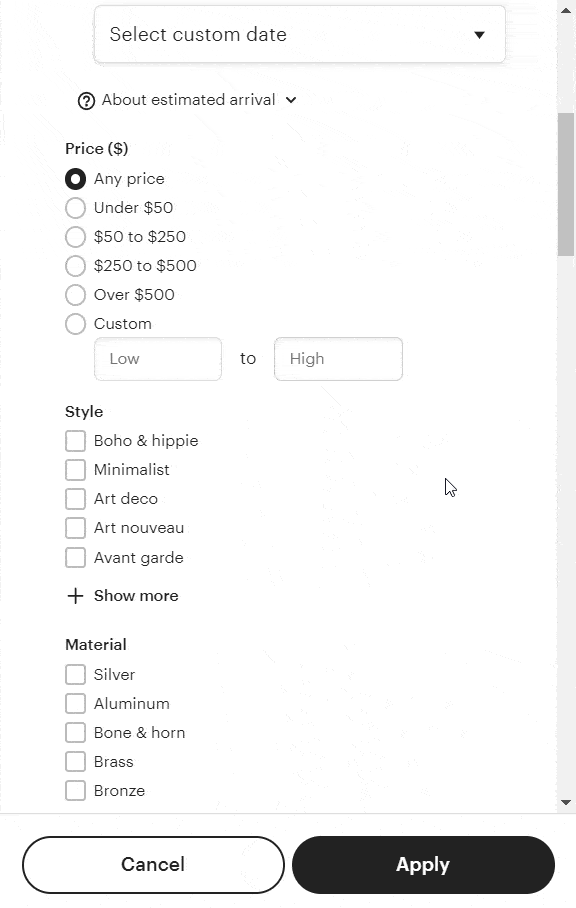 Choosing each relevant attribute for your product is an opportunity to rank on the first page for as many searches as possible.
Take the help of your Shop stats from the previous years
The Shop Stats section of your Etsy Shop is a very good place to find keywords that have brought you money in the past. You can use it to find the exact keywords that have helped customers find your products previously.
You can refer to this guide from Etsy to understand how to use the Shop Stats section.
Focus on customers all around the globe
Some things have distinct names in different countries. For example, a sweater is also called a jumper or a pullover depending on where you live.
Etsy automatically translates the item name according to a customer's location as long as your default shop language and the language of your listings are the same.
Conclusion
The best way to improve your ranking on the Etsy search results is to understand what seasonal search terms are being used by top sellers in your niche. And then you can start optimizing your listing around those terms. Remember that every word you write in your titles, descriptions, and tags is an opportunity to target your prospective buyer, so use them wisely.