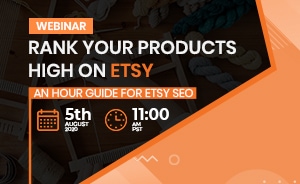 With more than 47 million active buyers, Etsy is one unique marketplace for the artists to sell upon. The growing number of sellers and buyers have made the marketplace more competitive over the years. In this scenario, having your products shown at the top of Etsy Search Results is every seller's dream.
Like any other marketplace, Etsy's internal search algorithm makes sure that only the most relevant products are ranked for a particular search query.
Etsy takes into account various factors, when it comes to furnishing the best results for its buyers' query. Ideally, product listings must be optimised for these factors.
Without the correct optimisation practices, your products are most likely to get lost somewhere in the vast ocean that Etsy is, resulting in less or no sales at all.
Sounds like a nightmare! But don't panic already.
To save you from this, Cedcommerce is bringing you a comprehensive and insightful Webinar on Etsy Search Engine Optimisation. Where in, you'll get to learn about the factors affecting your products' ranking and the correct measures to optimise your listings. And all that for FREE!
What's in there for you?