Rank Top On Search Results Using This eBay SEO Guide
Running short of time? Get PDF of the blog in your mail.

Play Now
Being one of the top eCommerce and profitable marketplaces for online sellers, eBay holds a sacred and competitive place in the eCommerce world. eBay being a competitive marketplace holds great revenue opportunities for SEO-based product listings, eBay shop, and custom pages. This piece of write-up is all about making you aware of the best tricks to rank yourself on top search results. Here we go!
Why optimizing eBay SEO should be a big concern for eBay sellers?
Optimizing SEO on eBay is actually of great concern for any eBay seller. Being a seller on eBay, if you want to make a good sales history and take up your eCommerce venture with utmost seriousness, optimizing your product listings, descriptions, related information, shop descriptions or custom pages is a successful strategy. Below are some reasons why SEO on eBay should be your priority as soon as you start listing your products in your eBay shop.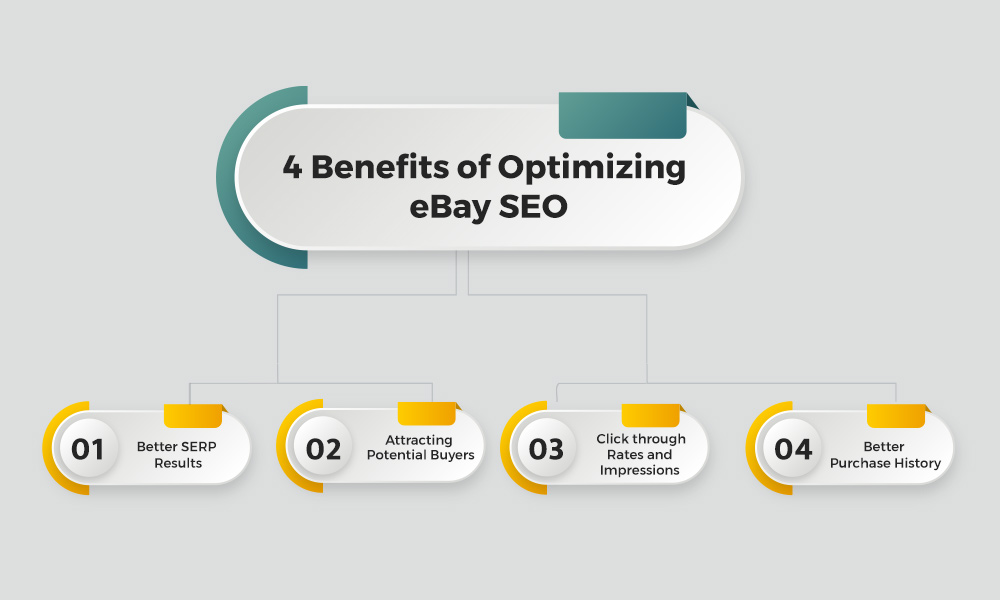 Better SERP Results
Search Engine Result Page plays the most crucial role in determining whether a customer will click on your product or not. Want to know why? It is because your visibility on the first page of the product search result increases your chances of getting clicks. Your online customers are not there for you but for themselves and they would click on whatever is appearing at the top of the list for them.
By understanding the working of eBay SEO, you can improve your visibility on the Search Engine Result Page of the eBay marketplace.
Relevant Products to Potential Buyers
Your potential buyers are there, all you have to do is to make sure you are in front of them when they need you. If you are a good SEO practitioner on eBay, your products will be visible to your potential buyers. There are other factors also that decide their purchase decision (about which we will be talking in a while), however, a good SERP result brings your products in front of the customer buyers.
Click Through Rates and Impression
Your products appearing on the search result increases the click and impression rate on your product listings. This builds a good impression and clicks history and as a result, your identity as a good seller on eBay gets established. eBay SEO/algorithm works on clicks, impressions, purchase/sales factors. But how will you get these factors touched? Obviously, by ranking on the top in the search list.
Better Purchase History
Considering the fact that you have everything in place and are well-coordinated with the demands of the eBay algorithm, your sales history is sure to see a boom. SEO put your product to your niche customers for them to go ahead with their purchase decision. If your product, qualifies the criteria, creating a good sales history is no wonder.
The major point made here is understanding the working of SEO on eBay. To become profitable for yourself and for eBay, as sellers, you must understand the functioning of eBay's algorithm as you understand how Google works.
While Google ranks your website on the below-mentioned criteria: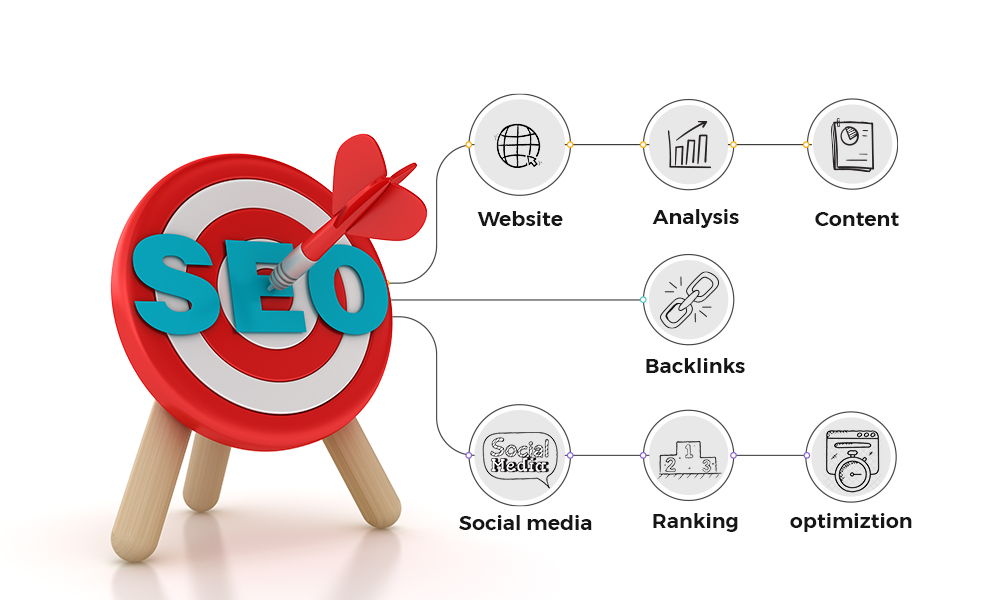 eBay works on its web crawler Cassini that ranks your eBay shop and product listings on several basis. Let's talk about it in detail below:
Top eBay SEO Tricks to Rank on Top Search Results
eBay algorithm, unlike Google or Amazon, has a robust mechanism against list duplicity, keyword stuffing, and detailed sale history of the sellers. Challenging or tricking eBay on these grounds is slowly but surely means losing great sales opportunities.
Some of the best practices that ought to be followed are here: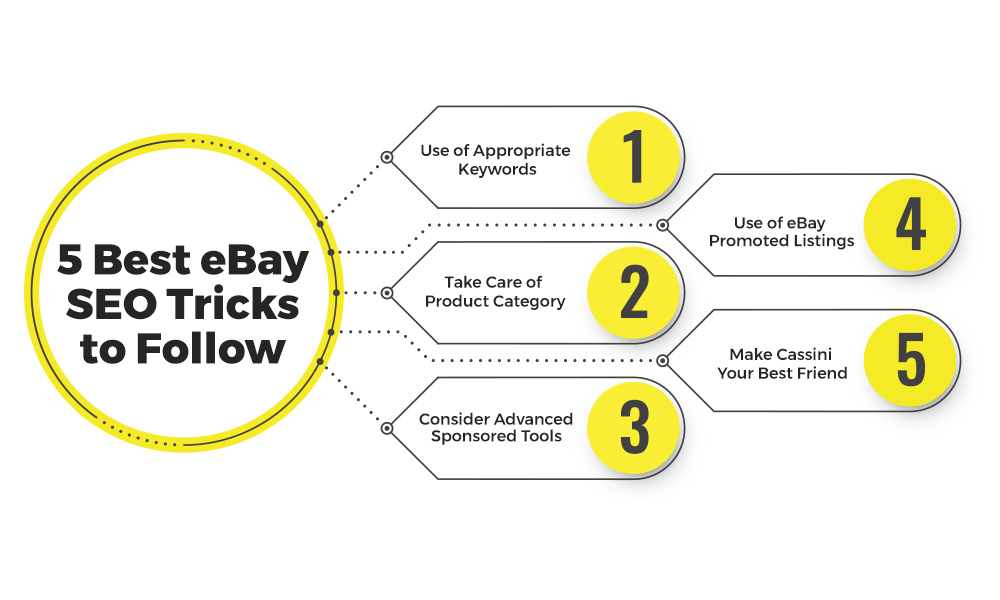 Use of Appropriate Keywords
The use of the right keywords for the right product is primary for any search engine to work in your favor. Using most searchable keywords by potential customers on eBay gives you an idea about what to sell when to sell and how to hook them to the product.
The proper usage of keywords means NO spamming & NO keyword stuffing but just a decent and adequate use of keywords in the product title, product description, Item specifics, and product image descriptions (if mentioned in the image as an infographic).
The use of keywords allows eBay's search mechanism to quickly search for the best products that matched the search or query of the customer. If your title or description holds a keyword that is most searched, your chances of ranking in the search list are high.
Look at the glance below: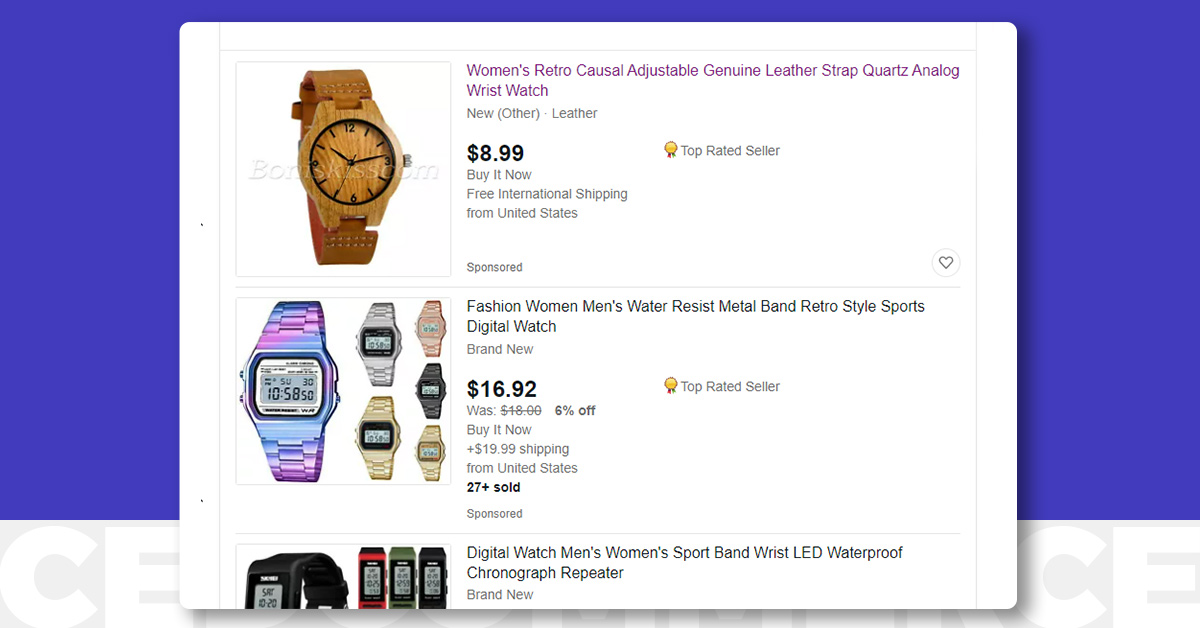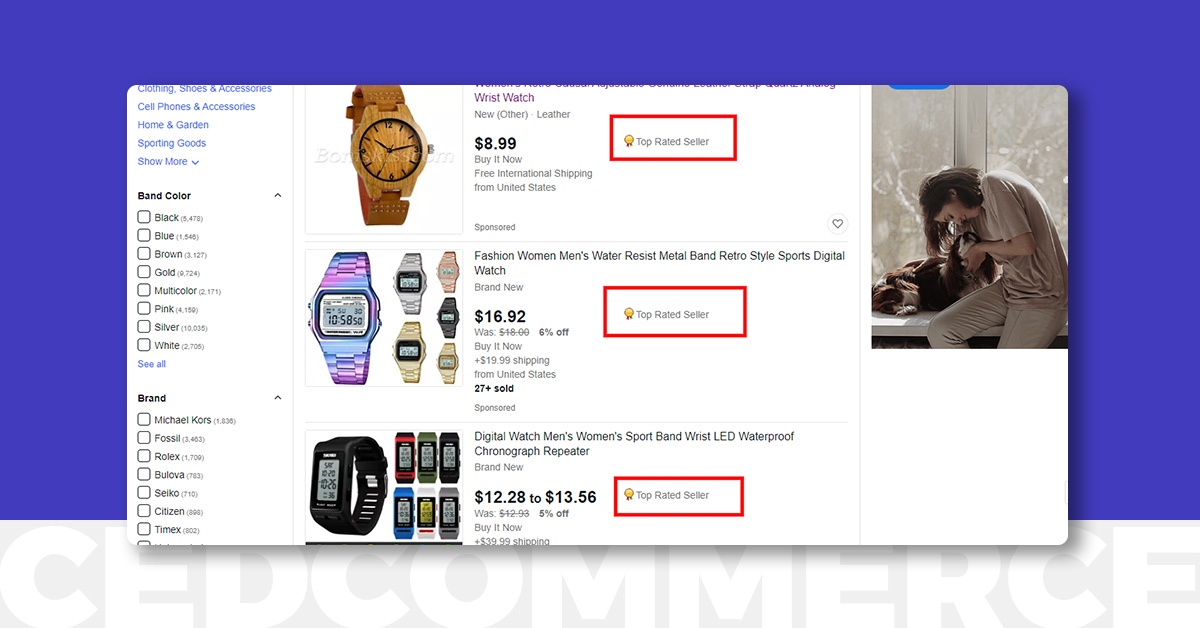 The products listed have the searched keyword 'Women Watch' in their 'Product Title'. These 'Top Rated sellers' as mentioned on the right side, have used the keyword just perfectly to show up in the top search results.
Product Categories and Item Specifics
Your product listing should be relevant to its positioning. The item must fit into the product category it is listed within. This helps Cassini or eBay SEO to show your product to the relevant search query.
This is a white-hat SEO practice. Right categorization of your products reduces bounce rate. This means that customers who click on the product, spend time considering it and leave a good impression history on your product.
Filling all the details under Item Specifics is another aspect that needs sincere attention. Here is how it looks: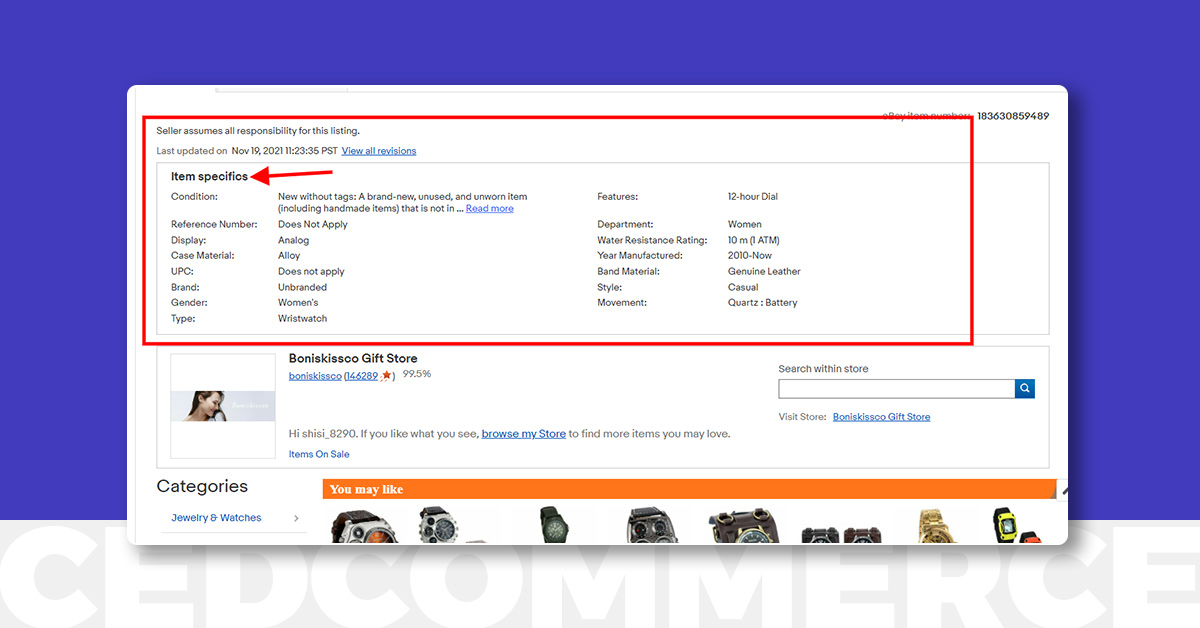 What did you notice? All the specifics were accurately placed, right? This indeed helps any potential buyer to understand what all the product has to offer. A good description also builds the credibility of the product and seller.
Consider eBay SEO Tools
Terapeak is eBay's own Optimization Insight Tool that helps sellers understand what their competitors are doing, how they are doing, and what should be doing to compete. The Terapeak tool also collects data about recent demand and supply statistics according to which you as sellers can know what to sell, where to sell, and who should be your targeted audience.
This Terapeak tool is an extremely helpful eBay SEO tool that is free for all eBay sellers and the data available ranges from basic, premium, anchor, or enterprise store subscriptions.
Use of eBay Promoted Listings
Registering for a Promoted listing feature on eBay can help you immensely in getting your product visible as sponsored listings to millions of active customers on the marketplace. Look at the same example given above. These listed products on top SERP for the keyword 'Women Watch' are ranking as 'Top Rated Seller'. Take a close look and see a tag 'Sponsored' just below every product: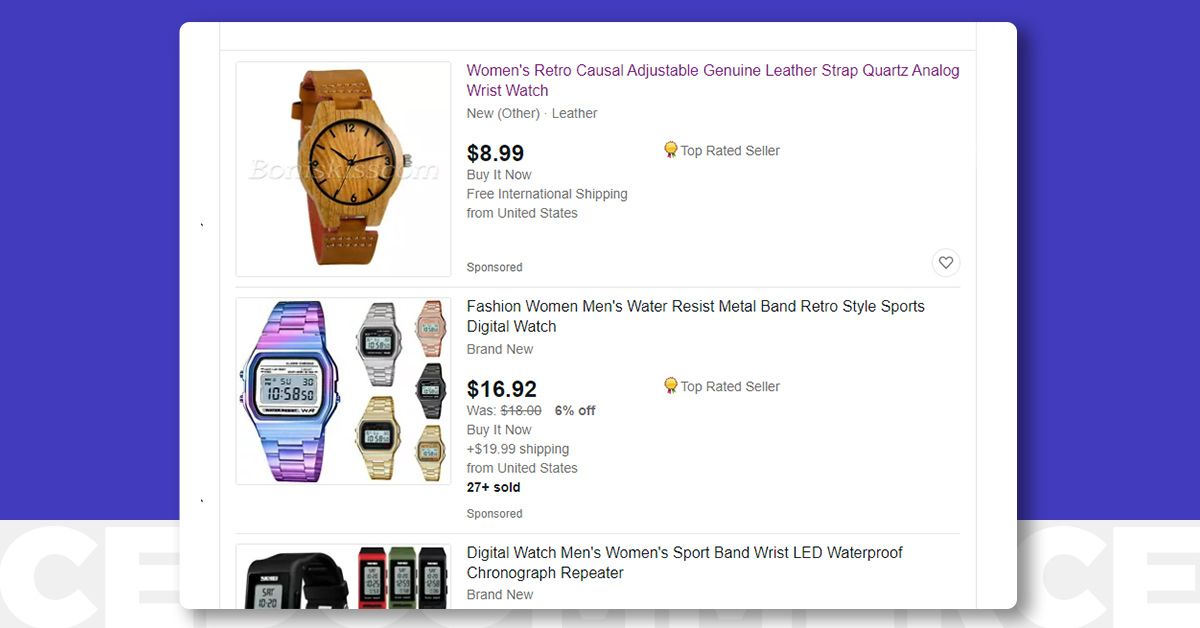 Promoted listing has surely enabled these sellers to rank their product on top besides their good services and other factors.
Naturally, promoted listings have certain benefits like boosting visibility, paying only for sales, guided set-up as in which product to sell and at what cost plus detailed data about your performance metric.
Not to mention, eBay Promoted Listings is one of the master-stroke eBay SEO tricks to get more conversion on your eBay shop.
Make Cassini Your Best Friend
Cassini as mentioned before is eBay's web crawler. Cassini rates your listings on the basis of a sum total of no. of clicks, impressions, commitment, and purchase rate.
Good feedback, accurate product details, attractive product description, timeliness, and proximity of the products to the targeted customers are other major factors that Cassini ranks your listings and yourself as an eBay seller.
Take a look at the seller's sales history and reviews below:
The feedback ratings are primarily judged here on shipping time and charges, the quality of the product, and good communication with sellers or updates. Now take a look at the right side, it mentions 2K+ good reviews and negligible negative reviews. Not just that, you can easily open the feedbacks and read what customers have to say about the seller. These factors help sellers rank well and make generous sales.
However, more bounce rate, bad reviews regarding returns or delivery, etc. , immensely hampers your ranking on the marketplace, often leading to account suspension. Hence, here are two major points to take care of while optimizing your listings, Shop, or custom pages on eBay with Cassini:
What are some best eBay Cassini Tips for Improved eBay SERP?
By capitalizing on these two major aspects, you can easily score up your seller ratings and good reviews on eBay and here we go: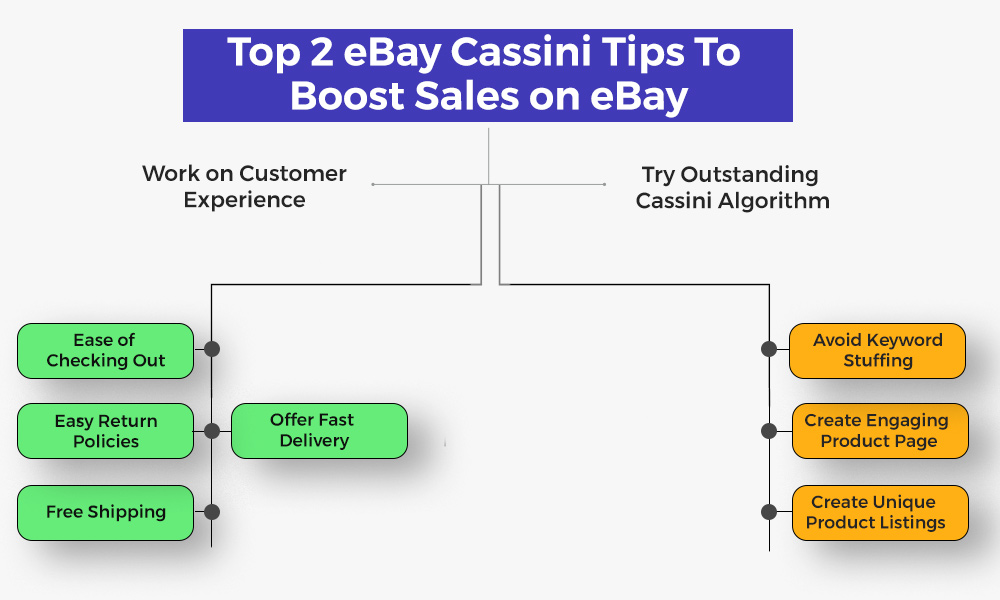 Work on Customer Experience
So, this basically sums up everything. Customer experience is a necessity more than a privilege for any online seller whether selling through personal e-store, single online marketplace, or multichannel platforms to grow and expand in the current scenario. The most important key areas for a good customer experience are:
Ease of Checking Out
Checking out should not be a hectic experience for your customers. As per credible sources, 18% of customers abandon their carts because of the complicated check-out system. Make this crucial checkout experience like a cakewalk for your customers.
Free Shipping
Free Shipping is high in demand. Believe it or not, customers see Free Shipping and are immediately convinced to buy the product. As many as 49% of customers abandon their carts if shipping costs are too high or not reasonable for them. There are various Shipping services provided by eBay to help its sellers boost sales exponentially in all seasons.
Offer Fast Delivery
As many as 19% of the customers will drop your products if your delivery time is too slow or not too fast. Customers have so many options today to get their products delivered the same day or latest by 2 days from the order. Exceeding more days than these, your chances of losing an order increases.
Easy Return Policies
Return policies are post-sale customer service. This is essential when you are committed to your customers and want their Brand Loyalty rather than just a one-time sale.
So what is the best thing to do? It is to never give scope to a customer to return a product on a quality or quantity basis. The exchange might be a no-loss option but in the case of returns, avoiding the latter is the only best solution.
Consider that example again and see how the product description has all the factors to hook the customers to purchase the product.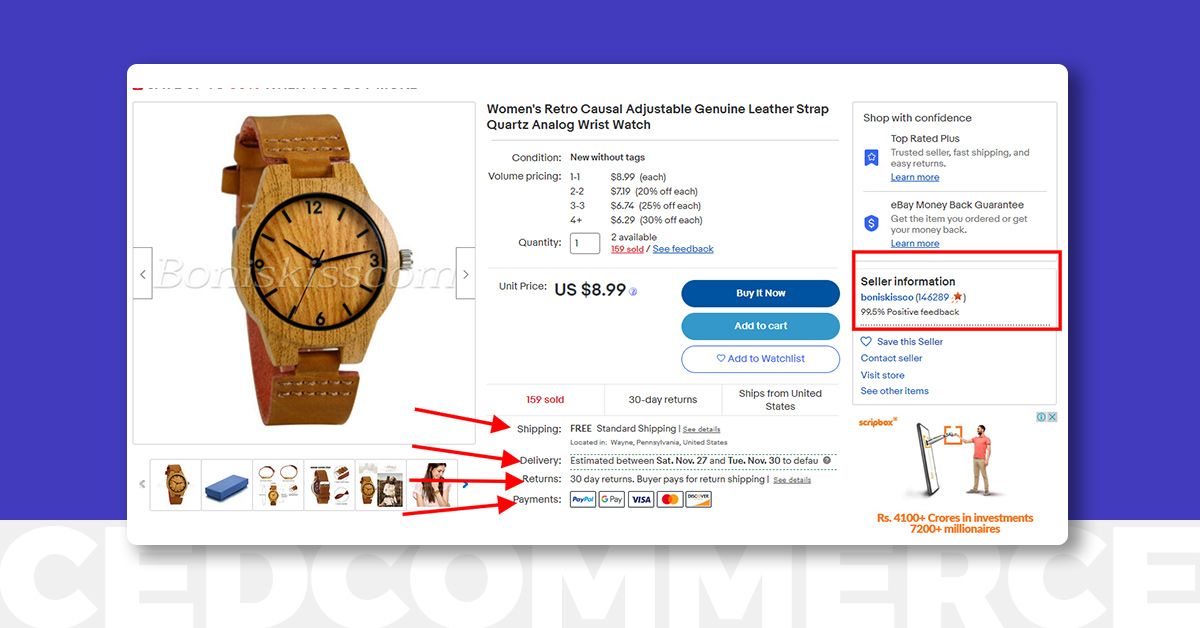 Free shipping, Delivery, Returns, and Checkout everything has been clubbed together to deliver the best customer experience to the customers.
Try Outstanding Cassini Algorithm
eBay's algorithm is far more logical, advanced, and customer-centric compare to Google or online marketplace behemoths like Amazon. With Cassini you need to be careful about a few things:
Create Unique Product Listings
eBay analyses and maintains unique listings from each of its sellers. Therefore, malpractices like duplicating the listing from a high-rated seller can compel the eBay algorithm to lower your ranking.
Try creating a unique product listing with relevant keywords for Cassini to consider your products for a eBay SERP.
Avoid Keyword Stuffing
Just to get your place on the top list, keyword stuffing will be the worst idea you can go with. Keyword stuffing might work for Google for some time in getting a good position on SERPs. However, with eBay, it is immediately tracked and your products are prohibited from ranking better.
Using keywords smartly, appropriately, and adequately can bring more sales and conversions to your eBay shop.
Create Engaging Product Page
As sellers, you are allowed to be more creative with the product page on eBay. For example, you can use more AI/VR concept-based product pages for your customers.
Based on the age group of your target customers; you can easily analyze what can work best for your digital and marketing perspective. In case of searching for the best digital and marketing assistance, you can look up these solutions to help you boost your digital and marketing visibility on eBay.

Final Words
eBay is a prospering online marketplace. The unique idea of selling new as well as refurbished products with bidding systems makes it interesting. Interesting for both customers and sellers globally. By optimizing SEO on eBay SEO tools, you can harness the power of eBay at its best.
With trends shifting to multichannel selling and small plus big brands shifting to more robust digital and marketing automation solutions, CedCommerce can help you at every step. Whether it is app creation, website building, installing AI features, or building the best POS, Shipping, and Checkout pages, CedCommerce has mastered it all for you.
To know more about us, you can directly talk to the experts through Skype or WhatsApp. We wish to hear soon from YOU!