Why do you need to start selling on eBay?
Running short of time? Get PDF of the blog in your mail.

Play Now
Thinking of getting yourself an online presence? Or planning to expand your operation beyond Shopify or other frameworks to extend your domination? In either of the cases, you need a marketplace to initiate the growth. And finalizing a marketplace to get started with, requires much research. After having done a fair share of investigation, it's obvious to point out that eBay has advantages over other marketplaces. If "Why Should I Sell on eBay?" is what you are about to ask or "Is it Hard to Sell on eBay" is what you want to know, you'll have to read the entire piece as everything you seek is in here.
Let's read. Why?
Why start selling on eBay?
eBay has over 183 million users, and the numbers have drastically increased over the past few years. It is the most sought-after marketplace. Taking the U.K, for instance, accounts for over 24 million-plus monthly users. For a country with approximately 66 million population, it means 1 in every three people is using eBay. The stat drawn from the U.K makes it clear, the comparable trust eBay generates in the heart of its users worldwide. Above all, you can sell almost anything on eBay with price having no bar.
Let's dig a little deeper and figure out more reasons to start selling on eBay such that it gives us the optimal results for your listings.

#1. Effortless selling
The advantages come into play as eBay has one of the most simple signup processes you'll ever go through. All you need is an email if the plan is to sell casually on the site. However, suppose you're planning to set up your business online through the eBay sales channel. In that case, you'll be asked a few questions related to your business that won't take more than a couple of minutes for you to fill. Once done, you're all set to start selling on eBay.
The listing process is also simple and takes only a few minutes of your time to get completed.
#2. Low selling fee
When comparing with other leading Marketplaces or another top of the line eCommerce platform, the advantage of eBay is that it charges lower fees. As of August 2020, eBay even went ahead and increased the limit it had previously capped for the free listing.
While you end up paying approximately 15% seller fees most of the premium marketplaces, the ceiling for selling fees on eBay is 10-13% at max, unless you end up listing something out of the ordinary.
#3. No competition from the marketplace
The best part about selling on eBay is that you don't have to worry about getting any competition from the marketplace itself, i.e., their brands that you usually face in other places. eBay is a complete 3rd party marketplace where they don't interfere with the products on sale by introducing their products which turns out to be an advantage for you.
It gives you a healthy competition and a chance to stand out.
#4. Generate more income from the sale of an item
The auction-style listing gives you an option to generate higher revenues for a commodity than the fixed price listing. You will find that eBay lets you set the starting price for the product and add a "Buy It Now" Option. Here you need to enter a 30% increased price than the starting price for the product.
Although most products that get sold in the marketplace get listed under Fixed Price listing, over 85% of sales occur daily.
#5. Sell anything
eBay is not bound by the most common rules that each marketplace follows, like having a maximum selling price or selling a fixed set of products allowed by the respective market. eBay gives you a free hand at selling almost anything that you find worth a new owner. Don't you believe it? A seller once successfully sold a 405 ft yacht through eBay for a whopping price of $170 mn on eBay.
The Auction style for listing your products gives way to get a price for your product that knows no bound. One can sell Property, Cars, and whatnot. You name it, and you'll sell it, as far as you're not selling something that's illegal or is prohibited by eBay.
#6. Trusted marketplace
eBay is one of the top three global marketplaces with a user base that keeps increasing every quarter. As of the 3rd quarter of 2020, it breached the 183 million mark. The constant growth is a testament to the trust that eBay has to offer to its customers.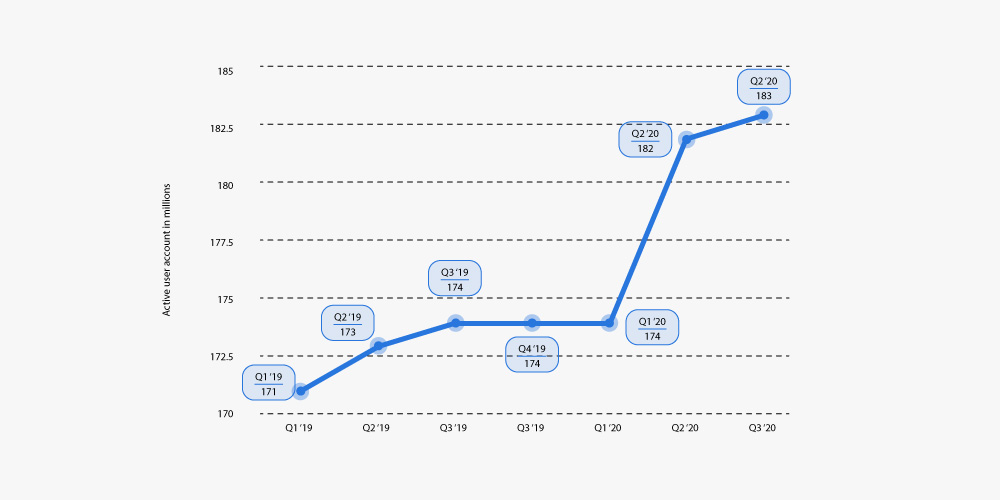 Also, eBay gives its user protection against fraud and faulty traders. That gives the shoppers an enhanced sense of safety while purchasing from the retailers available on eBay.
#7. Almost immediate payment
Unlike other marketplaces, it takes upto 14-21 days to get your payment processed and credited to your account. Getting paid for products you sell on eBay is quite simple and almost instantaneous.
While you have to be patient when you start fresh, eBay may not release immediate payments. As you set your firm foot on the platform, your payments are never late. You also need to watch out for the anomalies in your performance, returns, and feedback to get away from any red flag indicating foul play or lousy service that might result in payment delays.
#8. Shipping assistance
eBay's shipping assistance is the best if you're to sell and ship your product through it. Also, it offers you a wide range of logistics options to choose from to ship your products. The global shipping program eBay offers is a top-notch facility.
All you need to do is ship your product to eBay's central shipping location. eBay then does the remaining hard work of making the product delivered to your buyer.
#9. eBay storefronts
If you're already operating a store using a SaaS-based platform like Shopify or BigCommerce or an Open Source platform like Magento, the concept of storefronts is not new for you. eBay allows you to create a store that will help boost credibility and give you more options.
The advantages of eBay store come with possibilities to promote your products and run campaigns through eMail and newsletters once you start using the eBay storefront.
Things to Watch-out while Selling On eBay
No matter how good something is, you still have to be on a continued watch with certain hindrances in the path to effortless selling. Here are some of the things that you, as a seller, will have to manage.
#1. Competition on eBay
Although eBay doesn't sell any product on its own, it still had over 1.5 billion listings as of June 2020. This alone can make even the best sellers make a run for their money.
What's the solution?
Identify your competition using the eBay search by entering the keywords you want your products to rank for. The best way for moving forward is to exclude broad keywords that are too common and populate the search result. Use a detailed description of the product you're offering. It will give you a result that matches the same product and the sellers selling the same effect, a.k.a, your actual competitors. Now all you need to do is complete your analysis and adjust the prices accordingly for your products.
#2. Inventory management
When you start selling your products on eBay while you are already selling them through your online store. It becomes an uphill task to manage the inventory and look after the orders at the same time. This creates a problem where you can oversell and run out of an item when there's a surge in shopping orders.
What's the solution?
Get an Integration app that can easily manage multichannel sales, make selling hassle-free, and cover every selling aspect from a centralized location. The eBay marketplace integration is the safest way to keep track of your inventory. As among its countless features, it lets you set a threshold inventory limit, which, when breached, will put your product on hold, restricting you from overselling it.
The eBay Integration apps provide the perfect solution respectively for Shopify, BigCommerce, WooCommerce, and Magento stores. It gives you an integrated solution to get started with easy to operate multi-channel sales from a centralized location.
How to start selling on eBay
To start selling on eBay, all you need to do is get yourself an email id that you're going to use for future correspondence with eBay.
eBay lets you register in two different types of accounts based on your selling type.
Personal Account
Business Account
Personal account options provide help to casual sellers. The Business Account is for the entrepreneurs and business owners trying to establish themselves in the marketplace and online business.

So, should you start selling on eBay?
You should. The advantage of eBay is that it has an audience so large that it becomes irresistible to say no to it. Also, lower selling fees and auction-style selling make sure you can sell your products at a lower cost while making the most out of them in terms of profit. Also, do not forget the storefront option eBay has to offer. It provides you with the privilege of upgrading yourself to a brand on eBay and enriching manifolds' trust factor in customers' hearts.
Although managing multi storefronts can be a painstaking process. The eBay marketplace integration is what comes to your rescue in the situation, making things easier and hassle-free for you as a seller.
Have more questions? don't forget to leave the comments below.