How To Use eBay Shipping Service To Boost Holiday Sales
Running short of time? Get PDF of the blog in your mail.

Play Now
Whether you accept it or not, It's October and the battle to make the most out of the fourth quarter of 2021 is all set. It is where your strategically planned out eBay marketing and promotion plan unfolds. While these eBay holiday strategies help you acquire customers' attention, what drives the sale depends on various factors. It's shipping that happens to come out the winner when you have to select just one. Your eBay Shipping can be a kingmaker or a deal-breaker between you and your customers in such a scenario. So, the questions arise,  How to get the most out of eBay shipping services including eBay bulk shipping, eBay free shipping, eBay fast shipping, and many more. 
eBay Shipping Trends
The holiday season is the busiest season for shipment carriers worldwide, and often, people are afraid of delay in orders. We already know we're living amidst a pandemic that's not in the mood to go away anytime soon. And, while people have made peace with the fact, they've also set new trends.
Online shopping, for example, has grown at an exponential rate over the past few months. eBay alone in the COVID-19 era has witnessed an eCommerce growth equivalent to what it experienced in the past ten years.
It means more shoppers are going to make an online purchase this season, which will put the supply chain management under much stress. People are well aware of the delays and flinch even at the thought of delayed eBay shipping services. The dreadfulness too sparks a trend every year.
Shoppers on eBay start purchasing before Christmas arrives to receive their shipments on time. Here's a weekly assessment of Holiday Shipping during the holiday season through various marketplaces and stores like eBay, Amazon, and more.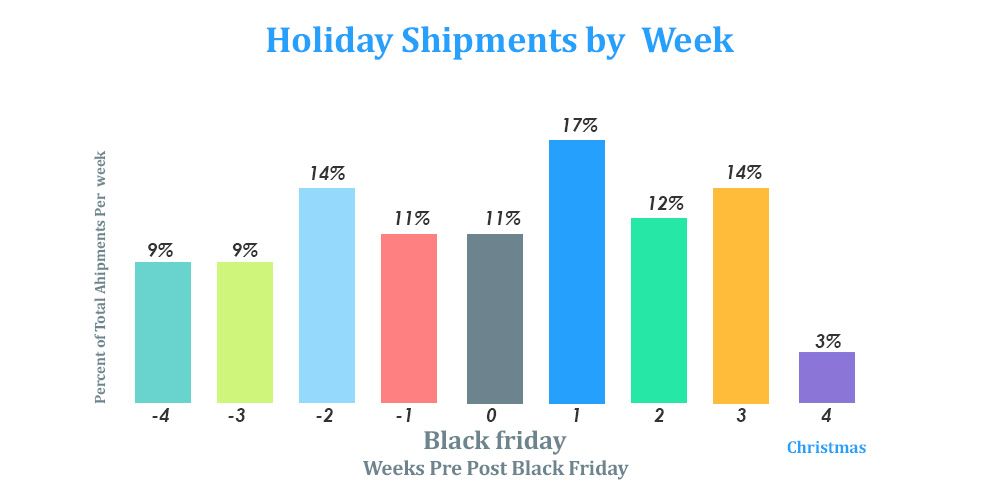 What Customer Desires?
We, as humans, are hardwired to expect quick results from the efforts we put into anything. Every single shopping enthusiast who awaits the holiday shopping season with vigor is no different. As we may call them, the effort they put in or their shipping orders requires to produce immediate results, i.e., Fast eBay Shipping.
While On-time delivery or Fast Shipping fulfills one desire, there exists another; Free Shipping. 97% of shoppers find free shipping necessary, while 92% of shoppers demand fast eBay shipping.
 eBay FREE Shipping: Increase Your Orders
eBay in 2019 experienced a 31% rise in page views when the product was on a discount, which got complimented by a massive 65% rise in order count. Keeping these stats aside, let's focus on an essential part when you decide to ship on eBay, the shipping cost. Whether your customers pay for it or not, the shipping cost needs attention. One can tackle it by selecting one of the following options we discuss below or bundling them up.
Minimum Cart Value
Free shipping and customer satisfaction are great things to have, but it should never come at the cost of your profit. Set up the threshold value of 10% to 20% above your current Average Order Value. If you have the AOV at $100, set  eBay free shipping at $110. It'll increase your margins by 20%-40% and increase the average order value as people love free shipping.
Add Shipping Cost to Product
Shoppers always prefer products with a Free Shipping option even if it costs the same when compared to the identical product at a lower price but with added shipping charges. You read that right. Instead of offering a product at $20.99 + eBay  shipping charges ($2), provide a product of $22.99 + eBay free shipping. It is always a hit among people who are unwilling to go ahead and complete the minimum cart value of $50 or $100.
Using The eBay Shipping Calculator
eBay always says it values its sellers, and the eBay shipping calculator proves it. Frustration gets the best of you when one has to calculate the shipping cost for 100s of products. They have a solution to it. eBay provides their shipping calculator. Here's how you can use it to your advantage.
Once you are in Calculate Shipping, enter the details related to Type, Dimension, and Weights, followed by ZIP and Handling fee. Enter the Destination and click on Calculate Shipping.
Adding any of the two above mentioned options will increase sales while making free shipping the right choice. You can use the eBay Shipping Calculator to get accurate rates while going ahead.
eBay FAST Shipping: Fulfilling Your eBay Orders
eBay fast shipping is what drives the sale. A potential buyer is more likely to confirm the purchase if there's a quicker delivery option available for him. Over 90% of shoppers accept that knowing when their order will arrive plays a vital role in moving ahead with the order confirmation. All you need to do is purchase eBay branded shipping supplies, weigh your package and select a shipping option. eBay offers FedEx, USPS, and UPS shipping services, which befall under top-notch service providers.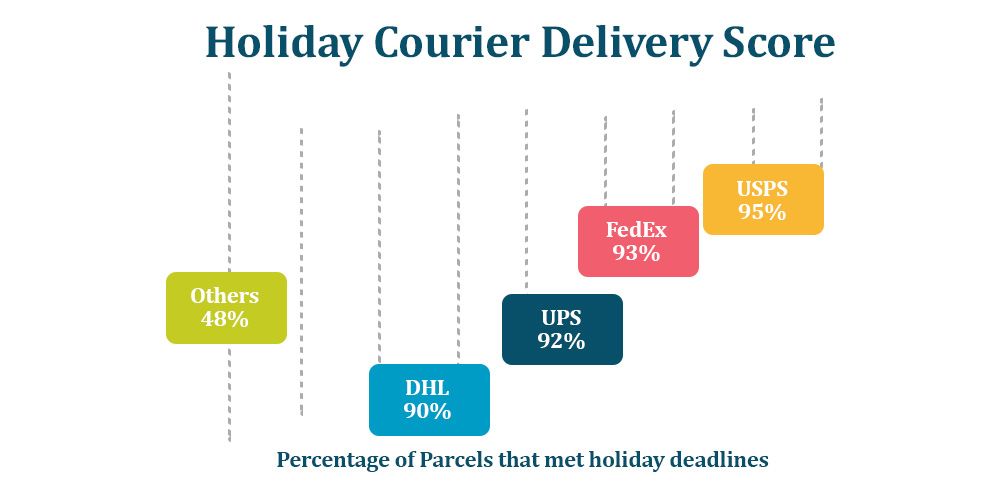 The above 2019 stats show the eBay shipping options to be reliable and worth considering when deciding.
eBay Shipping Service: Planning and Strategizing
Okay, so we know how important eBay shipping service is. But what are we going to do about this information?
Creating a perfect plan and following it when the seasonal sale begins is the way forward.
Centralize Your Multichannel Operations
Working the same job on different platforms is bad for business. When the pressure rises and orders start dropping in, switching between stores and eBay won't do any good. Instead, get an integration app that can look after your inventory and orders. It will help you with fulfilling orders simply and efficiently. The eBay Integration App, for example, can fetch your eBay order and reflect the same on your store on frameworks like Shopify, BigCommerce, WooCommerce, and Magento, and others. It enables you to ship the orders for both one location without having to worry about the other.
Global Shipment Tracking
Excitement and trust are what run the holiday season. Keeping your customers' trust becomes something that needs to be taken care of. Providing something as simple as a global shipment tracking option can make you a much more viable option for future purchases. It happens if you deliver on or before the expected delivery date.
Reduce Handling Time
Reduce fulfillment latency. Reducing your handling time reduces the overall shipment delivery time for the eBay products you offer. It is easily achievable when you start using an integration app. The eBay integration app fetches the order from eBay. It creates it in your store, making sure you acknowledge all your orders immediately as they get placed. The eBay shipping and order status further gets reflected on eBay once fulfilled through your store using the app.

Selecting Your Logistics Partner
A lot goes into selecting the one who'll be responsible for upholding your eBay brand image by providing quality shipping services. eBay offers the best in business USPS, FedEx, and UPS for shipment facilities. Select the one that suits your needs or go ahead with another third party logistics service.
You can opt for a viable eBay shipping option from the carriers below.
Go Global
2021 might not be the year for international travel, but last we heard, you could still sell globally. eBay helps you reach 210 countries with its global shipping; it also covers damaged items or not received. All you need to do is ship your product to Kentucky (eBay's Global Shipping center).
Keep in Mind The Deadline
Offer your services based on the official deadlines cutoff dates shared by the eBay shipping carrier partners for 2021.
Ship with eBay Labels 
eBay labels give an added advantage to your shipping process by making it fast, global and at a low cost. Additionally, bulk shipping also becomes easier, enabling a timely delivery to your customers.  With eBay labels, you are not liable to pay for recurring monthly or annual charges. 
Getting shipping labels printed and shipment tracking all becomes hassle-free with eBay Labels. Not only that, your eBay bulk shipment can be easily taken care of with advanced, low-cost, and comparative price details available under eBay Label services. 
Returns
54% of shoppers expect a good and healthy return policy from the sellers' end. In comparison, 85% of shoppers expect a free return and self-service. You already know where we are heading with these stats staring right at you.
Having a generous return policy is a part of creating that trust shoppers need. While the return policy serves its purpose for genuine issues, opting for a delivery confirmation saves you from getting duped. Almost all the veterans of the eCommerce industry can verify the fact that not all shoppers are saints. Many eBay buyers, after successful delivery, go ahead and claim that their shipment never arrived. That leaves you in the wrong spot. With the entire Holiday season rush and sales, you need to keep your mind off such issues. Getting yourself a delivery confirmation works excellent, while a signed guarantee happens to be the best.
What to Expect From eBay Shipping 
With countless companies claiming that 35-40% of yearly sales come in the last quarter of a year, the shipping and logistics companies bear the load of expectations and on-time deliveries. 2021 is one such dreadful year for the shipping industry. The online shopping trend ensures a considerable surge in shipments for the fourth quarter.
Although eBay Shipping options provide you a list of options to choose from, it's upon you to decide the best eBay shipping partner for your products. In the pandemic struck world, Supply chain management has strengthened itself to serve your needs as a seller, in turn boosting your sales. Sticking to their cutoff dates when offering shipping services on your store can get you across the line safely. Make sure you follow it.
Let's Answer Some FAQ
How long does eBay take to ship?
Ans. The delivery date shown on your listing is the sum total of the time taken in packing, shipping and shipping services chosen by you. Also, the weekend days are not counted in the delivery dates. Depending upon the distance and shipping partner chosen, your days of delivery is calculated. 
How to ship large items on eBay?
Ans. With eBay shipping services, shipping large items or shipping items in bulk is hassle-free. Under eBay Label services, you can easily choose your shipping partners depending upon your package size and service needs. 
How to get free shipping on eBay as a seller?
Ans. There are certain requirements you need to fulfill to be eligible for free eBay shipping message on your listing. Also, the free shipping privilege is limited to US region as of now.  In case, you are not shipping in US region but want to offer free shipping to attract more buyers, here is a trick. You can add the shipping cost in the price of the product and offer free shipping to the customer. Make sure your product still remains competitive and budget friendly for the customer.   
Is it possible to deliver faster shipping on eBay to get more customer ?
Ans. The delivery dates shown on your listings are the sum total of your packing, shipping and delivery services you offer on that particular product. Having said that, you can choose for Express delivery services for our items and can choose between overnight, same-day or one-day delivery options on your listing. 
Learning Points
While the pandemic has made businesses shift to online, eCommerce has witnessed a massive boom. Although it has led to a strain on the logistics and supply chain systems, the customers' demand continues.
The Holiday season is going to be a testing ground for already pressurized Shipping carriers. You being a store owner, needs to make a plan and select the eBay shipping options that can provide you the assurance your customer needs. Integrating your multichannel operations becomes a must to ensure seamless operations. It helps reduce handling times and makes order fulfillment easy by manifolds.
More From Author: