Prep Up Your Content Marketing Trends For 2022
Running short of time? Get PDF of the blog in your mail.

Play Now
Content marketing is the essence that brands need to build the right audience and succeed. Without content marketing, it's not easy to grow an email list, boost sales, increase conversions, generate leads, and more. According to the Content Marketing Industry analysis by Research Dive, the global market accounted for $36,786.6 million in 2018 and is expected to reach $107,540.6 million by 2026, increasing at a rate of 14.3% CAGR. Since the future is so strong doesn't it make sense to invest or follow some important content marketing trends?
Hence making it imperative for brands to start optimizing their content marketing strategy to be one step ahead of their competitors. Let's dive into some of the content marketing trends that are quintessential to follow in 2022.
Scale Up Your Brand Visibility With Content Marketing.
Repurposing Content
The first content marketing trend to boost user engagement in 2022 is repurposing content across different channels. Repurposing content enhances your online visibility, saves time, and exposes you to a new audience.
This is a way of repackaging your content into a different format. For instance:
Converting blog posts into newsletter content or ebook
Webinar to video tutorials
Research to case studies
Interview to expert advice ebook
Slide show to an infographic
Using interesting statistics as a Twitter post
In 2015 Matthew Woodward(SEO professional) showed how effective repurposing content could be. He used LinkedIn for driving subscribers with content repurposing. His content marketing strategy included repurposing old content that was featured and creating follow-up articles to his most popular content.
As a result of reusing his most popular content, Matthew Woodward snagged over 300 new subscribers at a 76.15% conversion rate. Using LinkedIn, Matthew Woodward was able to expand his audience reach.
User-Generated Content
User-Generated Content(UGC) continues to top the chart list for content marketing in 2022. According to the State of UGC 2021 report, 93% of marketers admit that people trust content created by consumers more than content created by brands. People trust people; so, how do you take advantage of such a content marketing trend?
You get free content
It gives the feeling of personalization to users
Provides social proof
Attracts users to your brand
UGC is an excellent way to draw your consumers deeper into your website by providing them with new content that they are interested in and likely to trust. What's next?
Since your website is experiencing good traffic, it means that your customers are interacting with your content a little more than they used to be. Thus, accounting for a better UGC and analytics. Using these will enable you to understand what your consumers want and what you can do to create better and relevant content; hence, resulting in a good SEO rank on Google.
What can you do with User Generated Content?
Re-share your customer's reviews
Repost customers photos
If they tagged you then reply
Social media comments reply
In short, acknowledge every possible happy customer.
Creating Content Communities
Speaking directly to your community with content and learning about your audience is the best way to get noticed. With 2.4 million e-commerce stores globally, you need a marketing strategy that focuses on building a community based on content creation and sharing. Building a content community can be seen as a content marketing trend in 2022. Because it will provide you the following benefits
Help build a social media presence
Creating content around your brand and interacting with each other will help improve SEO
Increase brand visibility with community contributors
Brands will want to collaborate with you(for guest blogging)
Networking opportunities
Build strong brand reputation
Analyze and extract data
Building a content community will help you discover new topics to create content around what will benefit your community. As a result, it will make the community feel valued, and you will create a positive impact on your audience engagement.
Focusing On SEO
Search Engine Optimization(SEO) is the key to creating high-quality content and can never go out of style. As a result, it becomes essential to narrow down your keywords, focus on your niche's target section, and create content around that subject.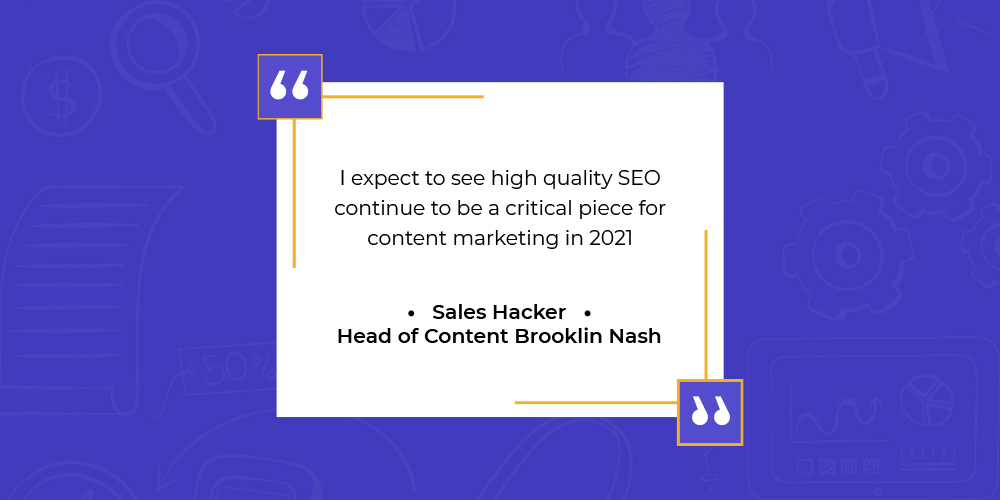 Long-tail keywords are prevalent due to their less competitive and more specific nature. Further, using long-tail keywords for creating content makes it easier for Google to rank your content. The good news for marketers is to get organic traffic to their online stores. Thus implying that you need a solid SEO strategy to narrow down your keywords and rank your content.
Social Media Marketing
Social Media is the place where you need to invest your time for a longer run. With over 3.96 Billion people active on social media, it is the place to develop brand awareness and interaction among your target audience.
Besides, if you happen to conquer this place, you might actually form meaningful relationships with your audience. It is the most cost-effective and fastest content amplification tool that cannot be ignored.
As one of the content marketing trends, social media allows you to find your social tone and maintain brand aesthetic with your content efforts. Thus ensuring that your brand personality and message stand out. Social media at 87% is the most common content marketing delivery mechanism. You can use it.
Supercharge Your Social Media Marketing.
For effective social media marketing:
Use Hashtags, when you use popular hashtags, reach increases.
Social Topics, don't be insensitive to what is happening around you. People like brands that take a stand. #Blacklivesmatter
Use in-app updates. Facebook Live, Instagram Live, reels IGTV post, Mobile friendly content since people use social media on phones.
Use Facebook and Instagram pages for selling your products, link them to your shop
The confluence of content marketing and social media has given rise to social media marketing.
For example, Starbucks has brought up some very engaging and interesting social marketing strategies through its campaigns. Video content and visuals have always had an appealing effect on users.
A similar thing happened when in 2019, it launched the #ToBeHuman story series where its employees mention uplifting and personal stories.
Other such social media content marketing campaigns include, 'Red Cup Design Campaign, Extra Shot Of Pride, etc. Hence you can effectively market using your social media platforms and achieve the desired results for your business.
Check Out: How to grow your Facebook Business Page?
Give Priority To The Visual Approach
Visual content has a higher impact on the human brain than written content. According to PR Daily, articles/blogs with visuals receive 94% more total views than those without visuals. The reason? Creative visuals are more appealing to the human eye and enable brands to connect effectively.
Visual content is a powerful tool due to the following reason:
As per Social Science Research Network, 65% of people learn through visuals. They understand better videos, images, and other visuals than written words.
It makes sense to use content types with which people have an innate psychological resonance. If you can produce high-quality visual content which appeals to the people and promote it regularly; the reputation and brand awareness of your brand is sure to skyrocket. Below are a few types of visual content that you can consider
Images
Screenshots
Presentations
Memes
Videos
Infographics
Featuring Video Content
With 2,240 million users, YouTube is the most visited website after Google worldwide. Besides, Tik Tok has also become the fastest-growing platform. People are also adopting Instagram IGTV, Stories feature, and Reels. 
People prefer video to written content. A well-thought video can work wonders when combined with well-composed content. Videos are easy to understand and convey the thoughts of the person, organization, and brand in a swift manner.
Video marketing is a convenient way of engaging with audiences with more interactive approaches and concepts. The impact of video content will continue to pace up in 2022 as an efficient content marketing trend.
Check Out: How To Set Up A Perfect Video Marketing Strategy!
Personalized Content
Numbers don't lie, personalization is what consumers want. Around 91% of consumers like to shop with companies that give them personalized recommendations and offers. And nearly 71% of online customers are annoyed when web content does not cater to their interests.
Every shopper who visits your website is at a different phase of their buyer's journey. Your content should target their needs and compel them to take the next step.
Therefore, a good example would be a shopper that comes to your site to discover more about the new home decor ideas. When they come back to your website, you could offer an e-book presenting tips on selecting and a checklist for revamping the home. Everyone loves a personal touch; try leveraging personalization as a part of your content marketing strategy
The Growing Demand For Podcasts
Lately, podcasts have become very popular. This is because it holds great potential in regards to content marketing strategies. But, that is not all, they are also informative and provide a platform for a wide range of knowledge transfer. For this reason, more businesses and entrepreneurs are targeting this space.
According to reports, there were 48,000 podcast episodes as of April 2021. The number has grown since then and has surpassed 2,000,000.
Why have Podcasts been able to gain so much traction? This is because they are a personal way of reaching your audience. This space provides you the platform to share your stories and present the positive aspects of your niche. Since they are personal and connected, they can leave a huge impact on your audience and add a few brownie points. So, it is necessary to use a voice tone that will align with the right audience.
Account-Based Marketing (ABM)
The market has been changing every day and with that, we need to update ourselves too. We are all aware of the Marketing funnel (TOFU, MOFU, BOFU) and mostly all the businesses have worked on the same model for a long time. But, the traditional strategy has been altered now and the focus is now more on account-based marketing.
What is account-based marketing? Simply put, it is an approach where the sales and marketing team together target specific best-fit accounts for their niche rather than putting out generic content. 
Marketers have been fighting for potential customers over time. This is because of the abundance of information available now. As we know capturing the audience has not been the same and to show your expertise and specialization you need to build content that resonates with the accounts you are targeting. 
How will ABM help you? it will help you prioritize your Return On Investment, Not waste resources and since you are targeting specified accounts the engagement will not hamper. It will also sync your marketing and sales team together and help in better efficiency.
Double-Up Content
Doubling up content is an effective content marketing trend that you should be applying in 2022. Go back to the old content and add visuals and infographics wherever you can. Yes, this exactly is doubling up content. 
For example, if you are explaining the sales funnel to your audience, a small infographic or visual will help your audience understand your intent better. 
Adding these little but important elements will make you stand out from your competition and will keep your leads engaged because you are delivering a unique experience and outranking your competitors.
The elements that can fall under double-up content are Videos, Graphics, Infographics, and gifs.
Optimizing Your Content For Voice Search
The statistics show that 44% of the U.S uses voice assistants for retail purposes. The numbers are only increasing with time. So, if your content is not optimized for voice search you may lose on the creamy layer.
How do you optimize your content for voice search? You need to understand a few rules. Voice searches are more conversational and hence you need to target long-tail keywords and keep the tone of your content in alignment with the voice searches.
For example, for this blog, the audience will type " Content marketing trends 2022″ but when they are saying it they will be more elaborative and it will change to " What are the content marketing trends of 2022″. The factor of What, When, How, and Where become important.
It is also to be noted that the audience asks direct questions when we talk about voice search. So, you also need to give direct answers to the queries. This will give you a chance to take a place in the featured snippet.
The next thing to be considered is using filler words. This is because in a conversational tone people tend to use words like on, of, the, for, to hence it is essential to use them for being visible to your audience.
To Conclude 
Digital Marketing is growing and the content marketing trend is evolving with time. To stay ahead of the competition, you need to get better with your content marketing strategies. These content marketing trends will help you connect with your audience and ripe the opportunities for content marketers. So, when planning your content marketing strategy, keep these content marketing trends in mind.
In case you are feeling lost and overwhelmed with the nuances of the digital world, we at CedCommerce can help you in planning your content marketing strategy. You can count on us, just like our customers.
Scale Up Your Brand Visibility With Content Marketing.