Power up your Sponsored Ads with Keyword Bidding on Walmart
Running short of time? Get PDF of the blog in your mail.

Play Now
Bidding for the right keywords is essential on Walmart to make your products appear in front of more shoppers. This is because the right set of keywords help to enhance your products' visibility on the marketplace. And hence when done properly, it can boost conversions on Walmart. So if you have questions like what is Walmart keyword bidding? How to bid for the right keywords on Walmart? No more worries! This blog will answer all of that for you.
Let's move ahead and learn all about keyword bidding at the Walmart marketplace and how to make the most out of it.
What is Keyword Bidding on Walmart?
Keyword bidding is a strategy that helps you target specific keywords your customers use to search products on Walmart. It helps you rank your ad at the top of relevant search queries. You can decide which keywords you want to target and bid for the same. It's a great way of improving the discoverability of your products on Walmart.
Let's understand it with a real-life example:
Suppose a shopper goes to Walmart.com and enters "blue trousers" into the search bar. This will result in a search page listing all the sellers selling blue trousers on the Walmart marketplace. When you run a sponsored products ad for the blue trousers and bid for the keyword "blue trousers," it gives you a premium position on the search results page on Walmart.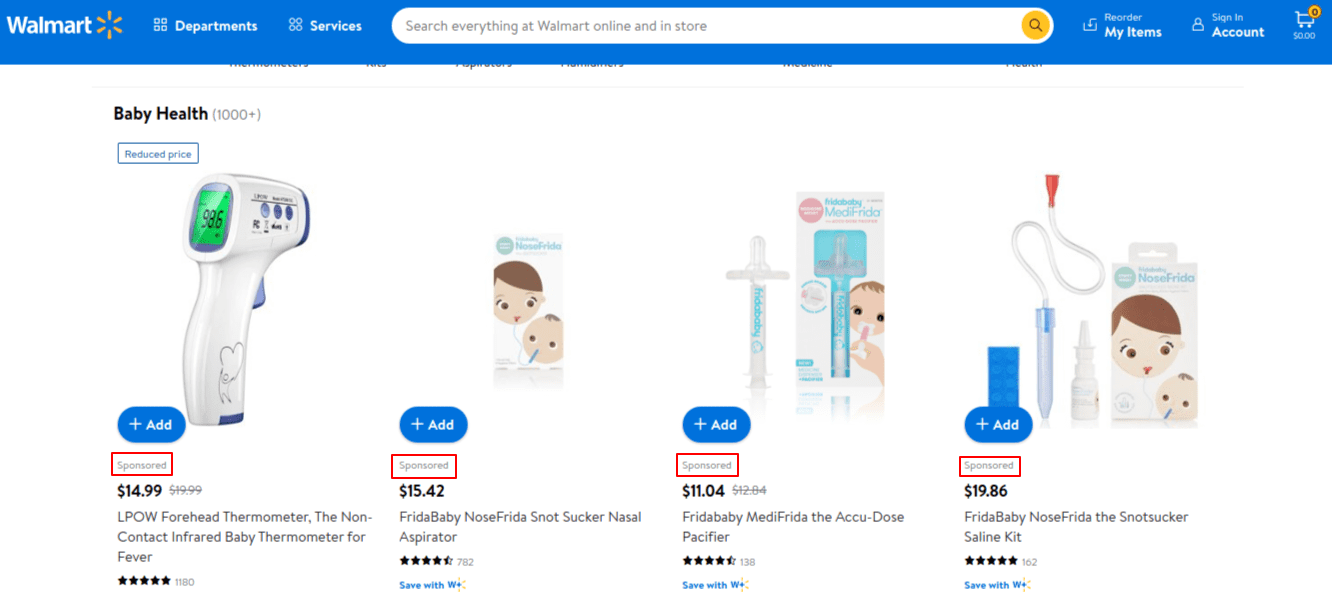 Source: Walmart.com
The tag sponsored product appears for such products that gain this prominent position in search results on Walmart.
Keyword bidding for Advertising on Walmart
Walmart has introduced keyword bidding for the Walmart-sponsored products program. This sponsored ad program helps you make your listings stand out under relevant searches. The key advantage of this sponsored program is that you only need to pay when your ad performs well on the marketplace.

Advertising campaigns on Walmart
Walmart offers two types of campaigns, and you can choose the one you like:
Automatic
Automatic Campaigns are campaigns where Walmart determines when to display your sponsored products. Walmart fetches keyword-specific information like title, description, category, etc., to determine when to show your products in search results. Walmart also sends you a report of search queries that lead to conversions using automatic campaigns.
But these auto campaigns are a good way to discover the ways customers search for the products you sell. With the help of auto campaigns, you can discover the words your customers use, which leads to conversions on Walmart.
Manual
Manual Campaigns are campaigns where you select the keywords you want to bid on. Walmart provides you with a list of keywords, and you can choose the ones you want to bid on. You can get a maximum of 220 keywords from Walmart. But remember that you can use the keywords from the list provided and not from outside the list.
Keyword Bidding: Restricted to the Campaign Level
Walmart.com enables keyword bidding only at a campaign level. As a seller, you can group as many products as you want into a campaign, but Walmart recommends going only with a maximum of 30-50 products.
You need to create a unique campaign for each item you wish to advertise. The reason to put only one item into each campaign is to maximize your control over how you bid.
How much is the budget required?
You need to include a minimum of $1,000 minimum campaign spend and $100 per day. The unused budget is carried over. So out of the daily budget of $100, if you spend only $25, the remaining $75 gets carried over for the next day. So for the next day, you will have a budget of $175.
Walmart Keyword Bidding: Some known best practices to try
Below are some keyword bidding best practices that can help you accomplish your advertising goals on Walmart easily:
Organize ad groups by brands, product categories, related keywords, and top sellers.
There should be 20-50 SKUs with similar attributes in each ad group.
The ad group with the most potential should be assigned a maximum number of keywords and try to bid higher for those keywords.
Generate keywords using the top-selling SKUs.
Use the suggested keywords tab to start with the keywords.
Discover new keywords using the broad match keywords.
Keyword bidding is not recommended for new products that don't have historical data.
What Are Walmart Sponsored Ads?
Walmart's sponsored ads are based on the bidding system. Sellers bid on a set of keywords, and for each click on their ad, they pay Walmart a fixed amount. Walmart sponsored Ads enable bidding for keywords based on these three match types:
Exact match: Ads show up when the search query matches exactly with your bidded keyword. If you specify a keyword as shoes for women in the exact match, it may display ads with keywords like shoes for women, shoes women, women shoe, women shoes, shoes for a women, etc.
Broad match: Ads appear when your bidded keyword is present anywhere in the search query. If you specify a keyword as a blue shirt in the broad match, it may help you display ads with keywords like printed blue shirt, shirt in blue, etc.
Phrase match: Ads show up when your bidded keyword is present in the search query in the exact order you specified. If you specify a keyword as mobile cover in the phrase match, it may help you display ads with keywords like blue shirt and holder, mobile cover and tempered glass, etc.
To Sum Up
Bidding for the right keywords can help you reach the right customers. The proper selection of keywords for bidding on Walmart can quickly help you accomplish your advertisement goals. The more suitable keywords you select, the higher will be your product's chances of ranking.
For any help on selling on Walmart, CedCommerce is there to help you out. With the experts, you can optimize your Walmart listings and improve your online visibility on the Walmart marketplace.