Listing Optimization: How to optimize your Walmart Canada listings in 2022
Running short of time? Get PDF of the blog in your mail.

Play Now
Quick Brief – Walmart Canada is a curated marketplace with an average of 600,000 daily visitors. With the ease of onboarding, especially for the Walmart Us sellers, selling on Walmart Canada is a lucrative idea for serving an enormous customer base searching for the products you sell. When selling your products next to the wide assortment sold on Walmart Canada, it is vital to keep your Walmart Canada Store Listing optimized for shopping trends among the shoppers and growing competition among sellers. Therefore, with this blog, we present the constituents of a great Walmart Canada Store Listing, Top 5 facts about selling on Walmart Canada, and most importantly, solutions on how to optimize your Walmart Canada Listing in 2022.
Contents: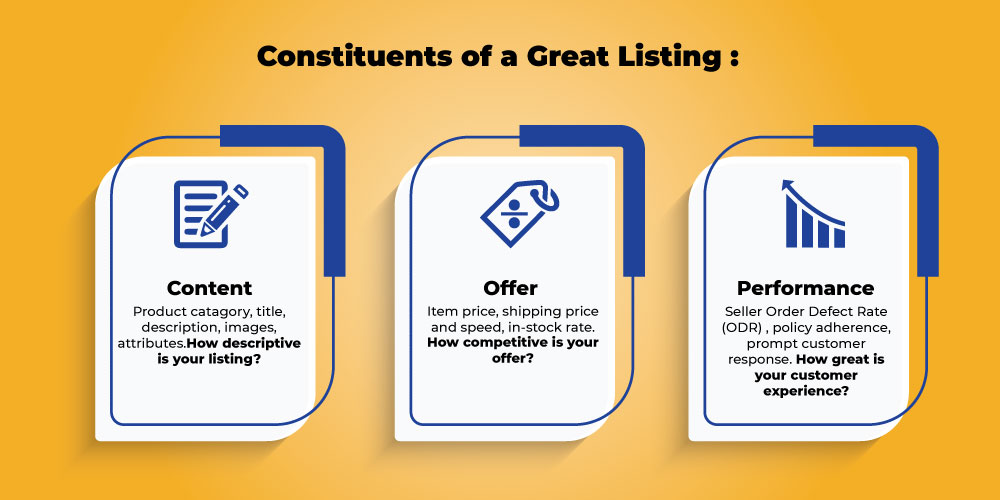 How to optimize Walmart Canada listings in 2022?
When you have a 600,000 customer base to serve, just getting your item listed on Walmart Canada isn't enough. So, the only question arises, How to optimize Walmart Canada listings in the year 2022? 
To answer this question, below listed are practical solutions to help you optimize your Walmart Canada Listings in 2022:
Provide A Clear and Concise Product title
To ensure perfect readability, a 50 to 75 character long product title does the magic. A more extended product title limit may miss out on ranking higher on the search results. This word count seems too low as Walmart is very particular about the product information to be shown to the customers.
An ideal product title = Brand Name + Size Group (if applicable) + Defining Quality + Item Name + Style (if applicable) + Pack Count.
Consider the following points while writing a title description
Keep the title within 50 – 75 characters.
Try to provide a creative name for your product that other sellers haven't used.
Don't use special characters or symbols.
Incorporate a few good attributes that describe your product.
Include the primary keyword for your listed product.
Optionally insert the color in the title If your product's color is something that buyers are more likely to look for. Avoid in case your item has a variant group.
Product Shelf Description
This section is a synonym of the "highlight part." In this part, Walmart permits sellers to highlight their products' three most important advantages. If you missed out on the title, you could always put your keywords in this part.
Consider the following points while writing a Product shelf description
List 3 to 5 bullet points stating the crucial benefits of your products.
Add at least 1 or 2 keywords.
Add an ample amount of understandable product-specific information.
Make every bullet point precise and straightforward.
Avoid repeating the information.
Do not stuff the keywords unnecessarily.
Avoid grammatical errors.
Short Product Description
The short product description is referred to as the short product description that appears before or after the shelf description. A short description ranges from 500 to 1000 characters describing the item most appealingly. Make the optimum use of this section with the generous word count that customers are most likely to look for.
Consider the following points while writing a Short Product description
Do not forget to incorporate the brand name, product name, and potential keywords. Don't stuff the keywords. Use them in a way that appears natural while reading.
Try to win customers' trust with interactive content.
Clearly define the product's features in an 8-10 line paragraph.
Avoid any grammatical or spelling errors.
Use simple and understandable language.
Do not copy the product description from other websites.
Keep your description appealing yet unique.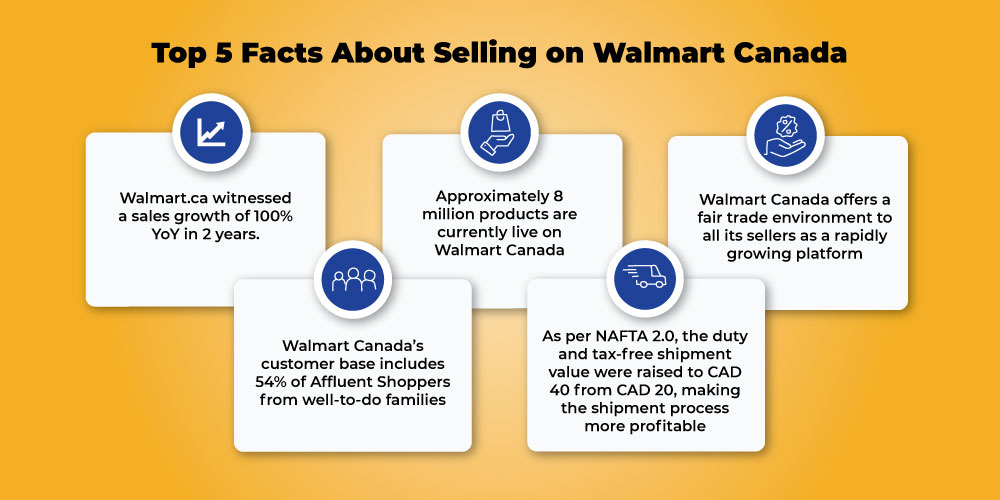 Product long description 
describe the product in-depth. Product features list provides you the freedom of writing a paragraph of a generous amount of 250 to 300 words. You can quickly bring this section to your advantage and highlight some tips or facts about your product.
Consider the following points while writing long descriptions
Keep the word limit of this section within 250 – 300 words.
List all the benefits and features of your product.
Use product's synonym keywords (if any).
Use 1- 2 keywords.
Avoid any spelling or grammatical errors.
Use bullet points to write the description.
Use facts and figures to depict your expertise.
High-Quality Product Images
Pictures play a significant role in the eCommerce world as they are responsible for 50% decision-making of buyers. This makes it vital to upload high-quality images. Adding attractive, high-quality images helps in enhancing the product's authenticity. It is so because the buyers cannot physically touch the product and highly rely upon what they see in the image. Adding multiple photos of the same product from different angles increases conversion rates. Uploading multiple high-quality images gives buyers the idea of what they can expect from your product.
Consider the following points while uploading product images:
Attractive, high-quality pictures attract potential buyers.
Do not use boundaries for your product images.
The images should be professionally photographed with good angles and lighting.
Do not show accessories other than your product that you are not selling along.
None of your product images should violate Walmart's Trust & Safety standards. This specifically applies to products like CDs & DVDs
Do not use images that contain illustrations, watermarks, logos, graphics, texts, or overlays.
Use the white background of every image.
Product Attributes
While searching for a particular item on Walmart, product attributes appear on the left-hand side. Walmart helps you in defining your product attributes with over 24 categories. This is one of the most vital pieces of information for the buyers as they can filter attributes to search for the product of their choice. But, do not forget, your products will be visible in the narrowed filter results only if you mention the critical term as an attribute.
Consider the following points while adding product attributes:
For better ranking, add relevant attributes to your product.
Do not select the "Other category." It decreases your product's visibility.
Also, read:
Competitive pricing
Once your product is presented as per the aforementioned vital factors, the following criteria for the top ranking of your product will be its "price." Competitive pricing for your product helps it win the buy-box and maximize sales. The "inventory report" shows the price quoted by you versus the Walmart buy box winners. This data allows you to know where your product stands in the competition.
Work to gain positive product reviews.
At last, customer reviews are also vital for ranking that can make or break the sale! Therefore, Positive feedback help in building credibility for your product and improving your rankings. After every sale, try to reach out to customers and ask them to leave their reviews on your product page. Do not forget to reach out to unsatisfied customers and address their problems.
Ensuring on-time delivery of the product is proven fruitful in gaining positive reviews. On the contrary, late shipping adds negative reviews on your products, creating a negative impression overall.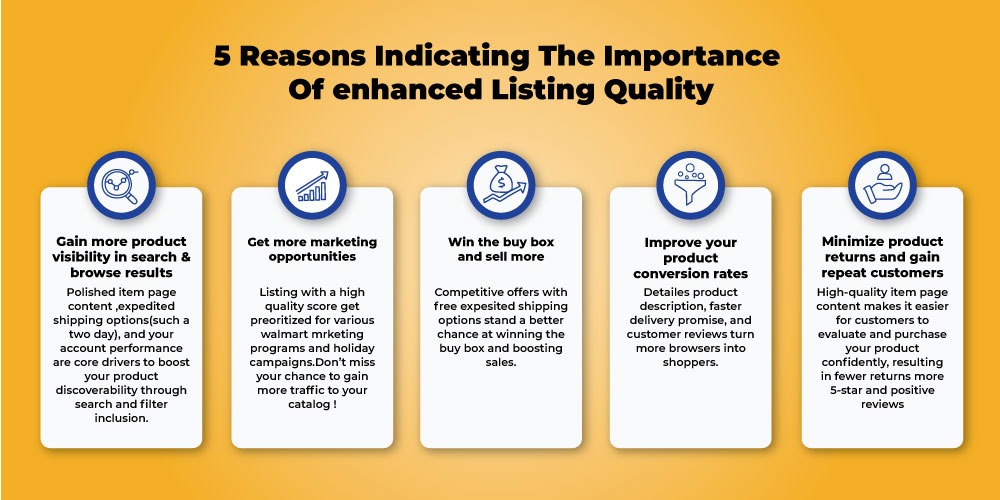 Conclusion:
As selling on Walmart Canada means owning a considerable customer base, it is a massive opportunity to gain profits; therefore, getting your products to rank higher increases the possibility of a potential customer seeing your item over the others. This is why it is necessary to Optimize your Walmart Canada listings in 2022.
So, get ready to optimize your Walmart Canada Listings 2022 and stand out among your competitors with CedCommerce's Listing Optimization services. Gain access to a wide range of tools helping you optimize your products on Walmart Canada storefronts and rank higher among the rest. Scale your products among a wide range of shoppers very swiftly. With the Repricer tool, unparalleled 24*7 assistance, 360° shipping support With Walmart (SWW), and much more, Optimize your Walmart Canada Listings for 2022.