How to manage eBay product delivery service from Shopify?
Running short of time? Get PDF of the blog in your mail.

Play Now
Shipping can be a daunting experience for newcomers to eBay, but managing shipments and product delivery services for eBay orders is easier than you think. Once you sell an item, the next step is the shipment of the product. It's now when you pack and ship the item to the buyer. Before you do, you'll want to know How to Ship the products with eBay in an efficient manner considering factors like speed and cost of shipment?
This article will teach you everything to learn about eBay shipping and product delivery services to smoothly complete the order fulfillment.
What are the shipping options on eBay?
When selling on the eBay marketplace, you get to choose between various product delivery options that eBay offers to help you with order fulfillment. Here, you get to choose between two options. You can ship the items yourself or include third-party logistics services for the order fulfillment process.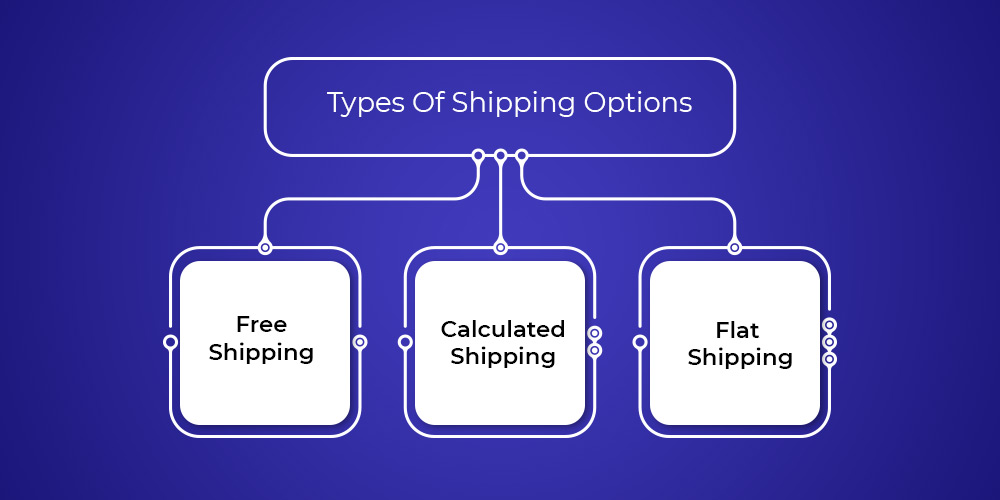 eBay gives you the option to select from three shipping options for your items for when you ship; you will select one of the shipping options:
Free shipping: When selecting Free Shipping for your eBay products, you can ship the product for free. Here, you're the one who pays for the shipment by absorbing the cost in the item price.
Calculated shipping: Offering products through calculated shipping on eBay is when you ask a buyer to pay a variable rate for shipping based on the item's weight, shipment type, and location.
Flat shipping: eBay also lets you sell your products with a fixed shipping rate. It means you charge your buyers a fixed rate as the shipping cost for all your products irrespective of their dimensions or physical location.
Free shipping is a game-changer, around 75% of people prefer online shopping when free shipping is offered.
You can select from a list of shipment carriers (USPS, UPS, and FedEx) for order fulfillment for your buyers.
Using eBay Shipping Calculator
When you start selling online on eBay, keeping a close eye on shipping costs becomes crucial. To estimate shipping costs accurately, you need to know how much they are, and you can find out using the eBay Shipping Calculator.
The excellent news is eBay understands how high shipping costs can go. To help you, the shipping calculator by eBay estimates shipping costs for you.
How to use the eBay Shipping calculator?
Open the eBay website.
Log in to your account and visit the shipping section.
Now go to Calculated: Cost varies by buyer location.
Click on the Calculate Shipping button.
Now you need to enter the package type, dimensions, and weight.
Once done, enter your ZIP code and the handling fees you'll charge.
Now Add the destination where you'll be shipping the package if you know where you're shipping to.
Now click on calculate shipping.
Finally, select the service you wish to avail.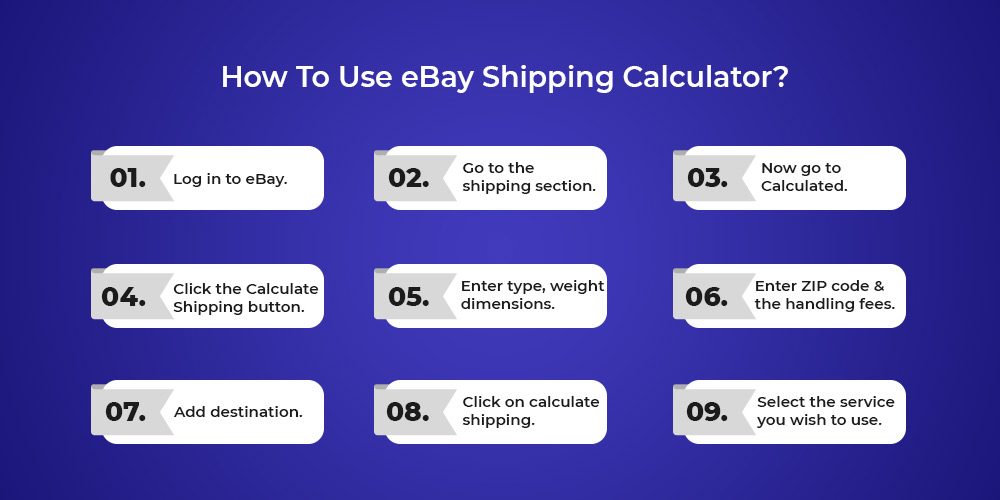 Knowing the Dimensional Weight
Many sellers often neglect the dimensional weight, but it is one of the most important deciding factors to consider when managing shipments is the shipping cost levied on eBay's package.
Using the right shape and size of the product becomes essential when shipping a product. The smaller the package, the less you pay for the shipping of your item.
You should visit the eBay Shipping Supplies Store. The Shipping store on eBay gives you access to eco-friendly and branded shipping supplies. Once you become an eBay Stores subscriber, you get free supplies using eBay's quarterly coupons.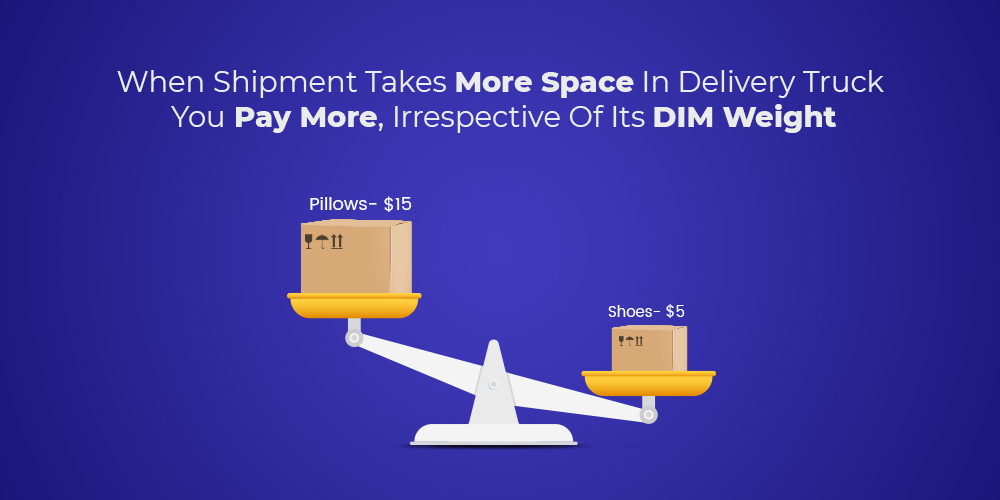 Save time with eBay labels
With eBay Labels, you can add shipping services to your listings seamlessly. eBay Labels enables you to sell and ship on the same platform: you choose the shipping method and automatically add shipping addresses.
eBay Labels offer pre-negotiated rates that are more affordable than other carrier services and save your time during fulfillment.
Once your package is ready to ship, print the shipping label and attach it to the package using your home printer. You may also print your label right on the spot by scanning your automatically generated QR code at participating carriers.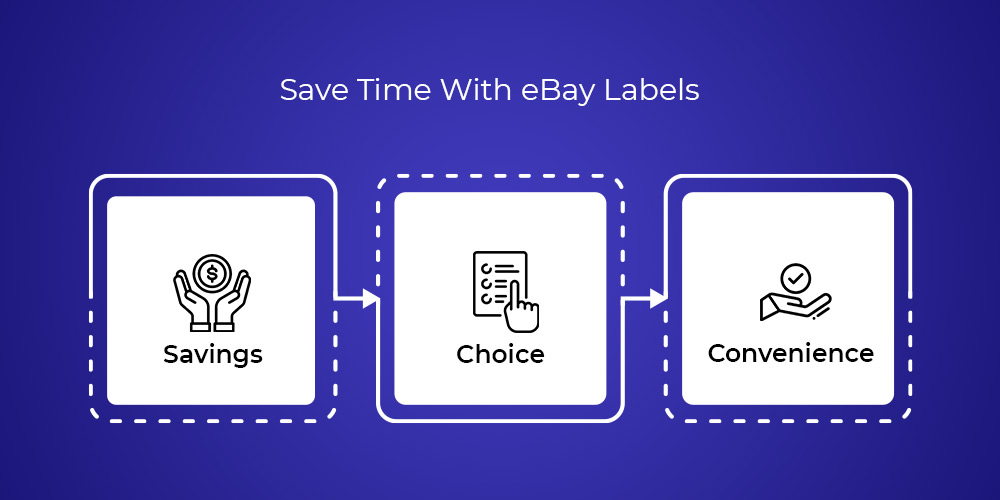 Savings
Among others, you can save at least 24%* on USPS, 65%* on UPS, and 36%* on FedEx. Shipping supplies are complimentary as well. All savings are calculated based on commercial rates.
Choice
You can find various shipping products and eBay delivery services through USPS, FedEx, and UPS. You can also protect your items with shipping insurance.
Convenience
Tracking details are automatically uploaded, and buyers get notified when their items are on the way.
Managing International Shipping
eBay has over 152 million active buyers worldwide, making it a likely outcome where you make an international sale. Although it is an exciting part of growing your business, it can also become challenging to manage the shipment at a global level.
Fortunately, eBay makes shipping internationally a breeze. The eBay international standard delivery service and Global Shipping Program take away all the hard work enabling you to ship worldwide at a lower cost and with ease and efficiency.
Global Shipping Program
Eligible sellers can also use eBay's Global Shipping Program, which offers additional eBay delivery services and support with international shipments.
When you ship through the Global Shipping Program, packages are sent to eBay's shipping center in the US, and we handle everything from there.
Integration Application for Centralized Order Management
Selling through multiple channels can be a tough ask. The management of inventory and orders can often become cumbersome. Situations like these call for a helping hand that can take the burden off your shoulders. An integration app is one such solution that can help you reduce the workload.
The solution is often a useful resource when shipping orders for multiple channels like Shopify and eBay. With an integration app, you can manage the entire order processing from a single location as the app creates the orders received on eBay in your Shopify store. It not only reduces the logistics for each store but also lets you ship the products from one true location.

Conclusion
When it comes to shipping eBay orders, we want things done for us. There is nothing better than getting someone to handle the items and make the delivery. But when it comes to an understanding of how to ship with the efficiency that can save you time and money, eBay does the hard work for you.
eBay offers you a solution by providing shipping partners like USPS, UPS, and FedEx. Offering free shipment also becomes a great way to gain customers' attention and build a rapport with them. While international shipping is a concern that gets taken care of by eBay's Global Shipping Program, using eBay labels gives you access to an easy and simplified shipping experience.