How To Leverage Digital Advertising Ideas To Entice Shoppers This Holiday Season
Running short of time? Get PDF of the blog in your mail.

Play Now
Ingenious Digital Advertising Ideas To Entice Shoppers This Holiday Season
The holiday season is a favorite time of the year for each business owner. The holiday spirit gets everyone into a shopping mania, and with the right digital advertising ideas, you can lead this holiday season.
But the competition is getting very hard, year after year with more competitors popping up everywhere. Every business wants to get accomplishments. Furthermore, audiences are preconditioned to have high expectations.
How Is This Holiday Season Different From Others?
Fact that the pandemic forced people to stay home, online shopping becomes a more relevant option to purchase essentials.
Many people tried online shopping for the first time and were quite happy with their delivered orders. This has built trust among the shopper's community cutting across demographics. As a result, more users will be shopping online this holiday season than ever before.
All this denotes that a lot of shopping will be done online during this holiday season. So, you'd better be ready to target the audience online.
To draft a killing holiday season, you need to get extra creative because just offering discounts alone are becoming less effective and they cut straight through your margins.
A shopper's experience will play a lead role in getting people in the shopping mood. That's why you should get innovative and capture this holiday season with creative digital advertising ideas.
Additionally, the digital advertising costs in Quarterly breakdowns (Q1, Q2, Q3, Q4). You need increased transaction rates to offset the high cost and make the sales more profitable.
For This Holiday Season, Your Digital Advertising Ideas Should Aim To;
Convince new customers to grow your sales and business.
Reserve existing customers because they're less expensive to get and they typically spend more and increase the average order value to make sales more remunerative.
Build a user base and prime them earlier, before the digital advertising costs go higher.
Create a holiday marketing plan that will boost your revenue, average order value, and feasibility.
Boost Your Sales This Holiday Season.
Top Digital Advertising Mediums For E-commerce Holiday Sales:
Holiday marketing campaigns and digital advertising go hand in hand. Your deals are nothing if people don't know about them. That's why you need to leverage various marketing channels to get new and cheer up existing customers.
When it comes to obtaining new customers the most effective holiday marketing/ digital advertising channels are: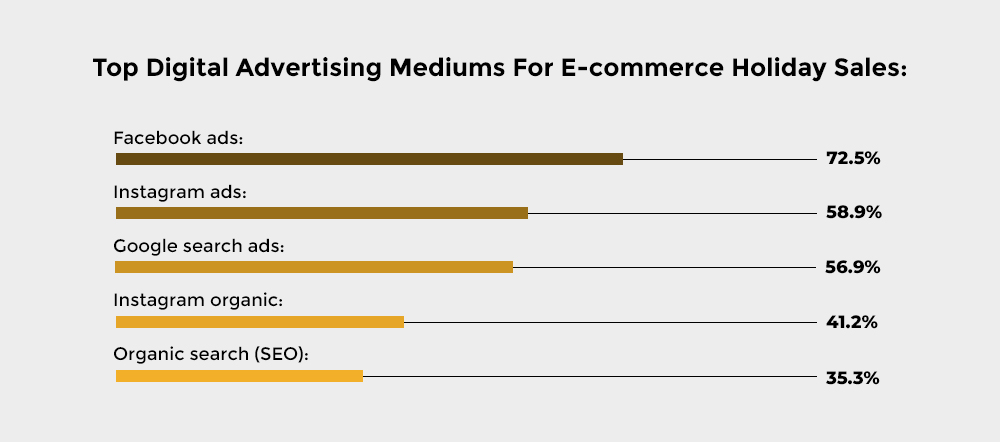 Start advertising and promotions earlier to generate curiosity and prime new customers to get them to shop during the holiday season.
Email marketing and retargeting ads are the best marketing or advertising channels to promote your holiday offers for existing customers.
The holiday season happens only once annually, but if you already have data of shoppers, you can approach existing customers throughout the year.
For maximum effect be sure to segment customers and send the right approach to the right audience.
The same goes for digital advertising ideas; you can promote your holiday deals to existing customers and window shoppers, and get them moving through the buyer's journey.
In this post, we'll explore digital advertising ideas to entice shoppers during the holiday season. These ideas will surely improve your holiday campaigns while taking advantage of the holiday fever!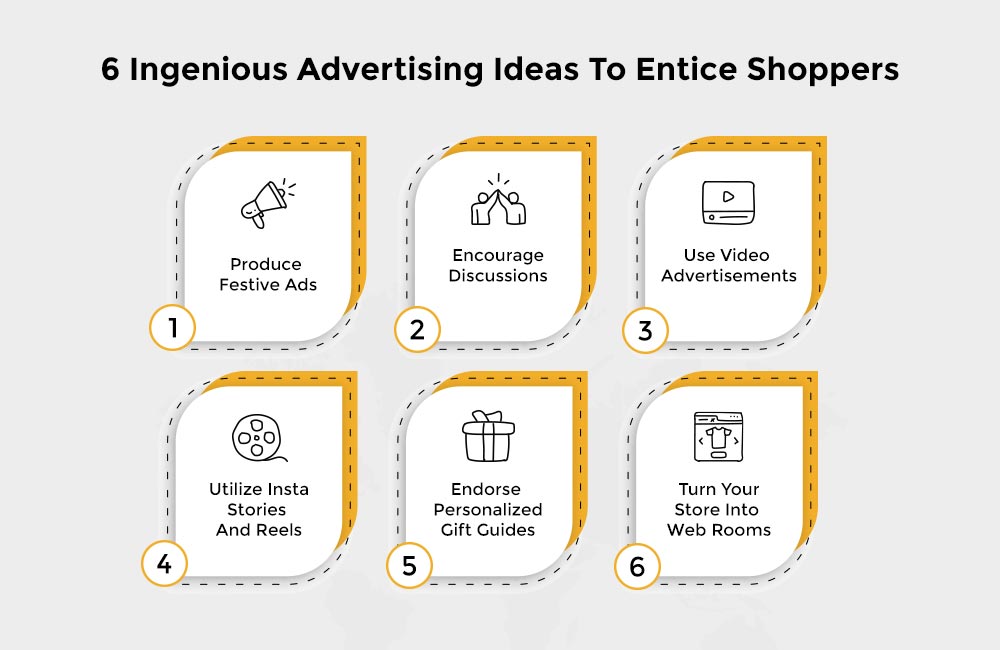 Idea 1: Turn Your Store Into Web Rooms
Have you seen how people window shop in stores? And when something catches their attention, they go inside that showroom and explore more about it.
Now I suggest you create a digital version of your store, the web room. Here you will serve your product and services in a virtual showroom. If you make it real-time immersive, even better.
Idea 2: Encourage Discussions
Whether it's through your website, articles, or social media accounts, you have various platforms to seize your audience. While your company can focus on interacting with the audience during the holiday season, it's required to communicate with shoppers year-round.
Interact with customers online during the holidays and year-round.
For instance, you can create an Instagram post to ask followers what they exactly want this holiday season. Then, you can respond to their comments, providing personalized responses that the audience remembers.
No matter when you connect with your followers, it's crucial for you to respond to negative and positive comments. If a person comments something negative, but you don't reply, it projects the wrong message to other followers and customers.
Idea 3: Produce Festive Ads
According to your service or products, you can utilize this holiday digital advertising idea.
If you're infusing in pay-per-click (PPC) advertising, you can consider creating ads that consist of a holiday touch in the ad copy or ad itself.
For example, your promotional ad copy may say, "Get the best offer this holiday season," to point out the holiday season.
This is the most lovely Christmas digital advertising idea I've seen so far by H&M ! That warmed my heart.
You can implement this thought to your content too.
Create content, from blog posts to ads, that emphasize the holidays. Maybe, you publish a series of blog posts or social media stories updates that focus on the holidays.
For example, a supermarket may spotlight their discounts via blog, coupons, or ad copy while a manufacturer may create an "Elf on the Shelf" strategy for their social media posts.
Idea 4: Use Video Advertisements
In promotions these days, video content is a huge deal making it a perfect partner for your online holiday digital advertising. In reality, 55% of business professionals claim that a better response is generated by their video content than any other form of content.
Creating a nice, catchy, and thought-provoking video advertisement that hits right in the emotions of the audience will bring you into their minds. An emotional outcome combined with the spirit of the holiday is sure to move your audience and have them select you over others.
For instance, in 2020, Coca-Cola delivered a very thoughtful different video advertisement that moved the emotions of a lot of people. It delivered emotions that were exact matches of what the kid in the advertisement was expecting.
Sounds pretty unique right?
Revamp Your Business With Video Marketing
Idea 5: Utilize Instagram Stories And Reels
If you haven't used Instagram story ads and reels yet, you are fending off from the social world. Nearly 2 billion accounts use Instagram stories and reels every day like brands, artists, and political figures, etc.
For stories, the video format is time-sensitive, ensuring that the posts expire after 24 hours, allowing brands to be even more relaxed than other outlets for social media. Reels also seem to get more interaction because they always remain as posts.
Idea 6: Endorse Personalized Gift Guides
Customers spend an average of $1,000+ on holiday presents every Christmas. For most businesses, their most productive time of the year is the holiday season.
Gift guides are a common way during this extravagant season to pull in online traffic. Consider what differentiates your target audience, and build a gift guide especially for non-traditional beneficiaries.
For instance, a gift guide for individuals who have everything, a gift guide for experts, or gifts for viable or ethical shopping.
Identically, you can create an enormous guide to all the best offers for Black Friday and add a few of your offers and discounts. Promote these guides of content with social media ads and posts, instead. By category, target your prospective audience on Facebook and Instagram.
With some planning, you can craft a one-of-a-kind holiday marketing strategy that drives your seasonal sales upward. From offering your personalized experiences to appreciation, your company has a variety of alternatives when it comes to promoting your business this Holiday season.
Set your e-commerce store up for success and leverage digital advertising ideas to entice shoppers this holiday season. Don't have time to advertise your holiday marketing campaign?
We can help You. With more than 12 years of experience, plus more than 100 digital marketing experts, we are the trusted choice for businesses worldwide.