7 Great Email Marketing Tips That You Should Endorse Immediately
Running short of time? Get PDF of the blog in your mail.

Play Now
Email Marketing Tips That You Should Implement In Your Marketing Strategy
Email marketing offers an economical way for all sizes of businesses to connect with existing customers and leads. When you send emails, you can grow your business from the comfort of anywhere. And while it may be enticing to go straight for Facebook or Twitter in the social media era, still most people use emails daily.
More than 300 billion emails are shared on any given day, and there's no postage necessary. This is why strategic email marketing gives a significant return on investment if you use them effectively.
There are 4 billion daily email users. This number is expected to climb to 4.6 billion by 2025. (Statista, 2021)
Grab a 15-days free trial of Email Marketing Services for Festive Season 2021!
In order to run successful email marketing campaigns, you will have to stay updated with the best email marketing tips and practices.
No matter what email you're sending, it's important that you consider what you're trying to achieve. Draft your email copy and strategy accordingly. Before you hit send, read through these seven Email marketing tips to support you to ensure that your business is putting its best step forward when that campaign email lands in your audience's mind, not just inboxes.
Here're 7 Pro Email Marketing Tips That You Should Endorse Immediately;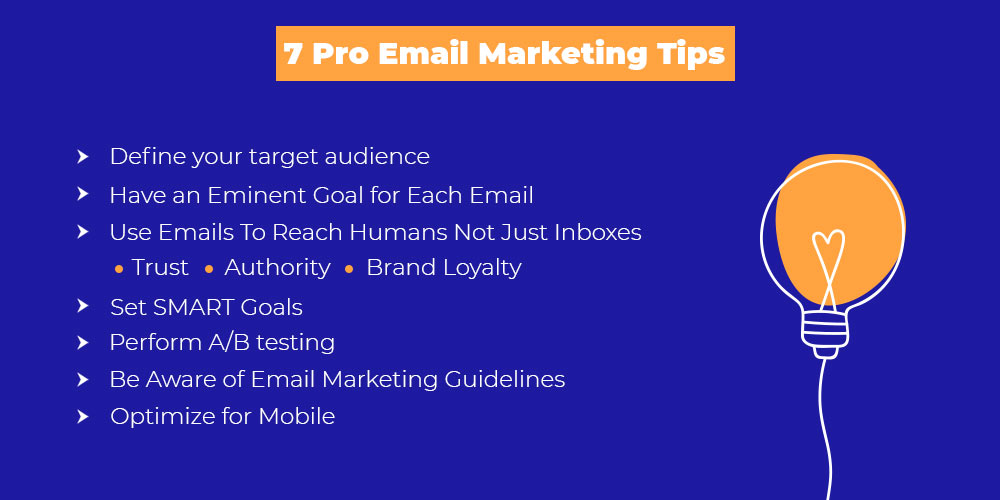 #1 Define Your Target Audience
In this digital era, subscribers expect personalized offers that provide solutions to their specific requirements. Many people are pressed for time, so they don't want to engage with common emails that won't help them make informed purchasing decisions.
Defining your target audience can support you to create email campaigns that appeal to your specific customers. Simply, your target audience is the people who are likely to purchase or need your products or services. In order to approach your target audience, you must take time to explore their interests, motivations, pain points, and preferences.
Here are a few points to consider as you try to learn more about your audience: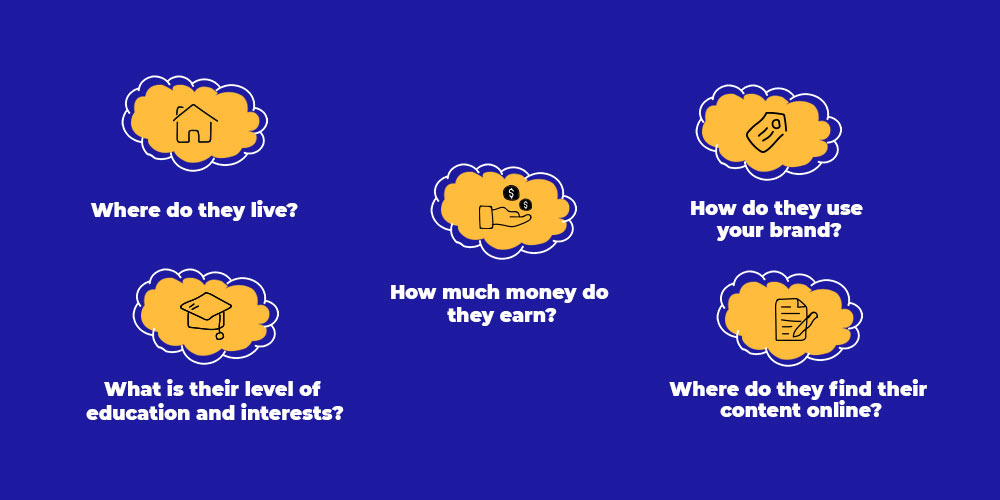 By defining your target audience, you can maintain strong customer relationships. And you can also use other channels to get email subscribers, which you can then segment based on your understanding of your target people.
#2 Have an Eminent Goal for Each Email
One of the most important email marketing tips is to have an individual goal for each email; While you want to invest the time to have an overarching email content strategy, you want to be sure that each email you forward has one singular goal. Ignore sending an email that motivates subscribers to take a survey, read your blog, and schedule time for a consultation.
By assigning one goal for your email copy, you can focus the attention of the subscriber on answering that call to action (CTA). You'll also have a clear metric to judge your email's effectiveness depending on how many people took action to your suggestions. Use your email marketing tools to calculate your open rates and click-through rates.
#3 Use Emails To Reach Humans Not Just Inboxes (Build Relationships, Not Sell Products)
A big mistake made by many marketers is to think email marketing is all about selling. While that is the desired end goal, that's not the gross of email marketing.
The primary goal of email marketing is building relationships with your customers.
Why is building relationships important to your business goals?
Let's quickly take a look at some of the results of building strong customer relationships:
Trust :
Subscribers are more likely to trust brands that take time to communicate with them consistently– without inevitably selling.
Authority :
The more you send your subscribers valuable content, the more they read you as an expert in your field. As a result, when you endorse products, they'll easily enfold them up.
Brand Loyalty :
Maintaining good relationships with your subscribers is a great way to promote brand loyalty. And to drive more loyal customers to your business.
Also, your revenue growth is related to how you build relationships with your subscribers.
And the best way to maintain those relationships?
You guessed it. It's an Email.
#4 Set SMART Goals
The initial stage for starting a campaign is to identify your company's goals. When it comes to creating the best email marketing campaign, be prepared to try out various strategies. And before you get started, set genuine goals for your strategies. Create a timeline for the email marketing campaign that lasts six months to a year, and monitor your progress.
Set SMART goals for your marketing strategies – specific, measurable, attainable, realistic, and time-bound. Setting SMART goals provides motivation, clarity, and focus. You need to be patient during the marketing process.
Some examples of SMART email marketing goals:
Generate more than 200 email marketing leads in each quarter by executing inbound funnel marketing campaigns.
Increase company internet sales by 20% annually by running weekly email campaigns.
Boost our business blog's email subscriber list by 25% within 6 months by offering a PDF.
#5 Perform A/B testing
Never send anything without making sure that it's working properly.
A/B testing (Split testing) is a unique marketing strategy that allows you to test different marketing campaigns. The purpose of A/B testing is to determine which email offers better performance. You can perform this testing on emails, website pages, YouTube videos, and other marketing terms.
With A/B testing, you can test a group of variables. These include CTAs, audio, video, and images, etc. Always remember to put one variable at a time for each A/B test. Trying to evaluate more than one variable can make it difficult to understand why one email was more successful than the other.
#6 Be Aware of Email Marketing Guidelines
When considering email marketing as an outreach strategy, Focus on video insertions in your Email copies; Emails that have videos in them have a higher click-through rate (almost 96%). With videos, engagement soars high and people understand your content better. Mainly because there is a connect and visual narrative assisting the viewers.
So if you wish to explore their prowess connect here! 
Also, it's important to understand the marketing rules and regulations that can mold your brand's approach into a legal nightmare if not done sincerely.
The CAN-SPAM Act regulates guidelines for promotional emails and gives email recipients the right to unsubscribe and spam. The last thing you want to consider is the probable fines your business can give over by failing to follow the terms and conditions of the CAN-SPAM Act.
By ensuring your emails are CAN-SPAM compliant, your marketing and sales teams can focus on content creation and approach that will result in higher response and engagement rates.
#7 Optimize for Mobile
According to Google, 75% of Gmail users use their mobile devices to access their accounts.
While it is safe to say that most marketing emails are crafted on a computer system, the reality is that a majority of emails are opened on a mobile device. Don't fall dupe to ignoring or not making the most out of the fact that half of your subscribers will see your email on their smartphones!
Test your emails to ensure; Not only do they look sophisticated on mobile devices but also consider your mobile content strategy. Take care of it so that your emails aren't too lengthy or text-bulky, and brainstorm smart ways to take advantage of your mobile customer. Maybe one email could motivate them to download your smart application.
Here's our guide on: How To Create Mobile-Friendly Content
Power Up Your Marketing Strategy With Our Email Marketing Tips.
Conclusion
Marketing through email is a commercial and effective way to get subscribers around the world. It may take some time for you to learn the best strategies to engage your subscribers, but once you get familiar with email marketing, your brand will surely reap the growth.
Start applying these 'Email Marketing Tips' today to boost your visibility as a brand.