How SimplyASP Tech Witnessed 200% Sales Increase With Wish Shopify Integration By CedCommerce
Running short of time? Get PDF of the blog in your mail.

Play Now
The Hurdle
Wale Adetona the owner of "SimplyASP Tech" started selling online in 2001 and expanded his business on eBay and Amazon. Soon after its inception Wale Adetona and the team encountered their major hurdle. They had to update inventory and delivery information manually on multiple platforms like eBay, Amazon, and Shopify.
Having their operations spread across so many marketplaces is already complicated. The team had to coordinate activities across these platforms. Such roadblocks jeopardized and hampered the venture's operating activity. The repetitive manual entry and updates were what the team was most afraid of. Especially because of the length of time it took. SimplyASP Tech was looking for a sound inventory management strategy and order management solution for their business, a solution that could handle significant spikes in order and grow in lockstep with the brand. Wish Shopify integration by CedCommerce looked like a viable solution for them.  
Solution
Keeping its primary business goal to increase revenue at the forefront, SimplyAsp Tech recognized the demand for a smooth integration solution. That would grow the organization's functioning exponentially, as consumer demand for electronics and gadgets hyped during the global pandemic. With the expert guidance of "Wish Shopify integration by CedCommerce ", Wale Adetona capitalized on the opportunity to provide buyers with impromptu delivery service.
The electronic brand was open to CedCommerce's recommendations for greater flexibility in its functioning and inventory management.
Result
Surviving and thriving in the aftermath of a significant global catastrophe is no easy task. What's the bottom line for SimplyASP Tech? E-commerce success necessitates teamwork, a best-in-class platform, and a well-thought-out strategy. Wale shares that his company swiftly pivoted, rejuvenated its online efforts, and eventually produced successful sales returns and high engagement. According to SimplyASP Tech, CedCommerce helped them enhance profitability, leading in:
A 200% increase in sales on Wish solely.

50% hype in engaged traffic
SimplyAsp Tech: Reliable And Affordable Solution
Founded by Wale Adetona in 2001, the company started selling on eBay and Amazon real quick. With a clear vision in mind, Wale aims at delivering electronic gadgets at affordable prices to all his customers. Besides having an amazing collection of electronics, the team of about 10 successfully manages to satisfy its customers with the best product, price, and delivery. Above all, with an impressive Shopify store; Wale ensures to pitch his business across the market for prospective customers to visit, read and know what all SimplyAsp Tech has to offer. It offers a wide array of products starting from simple phone cases to high-tech gaming accessories. The company aims to provide eco-friendly and pocket-friendly products to its users.
The Pain Point Of SimplyAsp Tech
As stated by Wale: "Many customers on different marketplaces always purchase the same item, which moreover, led us to believe we cannot manage this much inventory all by ourselves, we needed a professional team and a professional solution. We often ended up over-selling the product and created a lot of chaos for ourselves and the company."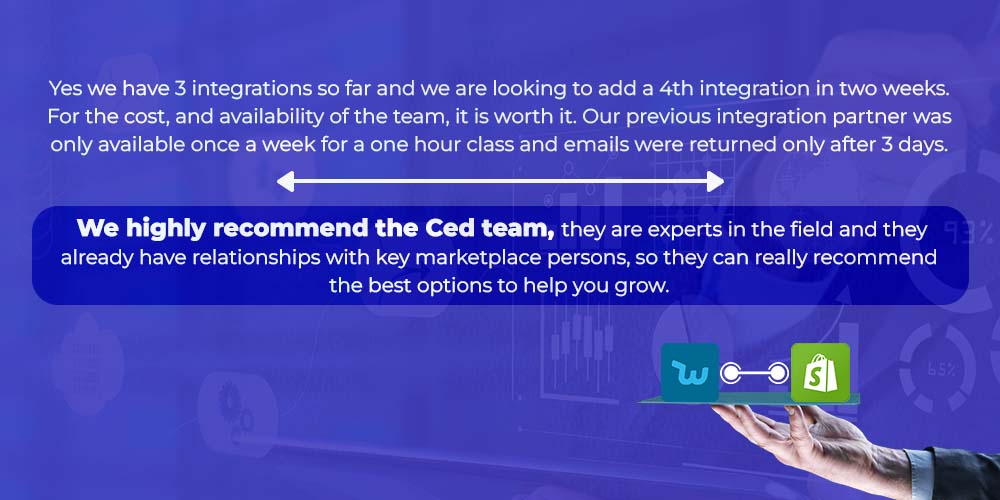 Apart from the main roadblock, there were many underlying challenges that the team was facing like poor order tracking, overselling, and fulfillment challenges. At the same time, the company was also planning to expand its customer base and reach a wider audience.
Seeing the popularity of Wish Marketplace, the USA-based company decided to expand its operation on the Wish shopping app but had to suffer due to the lengthy and hectic process of manual product listings. The different CSV uploads on eBay, Amazon, Wish, and Shopify confused the team and so they were looking for a reliable and affordable solution. All in one solution that could help them make listing a hassle-free process.
How "Wish-Shopify Integration by CedCommerce" Came To Rescue
Wish-Shopify Integration by CedCommerce not only resolved their inventory problem but made the whole onboarding process on Wish flawless. The team was looking for a good inventory management strategy, but the CedCommerce team went beyond just providing inventory and order management solutions. Wale said "The team was able to create a custom approach based on the size of all my SKUs that I had in inventory. Arranging the data in order for marketplaces can be difficult because every marketplace has their own way of CSV file upload that requires huge time investment. The Ced team are experts in mapping data to marketplaces."
SimplyASP Tech Witnessed 2X Sales Increases In Just 3 Month
SimplyASP Tech's key inventory problem was addressed immediately when they started using this "Wish Marketplace Integration".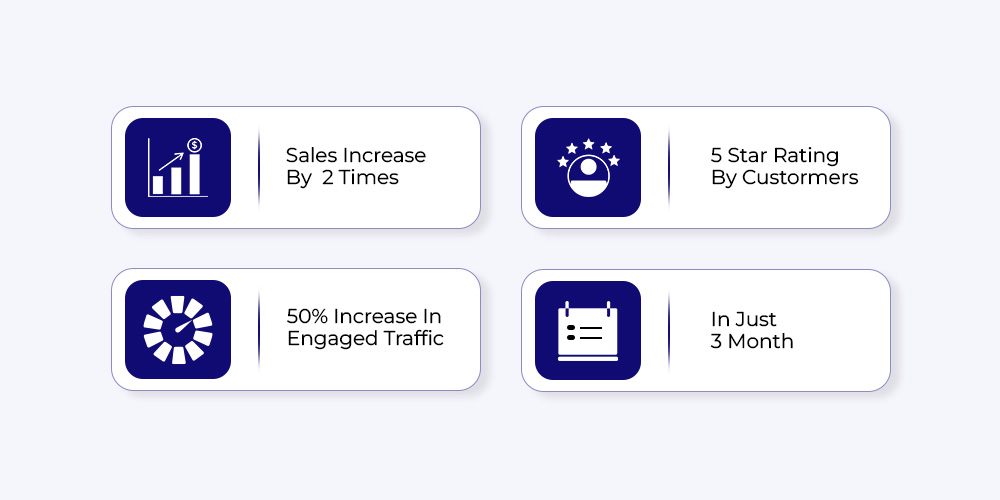 "Now our inventory levels are matching our sales. Moreover, there is no more guessing if we have items in stock or do we need to run to our suppliers for additional items".- Wale
The Compelling Features of Wish Marketplace Integration
Threshold Inventory
The additional feature of the app enables you to manage your inventory without any tension of overselling and underselling. Once a certain limit is reached, the product automatically shows "Out of stock" thus saving you from overselling.
Bulk Product Upload
Through the "Wish Shopify Integration" by CedCommerce, you can upload all Shopify products on Wish in just one go. It not only saves time and energy but also facilitates inventory management.
Frictionless Product Listing
The app allows you to list products in just a few clicks. It makes it simple to list products on Wish, making it quick and uncomplicated. It also gives you the freedom to develop your own shipping template and manage returns, all from the Wish Seller interface and with minimal effort.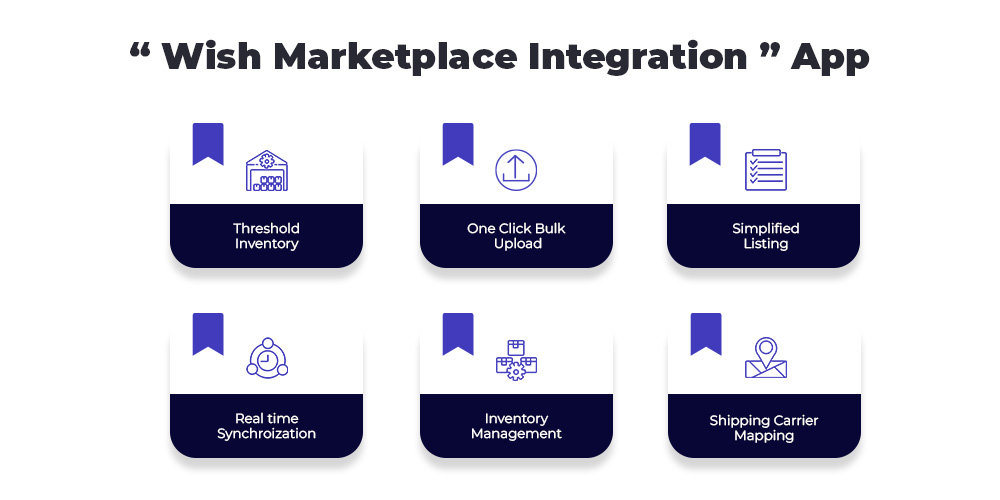 Near Real-Time Synchronization
The "Wish Marketplace Integration" app automatically synchronizes inventory, price, product details, etc in no time. Thus ensuring to give users a seamless selling experience.
Effortless Order Management
Through a single admin panel, order management has become smooth. You can eliminate going back and forth for order acknowledgment or cancellation. Further, the Wish order is automatically created on Shopify from where you can manage fulfillment effortlessly.
Inventory Management
With the help of the app, you can perform many repetitive inventory management tasks on its own with little human effort. Automated inventory management helps your sales team know what stock they have in-store and what stock is to be ordered before it goes out of stock.
Shipping Carrier Mapping
Wish has a list of allowed shipping carriers to maintain consistency and standard. Therefore, the "Wish Marketplace Integration" app allows the mapping of these carriers in just a few clicks. Thus eliminating any confusion and discrepancy.
The Road Ahead
CedCommerce's results-driven approach and skillful mindset help its clients live their dream goals. The Shopify Wish integration, eBay integration, and Amazon integrations by CedCommerce are designed to facilitate merchants' sell to millions of buyers without the hassle of listing and order management.
SimplyASP Tech's success story is an example for many such sellers who are facing similar challenges and have to suffer due to poor inventory management strategies.
Your dream success is just a click away!
Also check: