An anecdote on how CedCommerce Online Marketing Services assisted Kicks and Clobber notice a massive ROAS of more than 14X
Running short of time? Get PDF of the blog in your mail.

Play Now
"Quality is never an accident. It is always the result of an intelligent effort."- John Ruskin.
Fashion apparels are something that can never go out of one's lifestyle. Being dolled up in quality fashion apparel gives you a sense of confidence and the well-known adrenaline rush. Undoubtedly, fashion has always been on an increasing trend and then the pandemic hit. With the sudden submerge, every business saw digital platforms as light in shining armor.
For the brands considering the demand of the apparels and its need, the online marketing services have to play up front. Kicks and Clobber needed a push start on digital platforms as the unified package of branded apparel. Here's how CedCommerce helped Kicks and Clobber make a digital appearance.
Kicks and Clobber- Get Branded Apparels At Modest Prices
Gavin Walter's concept flourished by showcasing its love for branded apparel. They started as a small online store offering high brand apparel at affordable prices. Evidently, people worldwide are fascinated by products of overpriced brands including Jordan, Nike, Adidas, Moncler, etc. The brand is on a mission as an alternative solution for the best quality branded defect apparels and accessories without hefty price tags.
Kicks and Clobber offers you a vast range of impressive and branded products. Their products include t-shirts, coats & jackets, tracksuits, football accessories, men's shoes, and trainers. Moreover, the products are not just limited to fashion but also include gadgets. You won't be able to find a single flaw by the way they specialize, repair and exhibit branded products. People will get the same branded products but at an economical price.
Gavin focused on building a worldwide audience but started by targeting the UK audience. As the brand escalated, their orders started coming from Australia, Europe, US. Hence, they are now targeting and planning to set up separate clothing apparel stores in the coming future.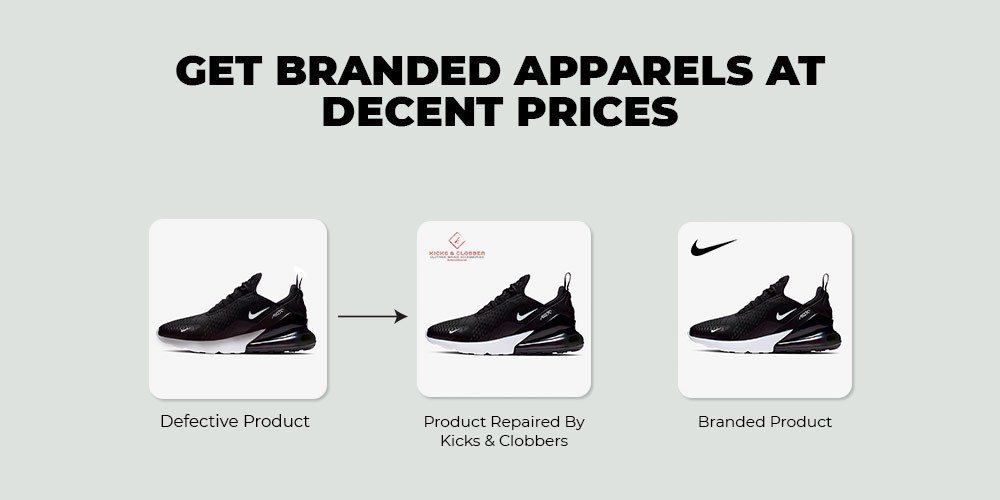 Challenge of Fabricating a Digital Impression
Kicks and Clobber faced the cumbersome issue of increasing their visibility on social media platforms. The root cause of the problem was to increase the sales/conversions and expand their user base.
However, the paucity of apt skills and knowledge made them reach out to someone who was equipped with it. CedCommerce was amongst their top choices. They identified us and came across us through the Shopify app store.
Due to the non-utilization of online marketing services, they were deprived of the perks one gets from leveraging the services of social media platforms.
Every Obstacle has a Solution
CedCommerce came with a simple and easy solution to facilitate brand visibility and outreach. It offered the services in which it specializes, and thus, Kicks and Clobber wanted to move ahead.
Let's look at each of the online marketing services in detail along with the actions taken and the results achieved.
Nothing better than Google Ads
Kicks and Clobber started taking the online marketing services of CedCommerce from 1st December'21. Their challenge was to create an online presence, and Google Ads helped them reach a large interested customer base. Through the campaigns you get speedy and instant results in the form of revenue through the PPC model. Furthermore, it improves the conversions, sales, ROAS and ROI. The conversion ratio through guaranteed clicks not just nurtures the quality leads but also grants an instantaneous return on investments.
"It's not always you get to hit the iron when it is hot. I believe in hitting it so hard, that it gets hot."- Lakshmi Mittal
In Google Ads, we run ads and campaigns with the targeted keyword to enhance the quality of results. It also provides you with the opportunity to be seen on social media platforms. Therefore, for Kicks and Clobber, we took specific actions concerning Google Ads.
Firstly, we created a search ad for the UK audience with a £15 daily budget by using relevant keywords to bring relevant traffic to the website. As we managed to bring traffic and sales, we created a smart shopping ad for UK users with a £15 daily budget to maximize the conversion value and get a conversion manifold with the passage of time
After that, we created a Smart Shopping campaign for the Netherlands and also managed to get good traffic and sales
We have also created a Smart Shopping campaign for the USA and received one sale. Soon we'll be optimizing the campaign to improve the performance
We've done remarketing to convert those customers who visited but didn't make purchases
After two months of running these campaigns, the client's brand names populated some search volume, so we created a search ad on your brand term, specifically, Kicks and Clobber. There are two reasons behind this: the first is that no other competitors can bid on your brand term, and the second one being that our ads should be shown to customers already familiar with the brand
Revamped the Campaigns with SEO services
Presently, SEO works as the essence of your digital marketing strategies. While some move ahead without SEO but it's recommended to focus on improving the SEO of a website. When one works on SEO services, the website becomes robust and fast performing. The factors that particularly, make it powerful include better optimized website content, authority, site user experience, on-page and off-page seo, technical seo and many others. And these attributes fascinates Google the most which further helps in crawlability and indexability of the website. One of the main aspects that constitutes the above mentioned factors is the 'site health'. Most of the companies offering SEO services focus on this one factor which is a mix of all the other minute factors.
A website's site health is a criterion that determines how your website is performing. It informs you about the errors and warnings when your page is crawled. Through our digital marketing campaigns, we improved a set of mistakes that hamper the site's visibility on top searches.
The issues addressed were-
The site's health score was less and had many problems
There was no organic traffic
Duplicate title tags and long titles
Uncached JavaScript and CSS
Pages existed with one or no internal linking
Sitemap Setup
Meta title, tag, and description optimization
ALT attributes missing and temporary redirects
The CTR was significantly less and thus, the sales were very minimal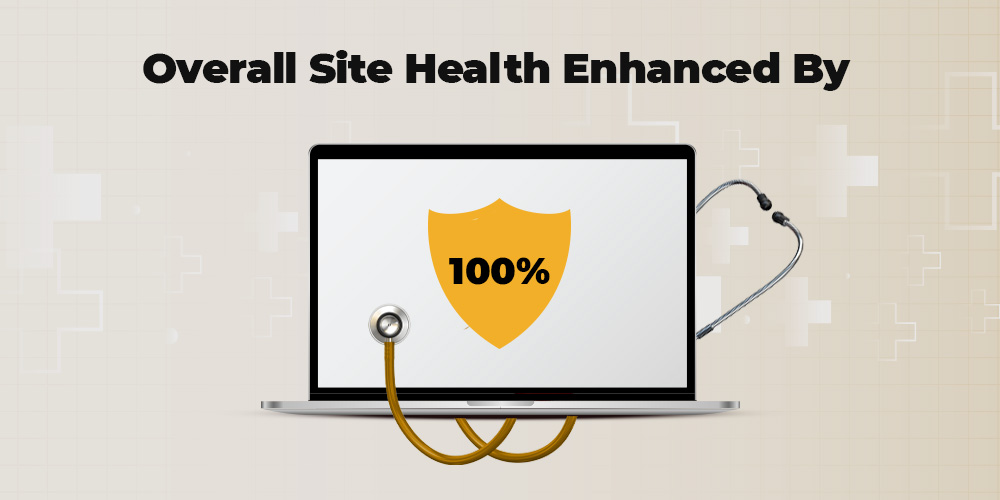 Our SEO experts handled the issues diligently and provided a 100% site health score.
Creating Personal Touch with Email Marketing
Any form of marketing that can create a personal touch for its users performs extraordinarily. But people don't realize the value that email marketing possesses. Additionally, when you collect feedback from a customer, they feel that their opinion is vital to your business. That's where you can build relationships with the old ones and create new leads.
We created newsletters displaying discounts
Two campaigns were created for the client's website, which focused on attracting users with fascinating discounts
The headings of the campaigns were quite engaging and responsive
The creativity of the campaigns helped in attracting soaring open rate, which therefore indicated high engagement rate
The upsurge in the above metrics gradually resulted in improved earnings
Better Branding with SMO Services
The impact that design and visuals create is exceptional and unmatched. It helps in getting visibility and introduces the brand on platforms via online marketing services. Moreover, everybody is aware of the significance of a valuable and creative brand avatar. Below are our actions to create a captivating brand presence on Pinterest, Instagram and Facebook for Kicks and Clobber.
Worked on creatives and image/graphic quality for the postings to mark the web presence
Worked on the interactions with other websites to increase engagement
Posted stories with the product link and attractive gifs to get the sales directly from the followers
Impressions and reach increased by 100 %, thus improving the brand awareness and visibility
High ranking hashtags and location-based targeting done to target the UK audience
Catchy and good captions used for a better user experience
Added CTA's in every caption since it is a crucial element on a webpage, acting as a signpost that lets the user know what to do next
All the products /new launches added to the highlights section for users to check the products posted on stories
Tools Used During the Campaigns
The tools that particularly helped us run smooth campaigns and achieve marvelous results were,
Google Analytics, AdWords, and Keyword Planner
SEO META in 1 CLICK
PageSpeedInsights
Google search console, Google Merchant Center
Facebook business manager
Canva for templates
Adobe photoshop illustrator for high-end designing
Omnisend
Enthralling After-Effect of Our Services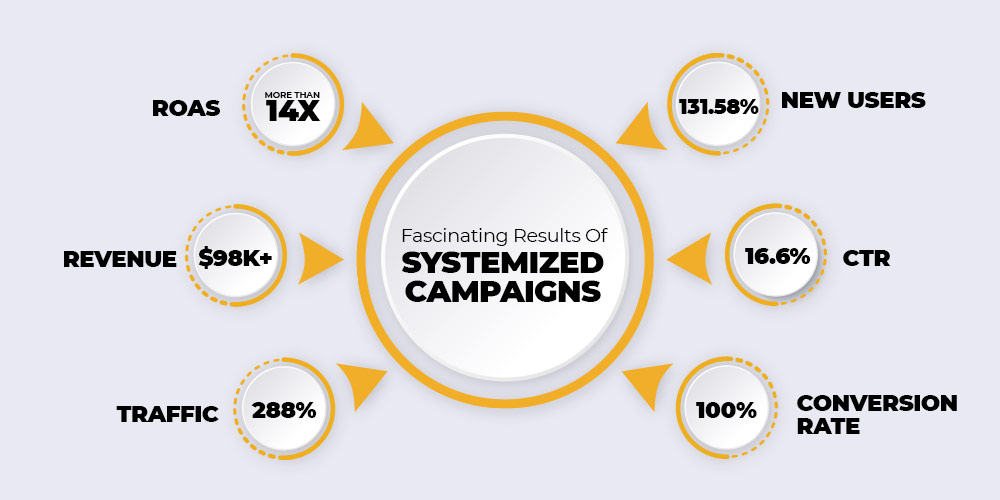 Google Ads-
Attained ROAS of more than 14X
With the help of Google Ad campaigns, the revenue hiked up to $98K+
Traffic increased to 288%, and the conversion recorded were 755
SEO-
Total clicks improved by 1.99k and impressions by 12k
The average CTR recorded was 16.6%, and the average position stands at 18.5
Number of users improved by 168.96%
New Users improved by 131.58%, and number of sessions increased by 90.44%
Page Views improved by 50.26%
Revenue upgraded to 100%
Transaction and ecommerce conversion rate enhanced by 100%
Email-
Out of 2738 mails delivered, 807 mails were opened
Clicked mails amounted to 59
Revenue generated out the campaigns £643.20
Conclusion
Kicks and Clobber achieved these tremendous yet impressive results with our service experts. Our team of professionals was much invested in blooming the brand on the social platforms with its persistent services. Hence, this not only creates brand awareness but also beguiled massive groups which reflected in its orders. We at CedCommerce constantly strive to solve your challenges with our online marketing services. If you wish to solve yours too, we are here to offer you the best possible solution.
Lastly
With over a decade of experience, CedCommerce swears by its motto to satisfy its clients by offering them the best industrial online marketing services. CedCommerce results-driven approach and skillful mindset help clients live their dream goals. Henceforth, we are continuously growing and developing to bring more innovation and ease for users in the Global e-commerce processes.
In culmination, Kicks and Clobber accomplished heights of success with us. The business made significant improvements and received satisfactory results from exceptional digital marketing services.
If your ecommerce business is going through a challenging phase and not getting expected returns, CedCommerce can be your reliable partner to help you out in your journey of success.
Transform your idea into an impressive reality with us! Click here to know more.