9 Things to Remember to Make Record-Breaking Sales on Walmart this Festive Season 2022
Running short of time? Get PDF of the blog in your mail.

Play Now
Walmart is among the top marketplaces in the US and sees a significant increase in customer visits during the festive season. Stats reveal that Walmart attracted over 600 million visitors in the festive season of 2021. Also, 31% get inspired to shop because of the decorations and in-store displays, and 83% want the deals to run throughout the season. So preparing yourself and optimizing your store for the upcoming festivals must be on your to-do list to make record-breaking sales on Walmart in the festive season of 2022.
As per stats, overall sales of products and eCommerce website visits also increase during the festive season, which helps you sell better and can prove pivotal when looking to expand. Plan things now and offer hot deals to customers to encourage them to buy from you.
The buying pattern also sees a drift during festivals, and a significant portion of sales comes from last-minute buyers. Hence, preparing for every possible scenario from the beginning will help if you process things smoothly before the festivals knock. The duration between October to December is crucial in boosting Walmart sales as it comprises many festivals, like Halloween, Thanksgiving, Black Friday, Cyber Monday, and Christmas.
How to Boost Walmart Sales this Festive Season 2022?
Several things need to be planned well in advance so that you are ready to make this festive season an opportunity for growth and make record-breaking sales on Walmart.
Here's a list of pointers that are as essential as they get:
Improve Website Loading Time
Mobile Optimization for Website
Shipping Enhancements
Round O'Clock Customer Support
Utilize Social Commerce
Recover Abandoned Carts
Sent Discounted Emails
Run Time-Bound Offers
Keep Enough Inventory
Let's explore each!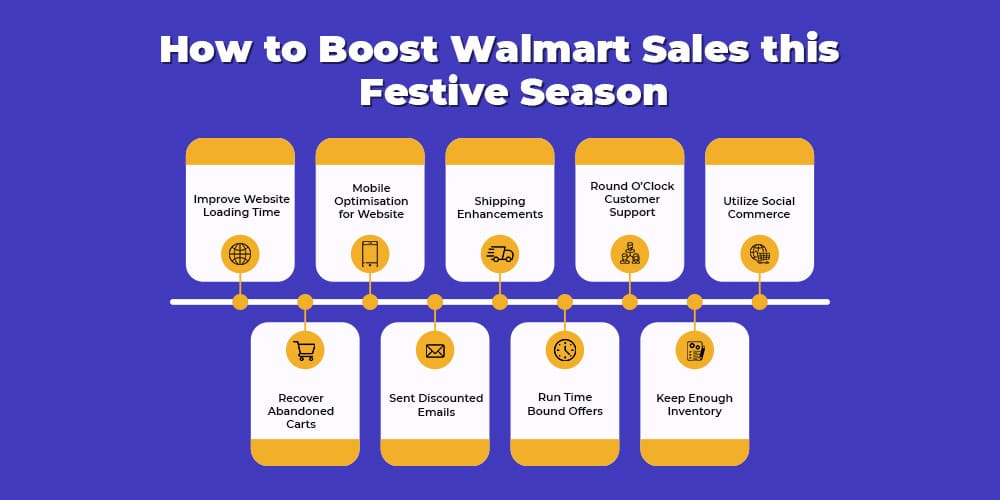 1. Improve Website Loading Time
Website loading time plays a vital role in getting conversions. Suppose customers want a product, but your site loads slowly or takes too much time. In that case, it negatively impacts customers' shopping experience. Ensure your site opens up within 1 second, as it is considered the ideal page loading time. As per research, 40% of shoppers abandon a website if your site takes more than 3 seconds to load. So work on your website performance.
2. Mobile Optimization for Website
Make sure you optimize your web pages for mobiles. A majority of shopping occurs through mobiles now. As per a website, 79% of smartphone users purchased online from their mobiles in the last six months. So it becomes a must for you that your website is well-optimized for mobile visibility and opens up speedily and flawlessly on mobiles.
3. Shipping Enhancements
As shipping plays a crucial role in online shopping, you must consider what needs to be done to offer exceptional shipping services to prospective customers. Offer Free 2 Day Shipping or 3 Day Shipping to improve buy Box prominence and ship products faster. Also, you can use Walmart's custom Shipping templates to improve your performance. If you rely on a single carrier, it's time to build relations with others to deal with the high traffic during the festive season. It will help deliver products to the customers on time.
4. Round O'Clock Customer Support
As the number of customers reaches its peak during the festive season, it becomes critical to provide 24/7 customer support to ensure the queries are handled the soonest and resolved immediately.

5. Utilize Social Commerce
Social Commerce is increasing with each passing day. Customers also shop online from various social commerce platforms, so you need to make your presence there. Around 44% of users utilize social media platforms in search of brands. So work actively on social media channels this festive season.
6. Recover Abandoned Carts
As per research, 99% of shoppers don't purchase when they visit an online marketplace for the first time and, therefore, abandon the cart. The festive season is the best time to bring back those buyers by offering them enticing deals on the products they left in their carts. Remind them about the products they have in their cart from time to time and offer discounts on those abandoned products.
7. Send Discount Emails
Now is the right time to start sending emails to your prospective customers. List the potential customers you want to target and remind them of your hot deals this festive season. Give them Discount codes that they can apply when shopping from your website. This way, you can create a list of those returning through your email marketing and whom you can target during the other times of the year.
8. Run Time-Bound Offers
Time-bound offers create a sense of urgency in potential customers. Run them. Push your products with time-bound offers. To induce purchase, you can incorporate timers to display the time left in an offer expiry. This way, you can sell more quickly and make record-breaking sales on Walmart this festive season of 2022.
9. Keep Enough Inventory
Maintaining enough inventory to meet and fulfill orders during the festive season is an aspect you cannot overlook. Go through your present sales analytics and the analytics of last year's sales figures to understand how much inventory needs to be there all the time. Use inventory automation that helps you set a threshold limit and update inventory on time, like the ones offered by CedCommerce.
Make Record-Breaking Sales on Walmart in the Festive Season 2022 with CedCommerce
To deal with the last-time shoppers and manage increased sales orders on Walmart during the festive season, CedCommerce assists you with its Walmart Integration designed per your needs. You can leverage various automation the Integration provides and smoothly manage high demands during the festive season. Let's learn about the critical pointers and the solutions this CedCommerce's Walmart integration offers to help you make record-breaking sales on Walmart.
1. Uploading Extensive Holiday Inventory
The festive season brings extensive customer inflow to online stores. Therefore, as a marketplace seller, extensive inventory must be maintained all the time, and uploading them is indeed tiresome. So how to update every detail of your vast catalog? Well! Here comes the utility of CedCommerce's Walmart integration that you can avail for your benefit, as it comes backed with simplifying the following tasks:
Category-wise Product Upload
Create profiles based on the product category. Next, assign products to these profiles to assign uniform settings for all the products in the profile and upload them.
Bulk Product Upload
Select many products and upload them on Walmart with a single click. This way, upload more products in less time.
2. Managing and Processing a vast Quantity of Orders during the Festive Rush
Now the inventory has been uploaded. The question is how to manage and process enormous orders from Walmart during the festive season. Order acknowledgment and cancellation cannot be done manually because it's challenging to accept orders every time. You need to automate these tasks. Avail of these benefits with Walmart integration that simplifies the following tasks:
Order Management/Order Processing
Manage and process orders seamlessly with the app. Orders received on Walmart also get created in your store to make it easy to manage and fulfill orders on time from a centralized location.
Shipping
Shipping plays a crucial role in customer satisfaction. You need to deliver the products as soon as you can. The Integration comes embedded with shipping solutions that simplify shipment management.
3. Managing Day-to-Day Store Operations
During the festive season, the management of day-to-day operations seamlessly is a bit troublesome. The integration solutions simplify your daily tasks as follows:
Notifications
Get real-time notifications about orders received and orders canceled, errors, or anything, so you stay updated with every order across the Walmart marketplace and your store.
Near Real Time Inventory and Price Synchronization
Synchronize inventory and product prices between your store and Walmart flawlessly. Walmart Integration helps to maintain uniform inventory and product prices for efficient sales management. If the stock or price of the products changes, they get reflected across Walmart and your store with the app.
4. Increase Visibility During Festive Rush
Increasing your visibility needs to be your topmost priority. The more quickly your products are visible by relevant keywords, the higher your sales will be. So how to make this task as easy as possible? Well! Walmart Integration simplifies the visibility aspects also as follows:
Category and Attributes Mapping
Walmart Integration comes with mapping attributes and categories of your store's products with those of Walmart. So, no more worries about mapping all your product attribute with Walmart's default ones. Using Walmart Integration, you can map all your product attributes, like color, size, etc., effortlessly between your store and Walmart.
SEO services
CedCommerce also provides SEO services with the Walmart Integration solution. CedCommerce assists you in performing optimized product listings as per the updated Walmart guidelines to help you rank better and improve your Walmart sales.
5. Expert Support
Walmart Integration also comes with 24/7 Support Services from CedCommerce. So, sell hassle-free, and in case of any trouble, connect with experts from CedCommerce. We will be more than happy to help you.
To Sum Up
The above practices can help boost your Walmart sales during the coming festive season. As the online traffic increases significantly during the festivals, you need to prepare your online store now to avoid the last-minute hassles to make the most out of the festive season and get record-breaking sales on Walmart this festive season 2022.
For further help, you can also reach out to the experts from CedCommerce. Being Walmart's official channel integration partner, you will get round o'clock expert support from CedCommerce. The experts will guide you on following SEO-friendly practices to increase your online visibility on Walmart and sell efficiently on Walmart, one of the top marketplaces in the US.
"Have A Great Festive Season!"