4 Crucial tricks on setting your Halloween Marketing Campaigns right!
Running short of time? Get PDF of the blog in your mail.

Play Now
Halloween is for kids! Perhaps, the time has come to review this notion. With the world obsessed with Batman and Comicon, Halloween is the essence of the holiday season. It has a weird and infectious energy that makes people go ga-ga around the world. Moreover, the creative Halloween marketing campaigns and the spooky vibe they give is just impeccable!
Indeed, this festival is more than just collecting candy! It's about providing an extra bit of wow factor to the audience. Probably, that's why people are making it an integral part of their marketing checklist and calendar. Furthermore, before we know it, they are flooding the market and social media with their super-creative Halloween marketing campaigns and merchandise, albeit for a brief period.
Importance of Halloween marketing
Despite that, it is hard not to ignore the importance of Halloween marketing. Though the pandemic raged havoc in our lives, Halloween brought a feel-good factor for everyone. Hard to believe, but that is true!
Besides, Halloween falls under the affordable festival radar; thus, making it popular among the audience. Even for a year like 2020, around 148 million customers were planning to celebrate Halloween, of which an average person was planning to spend somewhere around $92.12 on this festival; hence, showing that consumers look forward to celebrating festivals that add value to their life.
Spread Your Spiderweb This Halloween
Nevertheless, things do not stop here. Halloween has some crazy numbers to back its importance among the people. The spending trend around this time is insane. Given that people start making their plans for Black Friday, which falls after Halloween, it is easy to understand why Halloween becomes important from a marketer's perspective.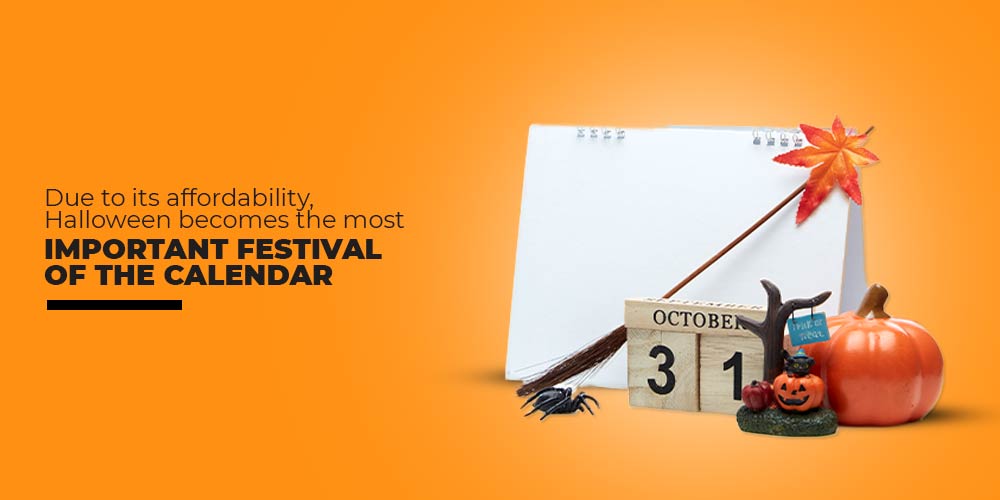 Though America is the traditional big spender, people from the UK are also catching up and are sinking their teeth in this festival like never before. A fun statistic by Statistica shows that the spending in the UK for Halloween has doubled itself over a period of 6 years! Halloween needs to take into consideration. Given its rising popularity, it is fair to assume why brands and retail stores are spending heavily on Halloween marketing campaigns.
Things to keep in mind when creating a Halloween campaign
Since fall is crucial and close, it becomes imperative for marketers to understand that Halloween is not about being anything and everything. You have to be precise with your creation because the audience is intelligent and clever. 
Spread Your Spiderweb This Halloween
Furthermore, marketers have to consider the cut-throat competition in the market. Everyone is there for a piece of the pie, perhaps for a bigger one. Being proactive is the need of the hour!
Nevertheless, to ensure you get on the right note, here are a few tricks that you can use to leverage the spooky season ahead of you:
Keywords
If Halloween is the essence of holiday marketing, a keyword is the foundation of any marketing. For a successful outing, it is imperative to do keyword research. Doing so allows you to understand the market as well as the audience.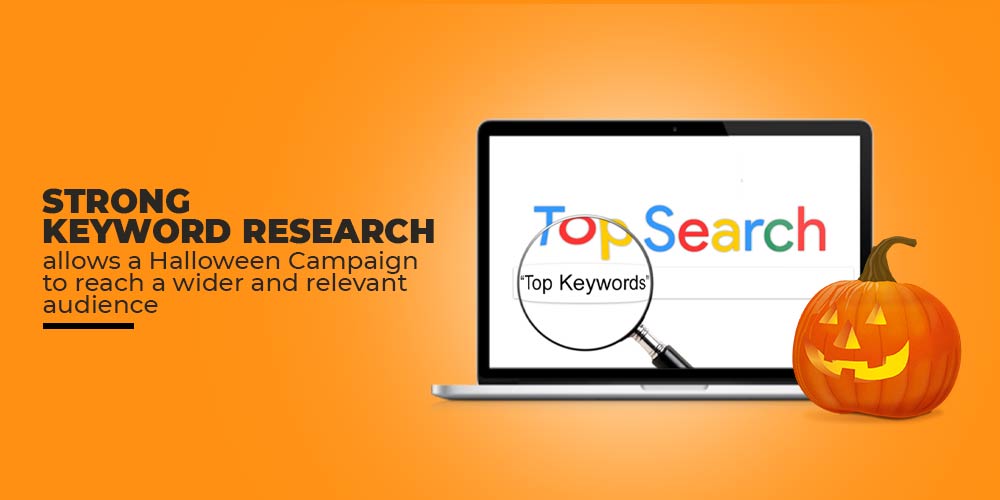 Moreover, this will allow you to have an idea regarding the post that you should create. With everything out there, the only thing that your Halloween marketing campaigns need is the right keyword to reach your target audience.
For starters, you can opt for Google Trends and Ubersuggest to start your research. These are free tools and provide you with a wholesome analytical report of the how's and what's of your preferred keyword.
Discounts and more Discounts
Discounts and Halloween marketing campaigns go hand-in-hand. Halloween is the time for deals to flourish. People look for everything under the sun to make their costumes and home as scary as possible.
In doing so, they seek the best deal available. This is where creating creative social media copiesー with discounts as CTAsー on your dedicated Halloween marketing campaigns comes into play.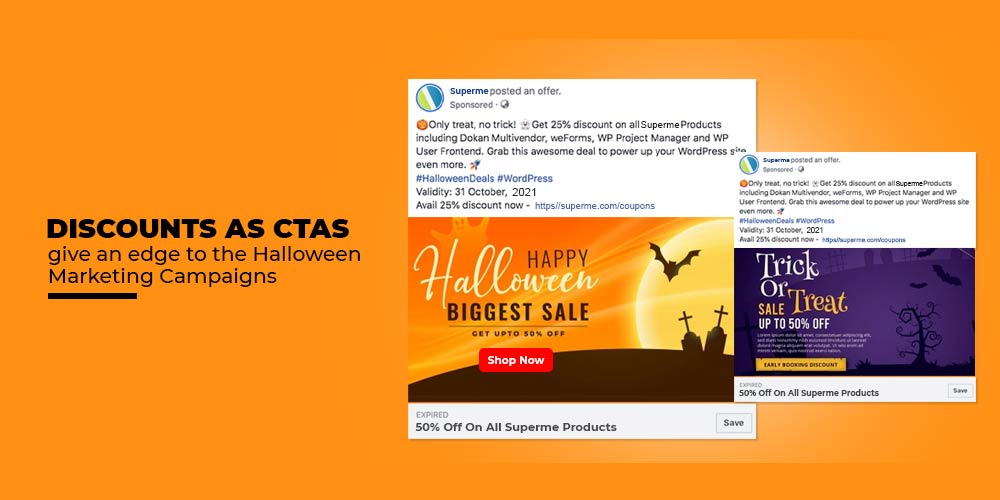 Having discounts as CTAs allows posts to capture the attention of the audience in the most compelling way. Besides, it helps in taking the traffic from a particular social media channel to the website.
Remember, there is a great white shark out in the market who is looking to digest all the small fish with its lucrative and ominous discounts. What will you do to survive? How are you going to encounter this shark and create a space for yourself?
These are million-dollar questions: try to think about them!
Themed Images and branding
Halloween marketing campaigns are incomplete without themed images. It is an art that a marketer should master to lure its audience.
Perhaps one has to take a leaf out of Burger King to understand how the brand is acing the Halloween marketing campaigns game. For a brief period, Burger King offered a Whopper with flame-grilled beef patty with A.1 hearty and thick sauce, pickles, tomatoes, American cheese, onions, lettuce, and mayonnaiseーall in a black bun!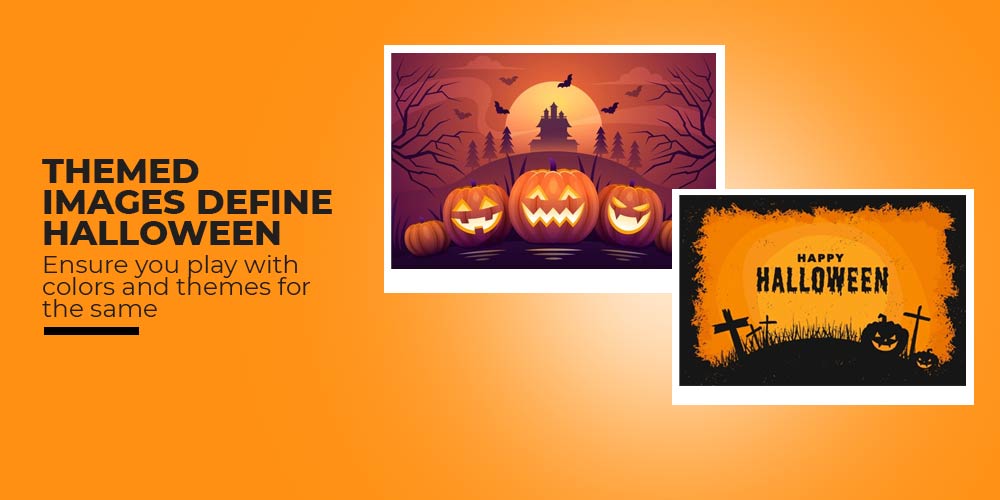 The way Burger King used its Whopper as a prop to create a scary and eerie atmosphere around Halloween is quite impressive. Apart from entertaining with its creatives on social media, Burger King was able to tickle the taste buds of its connoisseurs. Moreover, the Halloween marketing campaigns and user-generated content created a FOMO factor among its audience. As a result of all this, the burger was sold out, and people had trouble finding it! Deftly Masterful from Burger King.
Irrespective of how you want your creatives to look, you should know what stimulates your audience. Hence, for festivals like Halloween, you must take one step forward by swapping your brand's identity, images, and logo for scary and ghostly brandingーalbeit for a temporary period.
Know your platform
Where your audience resides is where you need to post. Knowing your platform can vastly improve your Halloween marketing campaigns. If you are into the craft, retail, or food industry, you must focus on Pinterest and devise ways to garner audience attention.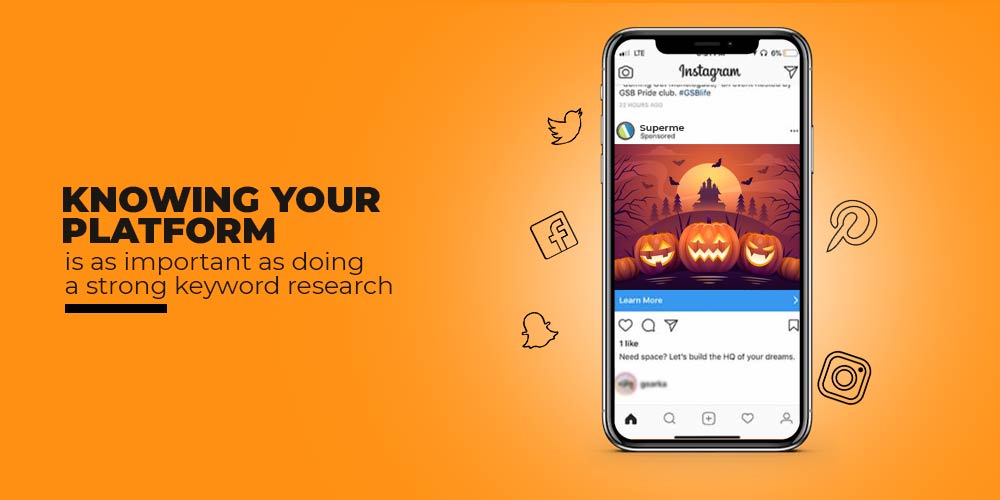 From makeup to scary home decor, people look for Halloween inspiration on Pinterest. They are likely to spend more time there than on Instagram. Moreover, there is a high possibility that people may buy while they are pin on Pinterest.
To add a touch of authenticity, you can work with influencers to catch up with the trend on Snapchat and leverage their audience to upscale your sales and lead generation. However, do not forget other platformsーFacebook, Instagram, and Twitterーwhile you invest heavily in Snapchat and Pinterest. These platforms are catching up and have seen an upward shift in traffic during the holiday season.
Knowing what went right/wrong last year
Previous year's data can work wonders for your decision-making. It allows you to make informed decisions about your effort, money, and time.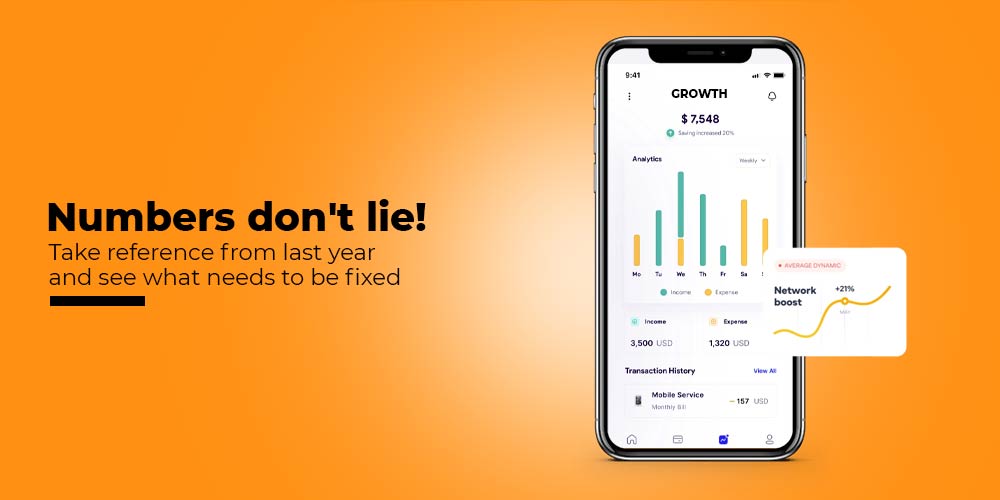 Where did you outperform your expectations? Which platform helped you increase your revenue? Do you need to come up with something new? And, many answers lay deep within last year's records. Also, taking into account last-to-last year's records can help you understand the glitches that you haven't been able to rectify.
Top three ideas to look out for
Inspiration is everywhere. Perhaps, there is an overwhelming amount of information on how to craft your Halloween marketing campaigns. Nevertheless, to sort you out, we have picked the top 3 ideas to ensure that you get the best design on how to carry or outline your campaigns:
Spread Your Spiderweb This Halloween
Take a friendly jab at your competitor
Burger King and Mcdonalds are nemeses and have been entertaining us with their food and creatives. However, Burger King went a step further by taking a poke at its competitors' iconic clown with #ScaryClownNight on Halloween.
Besides, they really scared their audience in New York. No, we are kidding!
Fanta and its Snapchat!
Halloween and Fanta are buddies! Hence, it comes as no surprise why Fanta is making it a rule to come up with something scary on Snapchat for this.
Fanta's Halloween marketing campaigns on Snapchat became one of the successful brandings moves ever! It was highly engaging and generated over 137+ million impressions with 25 million unique visitors! Indeed, Snapchat can be a really cool platform.
Talk about being Scary!
Imagine yourself going up in an elevator and the surface falling like pieces. How does that feel?
Perhaps, one needs to learn from LG how to launch something scarily. The brand wanted to launch its lifelike IPS monitor. How will they do that? Is going for a traditional advertisement their way out?
Nah! They installed those monitors in an elevator where people felt the floor was falling. However, it was just a video that was playing to show how lifelike the experience LG provides. Indeed, Life's Good.
Wrapping-up
Given the pandemic, Halloween comes as a source of optimism. It is this scary time where marketers can pounce on possibilities to generate leads and sales. However, don't forget to follow the basics.
Setting the apt process is the key to great results. Try putting the hard yards to know the nuances of the digital world. Also, we can collaborate with you! We are a group of exciting and growing digital marketers who are looking to even out things in the market.
Spread Your Spiderweb This Halloween
We would like to hear about your problem and create solutions that are suitable for your niche. Moreover, our case studies are a statement of how we succeeded in growing traffic organically. And, if you feel like talking to us, please feel free to give us a call!
Also, please stick around as we keep releasing fresh content every day.
Happy Reading!