CedCommerce For Treasure4Nails- Best Digital Marketing Solutions
Running short of time? Get PDF of the blog in your mail.

Play Now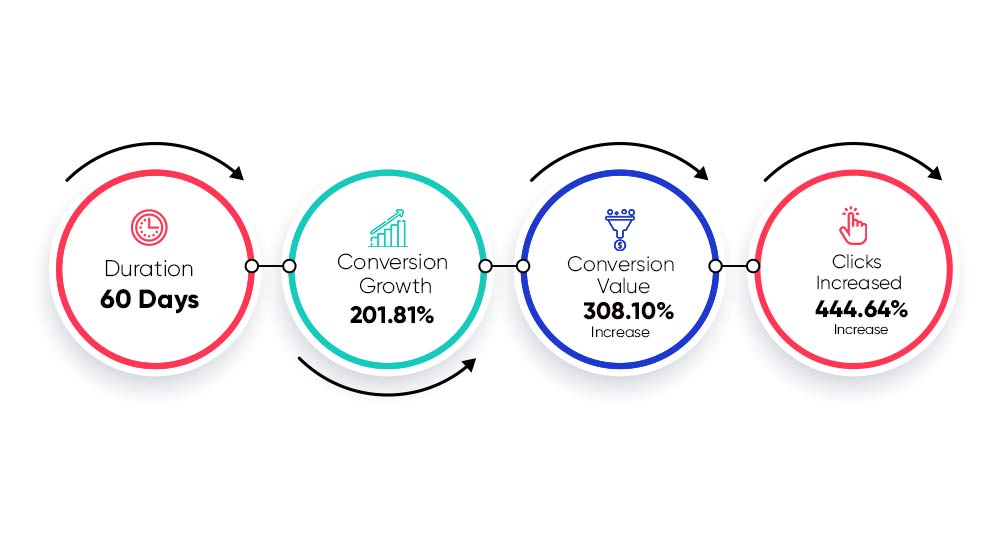 Scaling a Business Outcome
To achieve better and desirable results, we align our marketing objectives with that of the goals set by the client. CedCommerce digital solutions are end-to-end with sound support and expert guidance for businesses.
We take business as a journey rather than a destination. There are several challenges that our clients face along the way. We help ease their issues and provide them with the most robust solutions to help them run their business effectively.
What Google Ads Campaign Work Best?
Listed below are some of the combinations of Google Ads the deliver the best campaign results:
Standard Shopping Campaign + Search Campaign.
Smart Campaign + Shopping Campaign.
Shopping Campaigns (both Standard & Smart by using different product feeds/ custom labels).
If the website is nicely optimized, then we also use Dynamic Search Campaign + Search Campaigns.
If it's a known brand, we use Shopping Campaign + Brand Search Campaigns.
What Automation Technology Solutions Do CedCommerce Use to Improve Campaign Performance?
Some of the Automation solutions/features for improving the campaign performance and helping your clients grow at scale include Smart Campaigns, Smart Shopping Campaigns, and Smart Bidding Strategies.
We prefer using automation depending upon the client's business and their products.
If a product requires specific audience targeting and a Standard Campaign is not available, using Smart Campaign is best for such a scenario. We have witnessed and delivered high-end results using the same.
Automated bidding with some control with the marketers serves best. For example, using a Standard shopping campaign + Maximize click gives better results and is also helpful in scaling the ROAS.
When we want to bring traffic for new accounts, using Smart Campaign helps increase the clicks and lower the CPC.
About Treasure4Nails
Treasure4Nails is an eCommerce store started under the parent company Skylark Nail Supply. Since the virtual store offers the most prominent categories for nail supplies, the goal was to make it grow better than the original.
Challenges
Starting a business from scratch is a formidable task. Since Treasure4Nails was still in its initial stage, we had to focus on the sales part and build traffic simultaneously.
Marketing Objective
A business persists upon increasing the overall sales and revenue. And when it's a family business, you talk trade with animation. Treasure4Nails had previously never indulged in any Google Ads. So initially, CedCommerce made a Shopping Campaign live where advertisements displayed the product along with its pricing.
This was a well thought out strategy to give the clientele a price advantage over other similar contestants, increasing sales. The goals and objectives were synchronized perfectly with the age of business and its spending capabilities.
Sewing a Campaign!
Tresasure4Nails offers a variety of categories for its nail products that match exquisitely with the trend. CedCommerce combined a set of strategies that fits perfectly with each product.
We began with the Standard Shopping Campaign, where we created a segment for each product into various campaign categories and closely analyzed each performance.
A Smart Campaign was cultivated to focus on popular nail products. This, in turn, delivered heavy sales and conveniently increased brand awareness. Igel and Creation are the two most popular brands according to Google Trends. A Search Campaign was created based particularly on these product categories.
A Smart Shopping Campaign was built on specific categories likely, nail machines, waxing, topcoats, gels, and a custom label was created, and then further targeted into different campaign categories.
Tools Used
Google Trends: To analyze the top trending products
Google Analytics: To analyze the best performing products and understand shopping and checkout behaviour as well.
Semrush: To analyze the competitor and their ad copies, keywords, etc.
Ubersuggest & Google Keyword Planner: For keyword research
Hoxx VPN proxy Chrome Extension: To change the VPN and then analyze the performance of keywords and check which competitors ads are visible at that particular time.
SEO Meta in 1 click Chrome extension: To check the meta description, titles, headlines, etc., before making the dynamic ad group/campaign.
We Came, We Sewed, We Conquered!
Beauty marketing at its best is a tactile experience. We, at CedCommerce, have insisted upon forming a strong bond with the brand and the consumers.
Through this epic road of marketing, we successfully elaborated on the sales and revenue pattern. Here are the results of the various campaigns that we ran for Treasure4Nails:
Standard Shopping: Initially, we targeted all the products, but after separating the product categories, we paused few products from this Campaign.
Cost: $438.55
Conversions: 46
Conversion Value: $ 7391.49
ROAS: 16.85x
Avg CPC: $0.07
Clicks: 6697
Bidding Strategy: Maximize Clicks
Smart Shopping campaigns: In this Campaign, we targeted nail Machine products.
Cost: $ 295.28
Conversions: 52
Conversion Value: $15,127.02
ROAS: 51.23x
Avg CPC: $0.17
Clicks: 1761
Bidding Strategy: Maximize Conversion Value
Smart Shopping campaigns: In this Campaign, we targeted waxing and Top Coats products.
Cost: $ 318.21
Conversions: 11
Conversion Value: $ 1641.63
ROAS: 5.16x
Avg CPC: $0.50
Clicks: 639
Bidding Strategy: Maximize Conversion Value
Search campaigns: Here, we targeted the two most popular brands- Igen and Creations.
Cost: $ 282.89
Conversions: 7
Conversion Value: $ 1152.47
ROAS: 4.07x
Avg CPC: 0.70
Clicks: 405
Bidding Strategy: Maximize Conversions
Marketing Impact
The pattern that we followed throughout the marketing process left us with some delightful results. The sales got boosted up every next month from our campaigns.
When comparing the performance for the last 60 days, Treasure4nails witnessed a growth of 210.81% in conversions with an increase of 308.10% in the conversion value. The total number of clicks increased by 444.64%.
Success Is a Long Road
The campaigns that we cultivate are specified under the needs and suitability of our clients. However, while on the journey to success, we learn few things along our way.
Below are the pointers which state-specific parameters we follow to deliver the best results to our clients:
Running a smart campaign helps in bringing relevant traffic to your site and builds brand awareness. Remarketing the product with a standard shopping campaign delivers sales remarkably well.
A Standard Shopping Campaign with maximizing clicks helps lower the CPC. Remarketing to the audience later brings relevant sales and improves overall performance.
Running a Standard Shopping Campaign on all products should be considered since it helps analyze what products perform best. Hence, it can be segmented into other prominent campaigns with a better focus on them.
If we target any category-based products, one should segment the Shopping Campaign and create a Smart Shopping Campaign since it helps improve the sales + ROAS.
Parenting Digital Strategies
For us at CedCommerce, Digital marketing isn't a goal but a journey, wherein we continuously strive hard to dominate the digital market.
We guide you through the best digital marketing services for your business. Our digital marketing experts create customized strategies depending on your needs and wants.
We assign a unique professional team for each of our clients depending upon the niche to understand their requirements and offer them the best solutions.
About CedCommerce
CedCommerce's results-driven approach and skilful mindset help its clients live their dream goals. With over a decade of experience, CedCommerce swears by its motto to satisfy its clients by offering them the best industrial digital marketing solutions.
Established in 2010, CedCommerce digital solutions and ecommerce solutions are both native and SAAS based. It has over 40+ marketplaces, including Amazon, Walmart, OnBuy, eBay, Etsy, Shopee, et al. and helps merchants sell and promote their products across online marketplaces.
CedCommerce also provides digital marketing solutions to the small and big businesses listed on these marketplaces to expand their reach over different online channels. Global giants like Google Shopping Actions, Facebook Marketplace, Fruugo, Walmart, CDiscount, entrust CedCommerce with its partnership.
We are continuously growing and developing to bring more innovation and ease for users in the Global e-commerce processes.
Your dream success is just a click away!